We're running out of coffee! Can students from CBS and DTU turn you into a responsible coffee drinker?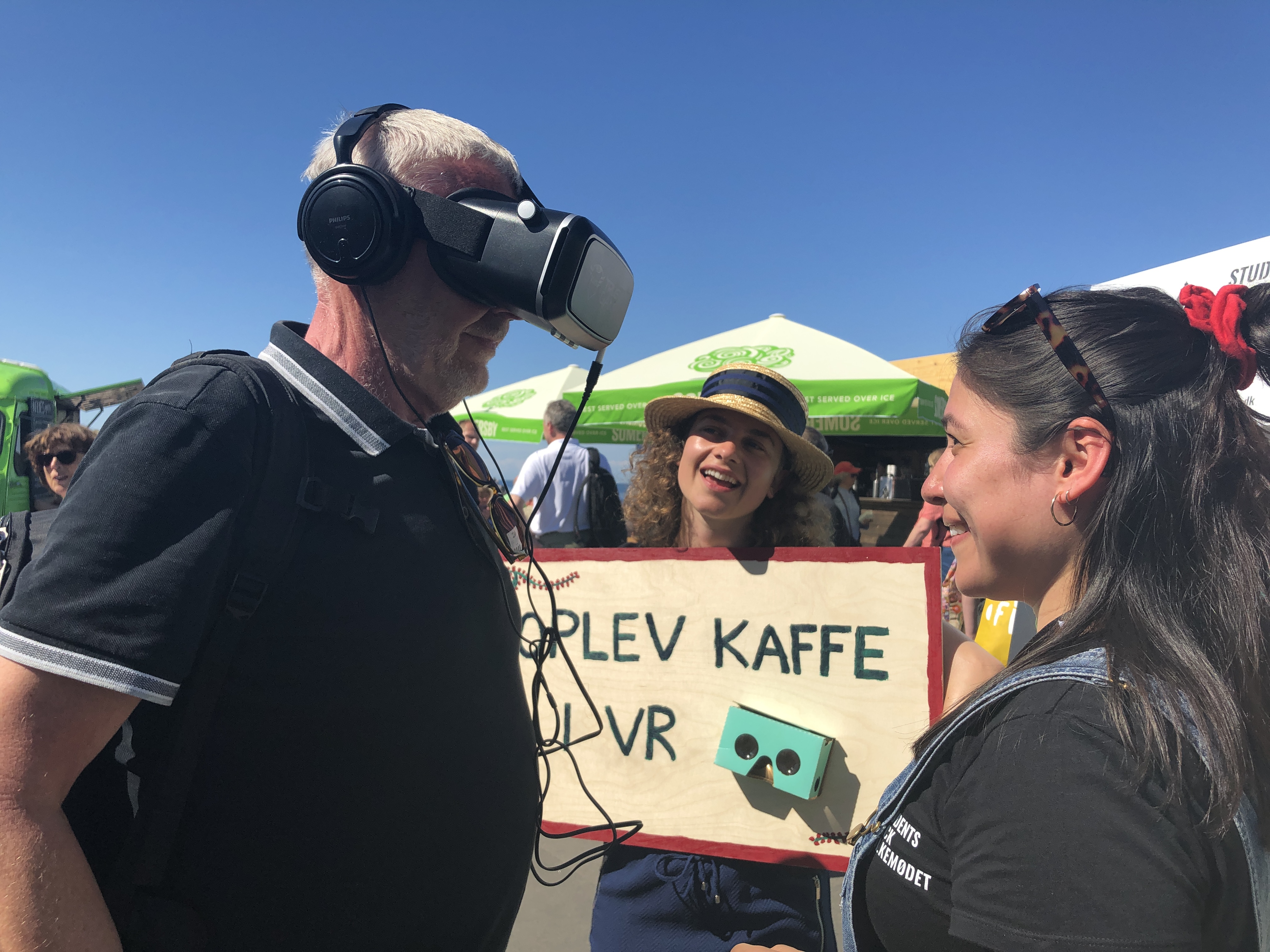 By 2050, the area for coffee production will have shrunk by 50 percent, while the demand will have gone up. The coffee company, Peter Larsen Kaffe asked students from CBS and DTU to come up with solutions to inform consumers about the future of coffee production so they can make a responsible choice. The solutions have just been presented at Folkemødet.
Imagine a world without coffee. Depressing, right?
Well, it's a scenario that's somewhat likely to happen if the world's coffee drinkers don't start drinking more responsibly, according to Peter Larsen Kaffe.
By 2050, the area for coffee production will have shrunk by 50 percent due to climate change. Combined with low coffee prices and increasing demand, it could turn out to be a bit of a liquid nightmare, as it'll become unattractive and difficult to even produce coffee.
But how do you, in an engaging and interactive way, inform coffee consumers – especially the younger ones – about the production of coffee so they can decide how they want to consume coffee in future?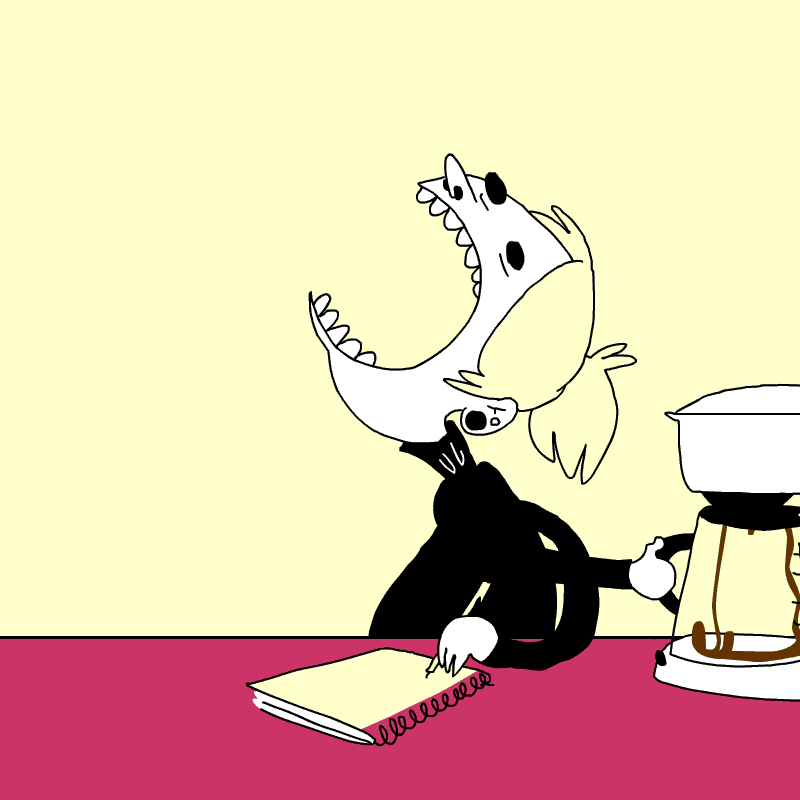 This was the challenge that groups of students from CBS and DTU (the Technical University of Denmark) were presented with three months ago by Peter Larsen Kaffe, as part of the Students Hack Folkemødet event. The students have just presented their solutions on Bornholm.
"We created a VR experience that takes the viewer to a coffee farm in Kenya where she or he meets one of the coffee farmers. This, combined with interesting and surprising coffee facts, should make the viewer think about the origin of coffee, and how it's produced and distributed when they buy it in future," explains Katrine Bagger who studies at CBS and has been part of developing the virtual reality experience along with four other CBS students.
At DTU, they had a different approach to the challenge. The group of seven built an interactive coffee tree where festival guests pick their own coffee beans and guess the number of beans needed for a single cup of coffee. (It's 50!)
"At a festival like Folkemødet, you don't want to read facts about coffee production on a board. That's why we created the coffee tree, which combines a game of coffee bean picking with facts about the future of coffee production and consumption," explains Kathrine Storm who studies design and innovation at DTU.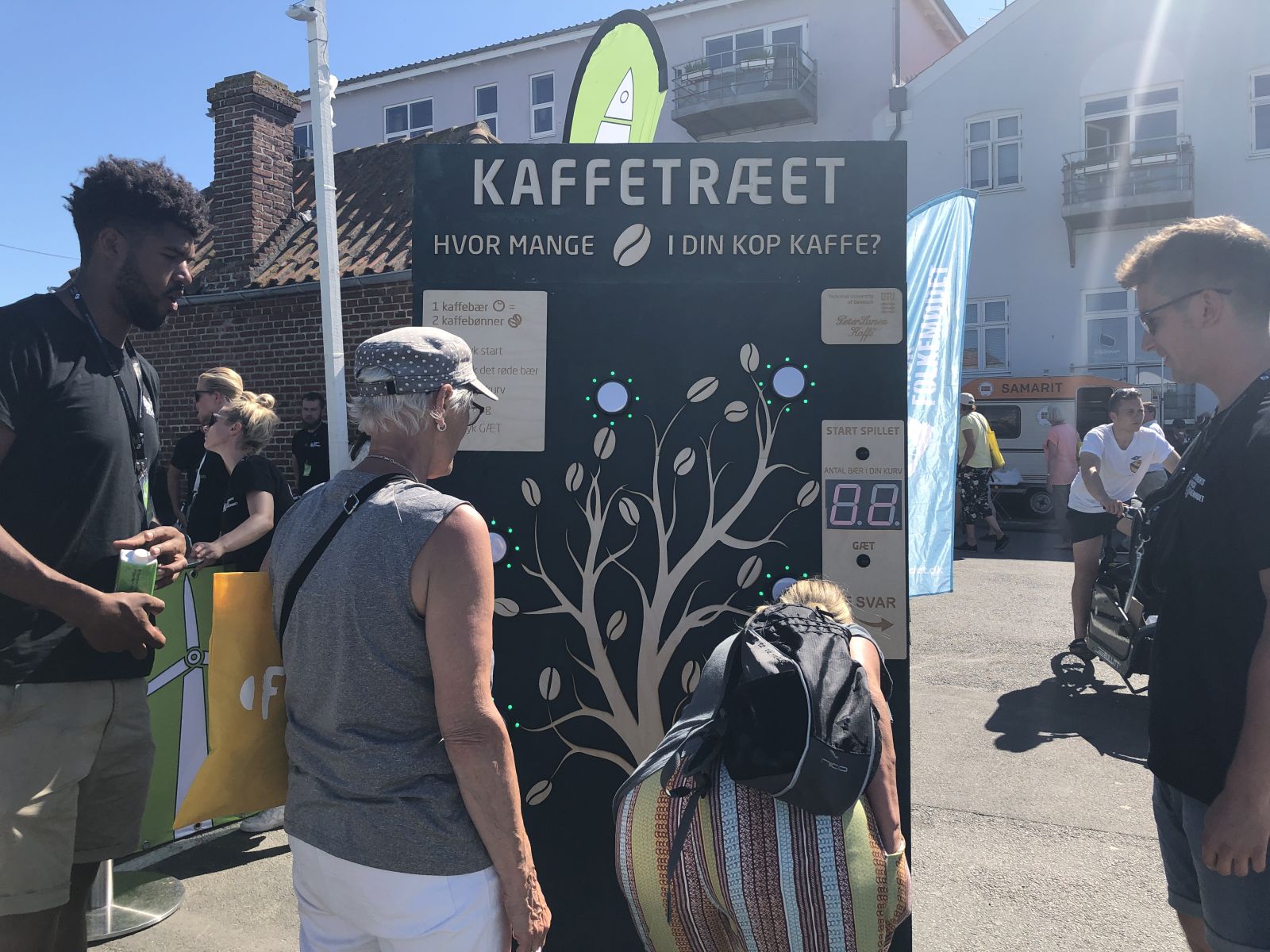 Peter Larsen Kaffe had two representatives at Folkemødet to see and experience the solutions, and they were both satisfied with the coffee tree and the VR experience.
"The two teams have come up with very different solutions, and there are definitely some things that we can continue working with here. And I think it's interesting to get the students' take on this challenge, as they're the coffee consumers of the future and the ones we aim to influence," says Rebekka Storgaard, Marketing Producer at Peter Larsen Kaffe.
Live cases that move you
As well as the Peter Larsen Kaffe challenge, lighting company Fisher Lighting and Folkemødet themselves presented challenges for the students from DTU and CBS to hack during the past three months. In total, 30 students went to Folkemødet to present their solutions.
It's the first time that the Students Hack Folkemødet event has been held, and the project leader, Marie Louise M. Pollmann-Larsen from DTU Skylab thinks Folkemødet is the perfect setting for this kind of event.
"One thing is the actual solutions that the students make, the other is that the students get to test them live at Folkemødet, which acts as a sort of living lab. Furthermore, the students can show CEOs, politicians, professionals and guests at Folkemødet what they're capable of," she says.
The students from DTU and CBS worked on the Peter Larsen Kaffe challenge as part of two separate courses. Assistant Professor Kristjan Jespersen from the Department of Management, Society and Communication, teaches the course at CBS and thinks live cases, such as this, are really interesting to work with, both for him and the students.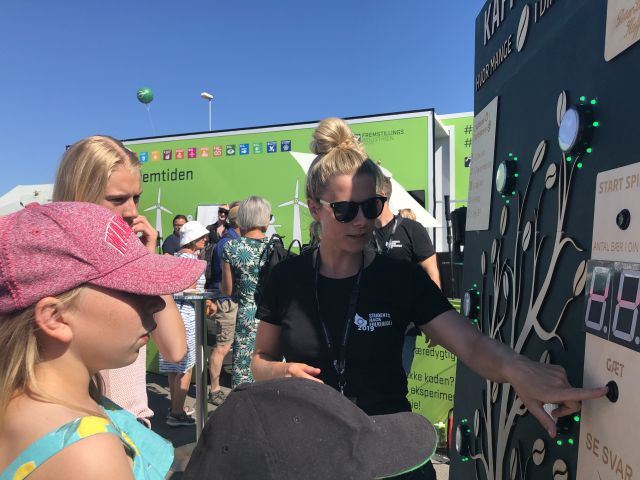 "We've done a lot of live cases on my course, and I always pick ones that inspire and require you to think differently. This case is rooted in the sustainable development goals and aims to nudge people to consume more sustainably. Presenting the solutions at Folkemødet has empowered the students, and me as well. They have the knowledge to transform the world. You can't do that through Instagram," he says and continues:
"And, although this case is closed, we shouldn't stop working with Peter Larsen Kaffe. Instead, we should start thinking about the next intervention."
The bitter truth about coffee that's hard to swallow
With the challenge from Peter Larsen Kaffe, the students from CBS and DTU had access to all kinds of different data and material they could use for their solutions. For example, the group from CBS used video interviews recorded by Peter Larsen Kaffe from Kenya to make their VR experience, and the DTU group used different facts about coffee beans and the production for their coffee tree.
Both the groups enjoyed presenting the solutions to the guests of Folkemødet.
"Seeing the coffee tree being used at Folkemødet made us reflect on how it actually works and whether people experience the wow factor that we've tried to create. And it's great that we can pass on our experience to Peter Larsen Kaffe," says Kathrine Storm from DTU.
Katrine Bagger from CBS adds:
"It is super-interesting to present it live at Folkemødet. We talked to executives and guests about their coffee habits and that's been really rewarding. And it's been great to work with a case for a longer period of time than just one week or a couple of days," she says.
I was really surprised by the effect of climate change on coffee beans.

Katrine Bagger
Apart from developing the solution for Peter Larsen Kaffe and putting her knowledge about consulting into play, Katrine Bagger has also learned a great deal about coffee.
"I was really surprised by the effect of climate change on coffee beans. If the temperature rises more than 1.5 degrees, it'll be the end of some coffee varieties. And even if we develop new varieties, they won't have the same qualities. Another thing is that a lot of us see coffee as second nature. We drink it in the morning, afternoon and evening, but we take that for granted," she says.
Mix the teams  
This year's Students Hack Folkemødet was a pilot, but Marie Louise M. Pollmann-Larsen already has ideas on how to develop the concept.
"Since the event is organized in conjunction with Danish CSOs for Development Cooperation and the Confederation of Danish Industry, I think it would be interesting to make the event more international. For example, we could invite a group of students from Nairobi to join Folkemødet and present their solutions too," she says.
Kristjan Jespersen thinks it would be great to develop the event even further so that the students from CBS and DTU worked closer together.
"Mixed teams are my dream. For competitions and hackathons like this, we often ask if we can mix the teams. But more often than not, the organizers want to see what the separate teams can come up with. I think it would be more interesting to see the results from mixed teams," he says.