From Denmark to Dubai: the internship opportunity of a lifetime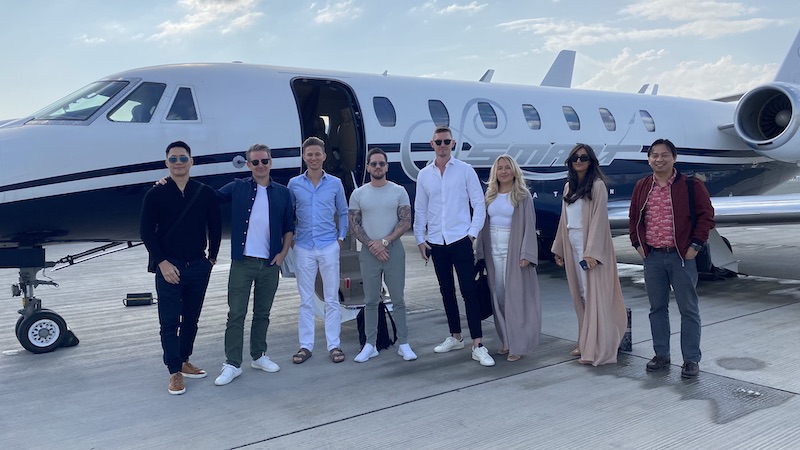 When the time came to choose my activities for the fifth semester of my bachelor's, including options like going on exchange, taking electives, or finding an internship, I knew that I wanted to go abroad and work. Although I had no prior professional experience and couldn't secure a student job, I thought an internship would be perfect for gaining hands-on experience and kick-starting my professional career.
But I still had another decision to make: where could I go? Many people asked me why I chose Dubai. Simply put, I have family there and had already visited several times, so I knew that I would enjoy living there for almost six months. Plus, I was able to and very lucky to live with my family.
Additionally, I wanted to experience working and living in one of the world's most innovative and multicultural cities, where the sun shines almost every day.
Finding an internship, especially in Dubai, wasn't an easy task. I began applying for both solicited and unsolicited positions in January 2022, six months before my start date.
Don't get me wrong, Dubai has plenty of internship and work opportunities, but getting responses and making contacts was very challenging. That's when I realized how crucial networking is, especially in Dubai.  I eventually found the ideal internship through LinkedIn when my mother-in-law, who lives in Dubai, tagged me in a job ad posted by her friend who had previously worked at Kjøller, an investment company in Dubai.
When choosing an internship, the most important factor for me was that it should be at an academic level, meaning it would relate to my studies and involve "real" work tasks rather than coffee-making or cleaning. After my first conversation with Kjøller, it was clear that they had a well-designed internship program that aligned with my academic and personal interests. Kjøller also had experience with interns and had previously hired one as its new portfolio manager after he graduated from Copenhagen Business School. In many ways, I felt that interning at Kjøller would provide an excellent introduction to the business world, particularly since my previous work experience had been in the service and retail industry.
Kjøller is a Danish-owned investment company with two primary investment areas, ventures and properties. The company has a portfolio of 30 active venture investments and a property portfolio with a balance sheet of over 750 million Danish kroner. During my internship, I had a broad range of responsibilities in three internal business areas, namely New Investments, Portfolio Management, and Marketing.
For "New Investments", some of my tasks were to identify and evaluate new investment opportunities, perform due diligence, and take meeting notes. For "Portfolio Management", I provided ongoing follow-up and reporting with existing portfolio companies, assisted with the operation and development of the property portfolio, and completed other ad-hoc tasks. For "Marketing", my tasks included creating content for the website, social media, and press. I also assisted in drafting press releases and contacting journalists, preparing events and field trips, monitoring media, and completing various tasks.
The most exciting and challenging task during my internship was undoubtedly organizing Dubai Days 2022. Dubai Days was Kjøller's first networking event where we invited more than ten portfolio companies and 30 founders to Dubai to meet each other and us. During Dubai Days, they participated in different fun and business-related activities. It was a truly exciting challenge for me and the rest of the team to organize and coordinate all the different activities and practical aspects. I had the chance to meet unique people, expand my network, and listen to interesting stories from different founders.
Dubai: A metropolitan gem in the middle of the desert
Kjøller was an attractive company for me to intern with primarily due to my interest in the investment and start-up world, but the geographic location in Dubai was equally appealing. I was also allowed to work across departments and figure out what I liked best and what I was most skilled at, while also being able to learn and grow professionally in a supportive and challenging environment.
My internship at Kjøller was not only memorable from a professional point of view, but also because of the personal experiences that enriched my time there. I had the chance to stay with my parents-in-law who have been living in Dubai for 10 years. Otherwise, accommodation can be challenging to find in Dubai, which is a rapidly growing city with an exploding real estate market. So, this is something to consider before coming.
I would recommend living close to your workplace or a metro station. The metro system is impressive, cheap, and covers the whole city, making it a convenient and efficient mode of transportation. Many people also use Hala Taxi, the local taxi service, or e-scooters to get around. If you prefer, you can also rent a small car.
I would say that living in Dubai is quite different from going there on vacation. The everyday life in Dubai is impressively calm yet dynamic at the same time. Many people living in Dubai are here to work hard and become successful, which motivated me every morning on my way to work.
The people I met through work and personally were all incredibly kind and helpful. I often heard that it's because most people living in Dubai have been or are in the same situation, as 90% of the population are expats. The different nationalities blend together, but there's also the opportunity to find a community of your own nationality, like that of the Danish expats. I had the chance to join the community myself, meeting up with other Danish young professionals to talk about life in Dubai, or simply watching a football match together.
I have broadened my cultural understanding by immersing myself in Arabian history and traditions. I have enjoyed the unique Middle Eastern cuisine and tried the many international dishes available in Dubai as well. I went camping under the stars and hiking in Hatta desert, which is located 2 hours from Dubai in the middle of nowhere, went horseback riding on Arabian horses and drove through the desert dunes and experienced local traditions. All these experiences, combined with spending my days in and out of the office with people from diverse cultures, made for an exciting and enriching adventure.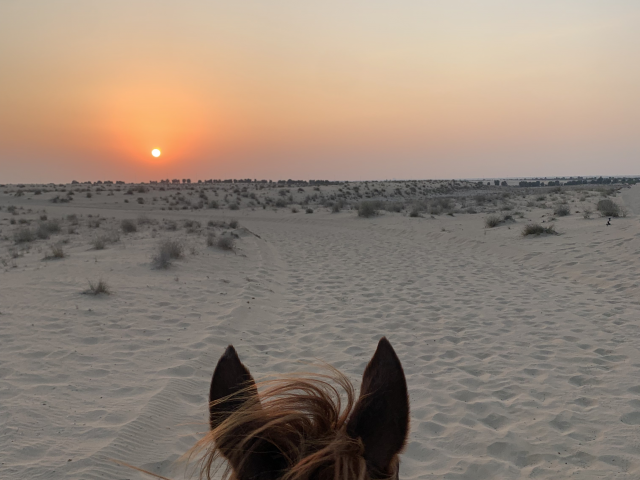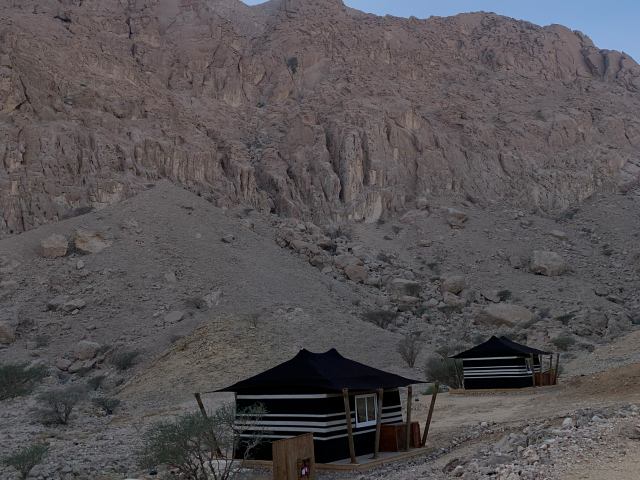 I also had the chance to explore the neighboring emirates. Visiting Abu Dhabi is a must-do when living in the U.A.E. The Grand Mosque, the largest mosque in the world, and the Louvre Museum were breath-taking.
The team at Kjøller and I organized a field trip to Oman – the independent sultanate that borders on the United Arab Emirates. We took a day off from our busy schedule and jumped on a flight from Dubai to Muscat, the capital of Oman. This kind of field trip is often organized to help the team stay up to date with the latest trends and tendencies in the world around us and provide opportunities to explore exciting companies and potential partners. Oman's close relationship with the UAE, its largest trading partner, is reflected in the increasing number of investment cases we are receiving at Kjøller from companies in the Gulf region.
Overall, my academic internship at Kjøller was an unforgettable experience. I worked on exciting projects, developed my skills, and gained practical experience in the business world. It was a fantastic opportunity that I will always be grateful for, and it will undoubtedly be beneficial in my future career. I would like to end by expressing my gratitude to the entire team at Kjøller, especially Magnus Kjøller, founder and boss at Kjøller, as well as Frederik Thomsen, who guided me throughout my entire internship.
Kjøller is continuously looking for amazing new interns, so please contact them if you want to experience an internship at a whole new level!