Rikke thinks traditional case competitions are outdated, so she and her team made their own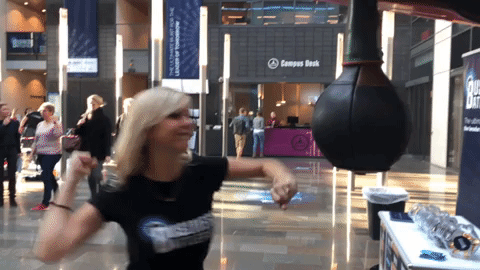 Students are given limited preparation time in CBS' new business competition, Business Battlefield, as the aim is to test their ability to think on their feet. CBS student and co-founder, Rikke Knudsen, explains why the old case competition format is outdated.
Your workplace building is on fire and you need to evacuate 150 colleagues. What do you do?
For a traditional case competition, you would have at least 24 hours to come up with a plan on how to manage the evacuation and get everyone out safely. But to be honest, if the building was on fire, you wouldn't have time to draw up a master plan. You would have to think on your feet.
And thinking on your feet is what 36 students are being asked to do at Business Battlefield on November 9 in Kilen. Here they will be competing in leadership skills such as crisis management, negotiation and strategic communication live in front of an audience and a panel of business leaders.
"In Business Battlefield, the judges and audience can follow the process of how the students tackle different tasks by the minute. We are testing the participants' leadership skills live. Doing it in this way reveals how they work together and under pressure. It indicates how fit they are to become future leaders," says Rikke Knudsen, CBS student and one of the founders of Business Battlefield.
The 36 students who have been selected by the Business Battlefield committee, have been divided into nine groups of four, consisting of bachelor and master students from universities across Denmark. Furthermore, each group will have a minimum of one international student.
On Friday November 9, the students will battle for the title of future leaders of tomorrow, and everyone is invited to watch the nine groups battle it out live.
"This is a great opportunity to see what the leaders of the present think about the leaders of the future, and what it takes to become a great leader in the future," says Rikke Knudsen.
The traditional case competition format is outdated
Rikke Knudsen is experienced when it comes to case competitions. She has been to five international case competitions, been part of CBS' official international teams, and last year she was asked to be part of the business development department of CBS Case Competition (CCC).
In 2017, CBS received DKK 500,000 from the Danish Society for Education and Business (DSEB) to develop events for students. CBS decided to hand the reins over to CCC. It was now the business development department's job to come up with an event. Business Battlefield was created.
"Other universities see CBS as the CEO factory, but we are actually not taught managerial skills in practice. You learn about theories and methods, but not how to be a good leader. We thought it would be great to come up with an event that could test these skills. So that's how Business Battlefield came about," she says.
And then the business development committee, including Rikke Knudsen, wanted to re-think the case format with the aim of attracting more participants as well as a different student profile.
"We wanted to break away from the heavy case format, where you have to practice for weeks, rehearse the process and perform. It's quite elitist, and not that many apply – especially women, and that's a shame," says Rikke Knudsen who thinks that the entire traditional case competition format would benefit from a little innovation, such as what CCC is doing with their Global competition this year.
"The regular case competition format hasn't really changed since it was introduced at CBS nearly 20 years ago, so naturally it is a little outdated. This is quite strange since large companies swear by case competitions as their go-to when testing students. I think the format itself hasn't changed because there hasn't been an event that has tried to re-think the concept as a whole, but Business Battlefield will definitely change this," she says.
The first Business Battlefield event was, according to Rikke Knudsen, more than well received by the students, business leaders and companies that were involved. But it was a one-off. The organization decided to break from CCC and run Business Battlefield as an annual event.
She hopes that more students will see Business Battlefield as an alternative to traditional case competitions and will want to apply.
"You don't have to have straight As to be selected for Business Battlefield. You just need to show that you can work in a team, think on your feet, and act as a leader in the moment," she says.