My favourite places in Singapore
After four incredibly rewarding, intense and exciting months in Singapore, one of the world's few sovereign city states, I am now about to spend my last week here prior to embarking on a new adventure in Australia and Europe.
Looking back, I have done so many fun things here that are difficult to describe – the Singaporean adventure indeed needs to be experienced in order to understand how unique this country truly is.
Altogether, I am very grateful for having experienced life as an exchange student here and would like to extend my sincere gratitude to both Copenhagen Business School, CEMS, and the National University of Singapore for making this highly memorable academic and personal adventure possible. Thank you.
In spite of its small geographical size as an island state, I cannot emphasise enough that Singapore truly has a lot to offer in terms of a wide range of diverse experiences.
Over the course of my exchange semester, I have done various mesmerizingly beautiful hikes, visited trendy rooftop bars, relaxed on both remote and artificial beaches, and eaten the best Asian (e.g. Indian, Chinese, Malay, Indonesian, Japanese) food in my life, to name a few.
Four months ago, when I commenced my Singaporean journey, I was completely clueless about what to expect in this extraordinary country. Therefore, I would like to offer my guidance and support to anyone who is in the same shoes as I used to be, by summarising a guide on my favourite places and highlights in Singapore.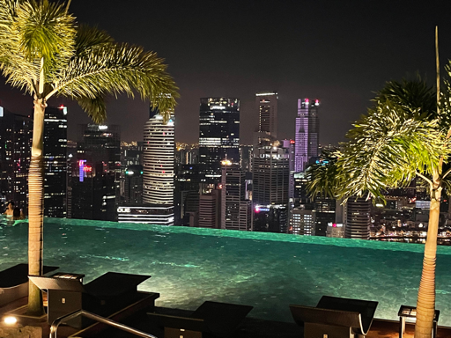 Favourite Rooftop Bar: Ce La Vi, Marina Bay Sands
The renowned infinity pool on top of Marina Bay Sands
Located by the world-famous Marina Bay, Marina Bay Sands is one of the most luxurious hotels in the world, as well as an important Singaporean landmark.
There are a lot of activities you can take part in here – grab a cocktail at Ce La Vi Rooftop Bar, join a sunrise yoga session on the sky deck, or try local delicacies in the Marina Bay Sands Food Court – the options are endless, and this site is well worth a visit.
Other nice bars to check out:
Mr Stork: Trendy rooftop bar with the best views over Singapore. Try their elephant cocktail!
Atlas Bar: Art Deco and Great Gatsby-styled cocktail bar for rainy days
Raffles Hotel Long Bar: The famous cherry-flavoured cocktail Singapore Sling was invented at this old-fashioned and traditional hotel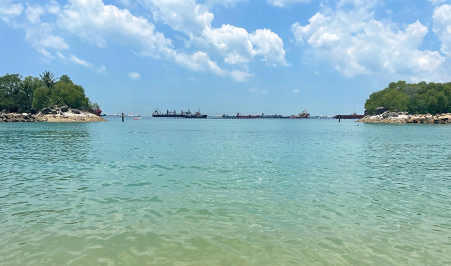 Favourite Beach: Sentosa Beach
Sentosa Island is the ultimate spot to experience all your Singaporean adventures.
The island not only offers a wide range of beautiful beaches, it is also the place to go for that well-needed adrenaline kick; be it at the bungy jump centre, go-kart slope or iconic sky luge, which brings visitors up to Mount Faber, offering stunning views over the city and surrounding islands.
On weekend nights, there is a famous light show at Siloso Beach – bring a picnic and enjoy the enchanting show.
Other beaches to check out:
Take the ferry to Lazarus & St John Island for a day at a remote and relaxing beach.
East Coast Beach: Go for a bike tour along the East Coast and enjoy the stunning coastal views. Swim in the sea, or stop for the famous chilli crab dinner, before heading for happy hour cocktails in the trendy Katong area.
Favourite Hawker Centre (i.e. Food Court): Lau Pa Sat
Lau Pa Sat is also an important landmark of Singapore and reflects its rich hawker centre culture. This large (and relatively fancy) food court offers all the different kinds of cuisines you can imagine at very low costs.
This is your go-to place for a laid-back yet delicious weekday dinner with friends.
Other nice hawker centres:
Maxwell Food Centre
People's Park
Tekka Centre
MBS Food Court
Amoy Street Food Court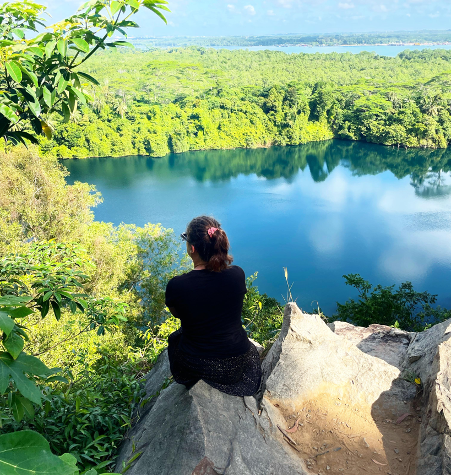 Favourite Hike: Pulau Ubin
Pulau Ubin is an island and natural reserve that can be reached by ferry from Changi Ferry Point.
It is a unique island, offering exciting hiking tracks, stunning nature, and Singaporean wildlife (beware of the wild monkeys and boars). Rent a bike for the day or go on a canoe trip through the mangroves – the choice is yours.
I visited Pulau Ubin four times during my stay in Singapore (i.e. more or less once a month).
Other thrilling hikes to check out:
Macritchie Nature Trail
Mount Faber and Henderson Waves
Bukit Timah Summit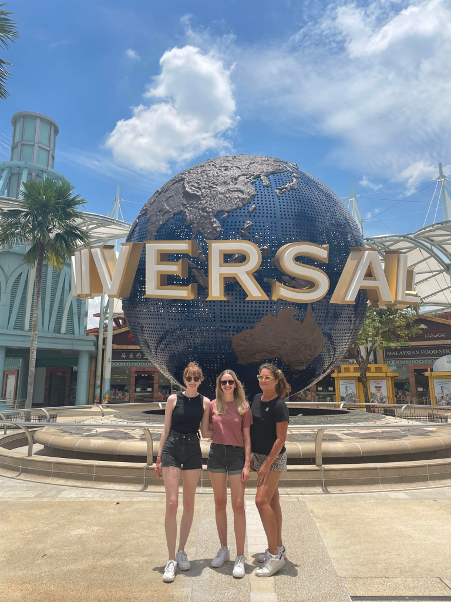 Favourite Activity: Singapore Universal Studios
As a major theme park enthusiast, a visit to Universal Studios at Sentosa Island was a natural choice for me – and I was definitely not disappointed.
My day spent at Universal Studios was one of the best days of my exchange semester. Visit the famous Land Far Far Away from Shrek, enjoy the thrilling Revenge of the Mummy rollercoaster, or look for dinosaurs at the Jurassic Park aquaride.
If you, just like me, cannot get enough of Tivoli in Copenhagen, then Universal Studios is definitely a worthwhile adventure.
Gardens By the Bay
Hidden behind Marina Bay Sands, tourists and Singaporeans alike will find the iconic Gardens by the Bay. Visit Cloud Forest and Floral Dome before enjoying the symphony light show, which takes place every night at 7.45 and 8.45pm.
China Town
Given the significant influence of Chinese/Hokkien culture on Singapore, a visit to Chinatown is absolutely essential in order to grasp the history and formation of Singapore as a nation.
At least for an untrained and Western eye, walking around in Chinatown truly feels like being in China.
There is so much delicious Chinese food to try in every corner of the streets, historical temples, and traditional Chinese town houses. In terms of food, I would recommend a visit to Hawker Chan – one of the world's cheapest Michelin-starred restaurants, where you can enjoy the traditional Singaporean staple dish chicken and rice for less than DKK 50.
Little India
Given that I love Indian cuisine and culture, Little India is like a food heaven for me.
Although I have never visited India, a stroll in the neighbourhood is what I imagine that the streets of an Indian town would feel like.
There are lots of fruit stalls, Indian restaurants, and Indian specialty stores on the colourful streets, as well as traditional Hindu temples. Enjoy a delicious and affordable meal at Tekka Centre, a more luxurious curry dinner at Muthu's Curry, or do your weekly shopping at Mustafa Centre (where you can buy literally anything). I love Little India.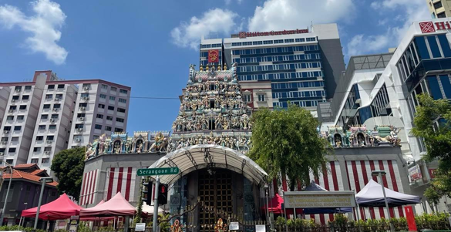 Arab Street
Arab Street is another example of Singapore's uniquely diverse environment and is your go-to place for delicious Lebanese/Turkish/Middle Eastern cuisine and hummus cravings.
On a weekend night, Haji and Bali Lane are absolutely buzzing, filled with happy people and colourful bars.
Clarke Quay
One of the things I appreciate most about Singapore is the constant proximity to bay areas, rivers, and the seaside.
Some of the nicest areas to enjoy dining out with a view over the river are at Boat Quay, Clarke Quay, and Robertson Quay, all located within close proximity to one another.
This is also a fun party area, with crowded streets and a multitude of opportunities to grab cocktails on both weekday and weekend evenings.
Thank you, Singapore, you have been nothing but amazing.
I am forever grateful for all the memories, friendships, and experiences you have given me, which I will cherish for a lifetime.
Thank you to everyone who has made this unique experience possible.