Spisestuerne has reduced food waste to almost zero in one year – obtaining the 'organic catering' accreditation is next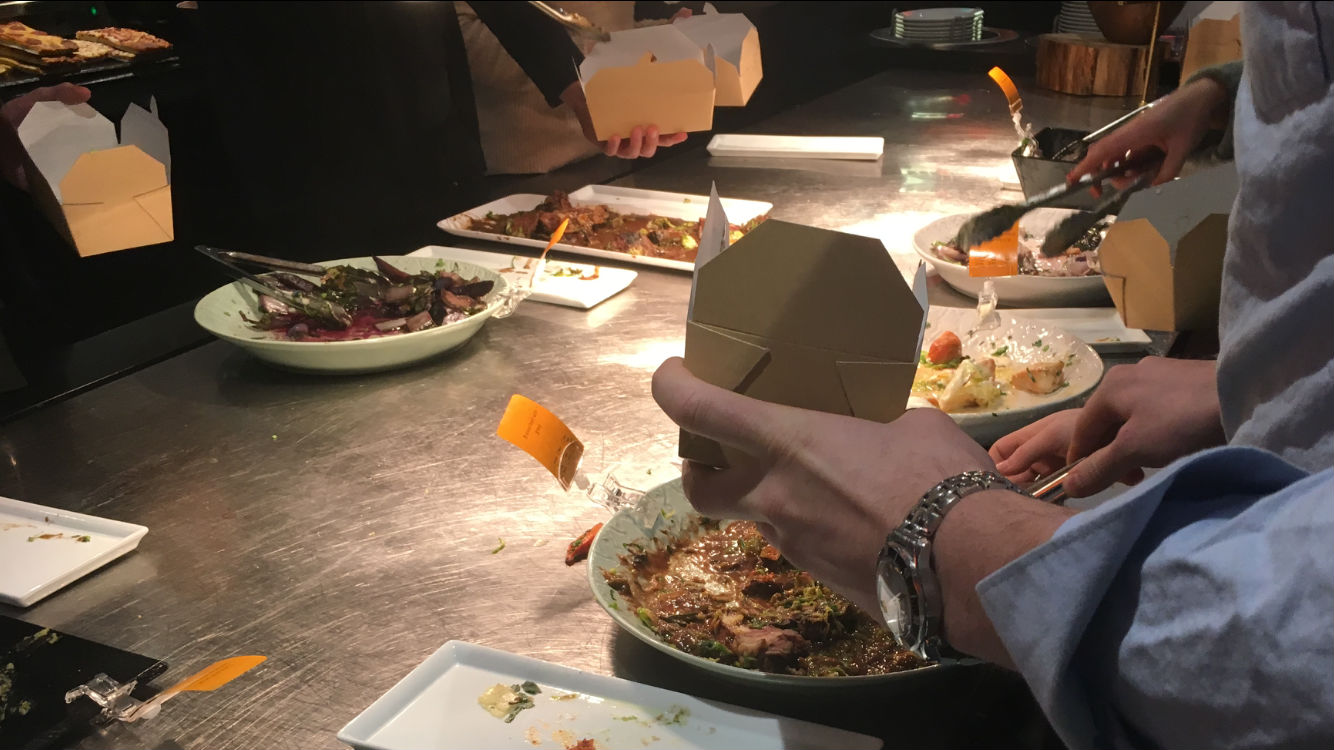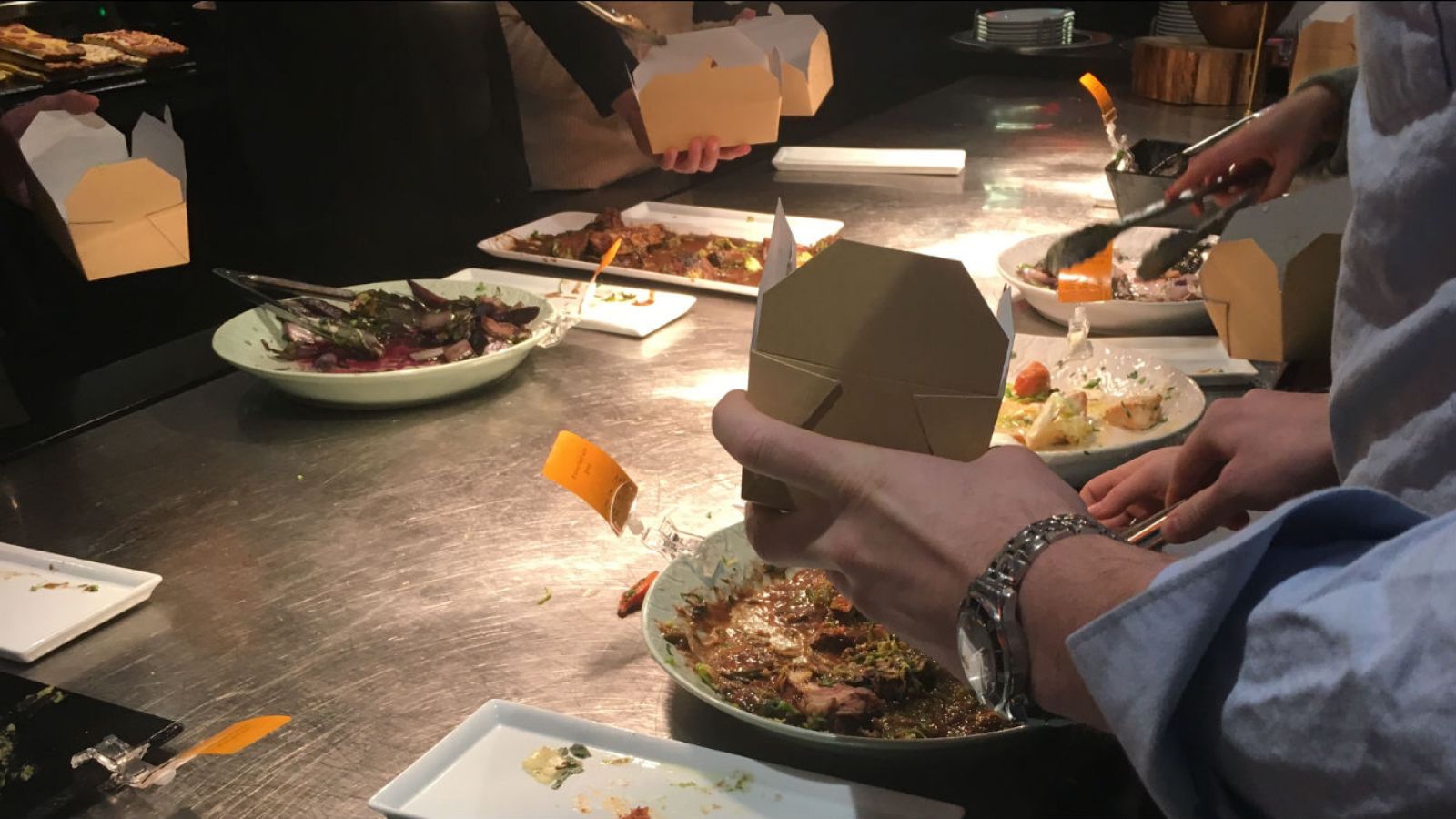 The introduction of a food waste box at 2 PM in Spisestuerne's canteens has reduced the amount of food waste to less than one percent on an average day. Furthermore, Spisestuerne is aiming for the 'organic catering' accreditation, and to switch out packaging and plastic cutlery with sustainable alternatives.
On November 14, 2017, the canteens at Solbjerg Plads threw out 31.3 kilograms of food from their lunch buffet, or 4.45 percent of the total amount of food served that day.
A year later, Spisestuerne managed to reduce food waste to 2.6 kilograms, or 0.41 percent of the amount of food served that day.
The reduction in food waste is due to the food waste box, which was introduced before Christmas in 2017. At 2 PM, students and staff can fill a box with leftovers from the day's lunch buffet for DKK 15.
"The food waste box concept is a success, and it's here to stay. But it has had an impact on finances, as 50 percent of the people buying a food waste box used to buy lunch at full price. Nonetheless, we're now looking into the possibility of incorporating bread, cakes and sandwiches," says Lars Winther, Head of Spisestuerne at CBS.
As it is now, the lunch buffet runs from 11 AM – 2 PM, and in that timeframe, customers can get anything that's on the menu. This requires, however, that the trays are filled regularly, which can result in greater amounts of food left at the end of the day. So to reduce food waste even further, Lars Winther is thinking about introducing a new concept:
"We've thought about doing the last refill of the buffet 30 minutes before it closes, and sell the food at a reduced price from 1:30 – 2 PM, and then at 2 PM open the buffet for food waste boxes," he says.
Whether this concept will be introduced is still uncertain, however.
In general, Spisestuerne has put several initiatives in motion in order to become more sustainable, and one of the goals is to obtain the 'organic catering' accreditation (Det Økologiske Spisemærke). There are three categories within this certification: gold, silver and bronze. To start with, Spisestuerne is aiming for bronze, which is awarded to kitchens and canteens that can document that 30 to 60 percent of their food and beverages are organic.
"We've already taken the first step towards our accreditation. As of January 1, 2019, all our flour, grains and seeds for making all the bread, cakes and Danish pastries at Spisestuerne are organic," says Lars Winther.
Meat-free days are not unimaginable 
Another way that Spisestuerne wants to promote sustainability is through what is served in the lunch buffet. Customers can choose from all sorts of mixed salads, casseroles, meat dishes, fish and so on. However, greener options will get a boost in the near future.
"We want our customers to have more vegetable-based dishes to choose from. So instead of having meatballs with vegetables on the side on the menu, we want to do it the other way around and make vegetables the main ingredient in the dish," he says.
Spisestuerne has no plans to introduce meat-free days at the moment. But that's not to say that it'll never happen in future:
"It's not unlikely that we'll have meat-free days in the long-term, maybe even a canteen which is completely meat-free. It's not unimaginable," he says.
But why not introduce meat-free days tomorrow?
"We have to meet customer demand, and if we introduce a meat-free day, those customers wanting meat will just buy their lunch from the Frederiksberg shopping center. And we can't risk losing customers on that account. But we do want to tempt our customers to buy more veggie dishes in general," he says.
We can't stand still on this. It's a movement that is very much formed by the younger generation

Lars Winter
By switching over to more vegetable-based dishes and offering fewer meat options, Spisestuerne aims to introduce more organic food into the lunch buffet too.
"We can't make everything happen overnight, as the budgeting has to work out without it hitting the customer's pocket," says Lars Winther.
Plastic belongs in the past
Sustainability, however, is not just about what we put on our plates. It's also how we package and wrap our food.
At Spisestuerne, the packaging, wrapping, containers and cutlery are mostly made out of plastic. But this will soon be a thing of the past.
"At the moment, there aren't that many producers of sustainable packaging or cutlery. But we're looking into a few options made from wood or cornstarch. So we want to reduce our use of plastic in the canteens," says Lars Winther.
When CBS hosts conferences and events, water is often a requirement, which comes in plastic bottles. And getting rid of those requires involvement from participants:
"It's difficult to get people to drink water from the taps, or to ask them to bring their own bottles. Some international visitors aren't sure if our tap water is drinkable, so they prefer to use plastic bottles. At least the bottled water is locally produced and not transported over long distances," he says.
Last summer, CBS hosted a conference, which aimed to be as sustainable as possible. Here, it was estimated that when a conference lasts more than four days, it's more sustainable to hand out glass bottles and ask the participants to refill them themselves, rather than handing out plastic bottles.
The new initiatives and concepts from Spisestuerne were not specifically requested in the contract with CBS. Instead, it is the customers' interest in sustainability and green alternatives and the general vibes in society that have inspired Spisestuerne to move forward.
"We can't stand still on this. It's a movement that is very much formed by the younger generation. They're asking for greener alternatives to become more responsible, and it makes a lot of sense," says Lars Winther.