You can help Spisestuerne prevent food waste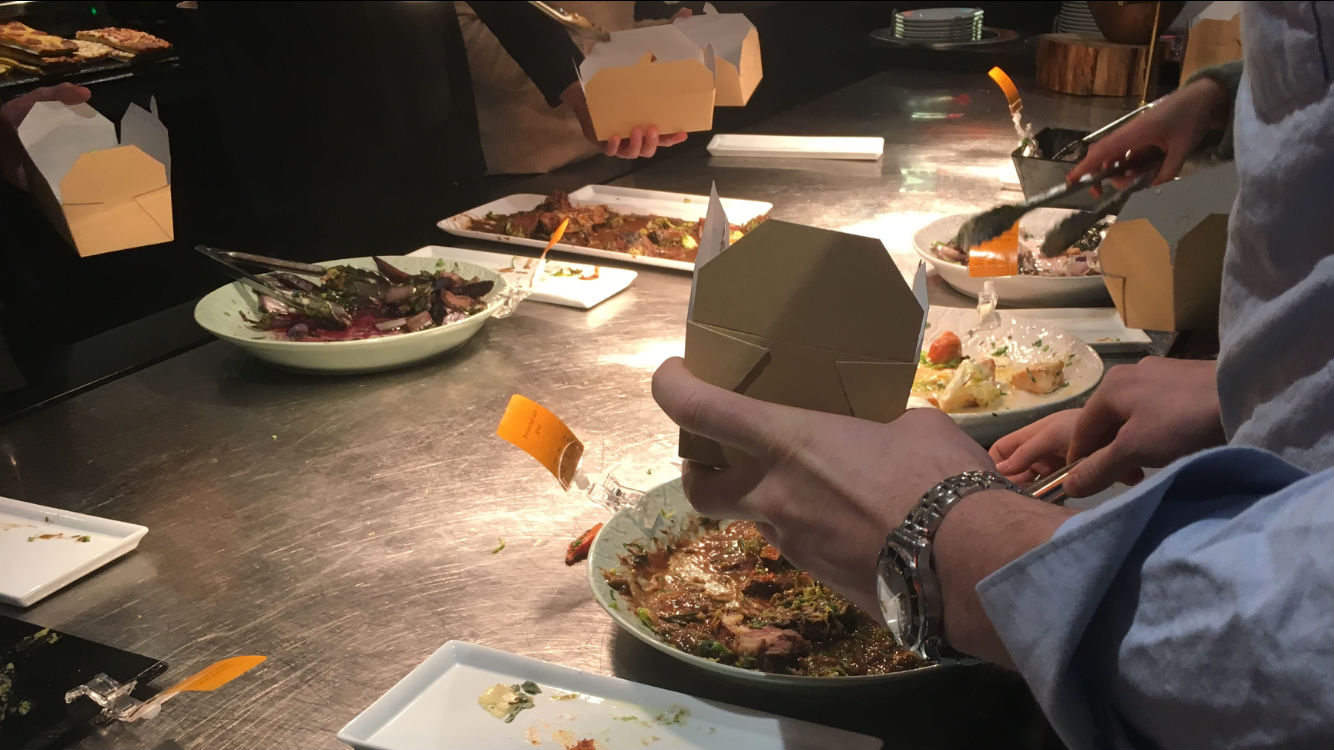 Instead of letting the food from the five canteens at CBS go to waste, you can fill a box for DKK 15. Although the new initiative is facing some challenges, it's "here to stay," says the Director of Spisestuerne.
On average, Spisestuerne throws out 3 – 5 percent of the food from the buffets at CBS's five cantinas every day. And with your help, this number will be reduced.
Spisestuerne has recently launched their new initiative; food waste-boxes. From 2 PM and a little while onwards, you can fill a box with leftovers for a set price of DKK 15.
In this way, the food doesn't go to waste and students and staff can save themselves the trouble of cooking dinner.
"The goal is, of course, to not have food waste and get the food circulating. Before, we had to throw things out, as a lot of the food we produce is not allowed to be sold the next day. So, having the food waste boxes is a win," says Lars Winther, Director of Spisestuerne.
So far, the initiative is a pilot project, where Spisestuerne gains more experience in the reduction of food waste and measures if this is the right way to do it.
A green trend
The idea for the initiative has been a theme of discussion for a little while.
Outside of CBS, people can buy cheap leftover bread and cakes from bakeries, leftovers from cafés and restaurants, and even supermarkets have jumped on the no-food waste train. Therefore, it seemed like the obvious thing for Spisestuerne to do as well.
"Fighting food waste is in, and we have received calls from the anti-food waste company Too Good To Go, about whether we want to set up a deal with them. Furthermore, our board and the cantina council at CBS have asked us to follow up and create our own concept," says Lars Winther.
At the moment, while Spisestuerne measures what food is left, they are selling about 120 food waste-boxes a day. This means that the kitchens are able to reduce the food produced to match the demand. And in the long-run, they can reduce the number of food waste-boxes sold, as this would signal that the right amount of food being made.
However, the project has resulted in a few obstacles.
The power of cheap food
Spisestuerne is experiencing a situation where people will line up a little before 2 PM, put food on their plates, and then wait with paying until Spisestuerne has put out the food waste-boxes. Then they empty the plate with food into the box and then end up paying DKK 15 for that meal.
In this way, Spisestuerne is losing customers who pay the full price for a plate of food, as they just wait with buying their food until 2 PM.
However, Lars Winther has an idea to solve that problem.
"We are discussing whether it would be a good idea to take the food out at 2 PM and then bring it out again 10 minutes later with the food waste boxes. Just to create a short break," he says.
But the opportunity of having the food waste-boxes has also attracted new customers, says Lars Winther.
"About half of the boxes sold are sold to people who don't normally buy their lunch at Spisestuerne, so that's great," says Lars Winther, who in general is satisfied with the pilot project.
"I'm sure we will find a good way to implement this initiative. This is, for sure, here to stay," he says.
When asked whether Spisestuerne has more initiatives in relation to becoming more sustainable, Lars Winther answers:
"We are constantly trying to become greener. For instance, by having less meat and more dishes with vegetables. Then we are also trying to move away from buffets to personal servings at events in order to reduce the amount of food waste. Finally, we are working on a food waste solution for bread, cakes, and sandwiches," he says and adds:
"We did have a goal to become more organic. But as it is right now, it would be too expensive. Having more vegetables is a cheaper option, and that is what we are currently opting for," he says.