Fewer students apply for CBS' diploma program: 'Original teaching' is smarting up the program
CBS' diploma program has, as the first full program at CBS, been running a project for the past three years that combines on-campus teaching with various online activities. One of the goals is to attract more students to the program, which has experienced a decreasing number of applicants in recent years.
The first ever education at CBS was the diploma program (HD), designed as a supplementary education 100 years ago. For some students it is their first higher education, for others a supplement, and it has attracted practitioners in accounting, finance, marketing, engineering.  However, the number of students applying for the diploma program has declined by an average of 2.8 percent each year since 2014. Times were ripe for changes.
The former Vice Dean, Christian Tangkjær decided in 2015 that the diploma program needed an upgrade. It should incorporate so-called blended learning with the aim of making the program more flexible for students who often have full-time jobs on the side and have to study in the evening. This aim resulted in a three-year project, which has just come to an end, explains Frank Meier, Project Manager of the project.
"A way to make the program more flexible is by moving some of the lecture content from the classroom to an online platform and then use the time on campus more productively and creatively. We need to engage our students through reinventing the on-campus, face-to-face activites   in creative and inclusive ways," he says.
Now that the blended learning project has come to an end, 85 of the 100 diploma courses are 'blended'; and they will continue to be so, as blended learning has become the new standard on the diploma program.
Lasse Ingrisch is on his third semester on the diploma program and did three 'blended' courses during the first semester. In each of them, he had to pass a quiz to qualify for the exam. The quizzes were online and supported by video lectures that allow students to pause and play back the videos.
"The quizzes have helped me to get an overview of the curriculum, and I believe that I have gained more from doing the quizzes, as they have kept me busy during the semester. I definitely felt as though I was better prepared for the exams," he says and recommends that CBS continues running the blended courses.
From folded arms to keen ambassadors
Developing a blended course is not something that the teachers had to figure out themselves. Ulla Bergen and Thomas Rousing, both teaching consultants at CBS Teaching and Learning, have helped the teachers to come up with ideas for making blended courses. For example, they introduced them to various tools, such as recorded video, quiz apps and ideas for classroom activities.
"At the beginning, some of the teachers would sit with their arms folded, but those teachers are among our ambassadors for using blended learning today," says Ulla Bergen.
Part of the aim of blended learning is to reduce the time in class that is spent on knowledge transfer, and increase the time spent on knowledge application and adaption. The teachers on the diploma program were asked if they had lectures that could be moved online by making them into shorter, point-based videos. This presented opportunities for other classroom activities than regular lectures.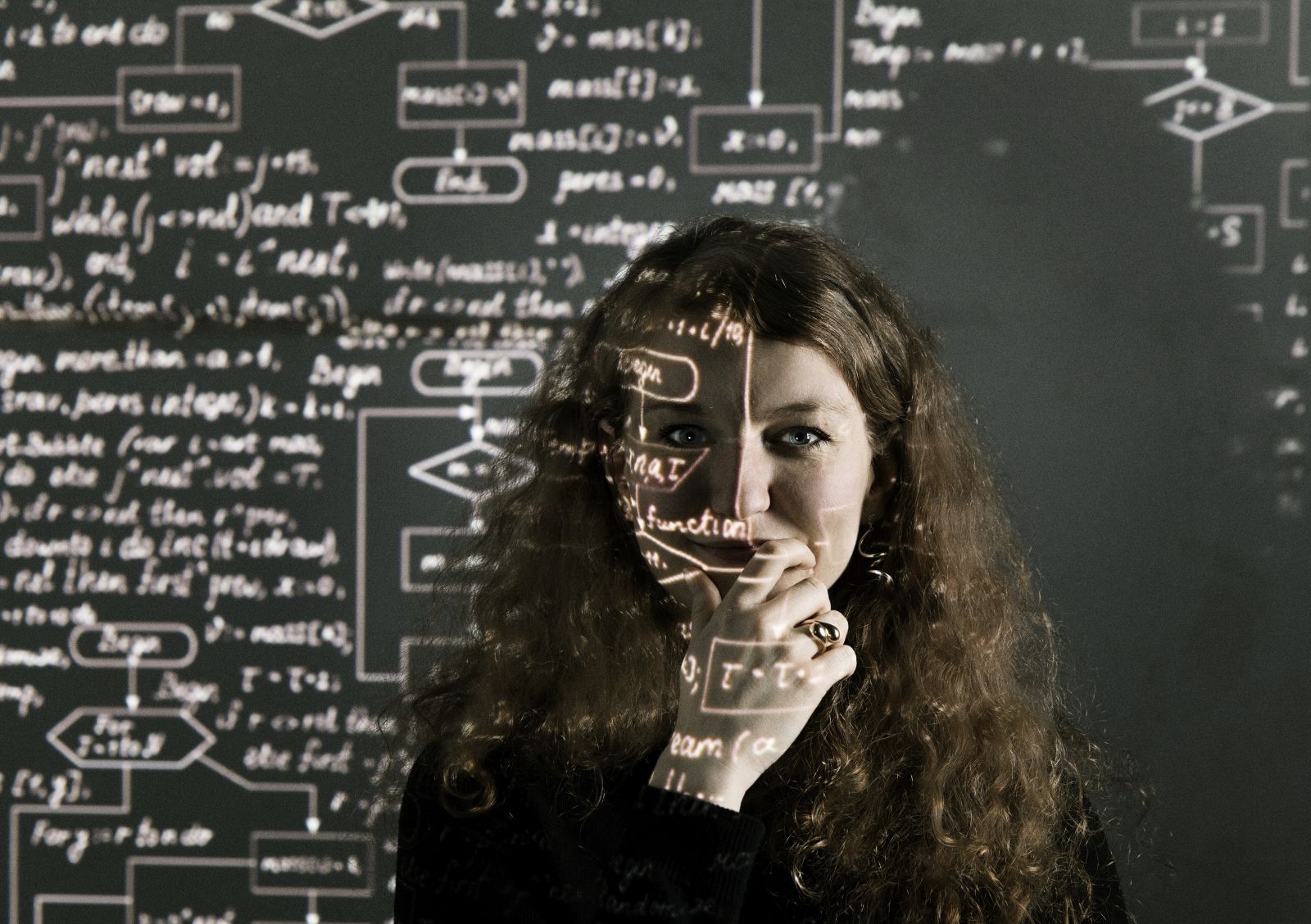 Søren Ulrik Plesner, Postdoc at the Department of Finance, teaches 'Derivatives' and 'Advanced Fixed Income and Derivatives' on the diploma program, and is fond of blended learning. He uses videos to explain financial technicalities and runs preparatory lectures, which he would otherwise have spent time doing in class.
"We don't have to waste time talking about the preparatory, as they have done that at home. So the videos free up time to discuss topics in depth. And then there's a little more time for cock-and-bull stories," says Søren Ulrik Plesner who also makes videos on demand for students, who ask him to explain difficult concepts.
The teachers at CBS have been asked to give students more feedback, a task that left Søren Ulrik Plesner scratching his head. Until he figured out how to use quizzes.
"I can't give individual feedback to 130 students. But by making a quiz on their understanding of certain concepts, they can get feedback right away after completing the quiz. I use that a lot – also during classes where I, for example, ask whether the interest rate would decrease or increase. Based on the result, we can discuss what's right and wrong," he says.
Blended learning means better teaching
So what are the results of the three-year project? Do the graduates get higher grades? Do we get better graduates in general? Do we get better teachers?
"It's too early to say. Some courses have only been blended for a year, but the feedback from teachers and students is positive in general. The video elements and quizzes are especially popular," says Thomas Rousing.
One of the outcomes, however, should be an increase in the quality of teaching.
"Blended learning has the potential to free up time for more student-centered teaching with group discussions, group work, presentations, feedback sessions with the teacher etc. When theory is available by video before class, together with quizzes that test comprehension, students will be in a position to ask better questions and the quality of discussions in class will improve. You could say that the students are in a position where they can better utilize the teacher," says Ulla Bergen and continues:
"However, how to structure time in class with less lecturing and more facilitation of knowledge application and adaption is one of the main challenges of blended learning that teachers face."
Søren Ulrik Plesner is in no doubt that introducing videos and quizzes to his lectures has given his teaching a quality boost.
"I have been forced to think about my teaching in a more structured way. When I'm preparing a video, I have to be careful about what order I do the video in, now that I'm not talking directly to the students. And then I have learned to do a short résumé at the end of the videos, to sum up the points of the lecture, something I should do in every lecture. In short, the videos and quizzes have helped me as a teacher, and I think it has given my teaching a boost in quality," he says.
Lasse Ingrisch has done one of Søren Ulrik Plesner's courses, and he found the videos very useful.
"Søren records videos on his computer where he explains how to do calculations directly in an Excel sheet. This has been a real help to me, as it can be difficult to understand how to do the calculations from a book. But having Søren show how it's done in a short video makes it a lot easier," he says.
Teachers need to be experts in teaching
By 2023, it is the aim that every education at CBS will have introduced blended learning to their courses. But why do we even need to do it? Isn't it easier to just do the lectures in the auditoriums?
"Of course, it is easier to do regular lectures, especially if that's what you're used to. But if we want to improve the quality of our teaching, the teachers have to develop their teaching. And this means that the teachers must have the courage to try something new," says Thomas Rousing.
Søren Ulrik Plesner thinks that he would have opted for the possibilities that blended learning offers if he wasn't asked to. In fact, he thinks teachers have to make their teaching blended in the near future.
"The students will expect that they can do certain things online without having to show up on campus, and that the on-campus activities are something other than regular lectures. I think blended learning is something that will bloom at CBS and come in various formats," says Søren Ulrik Plesner.
But why haven't the universities, CBS included, introduced blended learning before? Why are regular lecturing still the main method of teaching?
"First of all, it's only within the last couple of years that the technology has matured to the degree that makes it possible to implement blended learning at a high level," he says and continues:
"Also, certain structures can result in a slow uptake by universities. For example, research is the place to make an academic career, not teaching. Because of that, teaching is naturally somewhat under-prioritized. Looking into how we can make teaching part of the career path at the university could be an important step in order to give great teaching more recognition," says Thomas Rousing.