Companies: We also want the brain drain problem solved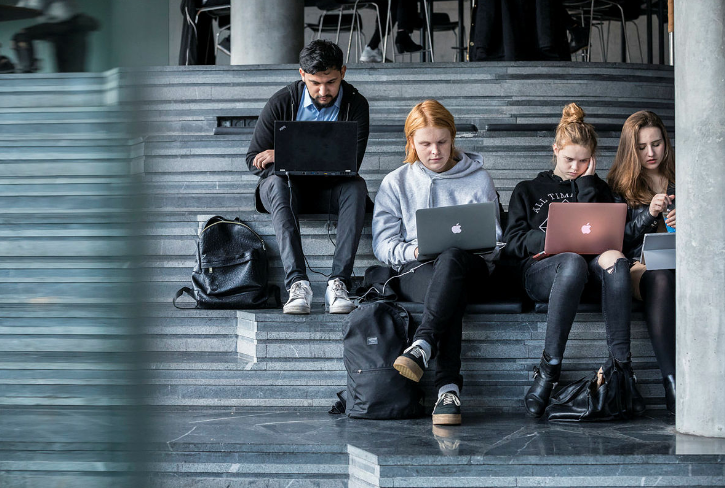 To prevent the international graduates from leaving Denmark, companies such as Novo Nordisk and IIH Nordic want it to be easier to attract and retain the international graduates. And this is something CBS can help out with, they argue. Losing out on the international graduates is regrettable, says the vice president of the Confederation of Danish Industry.
Making access to job portals cheaper, making it easier for students to do an internship, and strengthening the collaborations and partnerships between companies and CBS.
These are some of the solutions that the companies IIH Nordic and Novo Nordisk point out, when asked what the business sector can do in order to prevent the international graduates from leaving Denmark upon finishing their studies at CBS.
In autumn last year, a statistic showed that 56 percent of international students leave Denmark after graduating from CBS. A tendency the Director of the Dean's Office at CBS, Wilbert van der Meer, described as "unfortunate and worrying."
CBS should be better at finding companies that would be a natural fit for international graduates

Henrik Stenmann, IIH Nordic
Holding on to the international graduates is crucial now and will be in the near future, explains Charlotte Rønhof, the vice president at the Confederation of Danish Industry.
"I regret that international graduates are  leaving the country. Danish companies unsuccessfully seek new employees, and we expect the shortage of labour to increase in the coming years. There should be an obvious way to recruit highly qualified employees. Furthermore, Danish society has already invested in the international students and the rate of return will, of course, be higher if more graduates stay and get a job in Denmark," she says.
CBS WIRE has talked to Novo Nordisk and IIH Nordic, and they agree that Denmark is missing out on valuable talent. And that's a shame.
"It's a shame when international graduates leave, as it is of great value to work with different nationalities. It creates a dynamic and diverse atmosphere at work places, and it is really unfortunate, when lose out on that," says Henrik Stenmann, CEO at the IT company IIH Nordic.
Caroline Hart Sehested, Head of Early Talent and Outreach at Novo Nordisk says:
"I believe that when you invest in educating international students in Denmark, they get a good understanding of the Danish business environment and culture, and they also bring a lot of valuable insights from their home country and culture, which is always a key asset for a global company like Novo Nordisk."
Unflexible semester plans and expensive job portals
When asked why they don't take in more international students from CBS, Novo Nordisk and IIH Nordic explained that they are facing different kinds of challenges.
At Novo Nordisk, they offer internships to the students, and according to them, about 40 percent of the students doing an internship at Novo Nordisk stay afterwards. Either as a student worker or as a full-time employee.
The internship is then a good way to build a network and start off your career. But since the study reform was enforced, Novo Nordisk has experienced a decrease in applications from CBS students.
"Students find it difficult to combine their semester plan with an internship program. So, one idea could be to build more internship opportunities into the different educational tracks. This would give the students some hands-on experience, and a chance to work with some of the theories they learn at CBS. It also gives the students an opportunity to create a network in the company and potentially strengthen thier chances of getting a job offer afterwards," she says and asks CBS to make it more flexible for students to have an internship as a part of their study program.
IIH Nordic is a small Danish company that employs international and Danish graduates . However, finding the right employees and actually getting applications can be a bit of hassle. And this has something to do with the job portals available, points out Henrik Stenmann, CEO of IIH Nordic.
I regret that international graduates are leaving the country

Charlotte Rønhof, DI
"Graduateland is a job platform that is used by various universities, including CBS. The issue is that as a company you have to pay at least DKK 2,500 to run job advertisements on the platform if you want applicants," says Henrik Stenmann and gives an example.
"We were looking for a person who would be interested in working with HR, so we put a job advertisement out. But no one applied. Not until we paid to get it on Graduateland. It's not that we don't want to pay, but it seems like all this has been capitalized. I think a lot of start-ups and smaller businesses think it's too expensive," he says.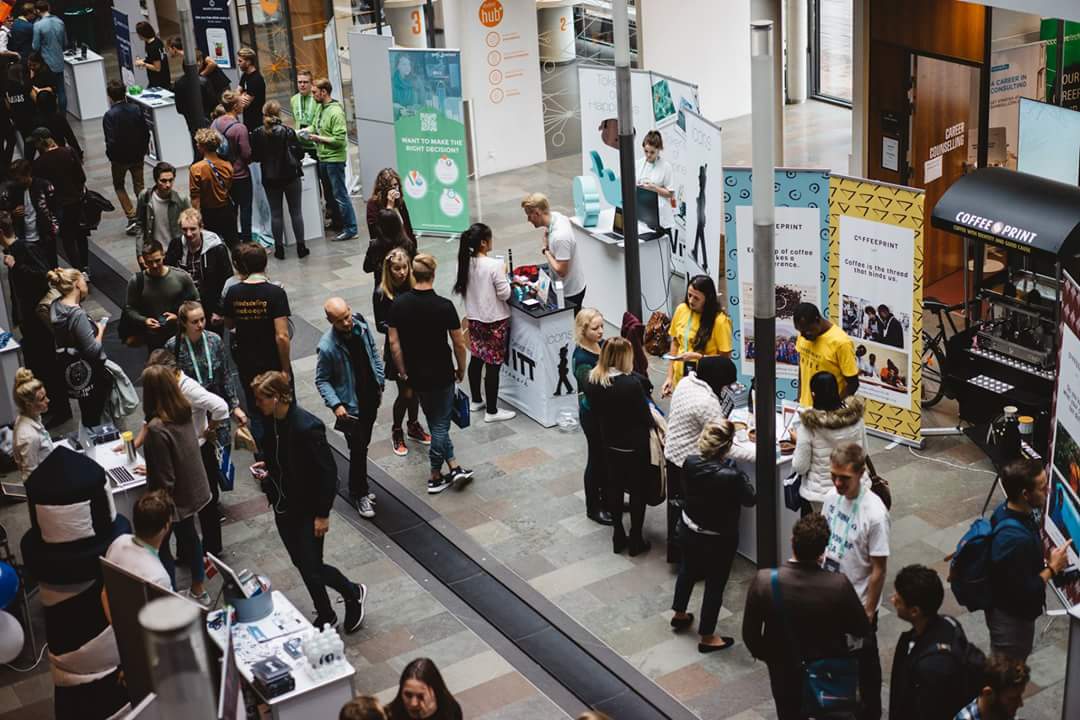 Career Fair 2017 (Photo: Eric Maganga)
Instead, Henrik Stenmann suggests that the job portals be run just like in Sweden. There, they have – by law – decided that all jobs should be available on one portal.
"This means you can get more connected with companies easily, as they don't have to pay to find the right employees," he says and asks that CBS and other universities should think about making Graduateland a little cheaper to attract more start-ups and small sized companies. In the end, this would lead to more positions available for the international graduates to apply for.
The language barrier
International companies like Novo Nordisk and IIH Nordic have no issues with speaking English at daily meetings or by the coffee machine. But it might be advantageous to speak some Danish, argues Henrik Stenmann and Charlotte Rønhof.
"As a start-up, it can seem like a hurdle to run a meeting in English when only one or a small number of the employees are non-Danish. And this could prevent some companies from hiring non-Danish employees," says Henrik Stenmann.
Charlotte Rønhof argues that learning Danish can be an obstacle for the international students, but it can make find an job easier when you have some Danish skills.
"Even though the corporate language in many international companies in Denmark is English, Danish is still the language used among colleagues at the coffee machine," she says and adds:
"However, the more contact international students have with Danish companies while studying, the better. Internships, part-time jobs, as well as participation in case competitions are all ways to gain knowledge of the Danish working culture and build a network."
Where are the international companies?
International students have previously told CBS WIRE what kind of struggles they are facing while being in Denmark. A general issue is finding a relevant student job.
Both Novo Nordisk and IIH Nordic suggest that it should be easier for international students and graduates to get an overview of companies that are hiring internationals.
"CBS should be better at finding companies that would be a natural fit for international graduates," says Henrik Stenmann.
Caroline Hart Sehested suggests mapping the companies that are recruiting international students, and strengthening the collaborations between companies and CBS.
" A great starting point would be to strengthen the collaborations and partnerships with companies that are recruiting international talents. For example, at CBS Career Fairs, make it clear for global and Danish students which companies are looking to recruit international students with diverse backgrounds, nationalities, and which provide work permits and visas," she says and continues:
"To be more specific, companies that support foreign students with work permits and visas, as that is some of the feedback we are getting from students applying for jobs in other companies. If Danish companies favor EU citizens, it can be challenging or even impossible for non-EU citizens studying at, for example CBS, to apply for a job and stay in Denmark."