Where to go in Dublin?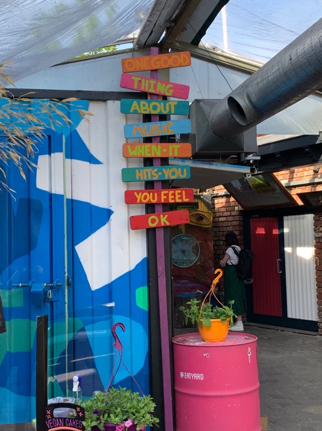 Dublin is very slowly starting to reopen, which is much needed! Ever since the lockdown started, the weather in Ireland has been amazing. So, it's been hard staying indoors all this time. In Ireland, we are now allowed to move within a 5 km radius from our house.
Before, it was 2 km. People have been going outside a lot more during the past couple of weeks, enjoying the sun by the canals and in the parks, which has resulted in some cafés reopening for take-aways. Even though shops, restaurants and cafés etc. are still supposed to be closed. A couple of places have started reopening on their own initiative. So, let me take you to my top 4 places to go now Dublin is finally starting to reopen!
Dublin Eatyard – The Bernard Shaw
Dublin Eatyard is located in the Northern part of Dublin city. It's very close to the Botanical Gardens and has a view of Cork Park. The Eat Yard concept is what we, in Denmark, call street food.
A location with lots of different types of food from all over the world. After reopening on May 28th and for the first four days, all the booths at the Eatyard sold out of food about an hour before closing time. This is a lovely place to hang out for many different occasions. Lunch, dinner, coffee or maybe some wine time.
Howth
If you are in Dublin for a weekend or just moved here, Howth is a good first choice for starting to explore the amazing Irish nature. But you will want to start slow and maybe not opt for a four-hour journey as your first trip. Dublin is located close to the Irish east coast, which means beautiful walks along the Irish shores.
Other locations such as Bray/Grey Stones and Malahide are also very nice and easy to get to from the city center. Just take the Dart (the train) for about 30 minutes and then you are there.
Luckily, I got to experience each of these places before the coronavirus hit. But unfortunately, I won't be able to revisit any of them until June 29th. When I'm allowed to move 20 km from my home.
Phoenix Park
Phoenix Park in West Dublin is one of the largest enclosed public parks in any EU capital city. The park includes large green areas that are ideal for outdoor activities. In the park, you can also find a herd of wild fallow deer, the Zoological Gardens and Victorian Flower Gardens. It's the perfect place to hang out with your friends, have a picnic, do some exercises or just enjoy a lovely walk with a coffee.
Bewley's Oriental Cafés
Bewley's on Crafton Street, Dublin's main shopping street, opened in 1840. I've been told by a colleague of mine that when she moved to Dublin in the 1970s, Bewley's Café was the only café in Dublin where it was possible to buy a cup of ground coffee. Bewley's is not just known for its history, cultural and crafted art pieces displayed in the café. But also for its café theatre, which is based on new and old Irish writings.
My final recommendation, if you are in Dublin and want to see some or maybe all the big tourist attractions such as the Guinness Store House, Kilmainham Gaol (prison) or Glasnevin Cemetery, is to take a tour on the green tourist hop-on-off buses. Don't forget, no one tells a good story like an Irishman. I personally had a tour guide who was able to connect every single tourist attraction to the Guinness family or the Guinness factory.