"We risk losing out on future change makers, innovators, and female entrepreneurs who are so desperately needed"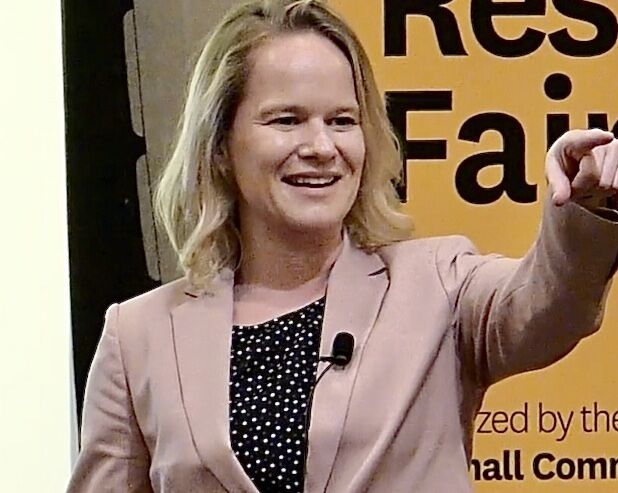 CBS' first program devoted to teaching entrepreneurship is in line for closure. Former line coordinator and teacher at the MSocSc in Organizational Innovation and Entrepreneurship, Christina Lubinski, criticizes the Senior Management's focus on unemployment rates and fears that the start-up environment in Denmark will suffer.
When the news was out that the MSocSc in Organizational Innovation and Entrepreneurship (OIE) was among the six CBS programs proposed for closure starting from the summer of 2023, students from the program acted.
In a matter of 48 hours, they surveyed 142 OIE alumni about their career paths in order to report on how many OIE alumni have started businesses and created jobs in Denmark. For example, the report shows that alumni have created more than 85 new jobs and started more than 79 new businesses, which makes 37% of the graduates entrepreneurs.
For its proposal on how to meet the Danish government's 10% reduction in study places, the Senior Management has used unemployment rates as the main parameter. And for the OIE program, the unemployment rates during the first year after graduation have been in between 8.5 to 16% over the past four years.
"Focusing on the unemployment rate does not encapsulate what this program contributes. We are not creating employees – we are creating entrepreneurs," says Christina Lubinski, Professor of entrepreneurship at the Department of Management, Politics and Philosophy, who is the former line coordinator of the program where she teaches some of its core courses.
"It takes time to create a company, and usually the entrepreneurs and founders are unable to pay themselves a salary until five to seven years after they open their businesses. We need to keep that in mind and have the patience for the businesses to be profitable."
Only a couple of days before the first lockdown in March 2020, the OIE program could celebrate its 10th anniversary. And now the community in and outside CBS connected to the program and the effects the program has had at CBS are at risk of being eroded with the potential closure, according to Christina Lubinski.
"We risk losing out on future change makers, innovators, female entrepreneurs, who we so desperately need more of, cutting-edge pedagogy and teaching methods, new jobs and businesses. That's a long list of losses," she says and continues:
"And that's without including the effects on the research environment. Because what do you do as a researcher if you can no longer translate your research into teaching?"
Crucial skills
When the OIE program was founded in 2009, it was the first of its kind in Denmark. And at CBS, the program changed how teaching can be done and has inspired new programs and research.
For example, CBS now has an MSc in Bioentrepreneurship and an MSc in Strategic Design and Entrepreneurship in collaboration with designers and architects from KADK, while researchers explore the personal characteristics of an entrepreneur, as well as investigating who and what inspire women to become entrepreneurs themselves.
"Entrepreneurship as a field has spread to all parts of CBS, but what the OIE program is particularly good at is teaching entrepreneurship. You can question whether that's even possible, but I think the approach of combining theory and practice with innovative learning spaces, which CBS has established at the request of OIE students and staff, makes the OIE fundamentally different from other programs," says Christina Lubinski with reference to the different classrooms, also known as Studios, located at Porcelænshaven.
We are not creating employees – we are creating entrepreneurs

Christina Lubinski
Right now, CBS has three Studios; Creative, Performance and Team. The studios are equipped with flip charts, rolling whiteboards, Post Its for brainstorming, tape, scissors and paper, and other essentials for co-creation and ideation processes.
"We are teaching skills that are crucial for coping with the challenges we are facing now and will face in the future, and you cannot teach those with traditional approaches to teaching pedagogy in traditional classrooms. You need rooms where the students can collaborate and explore their ideas," she says.
Christina Lubinski would like the Senior Management's proposed study place reduction plan to have a longer-term perspective and clear sense of the direction CBS wants to take.
"It's difficult to understand the justification behind closing the OIE program, and the direction CBS wants to take is very unclear. If CBS is content with not having enough female entrepreneurs and focusing only on unemployment rates, that's fine. But that does not make us a competitive and unique business university," she says.
The students' report, along with a hearing statement from the MSc in social science programs, has been handed over to the Senior Management during the latest hearings.
The final plan for the study place reduction will be presented and possibly approved at the next CBS Board meeting on December 2.