1,000 fewer women will get a CBS education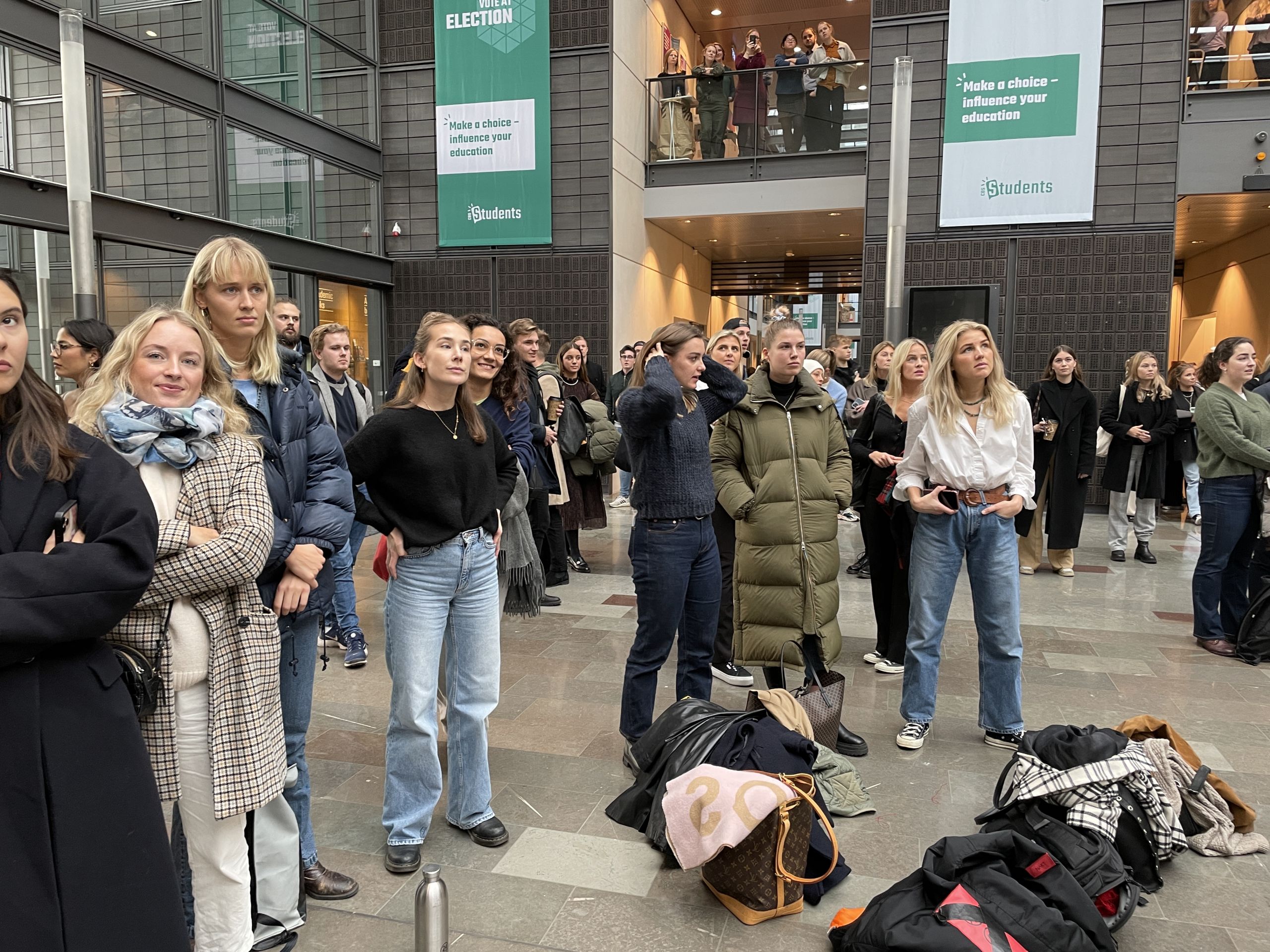 Opinion | 24. Nov 2021
By CBS students and graduates Andreas Dahl Jakobsen, Elizabeth Bruun Nielsen, Ian Felix Dejean, Laura Friis Tørsleff, Leonore Lee Krarup Belling, Mads Thaarup, Morten Levinsen and Oliver Anton – initiators of the student revolt. (The opinion piece was first published in the Danish newspaper Information on November 24.)
"What energy and commitment. [ ] If you were not already proud of being a 'CBSer', that changed in an instant," the Senior Management wrote to all the employees on Monday November 22. Once again, the management poured fuel on the fire.
With its arrogance, it demonstrates the need for the student rebellion.
Last Wednesday, we blocked the hearing but beforehand, at the Board meeting, we presented amicable messages about the value of students.
If physical events were not enough, then the fact that in the space of one week we have mobilised 600 people, held fiery speeches and collected over 2,800 signatures should make people think.
It seems more as if the management is processing the matter on a Commodore 64 than on a modern laptop. Because in the midst of global challenges and crises, it wants to close study programmes that are among the few at CBS that aim to train sights on more than traditional economics and short-term benefits.
We students are left with the question: What are the management's intentions on behalf of our university?
And then we have the process and way the management is bulldozing the proposal through. You do not need to study management to see that this amounts to hasty and antidemocratic slaughter.
We are rebelling to stop the haste and to protest against the treatment.
At the same time, the closure is problematic for diversity, as the study programmes involved are among the few dominated by women.
1,000 fewer women will gain educations at CBS up to 2030. Figures that Vice-Chair of the Academic Council Bent Meier Sørensen even presented himself at the hearing on 17 November.
Remove these educations and it will cause a massive backlash, which underlines that the management is living in the previous century.
In fact, they think they are doing diversity a favour.
At the same hearing, Acting President Inger Askehave described 'genuine diversity' as when more women apply for educations dominated by men. With no faith in women's own interests, 'genuine diversity' is described as women doing and thinking the same as men. And suddenly you understand why the management wants to move away from its profile as a critical thinking university: It has forgotten to think for itself.
CBS has previously brushed off the criticism to Information newspaper with the argument that the university will lose DKK 45-55 million, but when you have not engaged in a serious dialogue with the institutes in advance or proposed real innovative solutions, we must conclude that creative thinking cannot be found in the Excel spreadsheets from which the management dares not lift its gaze.
We students are left with the question: What are the management's intentions on behalf of our university?