Ready to recycle? Spisestuerne gets two recycling stations thanks to student initiative
Students from the organization Oikos were surprised that CBS didn't have any recycling stations. In collaboration with Campus Services, they've now installed two recycling stations at Spisestuerne's canteen at Solbjerg Plads as a three-month pilot. The collaborators want to start a movement and transform CBS into a green campus.  
If you live in Copenhagen or Frederiksberg, you probably sort your waste at home already. Now you can sort it at CBS too.
CBS students from the organization Oikos have initiated collaboration with Tore Klitgaard, Sustainable Design Developer at CBS, in getting recycling stations at CBS. The collaboration has, so far, resulted in a three-month pilot of two recycling stations at Spisestuerne's canteen at Solbjerg Plads.
The recycling stations have five different sorting categories: general waste, hard plastic, soft plastic, paper and bio waste. And according to Giulia Carmicino and Andrea Beye, CBS students and members of Oikos, fellow students have been asking for places to recycle their waste at CBS.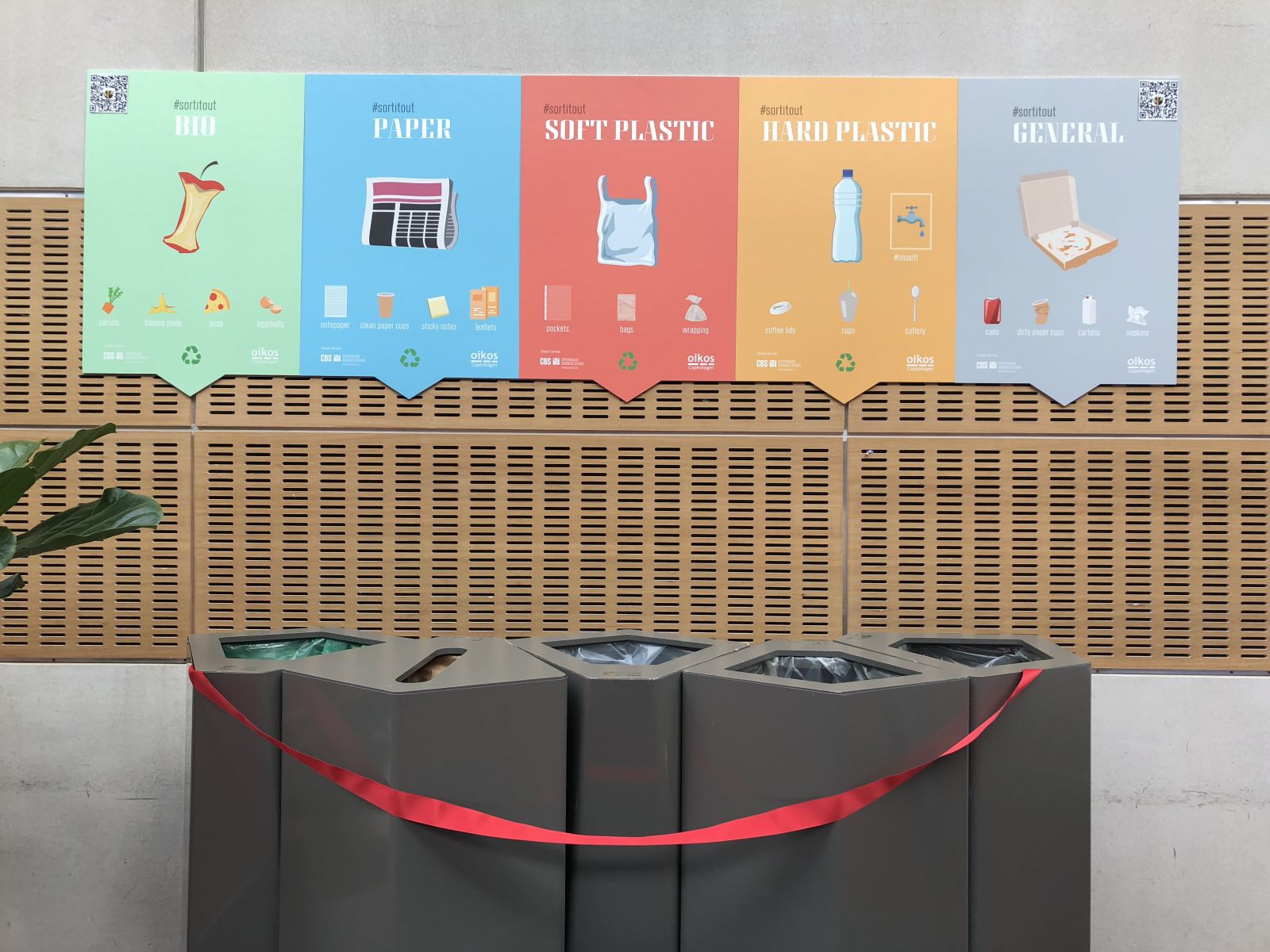 "There's no doubt that sorting your waste is part of an overall trend, as students are aware and concerned about the environment and climate. So it makes perfect sense to have recycling stations at CBS. I was actually quite surprised that CBS, as an educational institution, didn't have any," says Andrea Beye.
Tore Klitgaard explains that he was already doing a pilot project about waste sorting in his own department, to investigate what it would take to encourage people to start doing it. The idea was to gather information for a large-scale solution. And then the students from Oikos proposed their idea.
"It's the first time that students and Campus Service have worked together on a project like this. I really like their approach, as they're pushing for a movement at CBS as well as taking ownership of the project, so it's not just Campus Services initiating these kinds of projects," he says and explains that Campus Service has been granted money to support this and other pilot projects to make CBS more sustainable.
"The students initiated this project. So it would be wrong to attribute this to CBS alone, as groups of people within CBS are the drivers of change and these projects. It's individuals collaborating, rather than CBS itself," says Andrea Beye.
Tore Klitgaard explains that the initiative is aligned with the newly approved strategy "CBS Campus Sustainability Profile and Goals".
Tracking the waste
The waste from the recycling stations is managed in the basement where it's picked up and tracked by the waste management company Marius Pedersen. The waste is not mixed together with the rest of CBS' waste, as it would be difficult to see whether the waste from the recycling stations is sorted correctly.
Tore Klitgaard explains that there are good incentives for sorting the waste, and he can't see why the project shouldn't get scaled up if it turns out that the users are good at sorting the trash correctly.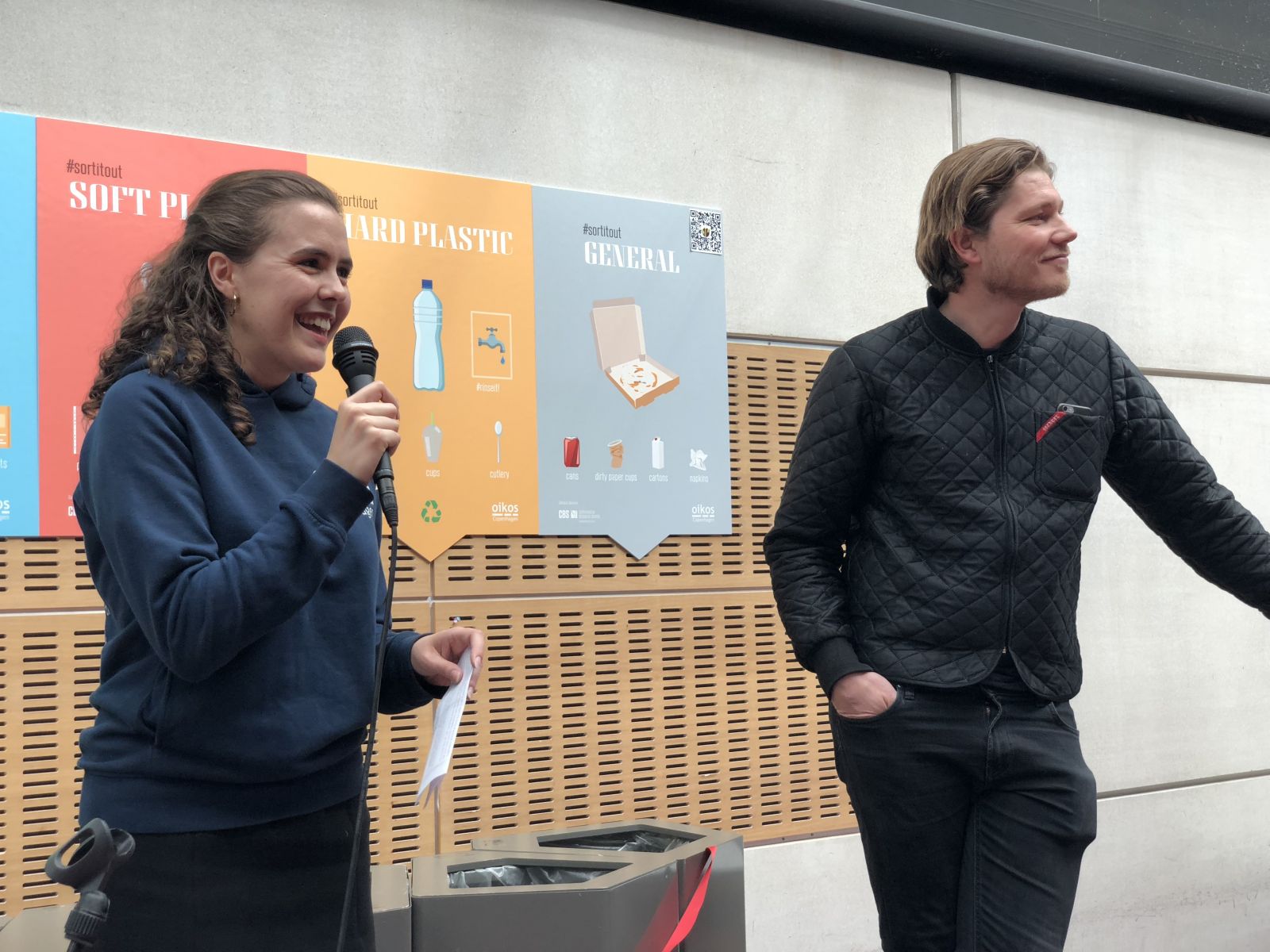 "A third of CBS' waste is general waste, and it's by far the most expensive kind of waste to get picked up. Our goal is that general waste makes up a fifth of the overall waste from CBS. Also, many people are already used to sorting their waste at home, so I hope they'll do it here too," he says and continues:
"If it works, it would be unwise not to continue. We should scale it up so that everyone sorts their waste both at a student and departmental level."
CBS has had recycling stations at Solbjerg Plads before, however, it turned out that the waste was mixed and thrown out in one pile in the basement.
To avoid this, the officers managing the waste at CBS have agreed to make sure that the waste from the bins in the canteen goes in a likewise bin in the basement. They won't pick up hard plastic that's been thrown into the bin with soft plastic, but they'll make sure that everything isn't mixed together, explains Tore Klitgaard and points out that the timing for this kind of project is better.
"The timing is good, as an awareness of sustainability issues have spread throughout the organization and all of CBS' internal stakeholders are involved," he says.
Changing a behavior  
Giulia Carmicino explains that Oikos and Tore Klitgaard have spent a lot of time developing a communication plan, which includes stickers that show how to sort waste, guidelines on how to use the recycling stations, and signs that show the direction of the nearest recycling station.
She hopes that the recycling stations can change the behavior of students and staff, as it would make it easier to introduce other recycling projects in the future.
"Behavior is the key issue here. We want to change behavior so that waste sorting becomes second nature. This means that it might not be sorted 100 percent correctly for a period of time. But we have to start somewhere, so that people learn how to recycle, as we'll probably have to recycle even more in the future," she says.
Andrea Beye argues that the recycling stations are not only helping CBS, they're also supporting education.
"The recycling stations are a way of bringing sustainability into education. The concept 'hidden curricula' is about how the campus environment effects the students. And if they learn about sustainability, but don't see it on campus, it can have a counteractive effect, whereas real-life sustainability projects support what's being taught," he argues.
The collaborators hope that the pilot project will be part of changing the culture and behavior at CBS, and will show the CBS community that this is the way to go.
"We have to show that we care and that we're committed, and that we want this," says Giulia Carmicino and continues:
"It is up to the students to make this a success and to push CBS to scale it up."
Tore Klitgaard agrees.
"To me, this kind of project has two aims. To generate a movement, and to transform CBS. We're all trying to push this agenda," he says.