How to love a country you hate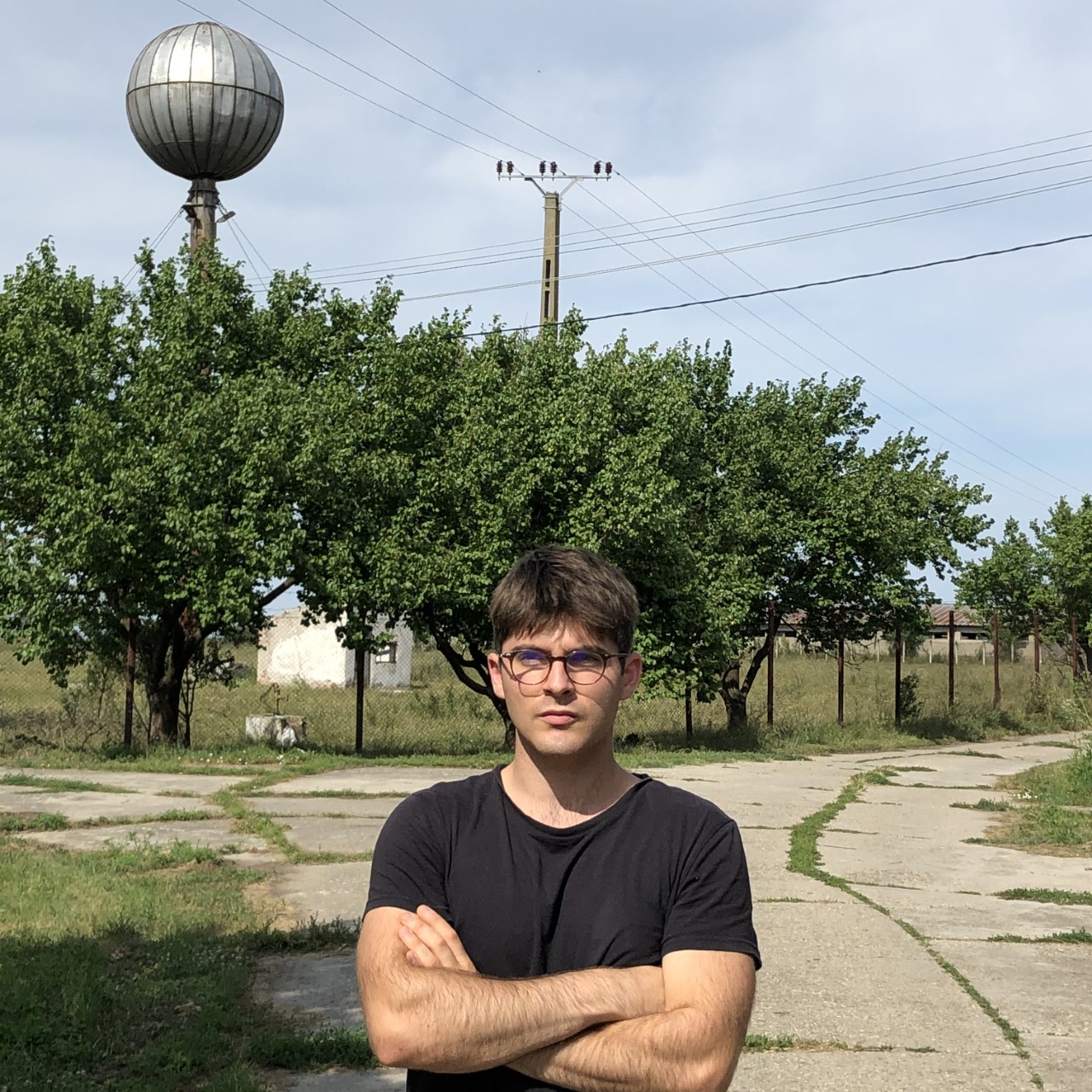 Abel Aioanei was thrilled when he left Romania, two years ago. In fact, he didn't plan to return. Ever. But coming to Denmark to study at CBS one year ago turned everything upside down. Could the Danes be the key to making him love the country he had always despised? And would five months of corona quarantine in Romania change anything?
Abel Aioanei does not pull his punches when talking about his birth country Romania.
"If you ask playschool children in Romania what they want to do when they grow up, they would say that they want to leave Romania. Go to Germany or the like. That is how it is. Everything you are told about Romania when you grow up is basically that Romania sucks, it is bad, and everything is s#!t."
The second-year CBS student is sitting in his parents' house in the village of Giulvăz, just outside Timisoara, the third-largest city in Romania, when CBS WIRE connects up with him via Teams. He wants to talk about Romania and his relationship with the country that he left in 2018 planning never to return.
But something happened while he was away. A psychological process began and an idea emerged. And he asked himself a question; "can I learn to love Romania?"
Before we dive deeper into the answer to this question and what caused Abel Aioanei's great epiphany, we need to turn back time to his childhood and youth in Romania to understand the roots of his frustration towards his own country.
"When I was in middle school, I started watching Asian dramas. They really excited me because they were so different. In high school, I was on a one-week exchange trip to the Netherlands. I was like 'Wow, it's so different here', and that made me want to go abroad. And I really wanted to visit Korea, so I applied for a scholarship through the Romanian state in order to afford it. But right after I applied, the scholarship was cancelled."
Abel Aioanei saw the cancellation as a way to make him stay in Romania.
He explains that since Romania entered the EU, millions of Romanians have left to pursue different lives in other countries. According to statistics from Eurostat, in 2019, Romanian citizens of working age (20 – 64) residing abroad within the EU accounted for 19.4 percent of the population residing in Romania, making them by far the largest national group among EU mobile citizens.
"I was furious about it because I couldn't take Asian or Chinese studies here," he says.
"I have learned more about myself and life from living here than during my life in Romania"
With no chance of taking Asian studies or learning Chinese, he began studying computer science, and as soon as he had a chance to go on an exchange trip, he left. Through the Erasmus exchange program, he could go to Spain for a year.
"When the plane took off, I waved goodbye to Romania. I was so happy. I didn't say anything to my parents about when I would return," he says.
Unfortunately, Abel Aioanei did not thrive with his studies and began looking for alternatives. A friend of his was studying at the Technical University of Denmark (DTU), and it did not take long to convince Abel Aioanei to apply for a place on a program in Denmark, as soon as he finished his studies in Spain.
"I thought, why not? I love languages, and I can study Chinese in Denmark," he says.
And so it happened that Abel Aioanei enrolled on the BSc in International Business in Asia – China program at CBS, and began studying in September 2019.
After six months, Abel Aioanei was in no doubt that Denmark was where he wanted to stay for a longer period. Especially because it made him grow as a person.
"I have learned more about myself and life from living here than during my life in Romania. Having social skills and a social life never played a role in Romania, but in Denmark, there's sort of a pressure to have a social life – in a good way," he explains.
Other than networking, getting new friends and settling in Copenhagen and at CBS, Abel Aioanei observed a trend among his international friends, and especially his Danish friends.
"Danish people love Denmark, and I like it. It's not from stupid nationalism, but just in the sense of 'it's my country and I like it'. I was baffled. I never knew anyone who loved their country. That approach was completely new to me," he says.
Abel Aioanei went home to his parents for Christmas and decided to introduce his Romanian friends to something really Danish: hygge!
For Danes, hygge is something that just happens. It does not take much effort. They can be alone and have a 'hyggelig' time with a movie, popcorn and candles, or gather some friends for dinner, and then it is just automatically hyggeligt. So Abel Aioanei's mission to introduce his friends to 'hygge', might raise some Danish eyebrows: Wait, what? Surely hygge is a universal feeling. Maybe there just isn't a word for it?
But Abel Aioanei's explanation makes sense.
"I invited some friends over for a chill night at my place. We made pancakes and talked about this and that. Just hygge. They were like: What is this? We love it! Let's do it more," he says and continues:
"It's important to know that the spirit of being social isn't that important in Romania. In Denmark, you care a lot about the little things and traditions that can bring you together. Like eating fastelavnsboller. Even teenagers love fastelavnsboller and don't cringe at all. Or the hot wheat buns you get with butter in May. That's special, you know."
I know it's the right thing to do
Abel Aioanei returned to Denmark and to CBS to continue his studies, but when the coronavirus started to spread, and the Danish Prime Minister closed down Denmark on March 11, he and a friend from Romania that was visiting Abel Aioanei at the time, decided to go home to Romania for the lockdown.
Danish people love Denmark, and I like it. It's not from stupid nationalism, but just in the sense of 'it's my country and I like it'. I was baffled

Abel Aioanei
"I returned to my village, and village life started again after being way for 1.5 years. But I had changed. I had changed my perspective. I forced myself to see Romania from a Danish perspective. I said to myself: while you are here, try to see the nice things in Romania and in my village. And that's when it got interesting," he says and continues:
"I saw that there were plenty of opportunities to run businesses, and I started networking with different people and going to some small events in Timisoara. I don't want to be totally cut off when I return to Romania someday."
Getting to love his country is an ongoing process that has made him reflect a lot about what he is experiencing emotionally.
"I'm forcing myself to go through this process because I know it's the right thing to do. And I had to overcome my internal struggle and my views on Romania. Which made me ask, who's Abel now?"
"I made a post on Instagram about it. I wrote that Eastern Europeans can be the happiest people in the world. At 19, you can have a driver's license, a car and enjoy a beer, and you are more successful than your parents will ever be. That post got so many comments from other Eastern Europeans saying that they felt the same," he says and continues:
"People live abroad for so many reasons. Some hate Romania, but are not happy where they are, either. Other people wish to come back, but they can't, and some are happy abroad and accept that they will return at some point. I hope to be the latter. On the other hand, I will miss Danish bread and skyr a lot."
(Click the link and swpie the pictures to read Abel Aioanei's statement about being happy about coming from Eastern Europe.)
Helping the youth of Romania
While spending the past months in Romania, Abel Aioanei has decided that he wants to do what he can to change the young generation's perception of Romania and talk about what he has learned by going abroad.
"I want to talk about why I'm coming back to Romania, the pros and cons of studying abroad, and why having a gap year in between high school and university is a good idea. Hopefully, I can reach someone who is like I was back then, and encourage them to reflect on their own relationship with Romania and what they want to do," he says.
Although Abel Aioanei will be in Copenhagen and Denmark for the coming years, he is eager to set things in motion and work in Romania.
"I want to see how I can help my home town implement new initiatives, teach them English and network with organizations that can somehow help," he says and continues:
"I want to make the community count. I believe that if you want to have a good life and be happy, it matters that the community around you is happy. And I want to work on that."