New York City is similar to Copenhagen, and yet so different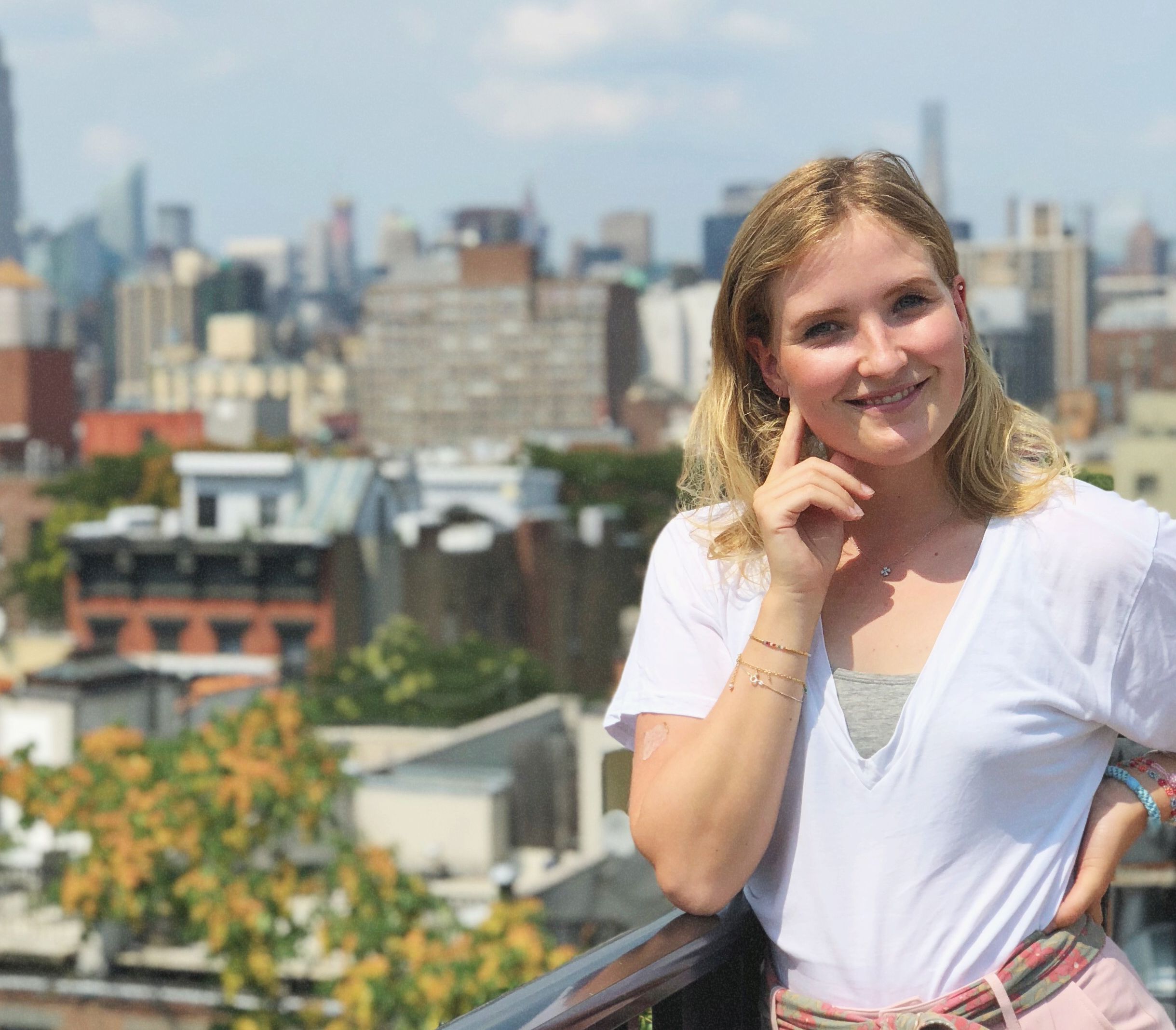 Caroline Sølver studies at CBS and is spending her fifth semester interning at a Copenhagen/NYC company based in hip Williamsburg. In this article, she shares her personal story about how she's immersing herself in the Big Apple and in a culture that is similar, and yet so different, to what she knows in Copenhagen.
'I wanna be a part of it. New York, New York!' Since I was a little girl, I've wanted to be part of New York. When I was 18, I moved to Berlin and ended up staying for three years. But even then, I knew that New York was next. And I was right. After spending a few months here each year for the past four years – after meeting my boyfriend, a Brooklyn native – I am not really mind-boggled about the culture, as I'm already very familiar with the city. But this is the first time that I've lived here.
This means that I have an American phone number, a gym membership and a lot of other everyday things. On August 1, I began an internship at Tipster, a Danish company that has just launched in NYC, as part of my fifth semester at Copenhagen Business School.
If you've studied culture (chances are high if you're a CBS student!), you've heard the saying that one must travel and be immersed in other cultures before one can truly understand one's own. And I couldn't have said it better myself. In this article, I will share a few ups and downs about living abroad. What I miss in Copenhagen. What I love about NYC. And what I am not a fan of.
What I love about NYC
Everything on-demand. Food delivery from any restaurant you can dream of. Someone to pick up your dirty laundry and deliver it back nice and clean a few hours later. Someone to come and cut your hair in the luxury of your own home. An abundance of car services that are just a click and a few minutes away. You catch my drift.
New York City is the home of on-demand; everything is available whenever you want it. It makes life easier, but it also makes me lazier. One thing is certain – I can't get too accustomed to these indulgent on-demand habits, because Copenhagen is definitely different from NYC when it comes to all these apps and services.
Meeting people. People in NYC are just more open, loud, approachable and fun than Danes. Let's face it. The law of Jante and Protestantism, inevitably, have turned Danes into shy, 'Oh no, I can't stand out too much' people. Until you give us something to drink. New Yorkers are the complete opposite. Someone might yell, "I love your dress!" or some other compliment as I walk down the street. I make conversations everywhere. On the bus, at yoga class, in the line for the bathroom. And at the coffee shop with my barista who brews my morning coffee. And I love it!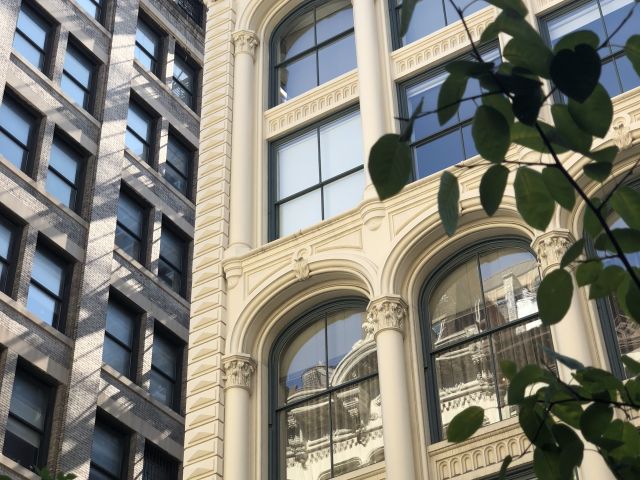 The movie vibe. Being in NYC, on the right time and day, makes me feel like I am in a movie. I need to pinch myself to make sure that I am not dreaming. When I wake up and look out my window to see the skyline, I pinch myself. When I get out of the subway and look up and see the concrete jungle. When I casually walk by the Carrie Bradshaw apartment building in West Village on my way to a meeting. It's a dream!
What I miss about Copenhagen
Nearest and dearest. It goes without saying. I miss my friends and family in Copenhagen. It's when you live abroad that you realize that building close relationships with other people can't be forced. And for the most part, the close relationships you have, have been built up over several years. That means that while you can totally meet cool people, building authentic, close relationships can't be done overnight.
It's easy to find people to talk to in NYC because everyone is so open. But building close relationships is easier said than done, especially considering the cultural differences that are prevalent in human relationships. On bad days, it's hard not being able to bike home to my childhood home for some consolation and a hug. I say thank God for FaceTime and Facebook, and for the Norwegian airline that offers insanely cheap flights from CPH to NYC.
Biking. Born and bred in Copenhagen, I was born to ride a bike everywhere I go. And that's what I am used to. But not in NYC. Although I do have a bike here, and I ride it sometimes, the city just isn't that bike-friendly. It's a huge city, so the distances are long – unlike Copenhagen where everything is a 20-minute bike ride away. The good news is that I have finally invested in a bike helmet! Let's see if I will bring that one back to Copenhagen…
The sea. After visiting other places in the world, and having lived in Berlin, I realized how unique it is that Copenhagen, well, all of Denmark, is surrounded by water. Growing up in Østerbro, the sea was a five-minute walk away. Seeing myself as a 'city girl', it wasn't until I moved away from Copenhagen that I found out how much nature and the sea mean to me. NYC has water too, but in a very different way. Imagine if you could jump in the 'East River', the same way that we jump in the water at 'Bryggen' 😉
Three things I am not a fan of
Loud phone conversations. My grandmother always told me to never speak loudly on the phone in public. I don't know if I am the only one who got this memo. New Yorkers certainly didn't. Everywhere I go, people are on their phones having extremely loud phone conversations. In cafés, in supermarket lines, everywhere. And it bothers me! But then I start wondering why, because I wouldn't be bothered if they were actually having a conversation with another person that was present.
The tipping culture: When I get my bill after a nice meal at a restaurant, I'm expected to add 20% in tips. This goes against my Danish social democratic thinking. Why aren't the waiters being paid by their employer? I am already paying $22 for my pasta dish. Then comes sales tax. And 20% in tips on top of that – even if the service wasn't good. Why is it up to the customer to be responsible for waiters being paid? If the pasta dish is $22, there should be enough money to pay a fair wage to employees.
The overconsumption. It breaks my heart to see the careless overconsumption and use of plastic bags. One trip to the supermarket, and I'm walking home with 12 plastic bags. And my food is not just wrapped in one plastic bag, but two. Because 'double-bagging' is a thing. All the trash that is thrown in the streets. The fact that my pack of gum is not only wrapped in a hard plastic container, but on top of that, there are two extra layers of plastic. Why???
That was my personal experience of culture in NYC versus Copenhagen. Like any culture, it isn't perfect. I don't love everything about Danish culture – just like I don't love everything about the American/New York culture. But experiencing other cultures and learning about your own culture is key. And in that way, I get to inject what I've learned about different cultures into my own life and mix and match them how I want.