Internship: I sent nearly 25 applications but from the very first day I knew what I wanted
Second week of April, email notification, United Nations Inspira (the job portal from the UN). Heart rate went up, blood pressure went down.
I opened the mail hoping for the best but prepared for the worst. I had been offered an interview for an internship position.
At first, I couldn't believe it, I immediately sent an email accepting, locked my phone, threw it on the sofa and started walking around the room. I didn't even bother to check which position it was, as I had applied for more than one.
Two hours later, a finance officer from the Trade, Investment and Innovation Division contacted me with the date and time of the interview: 17th April at 10 am.
Those weeks I had two friends from Spain visiting me in China, so I couldn't prepare as much as I would have liked to as we were travelling around Shanghai and Hangzhou. However, it all worked out. Let's start from the beginning:
Why am I even doing an internship?
The simple answer would be: because I have to. However, that's not completely true. My master's program at CBS gives me three choices for the third semester: an internship – including an internship report – a research-based project or electives at another university. Nonetheless, the latter one is not common (in fact, none of us has chosen it) because we are already taking the classes in China, which can be considered some sort of exchange in itself.
What we all wanted was an internship. Since September, we all started wondering about what is it we want, how will we be able to apply the knowledge gained from this master's degree to our careers…
We all come from very different backgrounds. One guy in my class studied history, another studied Korean studies, and I and some others, come from CBS and thus, a business background. Our interests were really diverse, and while I found a lot of inspiration from my classmates, I knew, since the first day, that what I wanted was the United Nations.
Of course, I had a Plan B. And C, D, E… the whole alphabet.
After all, I am not the only one in the world who wants to work for the United Nations. The application process was not easy, I was very stressed, going through a tough break-up and having some doubts about whether Public Management was the right program for me.
In total, I sent nearly 25 applications and the only thing left was to wait and hope for the best. I can happily say now that it all paid off, and I even got more than one call back. Support from my friends, sushi and coffee helped me through the process.
The day of the interview arrived. I went to class, but I couldn't pay attention, I was only checking the time until it was finally 10 o'clock. I moved to an empty room at uni, connected my iPad to Skype and hoped for it to be a phone call and not a video call as I could see myself shaking.
Tengfei, who is now my supervisor, was the nicest person I could have asked for. We had a casual chat about China as it is his home country, about the work I would be carrying out, and ended with him asking: Okay, when are you coming?
When I hung up, I was still in shock. Did I just get an internship with the UN? Did I just agree to move to Bangkok in a month? 30 days to pack everything, get my two visas in order and buy a one-way ticket to a new country? I called my parents straightaway; it was 4am in Spain but I didn't care. I needed to share the news.
What exactly do interns do at UN ESCAP?
To clarify, my title is "Economic Affairs Intern" at the United Nations Economic and Social Commission for Asia-Pacific (ESCAP). I am in the Technology and Innovation Section of the Trade, Investment and Innovation Division, a division focused on (as the name indicates) trade and how to make it paperless and more sustainable in this region.
The job that the intern carries out depends more on the supervisor than on the division. Basically, the division will determine the topic or topics your research will focus on, but it is ultimately your supervisor who decides what you do. For me, it has now been exactly four months since I started the internship. And, as my dad asks me every time we talk: what exactly do I do here? I mean, besides taking pictures of my UN mug for my Instagram stories.
My supervisor, in collaboration with the Asian Development Bank, published a report last year on e-commerce in the region. As every business student knows, e-commerce is the new revolution in the business world. That report focused on analyzing the current situation in the region, the flaws, challenges, and some policy recommendations.
Now, he is in charge of writing a second part that will include cross-border e-commerce. I am lucky that my supervisor is in charge of a whole report, as then he has delegated different sections of the report to me, and if he likes what I research and write, I will have my name on a UN report!
I cannot really tell you more about the topic until it is published, but I can tell you that the daily tasks are to sit in front of a computer and write about this topic that luckily interests me – I even wrote my bachelor thesis about e-commerce in China.
As interns, we all have the same monkey tasks. They are small tasks that are important but very basic, such as transcribing surveys from the meetings and conferences the division organizes, preparing PowerPoints for our supervisors, proofreading reports, etc.
The good thing is that supervisors put a good deal of trust in us, interns, so we get to write parts of reports, have extensive discussions with them if we disagree on something, and we get to really see what the daily life at the UN is like as an economic affairs officer.
The perks
If I had to say the perks of this internship in one word it would be: the people. First, everyone in my division, from research officers to administrators, consultants and interns are very open-minded, nice and easy to hang out with. You can never get bored.
All the interns get along very well and smoothly. As part of the social life, every Friday at 17:00 we all go down to the garden café for Happy Hour, where we have a couple of beers before we head out in smaller groups for dinner. This is a great chance to meet everyone from the other divisions and agencies in the building (and how I met my boyfriend!)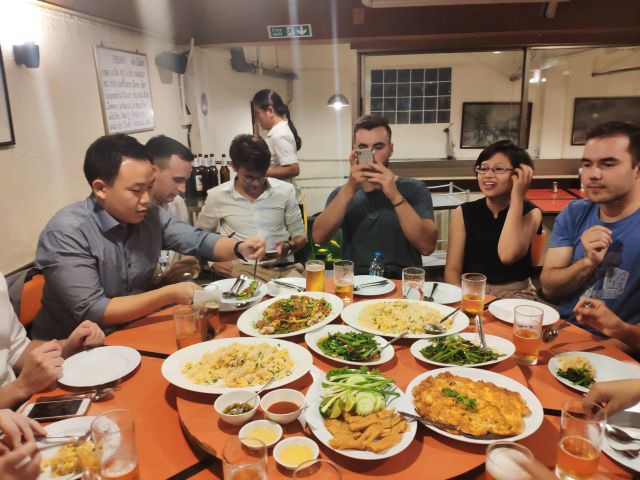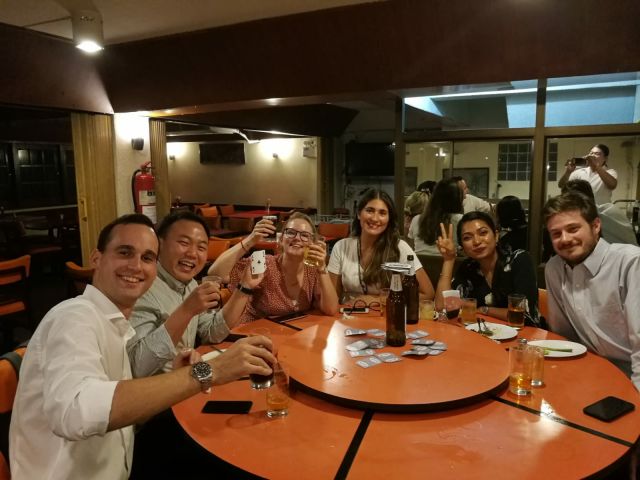 Secondly, we started a small tradition in my division (that hopefully will become big) called Happy Wednesdays. Two interns at the office decided that Wednesdays are a good day for a weekly break, to recharge and connect with each other. So, we all stay at the office until 18:00, then we go together to a Thai restaurant called Crown Kitchen where the waiters already know us, we get a big table on the second floor and we just order food – beer comes without asking.
In fact, you can never finish a glass, they will refill it before it's empty. We have only one rule: at 22:00 we all need to go home so we are not extra late or hungover the next day at work!
Thirdly, the UN here in Bangkok is very flexible.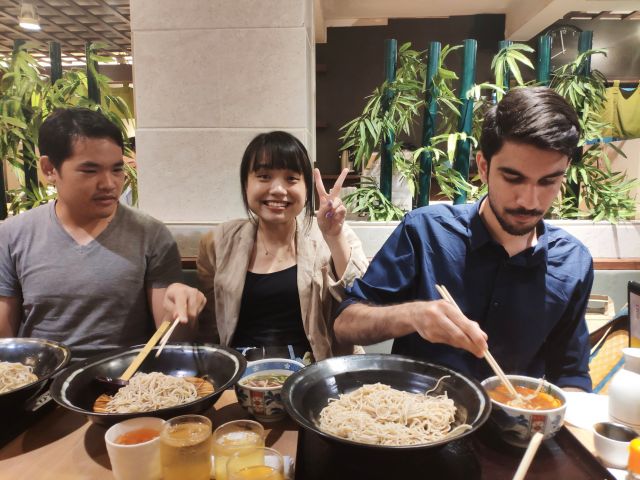 Depends on the office, but in Trade we don't have a specific work schedule. We are allowed to arrive whenever we want and leave when we want as long as we fulfill the required hours of the internship (8.5 hours per day including lunch) and within a reasonable time schedule – usually I arrive at 8:30 and leave at 17:30.
In addition, the relationship between supervisor and intern is very relaxed. They treat us as colleagues and we are allowed great flexibility in our work. Long lunch breaks are common, and if we need to take a day or two off, it is enough to just ask in advance.
And last but not least, the multicultural environment. I am constantly learning here, not only academically or through my research but by interacting with people from every corner of the world.
In my division alone, we have interns from Nigeria, India, South Korea, Canada, Italy… and of course, Denmark. This gives me a good opportunity to continue learning to work in international environments, where disagreements are more likely to arise but the different ways you see how people deal with them makes you reconsider your own views and grow personally.
And… how does this relate to my master's program?
I am studying public management and social development. We tend to focus on the intersection of the public sector, private sector, governments and international organizations. It is a very broad topic, with infinite possibilities. All my classmates are doing very exciting internships. From the Danish Embassy in Malaysia, to the Socialist People's Party (SF) in Copenhagen, different chambers of commerce in Beijing, and even at Danske Bank.
It is true that the fact that I have a background in business was crucial for getting this internship in economic affairs – as all interns in the division have some sort of business/economics background.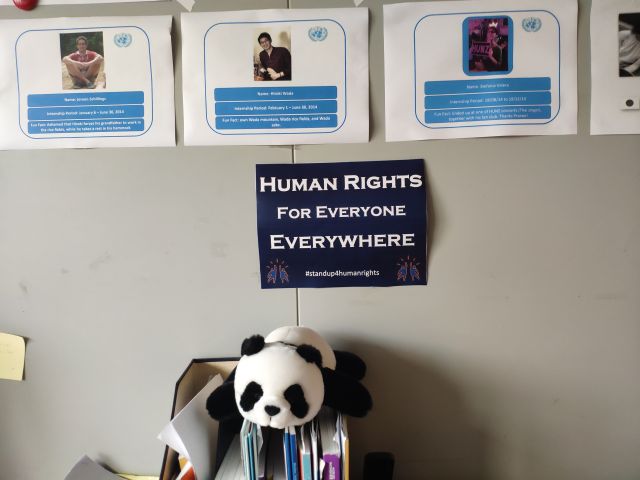 However, my program regulations include an internship report based on what I am doing during the internship and drawing from the different theories and frameworks learnt throughout the first year. This has been a struggle as I failed to find a direct connection in the beginning, but now I am back on track and slowly starting the internship report, where I will write about how e-commerce is challenging traditional trade and what can governments do to facilitate this process.
Thank goodness I found those study cafés around Bangkok… Otherwise, I can always count on the library at the UN building. It has a cozy sofa and a daily copy of the Financial Times!
If you are considering an internship with the United Nations (especially with UN ESCAP) and want some guidance on the application process, or just want more info, don't hesitate to drop me a message!