Doing an internship in Thailand: Time to explore the north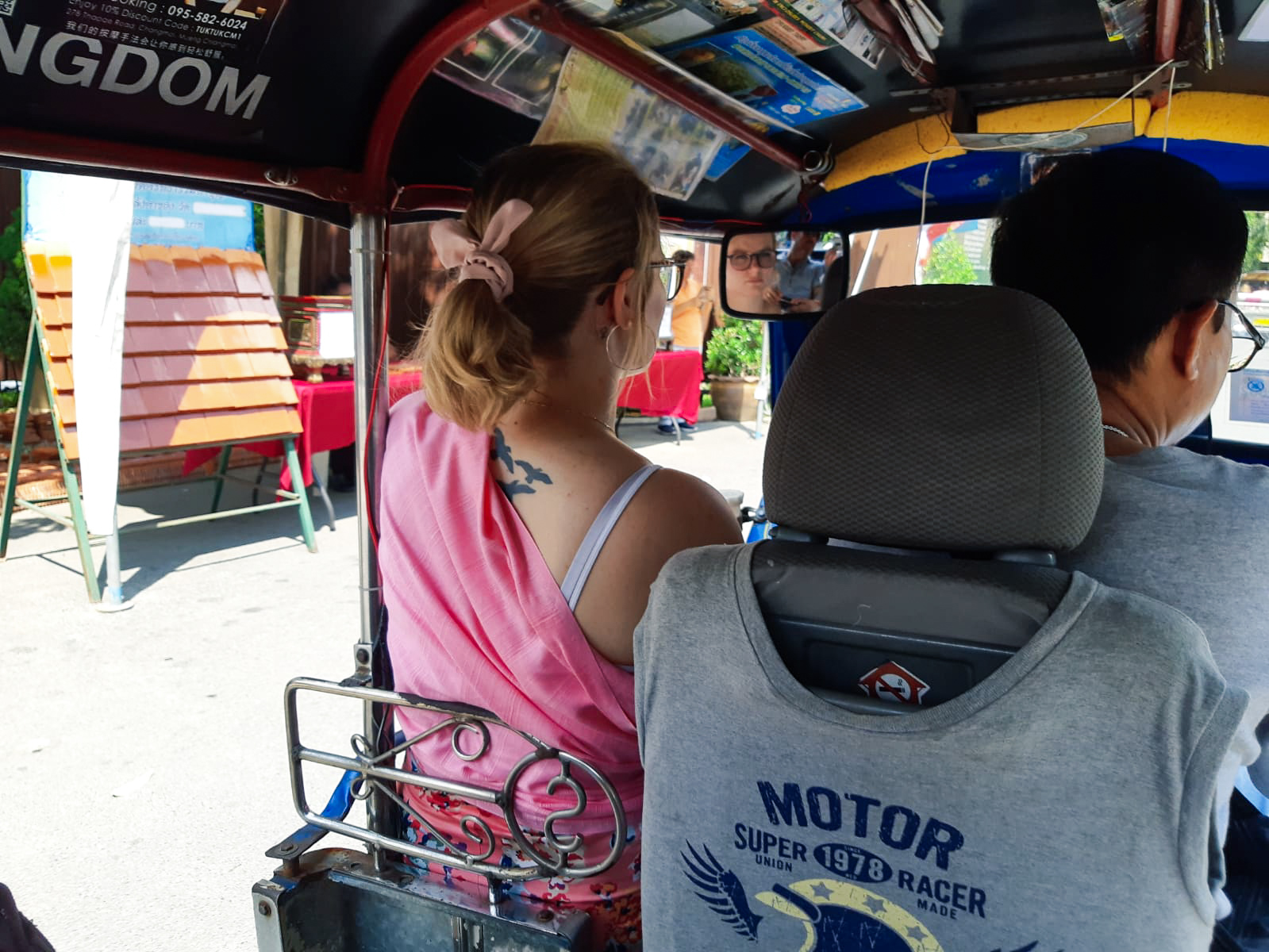 After careful consideration and a list of pros and cons, I decided to choose my favorite place in this country and not only in the city where I live. Bangkok is great, but I don't think I have a specific favorite place in town yet – I have some places I enjoy going on the weekends, such as night markets (check out Chang Chui or Rod Fai Ratchada, for example), and some restaurants I have been to more than once, but no place in particular comes to mind.
Plus, you have already seen all the nice pictures I have taken of the city but not of other places in Thailand. And last, it isn't fair to pick a place without having been around that much, since I am not done exploring Bangkok yet.
So, let's talk about Chiang Mai (and Chiang Rai): two regions up north that are a must visit during your exchange semester in Bangkok (or anywhere around South East Asia).
Practicalities: how you get there
How to get there is very easy. Three options: flying, night train or night bus.
Flights go from Bangkok every day and are very affordable. Nonetheless, if you are worried about your carbon footprint then the night bus is the best option for you – or if you just want to save money on accommodation for one night.
There are both night buses and night trains that can take you to Chiang Mai or Chiang Rai from Bangkok, however I have not tried these two options, so I can only rely on other people's experience telling me that they are nice too.
In any case, it is not hard to reach these regions from Bangkok.
Why are these my favorite places?
Preferences are sometimes also linked to moments, emotions and the people you travel with.
A great place can be a bad experience if something unfortunate happens. When I visited Amsterdam for the first time, we got a call that my grandma had had a stroke (everything is fine now!), so Amsterdam was ruined for me until I decided to give it another try and visit one of my best friends who recently moved there.
My point is that maybe my choice of place is biased, but as humans, we can never leave emotions completely aside.
My parents decided to visit both my sister and me here in Asia. My sister is taking her exchange semester from DTU in Taiwan, and I am living in Bangkok.
So, as much as my mom despises long flights and chaotic cities, they both hopped on a plane and came to Asia. I chose to start their Thai adventure in the north. We spent four days in Chiang Mai, and perhaps the fact that this was most likely one of the last family trips for all four of us is what created the good memories there – now we are all adults with responsibilities and spread all over the world, hard to coordinate.
But enough of me, let me walk you through Chiang Mai and Chiang Rai and you can see for yourself how nice these places are!
What you cannot miss:
Yes, I know, more temples. It's like Thailand doesn't have anything else, right? That's how I felt in the beginning. I remember one of the first weekends here – the only day I have done anything touristic in Bangkok – a friend who lived in the same building asked if I wanted to join her for a visit to the Grand Palace.
And that visit turned out to be a full-day activity that included not only the Grand Palace but at least 4 other temples and China Town. At the end of the day, my phone showed 12km walked and my face showed a very beautiful and attractive sunburn.
But don't worry, Thailand is much more than just temples. However, the temples in the north are extremely beautiful and peaceful.
Of course, there are tourists. There is nowhere in Thailand free of tourism. My dad had made a detailed plan of which temples to visit, and the final choices for day 1 were Wat Chedi Luang, Wat Chiang Man, Wat Phra Sing and Wat Lok Molee. These are all located in Chiang Mai Old City, and if you don't want to go with a plan, just get comfortable shoes, sun cream, start walking around, and you will find a temple in every corner.
The alternative for those who are a bit lazy or those who – like me – don't take walking under the sun very well, you can hire a tuk-tuk for the day to take you temple hopping. Prices vary, so you'll need to decide how much you are willing to pay and then negotiate with the driver.
Outside the Old City we visited a temple that is hidden in the mountain. In fact, it is not very well-known, but it was one of the most beautiful spots I have visited in Thailand.
Quite empty, lost in the mountain – and while the temple itself wasn't particularly special, the surroundings were astonishing. The name is Wat Pha Lat, however I could only find it on maps by either writing it with the Thai alphabet or by the name: "secluded Buddhist temple reached by bike". No joke, it has this name in Google Maps.
To get here, the best thing is to also hire a tuk-tuk to take you there and to the most famous temple in Chiang Mai, Wat Phra Thai Doi Suthep. This last one wasn't particularly impressive in my opinion, but if you are going to be in the mountains anyway you might as well pay a bit extra, visit this one too and judge for yourself.
On day 2, we took a day trip to Chiang Rai. I knew since the moment I got my job offer from the UN in Bangkok that, if I would be living in Thailand for six months, a visit to the white temple would be mandatory: Wat Rong Khun.
This was flooded with tourists just like us, nonetheless I don't regret going there. The inside is a bit strange as the walls have paintings of minions, superheroes and such. But the outside is just stunning! 100% recommended in spite of the 4-hour van drive there.
This daytrip also included a visit to the Long Neck tribe, the golden triangle (with a short visit to a market located across the river in Laos) and Wat Rong Seur Ten: a blue temple during sunset that is now in the top 5 of my personal ranking of the "most beautiful temples in Thailand".
But enough about temples: now it is time for elephants. On day 3, we visited an elephant sanctuary for half a day. Here, we got to enjoy feeding the elephants and a mud bath with them.
If you are looking for a responsible experience with elephants, Chiang Mai has several elephant sanctuaries in the area. Before buying your package (for either a half or full day) please remember to check online reviews to see whether the place is actually a sanctuary where they are treated right.
It is very important that we don't contribute to the extensive animal abuse in Thailand's tourism industry. As you can see in the pictures, we had a lot of fun in the sanctuary, plus look how cute the elephants were.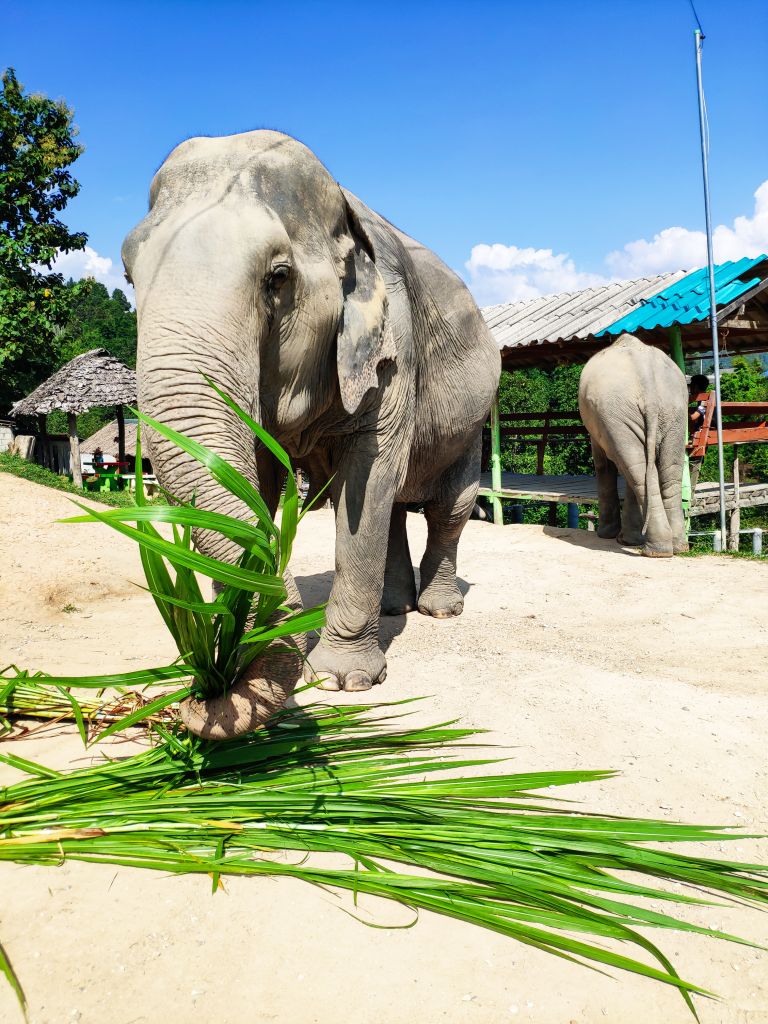 And my last piece of advice: eat Khao Soi. It's a curry soup, and while you can find it everywhere in Thailand, it is a typical northern dish so tastes better there than in the city.
Two places to try either Khao Soi or just very good quality Thai curries are Kanjana and Nun's. I swear I am not being paid by any of these places, I just loved them.
Important takeaways:
I don't want to cramp your style but two things: don't hesitate to visit Chiang Mai if you have the chance and don't ride elephants.
PS: As this is not meant as a travel blog, I have not added every temple we visited nor every restaurant we ate at – but as usual, if you want to know more, don't hesitate to drop me a message!