For all of you who are going to Bangkok, worry no more!
It is time now for a more practical post about everyday life in Bangkok, the ups and downs of this big crowded city that never sleeps, the practicalities… welcome to the less exciting side of my life!
My house, or should I call it my home?
Finding accommodation is one of the first worries I had when I received my internship offer. Many questions invaded my thoughts. Where will I live? Will the United Nations provide accommodation? Will it be expensive? Will I have to share?
For all of you who are going to Bangkok, worry no more. First, most likely the university will provide you with either a dorm room or guidance. But in case you want more options, here I write about what I know after four months in this city.
Finding accommodation in Bangkok is very easy and complicated at the same time – isn't it everywhere? The good thing is that finding accommodation in Copenhagen has prepared all of us for the worst.
Last time I did a Facebook cleanse (you know, the process in which you go through all your friends, pages and groups and delete all the unnecessary) I counted 13 groups about finding housing in Copenhagen. Thirteen!
Is rent cheap in Bangkok? Well, cheap is a relative concept.
Thus, I will compare it to Copenhagen prices. If you aim to travel a lot and you are just looking for a bed to sleep at night, Bangkok has different residences in which a single room with own toilet ranges from DKK 1,700 to DKK 2,500, excluding expenses and internet.
In my case, the UN sends every intern a list of possible residences within walking distance of the UN – or with easy access. This was how I lived during the first few months, in the most basic room I have ever lived in. I literally had a bed, a closet and a phone that was last used in 1995.
However, after 2 months, I moved into what I like to call an "expensive but somehow still affordable" condo. Rent now is around DKK 4,200 for a small apartment that I share with my boyfriend.
Yes, sharing is better, shared rent and expenses, however it is still somehow affordable for one. This apartment, as you see in pictures, is well equipped: has a kitchen-living room, a modern TV, a small balcony, and a separate bedroom.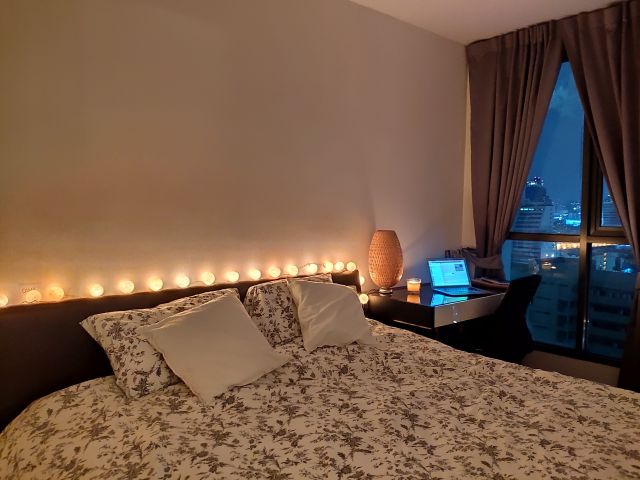 Plus, the building has a common room for studying, laundry, a basic gym and a pool. The main advantage of living here is that it is only two minutes' walk from BTS Skytrain, the fastest way to get around in modern Bangkok – traffic in Bangkok was ranked as the 7th worst worldwide, therefore despite taxis being cheap, you can be stuck in traffic for over an hour for a trip that would have been 25 minutes if traffic didn't suck.
This is nobody's fault but failed city planning.
When I moved in, the house was well equipped but decoration wasn't the strongest point. I have never been in a country that values interior design more than Denmark, and in addition, my mom is an interior designer.
So, I needed to do something: buy candles. As I am only going to be here for a short time, I did not want to spend a lot, so I took a trip to Ikea and a local market, got myself some candles, fairy lights, white sheets to make the room more luminous, and a must in Scandinavia: a blanket for the sofa.
Now my house went from a simple condo to a hyggeligt home. I don't know about you all, but everywhere I go I always buy candles, makes me miss Denmark a bit less and gives the place a homey feel. Moving around so often can make you feel lost, at least it does for me, and while I embrace it as part of these adventures in foreign countries, I still need to have a place that I can go to at the end of the day, when I am tired, and feel like I am home.
Now, how to find these types of apartments? I only know two ways, there might be more, but here they are. First, you can walk around the area you want to move into, and when you see a condo building just enter, go to the counter and talk to management, tell them your budget and needs and they will do their best to accommodate them and show you the available units.
The second option is going to the different websites available and directly contacting the landlord of the listed apartments you like. This is a more XXI century approach, but less adventurous.
How I get around, and how I risk my life getting to work
Unluckily, the UN headquarters is located in old Bangkok. No Skytrain to work, unreliable buses that never arrive on time, and as mentioned, traffic jams. Every day, I rely on motorbikes to get to work.
This can be done in two ways, either through motorbike taxis or through the Grab app (Southeast Asian Uber). The problem is that drivers tend to be reckless, some of my friends here are scared of bikes and won't even give them a try.
But I find them part of Bangkok's landscape and daily life, and as cliché as it sounds, I feel free when I am on a bike plus I avoid most of the traffic as they zigzag around all the cars, trucks and tuk-tuks stuck in the road. Besides, it's the perfect excuse to get a cute helmet, mine is pink.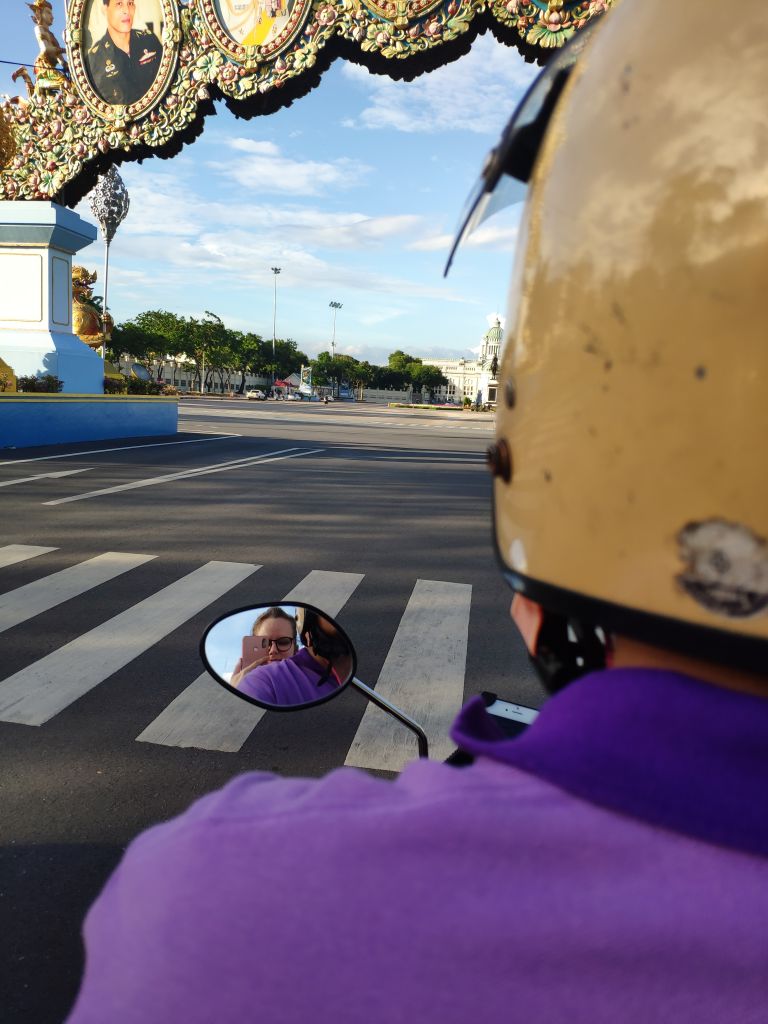 Bangkok is very hot, as I have previously mentioned many times. And it doesn't come with many green spaces in the city, nor bike lanes. There is Lumpini Park, but else green spaces are an extremely rare find. Plus, streets are not well equipped for calm evening walks, you constantly need to be looking down to avoid holes in the concrete, trash bins, food stalls and people looking at their phones.
This was shocking in the beginning, I lived in Beijing and briefly in Shanghai, two very crowded cities yet both of them come with a fair number of green spaces that people use to run, dance, sit and play Mahjong, etc. Heavy traffic is also not bike-friendly, so say goodbye to your bike for a few months if you choose Bangkok.
Nevertheless, not everything is a lost cause! Bangkok has an artificial island inside the city called Bang Krachao where people go, usually on weekends for a day activity, rent a bike for a very small price and just enjoy the day in the middle of nature, with canals and some food stalls. For a few hours, you forget you are in the middle of a big city.
And else, there are several destinations around Bangkok close enough for weekend trips where you can enjoy hiking, national parks, waterfalls, and so on.
My current mission: finding cute cafés for studying
This has been, ironically, the most challenging part of living in Bangkok. CBS has great facilities for students, a four story library in Soljbjerg Plads, a 24-hour library with a kiosk… however, I like background noise when I study. And while I love the architecture, the facilities for social life and the auditoriums at CBS, the library makes me feel stressed.
Thus, I relied on cafés for studying during my bachelor, my favorite being Paludan Bog&Cafe. Even in the campus in China we had a coffee shop imitating Starbucks that we visited frequently.
But here I haven't found the perfect café just yet. And considering I have an exam deadline, an internship report to start and a thesis topic to pick within two months… I am on a mission.
Currently I rely on two small cafés, one near the UN building and one near my home.
Nonetheless, I have discovered something common in Asia: co-working spaces. Okay, this might be a fancy millennial word for just a room with tables and plugs for studying, but talking is allowed, the spaces are very modern and seeing people around me also working hard for their goals (or just for graduation) is inspiring.
The challenge is to balance social life and studying. We know that exchange semester tends to be about the fun, not the books. Students know it, teachers know it, everybody does. The way I balance it, back when I was on exchange at UIBE in Beijing and when I am on an internship now is to set easy daily goals.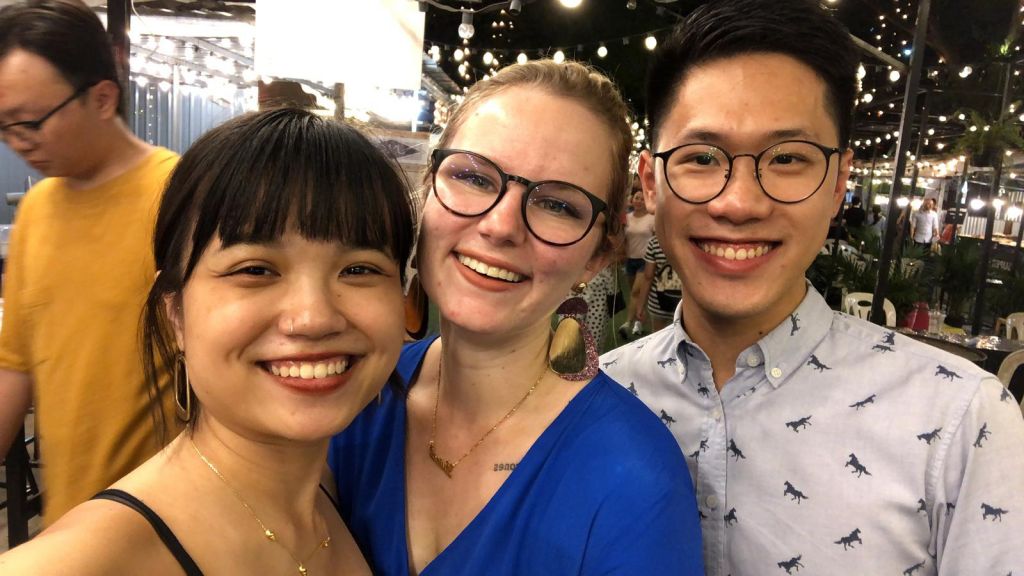 I never said no to a social event when I was on exchange, and it's hard for me to say no to a social event now… but I do allocate at least one hour per day to academics – this might not seem enough, but when an exam period comes and you start revising, you'll see you are already familiar with most of it.
Important take-aways
It's easy to find accommodation, so if this is one of your concerns when choosing an exchange destination, don't worry about it when it comes to Bangkok, you will for sure not be homeless and it is quite cheap compared to Copenhagen.
If biking is life, as a true Copenhagener, there are choices to go and enjoy nature, just not in the city. But exchange is about doing different things than at home, right? And if coffee is a must, as it is for me, I have mastered the art of finding good coffee places, they exist!
Last but not least, if you are considering either going on exchange to Bangkok or applying for internships at the United Nations (in Bangkok), don't hesitate to contact me with any questions regarding any topic, from finding accommodation to if you just want to know where you can find the best Pad Thai in the city.