University paper at CBS: 40 years of writing
A university paper has been sharing CBS' stories for 40 years. Stories that have brought students and staff closer together, overthrown a president, and just made people smile. One of the founders, two former journalists, and the President of CBS Students tell the story about the university paper.
With close to 27,000 residents, CBS is the size of a provincial town. Just enough to fill a newspaper with funny, heartwarming, critical and sensational stories describing the lives lived there.
An independent university paper has been doing just that since 1978 at CBS – which was called 'Handelshøjskolen' back then.
"The purpose of the university paper was to tie the school together as a mini-society. This meant that we would report on what the different areas of CBS were thinking about, and what people were working on. All this, to ensure people were prepared to follow through on their democratic responsibility during the university elections, which were quite new. That was the beginning," says Karen Stetting, one of the founders of the university paper, by telephone from Gentofte.
This newspaper was driven by sheer enthusiasm, and he told us that it probably wouldn't last for more than two years

Karen Stetting
CBS WIRE reached out to some of the people who were part of the university paper to understand what it has been through in the last 40 years. This includes the need for a 'heat shield' between the senior management and the editorial staff, a failed attempt at 'choking' the university paper, and the downfall of a former president and chairman of CBS.
A newspaper driven by sheer enthusiasm
Today, Karen Stetting is 88 years old and has long since retired. But back in 1978, she was an Associate Professor of English at CBS and one of the three 'enthusiastic' founders of the university paper, which was named Kræmmerhuset (The Cornet.).
"We chose the name Kræmmerhuset for the fun of it, but some of the staff members weren't that amused, and didn't want to have anything to do with the paper," says Karen Stetting and continues:
"But then we told them that a 'kræmmerhus' could be filled with sweets or whipped cream."
The first issue of Kræmmerhuset was published in the autumn of 1978 together with a manifesto for the newspaper. The manifesto explained why CBS had set up a newspaper and presented an overview of its organization.
"I remember using the word 'heat shield', which was something new within space technology. The editorial staff needed a heat shield to protect them from intervention by senior management, so we set up a board with five or six representatives from different corners of CBS. They had a say in broad decisions, but not on the editorial work," explains Karen Stetting.
The manifesto stated that the newspaper would be published 10 times a year, and that it would be free at newspaper stands around campus. However, the editorial staff were short on time.
"It was tough finding time to produce more than nine issues, so we, which I think was pretty clever, named the last issue '9 and 10'," she says and laughs.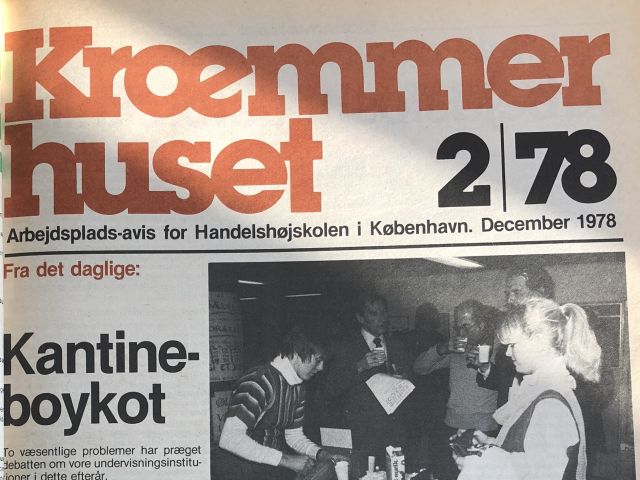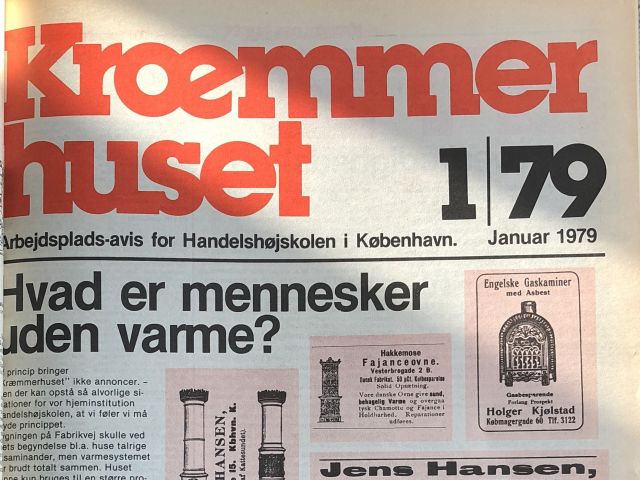 To begin with, Kræmmerhuset's editorial team were five in number. Each represented a part of CBS: the Faculty of Language, the Faculty of Economics, the human resource department, and two students. And since none of them had any journalistic experience, they had journalist, Peter Olesen, to advise them.
"This newspaper was driven by sheer enthusiasm, and he told us that it probably wouldn't last for more than two years. But the newspaper, under the name of Kræmmerhuset, existed for 30 years. I'm proud of that," says Karen Stetting.
So, what did the CBS residents think about the newspaper when it hit the stands?
"The worst thing was that we hardly got any reaction. We just wrote at random, but we were very dedicated. Some colleagues said that it was interesting, and to be honest, there was probably a large group that didn't bother reading it, but we were just so enthusiastic about it," she says.
Should I stay or should I go?
Karen Stetting did not have any journalistic experience, but she had this "itch to write," as she puts it.
"I often did these long interviews with professors and teachers, who devoted their time to something interesting, and I really enjoyed doing those kinds of stories," says Karen Stetting and continues:
"Sometimes, however, my own opinions might have shone through a bit too much than what was normally permissible for a journalist. Not everyone liked that."
You might find Karen Stetting's last name a bit familiar. Her husband is the former president of CBS, Lauge Stetting (1978 – 1979). And that caused trouble for Karen Stetting.
"I should have stepped down from the editorial team when my husband was elected president of CBS, but I wasn't aware that it could be a problem. It was annoying having to leave the newspaper. But I returned when Lauge was no longer the president, and I stayed for 17 years," she says.
"A tired old man"
Kræmmerhuset was for many years run by 'journalistic amateurs', and at one point there was a serious need for some professional expertise. However, the money could not be raised. So, Karen Stetting called the different managers within CBS and asked if they would fund the newspaper so it could afford a journalist.
"It was a success. We got the funding needed from the different parts of CBS and hired journalist, Sys Stothard," says Karen Stetting.
Some said that Kræmmerhuset had become a tired old man, and this process felt like an attempt to 'choke' it. But they didn't succeed.

Karen Stetting
In the mid 90s, the senior management didn't want to allocate any more money to the newspaper and set up a focus group to evaluate Kræmmerhuset.
"Some said that Kræmmerhuset had become a tired old man, and this process felt like an attempt to 'choke' it. But they didn't succeed. We hired some young folks, and they kept the paper going. And that was around the time that I left CBS," she says.
"Senior management loved to hate us"
Jørn Albertus, journalist at Communications and former editor and journalist at Kræmmerhuset – later CBS OBSERVER, has piled up several black-covered books on a table in a meeting room. They hold a copy of every single printed issue of Kræmmerhuset and CBS OBSERVER. Twenty-three volumes in total. And Jørn Albertus has his fair share of bylines in them.
Jørn Albertus was studying at CBS in 1995 when he got a student job at Kræmmerhuset where Karen Stetting was part of the hiring committee. It was a student job that was about to come with a lot of responsibility.
"Two months after I got hired as student editor, I had to take over as editor-in-chief due to illness. This wasn't exactly stable, so the Board of Kræmmerhuset and the staff decided with support from the president of CBS to relaunch the paper and give it a professional lift," says Jørn Albertus.
In 1997, the hiring committee hired journalist Bjørn Hyldkrog, who took over the position as editor-in-chief. Later on, Bjørn Hyldkrog hired  Jørn Albertus as a full-time editor.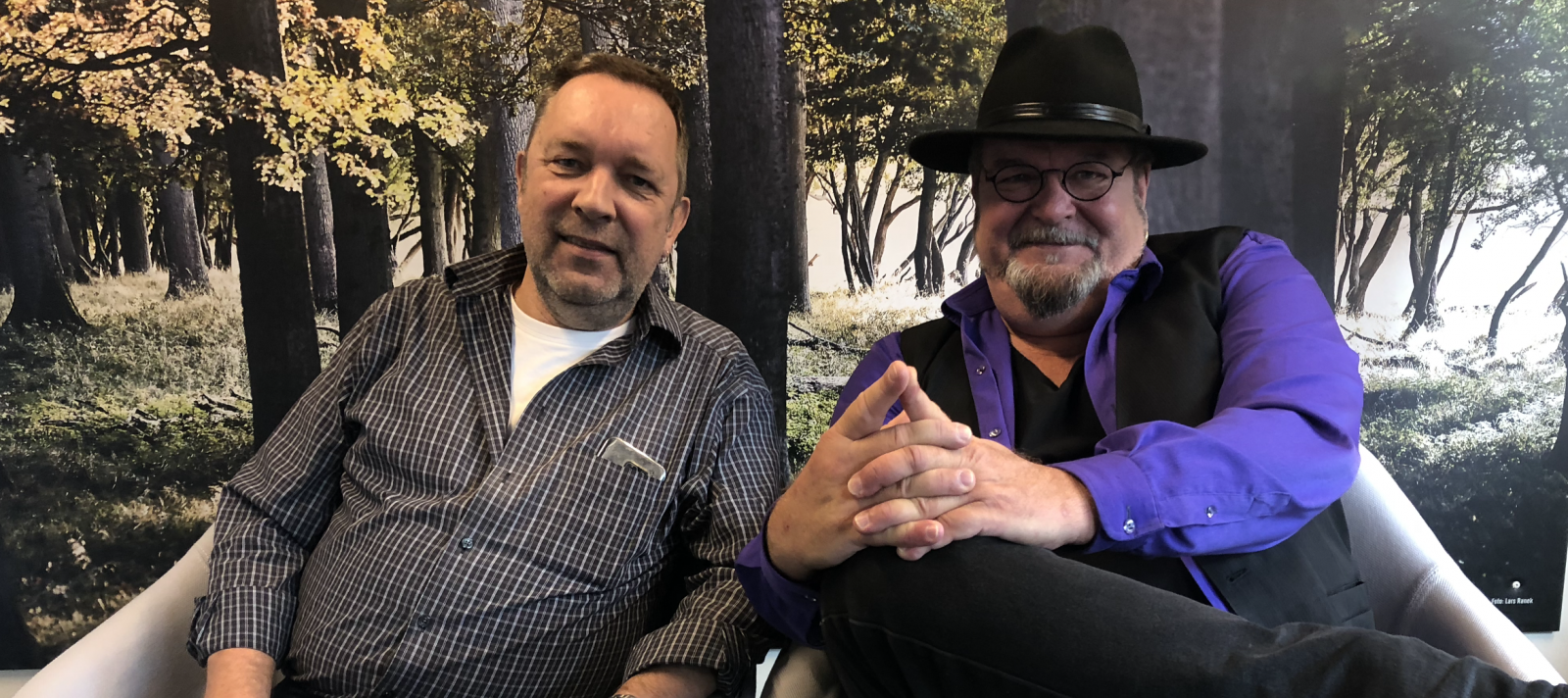 "Oh, how the senior management loved to hate us," says Jørn Albertus about his time at the university paper.
First university paper in English in Denmark
When the university paper was launched in 1978, it was in Danish. But as CBS attracted more international students and staff, the demand for English content increased.
Luckily in 2000, Australian exchange student, Joel Molan, was interested in doing a page or two in English for the newspaper. Along with other students, he was now part of the university paper too.
"The English version of Kræmmerhuset was named CBS Cornet, and we were the first university paper in English in Denmark. We had a lot of international students and staff contributing to the paper from that time," says Bjørn Hyldkrog, Senior Communications Advisor at CBS Business and former editor-in-chief of Kræmmerhuset and CBS OBSERVER.
It was the greatest calamity I've ever been part of

Bjørn Hyldkrog
At the beginning of the 00s, the university paper was thriving, thanks to the advertising revenue, Bjørn Hyldkrog could hire student editors and pay for contributions to the paper using the additional income.
That was until the advertising market crashed, which led to a tough decision.
A battle on paper
In 2007, the university paper could no longer remain in printed format only. The internet made the spread of news increasingly easy, and Kræmmerhuset had to follow suit.
"It was a battle between the printed and the web formats, as we had to have content in both places," says Jørn Albertus and explains that a third journalist was hired to keep the paper 'alive' while the web version was launched.
The university paper got a new name in September 2008: CBS OBSERVER. The name could cover the Danish and the English versions of the university paper, as well as the online version.
CBS now had a monthly university paper in printed format as well as an online version. But it could not stay like this.
The additional funding of DKK one million, which was allocated to this, was not renewed. Decisions had to be made. Print or online?
"The printed paper was more important to the staff, but it was the opposite case for students, who liked the online version the better," says Bjørn Hyldkrog who was for keeping the printed version and ditching the online paper and continues:
"We were not in agreement about this decision, Jørn and I, and we debated it on our own website. Everybody at CBS knew that we did not agree about the future of OBSERVER. But in the end, we decided to keep running the printed paper."
At the time, the university paper had accumulated debt, and Bjørn Hyldkrog hoped that it could be covered by revenue from advertising. But during the summer of 2010, the advertising market crashed – again.
"We closed down the printed version of CBS OBSERVER in October and reinstated the website. We transferred the money that we didn't have to spend on getting the newspaper printed and posted, to the website," says Bjørn Hyldkrog.
When a president and a chairman of CBS lost their jobs
Closing down the printed paper turned out to be an advantage during the spring of 2011.
During 2010, the former President of CBS, Johan Roos worked towards a merger between CBS Executive's EMBA education and the private provider of MBA education, Scandinavian International Management Institute (SIMI).
But the merger was received with misgivings. The Head of the Dean's office, Wilbert van der Meer, informed Johan Roos that the accreditation connected to CBS' program could not cover SIMI's. In spite of this, Johan Roos continued the merger project, and in June of 2010, the first SIMI MBA students from the merger had diplomas signed by Johan Roos and the former Dean of Education, Jan Molin.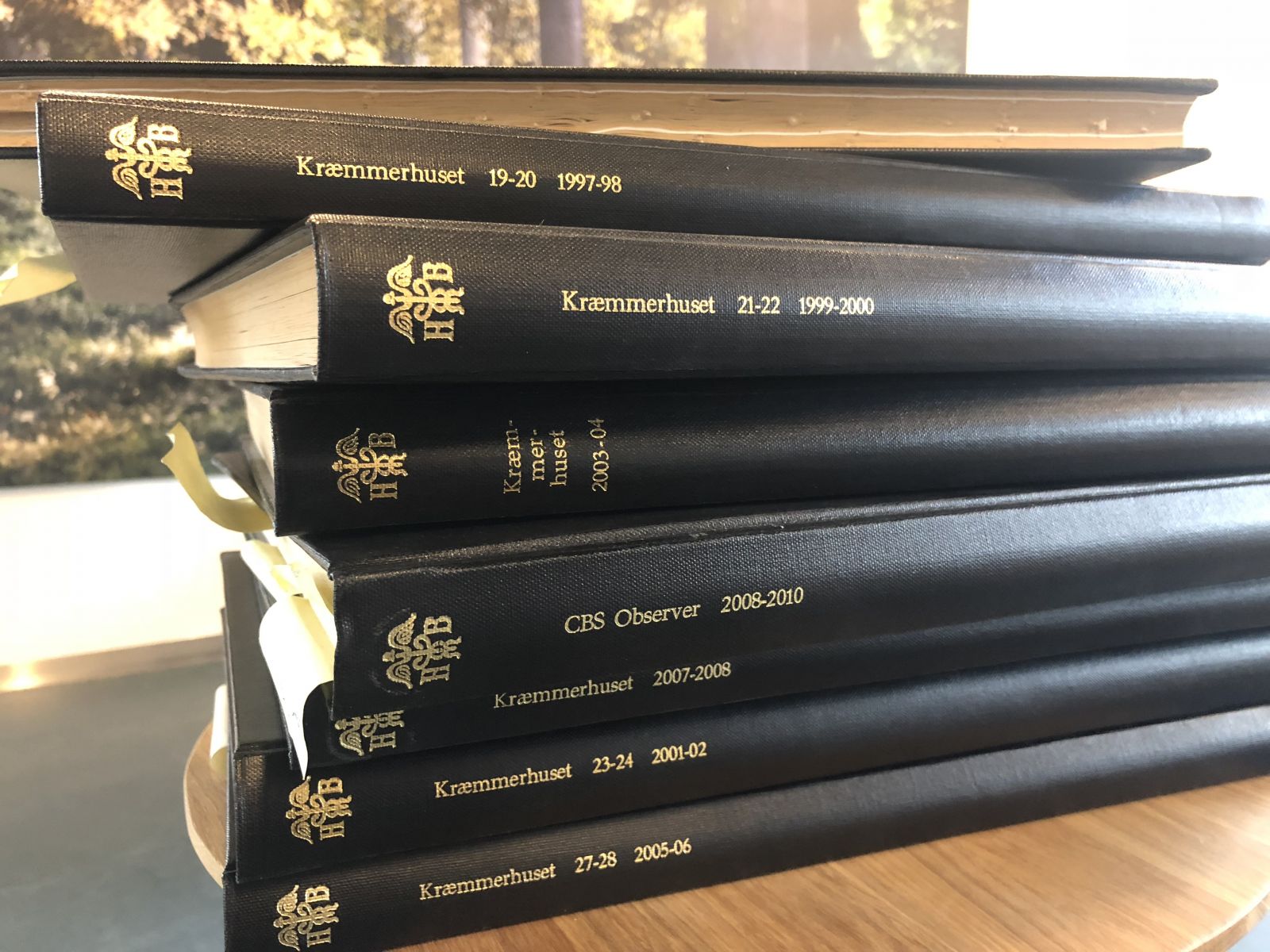 There was just a 'tiny' problem. The University and Building Authority had not yet officially approved the merger. And it was not until September of 2010 that Johan Roos sent an official request.
The Director of the Building Authority, Jens Peter Jacobsen, rejected that such a merger could take place on October 29, 2010 with reference to the issue of the accreditations.
The public did not know about the merger until March 4, 2011, when the business newspaper Børsen published an interview with Johan Roos about the issues surrounding it.
On March 14, CBS OBSERVER published an article written by Jørn Albertus that included a request for right of access to documents at the ministerial authority, to get insights on the case.
"Kurt Jacobsen helped me trawl through the documents, and that was a great help," says Jørn Albertus.
The documents revealed that the authority had warned CBS about several aspects of the merger at an early stage, before rejecting the application.
"This was a great time for CBS OBSERVER. We got a whole new reputation, and people finally realized that having online media was the best solution, as we had the possibility of updating the news as it happened," says Bjørn Hyldkrog and continues:
"It was the greatest calamity I've ever been part of," says Bjørn Hyldkrog.
The whole scandal resulted in Johan Roos' exit.
Shortly after Johan Roos was dismissed, CBS professor Ann Westenholz wrote an open letter to the Board of Directors at CBS, which was posted on CBS OBSERVER's website, in which she asked the board to deselect Anders Knutsen as Chairman of the Board. The open letter received more than 100 letters of support in the comments section.
Anders Knutsen  then left CBS.
Hello, CBS WIRE
In June 2016, the decision to close down CBS Observer was made by CBS Observer's board based on recommendations from an external expert group, and it was decided that a new media should replace it.
Two journalists were hired to run the university newspaper, which was launched in May 2017 under the name of CBS WIRE.
One of the main differences between CBS OBSERVER and CBS WIRE is the language. CBS WIRE only publishes articles, videos and podcasts in English as a way to include the whole of CBS.