Trash mayhem II: Does student demand for sustainability have a hollow ring to it?
This year's thesis handing-in party left a mess outside Café Nexus. Just like last year. The Vice President of CBS Students agrees that the student demand for more sustainability has a hollow ring to it if they leave a mess like that. CBS Students hopes to kick-start a change of behavior this coming semester to avoid trash being thrown around.
Several blue containers were made available to handle the trash from students who gathered outside Café Nexus to celebrate the handing-in of their theses on Wednesday May 15. However, the morning after, a lot of them weren't even half full.
Just like last year, plastic cups, beer cans, take-away containers and plastic bags were scattered all over the outdoor areas. And several officers from CBS' maintenance crew spent hours cleaning up the party.
"It makes me sad to see these pictures," says the Vice President of CBS Students, Sarah Diemar who scrolls through a handful of pictures taken the morning after the thesis handing-in and continues:
"I know that CBS students can do better than this, and I want to say to them that we're all responsible for solving this problem, because neither CBS nor CBS students want to be identified with this."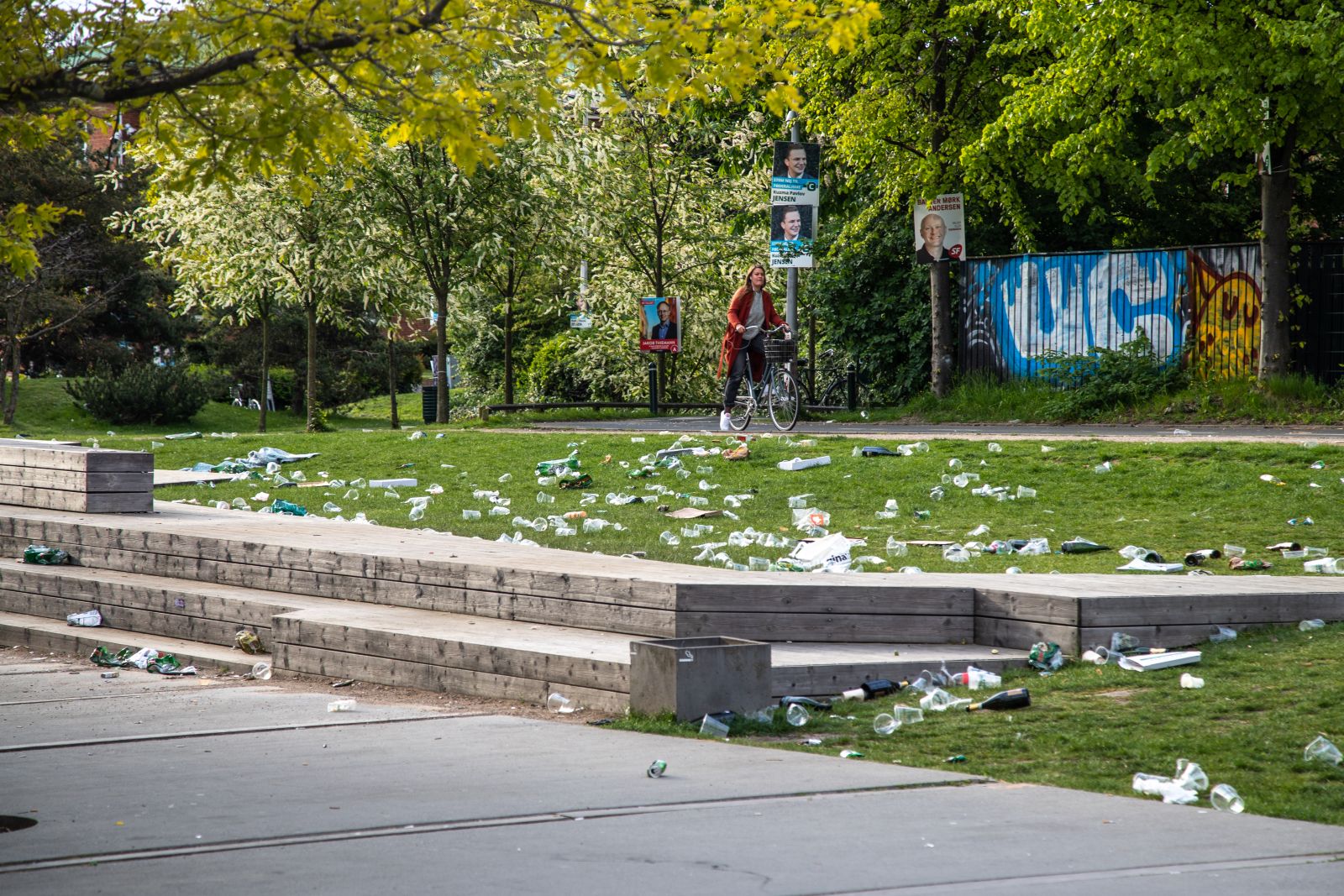 In a sober condition, most people wouldn't even dream of throwing their trash on the ground. But something seems to happen as the alcohol intake rises. It's suddenly okay to leave a pile of pizza boxes and beer cans on the grass.
"First of all, it's not only a problem for CBS students. This is a societal problem that develops when people are in a festive mood. That being said, it is a nut we have to crack," she says.
Sarah Diemar explains that Café Nexus cleaned up the terraces throughout the night. But CBS' maintenance crew had to clean up the leftover trash the morning after. Is that responsible? Is it okay to expect other people to clean up after a party that they weren't part of?
"It is about collaboration. We as students should become better at taking responsibility for our own actions and that is what we're trying to set a focus on now. However, we don't want to divide the staff and students. We, of course, are very grateful for the help from campus services. The goal is to become better in general as the community we are," she says.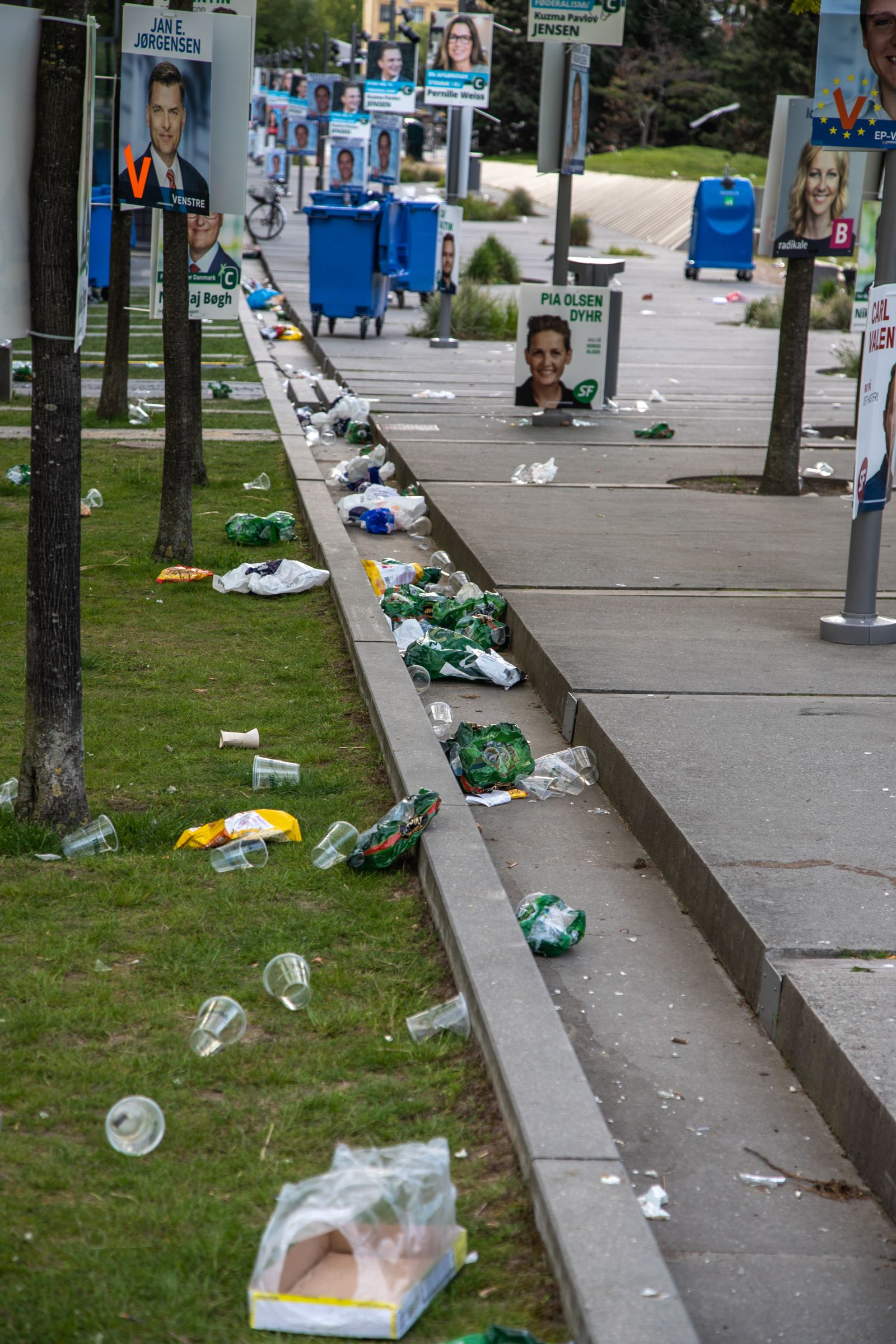 Sarah Diemar explains that she recently experienced students coming to CBS Students' office to ask how and where they could contribute to making CBS a more sustainable campus. But don't demands like that have a hollow ring to them if the students can't clean up after themselves?
"Of course. Which is why we need to figure out how to remind ourselves of that mindset when the setting changes," she says.
A behavioral change is needed
Sarah Diemar doesn't think that canceling the party entirely or wagging a finger at the students would help. CBS doesn't have an interest in that, she argues.
"The thesis handing-in celebration serves to motivate students to hand in their thesis on time, so they can celebrate it with their fellow students. Also, it is my belief that CBS wants to preserve the feeling of community among the students, so taking away events like this isn't the answer," she says.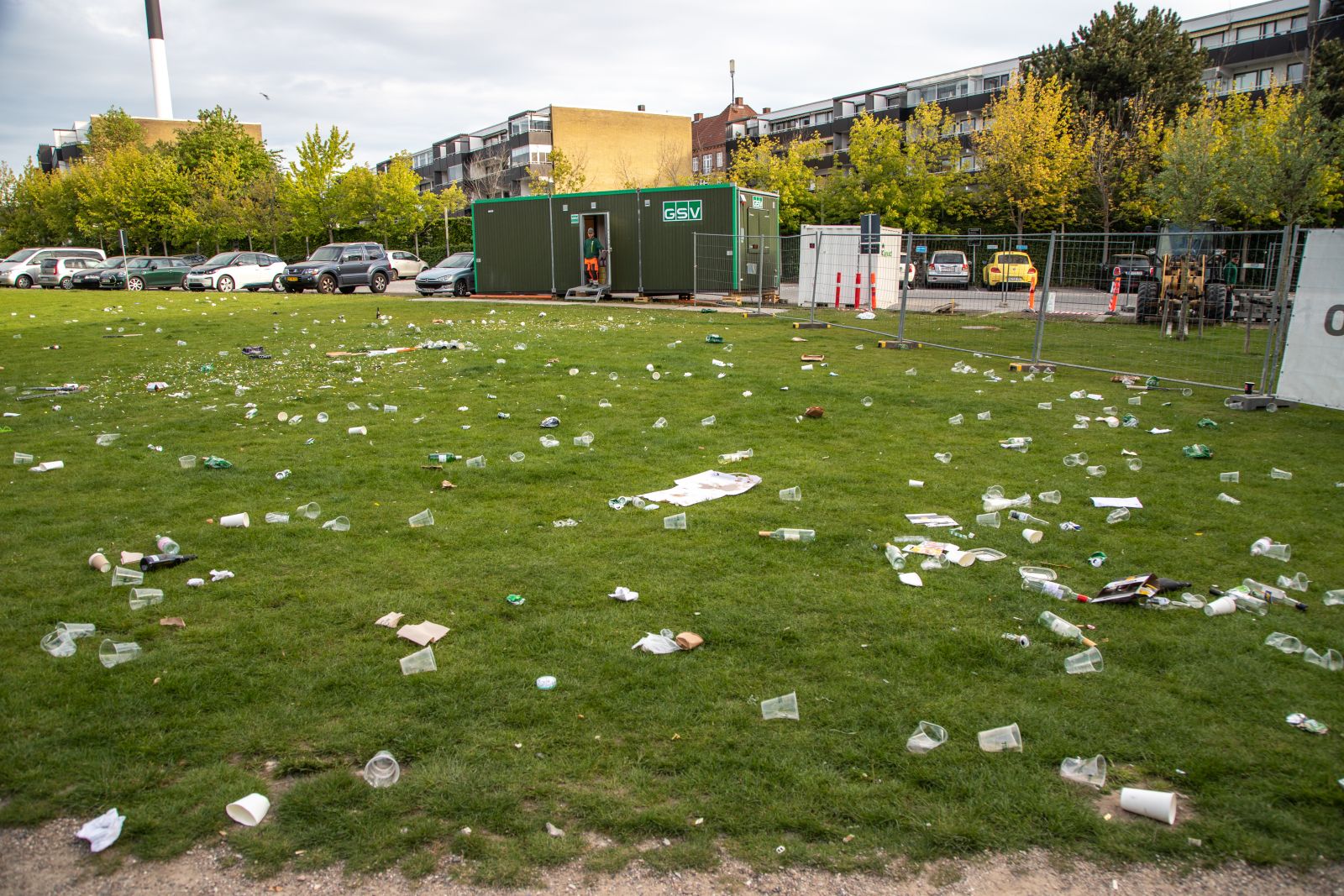 Instead, a behavioral change is needed. And CBS Students has an idea about how to do that.
"When the upcoming semester begins, we'll launch a two-day Intro Lounge that specifically focuses on sustainability and will make students aware that this kind of behavior isn't acceptable. Hopefully, the feeling of responsibility for CBS and one's own actions will spread," she says and then she asks for ideas from the students.
"CBS Students may have some ideas on how to fix this problem. But if the students have other ideas, we are more than happy to hear about them," she says.