Top 10 Italian places in Copenhagen to satisfy your food cravings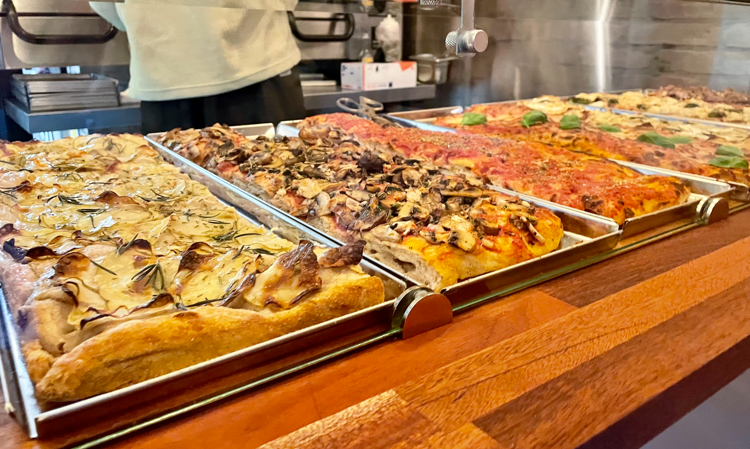 As we move towards winter, the hours of sunshine are decreasing. Yet there are multiple Italian food places in Copenhagen that will warm your spirits with excellent Italian food and offer you plenty of opportunities to hang out with your friends and/or impress your date(s). Follow the advice from the students of the Italian Student Organization (ISO) while they guide you through their 10 favorite Italian places in CPH.
Guide | 05. Nov 2021
Written by Anna Alber and Claudia Pastrolin from the Italian Student Organization (ISO)
Budget: € – €€€
Only 3 minutes by bike from CBS, Gola serves mouth-watering Roman-style pizza slices. Roman-style pizza is different from UNESCO Neapolitan pizza, as it is usually square, the texture is light and crunchy, while the top is moist and soft. At Gola, you can choose from a variety of vegan, vegetarian, and meat-lover options and enjoy 3 slices for 100 DKK. Gola's pizza slices are a perfect snack for a study break or a quick dinner. This great example of a Roman street food place is an ideal alternative to Neapolitan takeaway pizzas.
Location: Rantzausgade 47, 2200 København
Budget: €€ – €€
Pasta is the ultimate crowd-pleaser and Fabro clearly knows how to hit the spot. Their exclusive selection of pasta dishes for 85 DKK/dish are all cooked "al dente" and come with rich and hearty sauces. My favourite? The 'cacio e pepe', but their carbonara is equally delicious. Make sure you order bread for "Scarpetta" – it would be such a pity to leave that tasty sauce on the plate. Before you pay, make sure not to miss their Tiramisù. A piece of advice: get your pasta takeaway and eat it by the canals.
Location: Borgergade 134, København K 
Budget: € – €€€
Forno a Legna is the perfect place for a pizza break while cramming for exams at CBS or for a night out with friends. They have a vast selection of pizza toppings and beers, and if having pizza doesn't appeal, you can always order something at the neighbouring Italian shop. We (members of ISO) love eating here because of its cosy atmosphere and super-friendly staff.
Location: Falkoner Allé 42, Frederiksberg 2000
Budget: €€€ – €
Pizzeria Luca is an authentic and romantic Italian pizza restaurant just a few steps from Gammel Strand metro. When walking in, you are greeted by a dimly lit and cosy room filled with rows of wines stacked against the wall. The backyard is equally delightful. Pizzas are made in a huge, beautiful copper oven that spreads warmth and light throughout the room. Luca's pizzas have a crunchy crust, a fluffy raised dough, and flavoursome toppings. To get your mouth watering for pizzas, you can enjoy delicious antipasti and one of their spritzes. We suggest you try the limoncello spritz as a zestful alternative. If it's too hard to choose what to order, Pizzeria Luca's chefs will delight you with the "chef's choice" menu for 215 DKK per person.
Location: Gammel Strand 42, 1202 København
Budget: €€€ – €
Chef Puglisi's sustainable vision gave birth to "Bæst", one of Copenhagen's – and Europe's – most acclaimed pizza restaurants. The secret? "Bæst" uses only organic ingredients that come from its own farms. It even makes its own mozzarella – how cool! The crust is fluffy, and the tomato sauce reminded me of 'conserva' – the tomato sauce Italian grandmas prepare every summer. The choice of toppings is very seasonal, and the staff is generally creative, making it a unique experience. Quality also comes at a price. You should expect to spend around DKK 250 for a meal at "Bæst", but no worries, it will definitely be worth it.
Location: Guldbergsgade 29, 2200 København N
Budget: €€€ – €
On Illum's rooftop, Rosso Pomodoro is a welcoming and feel-fancy kind of restaurant. The view of Strøget from the terrace is breathtaking. The menu includes starters, first courses and Naples-style pizzas. The ingredients are fresh, and the staff are very polite. However, eating on Copenhagen's rooftop is quite pricey, but I guess you are paying for the view. ISO has organised multiple AperISO's at Rosso Pomodoro, where the team of Rosso Pomodoro blessed us with "all you can eat pizza" (Giro pizza for our fellow Italians). Stay tuned for this season's invite to AperISO!
Location: Østergade 52, 1001 København K
Budget: €€€ – €
MaMeMi offers a special choice of well-studied pizzas. Creativity has entered the kitchen of MaMeMi and you will find the most interesting topping combinations, such as pork cheeks, caramelized onions, and apples, to mention just one. The ingredients are seasonal, and all carefully balanced. Both the starters and pizzas won't fail to delight your appetite. The staff are extremely friendly, and you really feel taken care of. MaMeMi is in a vibrant area and the atmosphere inside the restaurant is lively and cosy. Plan to spend around DKK 200 for a dine-out evening at MaMeMi.
Location: Mysundegade 28, 1668, København V
Budget: €€€ – €
Members of ISO enjoy "La Vecchia Signora" because it reminds us of home. The restaurant is located downtown, and embraces the typical Italian restaurant outside Italy: you will find typical Italian food, cooked by Italians and served by Italians. The atmosphere is very laid-back, and despite the service not being the fastest, it leaves you with time to try many of the wines they offer. Consider investing around DKK 250 in this culinary experience.
Location: Grønnegade 14, 1107 København K
Budget: €€€€
Trattoria SUD gives you a one-way ticket to Naples. The charismatic owner will treat you like family, the food is extremely well-prepared, and the ingredients are 100% Italian. Here you will enjoy a broad choice of available food and wine options. We recommend you indulge in a 3-serving or 4-serving menu to embrace the full experience. A menu deal starts from DKK 325. Despite the price not being very student friendly, we still suggest you try out this place, maybe to celebrate someone's birthday or for a date.
Location: Frederiksborggade 27, 1360 København K
Budget: €€€€
FAMO is the new (Italian) Madklubben! FAMO has three restaurants around Copenhagen from which you can choose. Fabbio, the owner, focuses on ensuring you feel at home while the staff take you through FAMO's culinary journey. FAMO uses only high-quality ingredients and aims to create a sparkling connection between them. You can choose between a menu or a single dish. A five-course menu is DKK 450. Consider budgeting DKK 250 to eat here. Keep in mind that you are paying for culinary art, not just mere food. This place is perfect to impress your lover, or anyone with high food standards.
Locations: Saxogade 3, 1662 København V, Gammel Kongevej 51, 1610 København V, Øster Søgade 114, København Ø