The hateful identity battle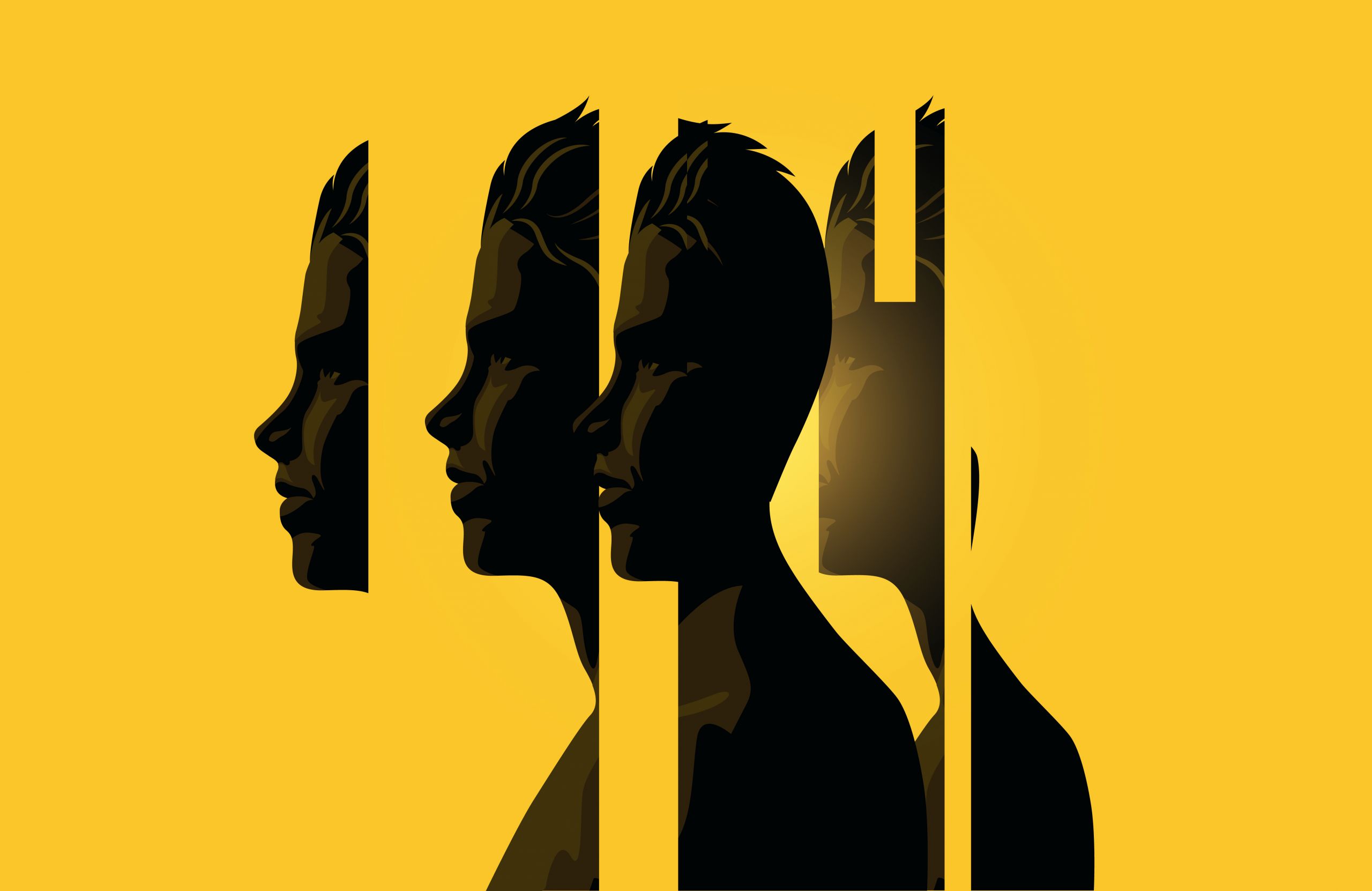 Mads Mordhorst has thrown himself into a historical quest to understand what drives our search for identity and where we might find it. His exploration traces back to the French Revolution, via Donald Trump and our own 'The Danish song is a young, blond girl'. His findings will become the makings of a book.
When a group from the Royal Danish Academy of Fine Arts dumped a statue of King Frederik V in Copenhagen Harbor, artists, politicians, opinion makers and people in general had a thing or two to say. Either the group was proactive and right on time with their message, or it was just a bored bunch of people prone to feeling violated.
After being the center of attention in one of Denmark's biggest identity-political cases, namely the one about 'The Danish song is a young, blonde girl', Mads Mordhorst has looked at recent years' cases in and outside Denmark and asked himself a question:
"What is happening right now?"
"My claim is that identity and identity politics permeate our society. It's part of all the relations we make. Just look at Donald Trump. You should not try to understand him as a politician, because then you never will, but you need to see him as a person who creates identity. For Trump supporters, what matters is not the votes Trump gets, but that they identify with him," says the Associate Professor from the Department of Management, Politics and Philosophy and continues:
"Trump supporters have felt neglected, rootless and as if their identity was under pressure. They have searched for an identity in the local community and institutions, but have been unable to find a match, until Trump came up with a simple story with which they could identify. The same mechanisms are behind Al Qaeda and Isis."
For his new book, Mads Mordhorst is exploring identity through a historical lens, and his exploration is taking him all the way back from the French Revolution to the present day, to answer the questions: Why do we search for identity and where do we find it? All with the aim of better understanding the time we are living in.
Mads Mordhorst is also reflecting on what makes the current time very different in terms of previous identity waves, and has come up with three approaches that can explain identity sources.
"Identity is two things: it's what I am and it's what I am not. Meaning that identity contains an innate conflict," says Mads Mordhorst, who will publish a book with his findings sometime next year. 
"We use stories to build our identity because stories can confirm who we are, but they can also be used to disassociate ourselves from others. I'm not like Donald Trump, and just like that I can make every Trump supporter my opponent, because I don't buy into Trump's story," he says.
Identity in ruins
Before we venture deeper into Mads Mordhorst's explanation about where we can find our identity, we need to consider the era in which we live. Because the circumstances have a lot to do with why identity has become such a major issue in recent years, explains Mads Mordhorst.
So why not go back to the time right after the French Revolution to look for an explanation?
"Generally speaking, when the world is unstable and we have a feeling of uncertainty, our identity is weakened. What we previously held onto as our identity has disappeared, so we need to find it elsewhere," he explains and continues:
"The first time in history we saw that was right after the French Revolution. It was widespread chaos, really. They used to live in a world created by God. Time and history were created by God. But all that collapsed. Naturally, people began to ask 'who am I'?"
When I was a kid, we bought baggy pants, but the brands we buy have developed and are much more associated with identity

Mads Mordhorst
The second period came in between the two World Wars and, according to Mads Mordhorst, led to a feeling of powerlessness that prompted people to attempt to find 'great' stories – totalitarian stories. After World War II people once again began looking for ways to build their identities, and now, the fall of globalization has led us into another period where we find ourselves facing an identity crisis, he explains.
"A world order has come to an end. Who am I and where am I? The institutions such as the family and the state that previously answered these questions are not providing sufficient answers anymore. So the market will take over instead. Why do you think museums have seen an increase in visitors over the past 10 years? My guess is that museums hold the building blocks on which we can build our identities," he says and points out that especially highly educated women go to museums.
"This is a group that we would not see searching for identity, normally."
"What is new is the hate and the magnitude"  
The world order that Mads Mordhorst is referring to is the one that perished in the embers of the financial crisis. Before that, the world was built on a story that globalization would make everything better for everyone, as long as we were constantly moving forward.
"During globalization, identity could be found in development. What you created and how you performed. Now that the time of globalization has ended, so has the identity that accompanied it, and that has caused a reaction through and through. Now some of the strongest characteristic focuses on what is national. We see the same in Denmark when Mette Frederiksen praises the national, and the classic, good old Denmark. You see it in the field of economics, where financial protectionism is practiced. It's a reaction towards the national and anti-global," he says.
And especially two groups of people have felt the consequences of globalization, and these two groups are also the ones who clash on social media when topics rooted in the identity-political spectrum are discussed, explains Mads Mordhorst.
"It's the minorities; whether they are based on gender, ethnicity, or religion. And the white, middle-aged men. And what's interesting about the two groups is that globalization has given them problems. White, middle-aged men feel threatened by anything that will take over their national community, history and culture. They feel as if everything is being taken away. The other group previously bought into the narrative about globalization judging you by your merits. But that's not true, and they now feel exposed and neglected," he says and continues:
"Both groups don't believe that their need for identity has been acknowledged. Therefore, they clash. These are the people we've heard confronting each other during the American election and during Brexit. Right now, it's a phenomenon in the West, but it's also likely to spread to China and India."
On especially two specific parameters, however, this current era stands out from the rest of the post war times when people have felt rootless and in search of an identity and places to find it, according to Mads Mordhorst.
"Previously, you could have rational discussions about equal pay and equal rights within the political system. But when the discussion starts with, 'I am who I am, and you are not entitled to question that', the discussion is turned inwards and becomes aggressive. People don't care whether they get a five percent pay raise, but they care about who they are. The scale and the hate in this are new," he explains.
"People are seeking identities and a place to find them, and identity has become an individualized project, while at the same time involving finding collectives. You search for things that can confirm your identity, and you take on the conflicts that come with the identity, as long as you receive confirmation and acknowledgement."
Identity for sale
So here we are. Searching for communities and identity and especially communities that reflect and support our identity. So where can they be found?
Mads Mordhorst lists three spheres where identities can be created:
The political sphere
The cultural sphere
The product sphere
In the political sphere, especially what is old, conservative and traditional has, according to Mads Mordhorst, seen a revival. And the same goes for culture.
"Culture is what tells us what we are and where we come from. As a historian myself, this is really interesting, because history and stories have become big business. People are visiting museums like never before. Denmark hosts a history fair that attracts more than 30,000 people, and family history research has exploded. And this is because we are looking for stories that can either confirm or build our identities," he says.
And then there is the financial aspect of it all. For centuries, humans have expressed themselves through clothing and possessions, and we still do that. But now an identity can come with the pair of jeans or shoes you buy.
"We buy identities. When I was a kid, we bought baggy pants, but the brands we buy have developed and are much more associated with identity," he says, giving an example from the US.
The former NFL player Colin Kaepernick was the first to kneel during the national anthem at the start of an NFL game in protest against police brutality and racial inequality in the US. Colin Kaepernick's protest received highly polarized reactions. The actions resulted in a wider protest movement that intensified in September 2017 after President Donald Trump said that the NFL owners should "fire" players who protest during the national anthem.
"When Colin Kaepernick was fired, he participated in a NIKE commercial. This resulted in some people burning their old Nikes. Owning a pair of Nikes came with an identity after that commercial. Nike is therefore more to be seen as a part of an identity mark than a product mark," explains Mads Mordhorst.
Waves of identity have resulted in liberation, but…
From a distance, it can seem as if this wave of identity-seeking people is a bit overwhelming. Everything is up for discussion, and if you do not agree with my opinion, it is because you disagree with my person and being.
But in fact, the different waves of identity have liberated us, explains Mads Mordhorst.
"Looking back 20 or 30 years, the identity movements have brought many improvements. Until recently, at football matches, people would shout 'faggot' at their opponents, and I wouldn't think anything of it. But I would never do that today. We acknowledge different groups' equality very differently," he says.
We must be able to acknowledge others without expecting acknowledgement in return

Mads Mordhorst
However, the recent wave also holds the potential to undermine and tear apart society as we know it.
"Unless we find ways to approach this, this movement might tear society apart. The danger lies in the movement towards communities, but also the urge to undermine them. And what we need right now are global communities if we want to understand and solve problems like the current pandemic, the climate crisis and general inequality," he says.
Mads Mordhorst cannot pull out of his desk drawer a fixed set of solutions on how to approach the current wave of identity seekers, but on reflection, it all boils down to how we view each other.
"It's a human right to be who you are and who you wish to be. I can either acknowledge you as being different but my equal, or feel that by acknowledging you, I am somehow defeated myself. And with the latter, comes a power struggle. We must be able to acknowledge others without expecting acknowledgement in return, as there are plenty of ways of being equal to go round," he says.