How Twitter made Simon's BA project the talk of the town
"It was like getting a virtual high five," says Simon Carøe Aarestrup about Nobel Prize winner Richard Thaler tweeting about the bachelor project that he and his fellow classmate, Frederik had worked on. But how does research communication work on social media in general? CBS WIRE talked to two professors about how they use social media.
Social media can seem superficial. While most posts drown in the masses, others go viral. And then 'old' news is picked up again and circulated.   
The latter happened to Simon Carøe Aarestrup and his fellow student, Frederik Moesgaard. They handed in their bachelor project in May 2014. On October 18 2018, several people on Twitter picked it up. One of them was definitely not a Mr. Nobody.
"I called Frederik and said: 'Do you want to hear something crazy? Richard Thaler, the Nobel Prize winner, just tweeted our bachelor project'," says Simon Carøe Aarestrup, who holds a BSc iand MSc in Business Administration and Psychology from CBS and is currently working as a Research Assistant at the Department of Marketing at CBS.
Very nice work! https://t.co/jCKQOBdE4H

— Richard H Thaler (@R_Thaler) 17. oktober 2018
But in order to understand how Richard Thaler, the founder of the word 'nudging' and winner of the 2017 Nobel Prize in Economic Sciences, got his virtual hands on Simon Carøe Aarestrup and Frederik Moesgaard's bachelor project, we need to turn back time.
Nudging for better health
Simon Carøe Aarestrup and Frederik Moesgaard's bachelor project was about nudging (see fact box) and the use of hand sanitizer compliance at hospitals. The aim was to make more visitors use hand sanitizer before entering the medical bed unit. At the time of the experiment, only three percent of visitors used hand sanitizer.
"It turns out that one in 10 hospital patients acquire a hospital infection during their hospitalization. These infections are threatening weakened patients with prolonged hospitalisation, and for some even premature death. It has been estimated that the derived financial costs of hospital infections  amount to over one billion Danish kroner. Fortunately, better hand hygiene practices has been found to be the single most effective ways to reduce the spread of harmful bacteria," says Simon Carøe Aarestrup.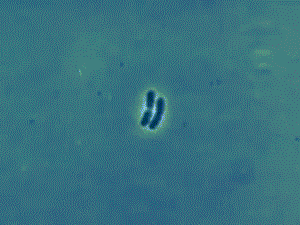 In order to make more people use hand sanitizer, they developed and tested the effectiveness of so-called nudges at Gentofte Hospital. The most promising nudge-intervention, consisted of three layers.
a new placement for the hand sanitizer right in front of the entrance at the medical bed unit,
a red and salient sign on top of the hand sanitizer
utilisation of social norms with the text: "Here we use HAND DISINFECTANT, in order to protect your relative".
"The combination of the three nudge-layers made visitors' hand hygiene compliance rate sky-rocket from 3 percent to 67 percent" says Simon Carøe Aarestrup about the results from the experiment at Gentofte Hospital.
On May 15, 2014, they handed in their project, and for Simon, it actually paved the way for a student job at the nudging consultancy firm, iNudgeyou. There, he wrote a blog post about the handhygiene project, and then it took on a life of its own.
A virtual high five
Flash forward to the fall of 2016. Simon Carøe Aarestrup is contacted by a guy called Tom Kelleher. He is working on a white paper on behavioral interventions in the health sector to be submitted to the World Economic Forum. He has found the blog post written by Simon Carøe Aarestrup, and he wants to use the two-year-old bachelor project as an example in the white paper.
And then it happened. The white paper came out in the spring of 2018, and the noise on Twitter began.
"Some guy asked a question about behavioral health interventions on Twitter. Tom Kelleher decided to answer by linking to my blog post. It seems to me that Tom's tweet was noticed and retweeted by Dilip Soman, a prominent Canadian professor and behavioural economist," says Simon Carøe Aarestrup and continues:
"It appeared that the bachelor project was carried on from one prominent nudging advocate to the other, resulting in Richard Thaler tweeting about our bachelor project too. It was like getting a virtual high five from the founder of nudging," he says.
Tweet your research
Twitter is in general a popular media among researchers. Here, they can easily connect with other researchers, journalists and politicians from all over the world. Something that Carsten Fogh Nielsen, PhD at the Danish School of Education at Aarhus University, does a lot.
"Twitter is a great medium for exchanging research quickly. You can easily get in contact with other researchers who can give you input to your research or just discuss current projects," he says.
In 2013, he founded the Danish Twitter channel @AUForsker together with Lone Koefoed Hansen, Assistant Professor at the Department of Culture and Communication and the University of Aarhus, because they felt they needed a place where researchers from the University of Aarhus could present their research and share insights into their everyday life as a researcher. The Twitter account is shared between the researchers who can take over the account for one week at a time.
Kontoen @AUforsker er startet + drevet af @filoffen & @koefoed og udsprang som et alternativ til den vanlige universitetskommunikation. Vi vil give indblik i forskningen og livet som uniforsker fra mange personlige perspektiver – kaleidoskopisk forskningsformidling. //L&C, admins

— AUforsker / Hanne (@AUforsker) 27. september 2018
"The fun thing about Twitter, and other social media platforms, is that you have to explain what you do, so that people who don't have a clue about it, will understand. This means you have to think carefully about how you write your post," he says.
At the moment, @AUForsker has 2,377 followers on Twitter, and it is a hit among the researchers of University of Aarhus who reach out to Carsten Fogh Nielsen and Lone Koefoed Hansen when they want to use the Twitter account. And sometimes it's used for big announcements, explains Carsten Fogh Nielsen.
"About two and a half years ago, Professor Jacob Sherson published a paper on quantum computing in the scientific journal Nature, and he wanted to use the AUForsker-account to boost the announcement and explain the implications of his team's research. We were very pleased about that," he says and gives another example:
"Just a couple of months ago, my colleague from the department, Associate Professor Andreas Lieberoth, was asked to appear on a TV program in which they tested psychological theories. He wanted to use the Twitter account so he could tweet about that and discuss the research he employed with others," he says.
Social media – for disseminating your work and getting valuable input
Another researcher, who likes using social media, such as Twitter and LinkedIn, is Professor Andreas Rasche from the Department of Management, Society and Communication at CBS.
Specifically, he uses it uses it for disseminating his work, but also to get scientific feedback on things he is working on, or papers he just got published in journals.
"If I post a recent paper and I get a lot of positive response, I get an idea that I'm on to something that other people find interesting, and I can keep on working in that direction. And that's indeed very useful," he says.
However, Andreas Rasche also uses his social media accounts to post more personal content. For instance, he writes opinion pieces every now and then, and he has experienced that content like that is well received too.
Let's not jump to conclusions… #Brexit pic.twitter.com/oGUmAVFFE1

— Andreas Rasche (@RascheAndreas) 19. september 2018
"I once wrote a blog post about the ethical blindness of corporate sustainability, and there were a lot of comments on my LinkedIn. People would write things like: 'This is exactly what we have been thinking.' So, that tells me that I'm being relevant," he says and gives another example:
"I also just got a lot of feedback when I posted a picture of me and my son and explained that I was going on paternity leave. This created a positive debate about male academics going on paternity leave," he says.
But is there a take-home message from the Twitter experience for Simon Carøe Aarestrup?
"To me, all this attention has underlined the importance of actually telling people about what you are engaged in workwise. It's okay to want to get your interests across. Then there's just the question of how often you're supposed to write posts, and I'm still trying figuring that out," says Simon Carøe Aarestrup.