The mother of all consultants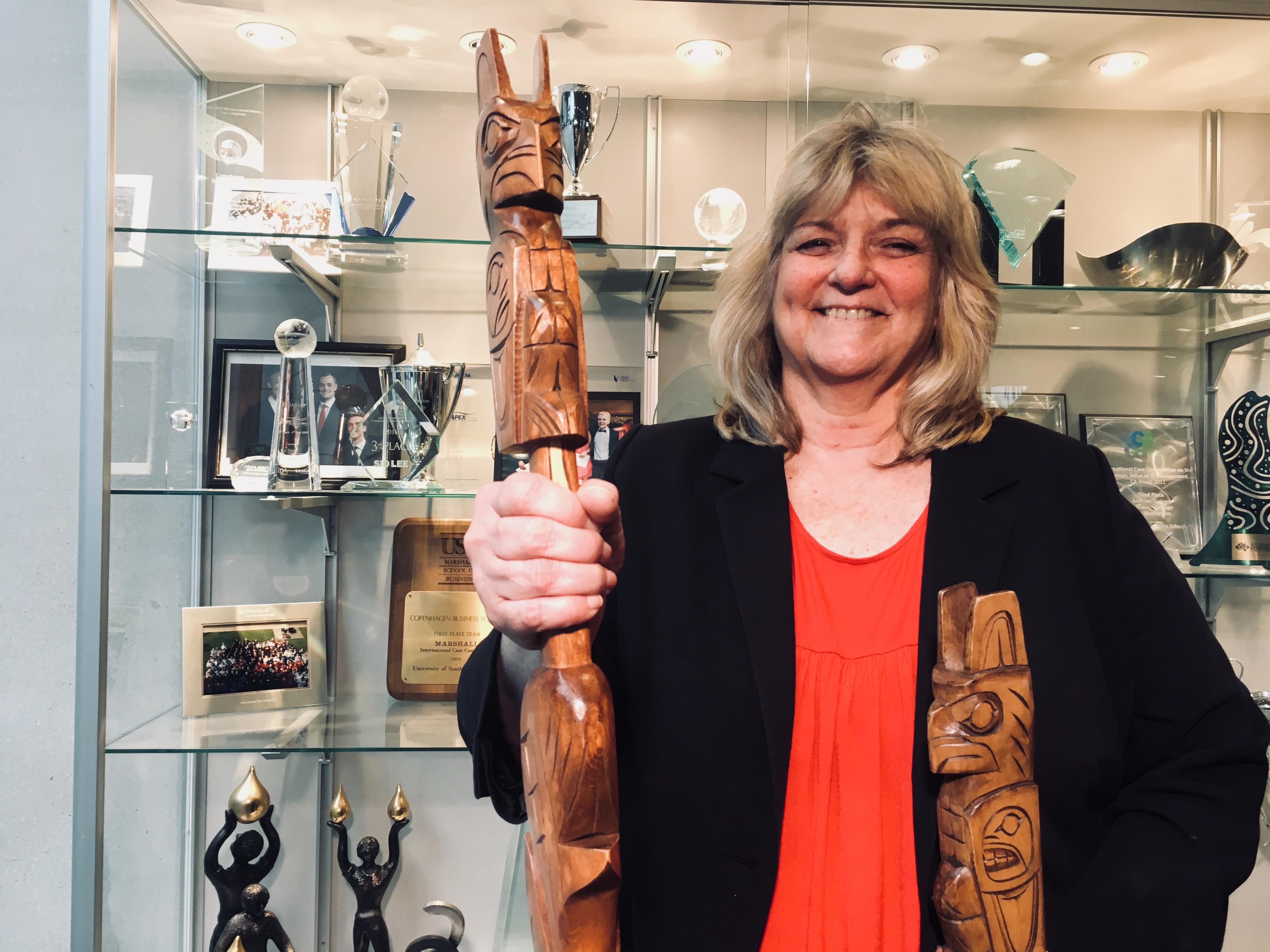 Stephanie Hadler came to CBS on exchange in 1986 and found that a part of her felt like she had a new home. More than 30 years later she says goodbye to the institution that she put on the international map through case competitions. She reflects on toe-curling trends in case competition, offers some advice to future case competitors, and raises the veil on a project that can secure case solving at CBS in the future.
In the main hall at Solbjerg Plads, trophies from case competitions dating back to 1999 are on display. The trophies have been brought home by students who got the chance to represent CBS in case competitions all around the world. But not without help.
Since 1998, when CBS started to compete in case competitions, case coach Stephanie Hadler has been by the students' side, supporting and training them. But one out of the many trophies has a special place in Stephanie Hadler's heart.
She takes out a wooden plague with golden inscriptions from the trophy cabinet.
"The first year that CBS did a case competition was in 1998 at the University of Southern California in Los Angeles. It was pretty awful, and I think we came in last. Yeah. I wanted to crawl under the chair," she says and adds:
"Never in my life, could I imagine my team would do a presentation by reading out loud from their papers while cannibalizing the company's products," says Stephanie Hadler, laughing.
"I learned so much about case competitions that first year. I watched, I questioned other coaches, I absorbed and absorbed. Luckily, we got invited back the next year where we won the whole thing," she says.
Home is where CBS is
Stephanie Hadler first came to CBS on an exchange from the U.S. in 1986, and things just seemed to click between her, CBS, and Denmark.
"I felt like I had come home. When I got back to the U.S., I finished my MBA, and was determined to go back. I wrote to CBS and proposed a position that they needed me for, and only me. They actually bought that and hired me to come over and help improve the Advanced Program in International Management. I started in February, 1988," she says.
However, when Stephanie Hadler came back to CBS she discovered that they had also hired her to start an international office. Once the international office was up and running and exchange agreements had gone from 18 to 250 a year, Stephanie Hadler left CBS to have a child and get married.
But CBS wanted her back in 1994. Only two years after she left.
The guy I was going to meet with finally turned to me and said, "Gees. Are you the mother of all consultants or what?"

Stephanie Hadler, CBS Case Coach
They offered her to be part of a working group to establish the new program, BSc in International Business. While she was the Program Director for the BSc IB program, the case competition suddenly landed in her lap.
"We were invited to the case competition at the University of Southern California because they had had a CBS student that impressed them so much. I had no idea what a case competition was. I picked four of the best students that I could, and they sort of did a case. Off to LA we flew," she says.
When CBS won their first case competition in 1999, they suddenly got a lot of attention, recounts Stephanie Hadler.
"People started to see what CBS was capable of. Invitations to other competitions started pouring in. For example, after that win at the University of Southern California we had the same university asking if they could send 20 exchange students to CBS for the next fall. We were on the map. Our brand was emerging in style."
Case team explosion
In 2002, Stephanie Hadler stopped being in charge of the International Business program and moved back to the international office to focus more on case competitions because it slowly got more popular among the students and at the universities in general.
"Between 1998 and 2002, we had about one or two case competitions a year. However, in the spring of 2010, I had 11 case teams to train myself in one semester. That was a little intense and I had to cut it down to five or six teams per semester," says Stephanie Hadler.
But Stephanie Hadler was not all on her own. As time passed, the students who had once been on a case team had graduated and got hired in various consulting houses. It was a lot of help, as the alums would come back to CBS and help out with the training of the case teams. She then became a familiar face in those consultant houses.
"I was at McKinsey a couple of years ago, before a meeting to talk about the upcoming workshop I was planning with McKinsey to hold for the next case teams," Stephanie Hadler says and continues:
"Consultants kept walking by, many of them stopping to say hi and giving and getting a hug. The guy I was going to meet with finally turned to me and said, "Gees. Are you the mother of all consultants or what?" Oh, I laughed over that and it still makes me smile."
Cheesy greetings
When asked about some of the trends within case competitions over the past 20 years, Stephanie Hadler pulls a smile.
She starts out explaining that the first competitions were based on published Harvard cases, which means that they were not live cases as they are today.
"The early presentations were pretty dry, and oh-my-god give me more bullet points why don't you?" she says.
By having more live cases based on real companies presenting real, current issues, the presentations also improved and developed. Sometimes not for the better.
"For some years, there were way too many "Hallmark Moment" type, sicky, sweet openings that curled my toes. I never let my teams go there! As in: you ever do that and I'll kill you," Stephanie Hadler says with a laugh.
I will miss it. I won't lie. My identity has been 'Stephanie Hadler – CBS Case Coach' for the past twenty years.

Stephanie Hadler, CBS Case Coach
Another trend Stephanie Hadler noticed was when most of the case teams were really fond of china.
"Then there were quite a few years where teams at competitions seemed to believe that you couldn't win, unless you recommended going to China. Seriously, we used to sit in the audience and make bets on who was going to propose China. Happily, it began to sink in that China was no easy market, waiting to be conquered. We live, we learn, we grow. Thank God," she adds.
Today, it seems that the competitions and presentations have become more realistic, as they, to a larger extent, are treating case solving as consulting projects more than a production or a game.
Doing a good presentation, however, is still about telling a good story that persuades the company that your idea is the best.
"You can have the best idea in the world, but if you can't communicate it, the company is not going to buy it. Period. Touch them, paint them a great story, and persuade them," states Stephanie Hadler.
The legacy of Stephanie Hadler
Stephanie Hadler has trained Caroline Krzton and Janie Huus Tange over the past couple of years to coach CBS case teams and has now passed on the torch. But even though she will miss it greatly, she is also happy about how case competitions have developed and that others are now taking care of it.
"In 1998, those of us coaching didn't imagine where the competitions would evolve – or even that they would still exist 20 years from then. Call us unimaginative, but seriously, many of us didn't see this coming. That's why new generations come along with new, bigger, different visions, and in this case took it to new levels so rapidly and so professionally," she says and continues:
"I will miss it. I won't lie. My identity has been 'Stephanie Hadler – CBS Case Coach' for the past twenty years. Who the heck am I when I'm not coaching? I'm working on that and remembering who I was before I fell into the case universe vortex. I'll get there. I have never retired before," she says.
Stephanie Hadler, however, will not be all gone from CBS. Before she retires this summer, she is working on securing case solving at CBS for the future.
Together with CBS Business, she is working on establishing a pilot project for a CBS case solving house or center, where CBS teachers can more easily connect with Danish companies to write cases, which will become a part of the curricula.
"The students are begging, companies are asking to be the subject of cases, the faculty want to teach more cases and get more involved in writing cases, specifically about small and medium sized Danish companies. If we can get an approved project or pilot project to start it all off, I'll be wonderfully satisfied to have a hand in that as my last deliverable to CBS," she says.