PhD fellow: Punk is a mess, and I think academia can learn from that!  
Thomas Burø is a hardcore punk rocker. He is also a PhD fellow at CBS. And in a new article, he analyses how his messy counterculture background influences his academic achievements. Working on the article has tidied up his chaotic life, though he still gets pissed off on a daily basis.
Mohawks, leather jackets, noisy music and flipping the bird to the establishment, consumerism and conventions. People associate all those with 'punk'.
But not necessarily the word 'academia'.
However, sometimes the world proves much more colorful than our narrow black-and-white prejudices would have us believe. And at CBS, punk-rock musician and PhD Fellow Thomas Burø at the Department of Organization thinks that punk routines and academic disciplines actually have a lot in common.
At least, that is what he claims in a new academic article tracing how his own background as a hardcore punk rock kid growing up in an anarchist counterculture environment has formed and conditioned his work within organization studies, and conversely, how his academic training has influenced his activism as a punk musician.
And, by the way, Thomas Burø is also the lead singer of the punk band TVIVLER, which has just released a new album and is looking forward to playing a bunch of concerts when the coronavirus subsides.
A personal account
"I picked up punk rock roughly at the same time as I picked up Albert Camus and Friedrich Nietzsche. Quite a shock treatment: punk said, 'No Gods, No Masters', and Camus and Nietzsche said (in paraphrase), 'make a life, not a living'. In sum: do shit."
That's how Thomas Burø begins his new article 'Punk routine and academic discipline'. In the article, he analyses how his own background as a punk rocker in an anarchistic environment influences how he perceives and conducts research in organization studies.
The article's autobiographical approach is inspired by the German social theorist Max Horkheimer. In his opinion, every scientist belongs to a certain society that has specific norms and values. And these norms and values always color the scientist's world view, and thereby also the science that she or he produces.
In line with Horkheimer, Thomas Burø began mapping and describing the practices he normally applies when conducting research or playing in his punk band.
From these descriptions, he identified a set of interests, perceptions, norms and values that together help to explain the rationale behind his actions and the choices he makes – both in music and science.
"Thus, the article is a personal account of how distinct rationalities immanent to punk rock, to philosophy and to organization studies in particular have cross-informed and cross-inspired the attitude, the orientation and the subject matter of my agency in both worlds," Thomas Burø explains.
And while compiling this personal account for the article he realized how his roots in punk music and the punk environment have contributed to his strong disgust for fascism.
"I have become aware that my relationship with punk music and the punk environment has a significant influence on my major aversion to fascism of all kinds. And this aversion has encouraged me to study fascist organizations and history within the context of organization studies," says Thomas Burø.
Although describing his practices in order to point out the rationales linking his choices and actions might seem a complex prospect, it has been a useful framework for a messy punk like Thomas Burø.
"I'm surprised that I've managed to tidy up my chaotic life," he says, laughing.
"But jokes aside, one of the most interesting aspects of writing the article has been realizing just how much my background has influenced how I think about, approach and construct scientific problems," Thomas Burø says and adds:
"I'm surprised by how deeply my distrust and suspiciousness are anchored and how they affect my perceptions!"
"F**k up, practice and f**k up once again"
"So you've been to school for a year or two, and you know you've seen it all," lead singer Jello Biafra sings in the song 'Holiday In Cambodia' by the legendary punk band Dead Kennedys. These lyrics are a vicious and sarcastic dissection of the stereotypical university student.
With its rebellious attitude and anti-authoritarian ideologies, punk seems worlds apart from the rigid structures and formal setting of a university.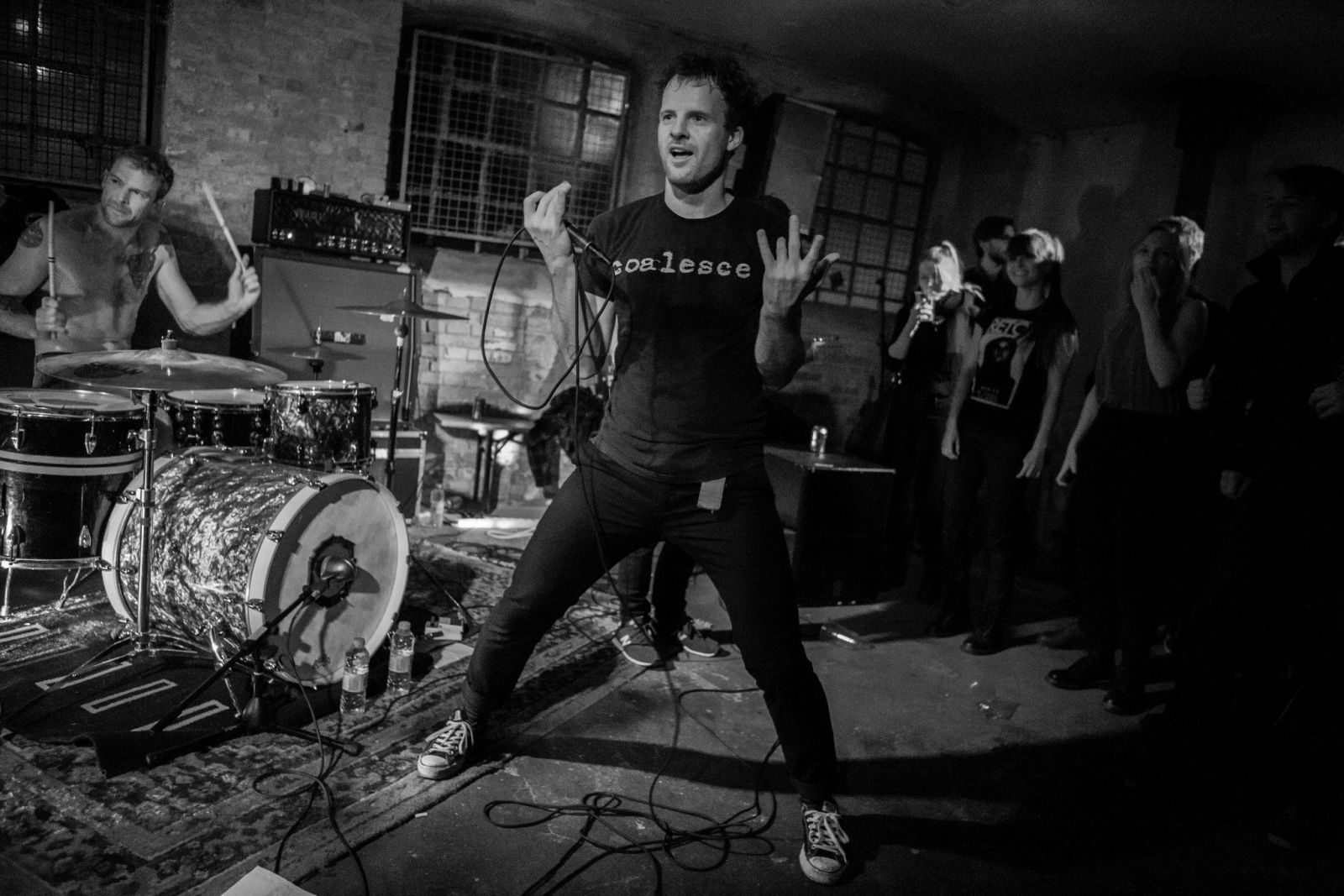 But though there are pretty clear differences between punk and academia, Thomas Burø also thinks they share some essential features in common.
"Basically, punk is a very democratic form of art in the sense that there are hardly any entry requirements for becoming a punk. For instance, you don't have to be a particularly skilled musician to join a punk band," he explains and goes on:
"So, on the one hand, punk and academia are worlds apart because the admission requirements for becoming an academic are pretty high," he says.
"But on the other hand, they share an integrated anti-authoritarian, critical and, not least, curious approach to the world. And especially being curious, investigative and not take things for granted but continuing to explore are really hallmarks that connect punk with science, I think!"
The only way you can become an accomplished academic is to f**k up, practice and f**k up once again. And that's the essence of punk

Thomas Burø
Lyrics like those in 'Holiday In Cambodia', in addition to one of the punk movement's most piercing slogans: 'No Future', give the impression that punk is a counterculture that is indifferent and uninterested in learning or contributing much to academia – because why even bother?
But according to Thomas Burø, the opposite is true.
"Punk can contribute to academia in several ways. But maybe most importantly, it can counter the ideal among academics of striving to be a flawless virtuoso. In my opinion, a clever academic is only clever when she or he has tested her or his conclusions numerous of times," he says and continues:
"In other words: The only way you can become an accomplished academic is to f**k up, practice and f**k up once again. And that's the essence of punk – being willing to be a mishmash, try things out, become wiser and practice. Punk is a mess, and I think academia can learn from that."
A bit schizophrenic
Although academia and punk share some common characteristics, the two worlds are still very different. Academia is a cornerstone of the establishment, a part of the system.
And rather than acknowledging it, punks are much more likely to sneer and shout "f**k the system"  – just as another iconic punk band The Exploited does in their song with that same specific title.
Therefore, in one sense, Thomas Burø finds himself with a foot in each camp, one being academia, and the other being punk music. So the question is – how does he reconcile being a hardcore punk musician with being an academic?
"It definitely isn't easy!" he laughs, adding:
"Ever since I was 15 years old, I've been a punk musician with one big fat middle finger pointed towards more or less everything. Still, to this day, I get pissed off over things every day," Thomas Burø says and continues:
"However,  committing myself wholeheartedly to achieving my goals has always been crucial to me, and one of my goals is to conduct research in the field of organization studies. And the importance of commitment is definitely a key lesson I've learned from my roots in an anarchistic culture," he explains.
"That said, I'm totally aware of the irony of identifying myself as an anarchist and a PhD fellow at CBS. It's a bit schizophrenic. However, when I talk to my CBS colleagues in a professional context, I really feel we share many of the same ideas."
Right now, Thomas Burø is working hard on finishing his PhD, which he will hand in at the beginning of July. But besides being busy with his academic work, he is also pretty tied up with his band TVIVLER and their new album 'EGO'.
The band was actually all set to play at this year's Roskilde Festival, but sadly the festival was cancelled due to the danger of Covid-19 infection.
Naturally, the band is raring to play its new music live for a lot of hungry punk rock audiences when the crisis has passed.
"It's amazing to have released our 'monster baby', as we call our new record, and I'm very excited to see how the music will live on by itself and how people will react to it," Thomas Burø says and concludes:
"I love playing live. I love the energy and the connection between the audience and us on stage. So I'm really looking forward to invading the venues and stages again. I'm totally psyched and can hardly wait!"