Meet the researcher who combines metal and marketing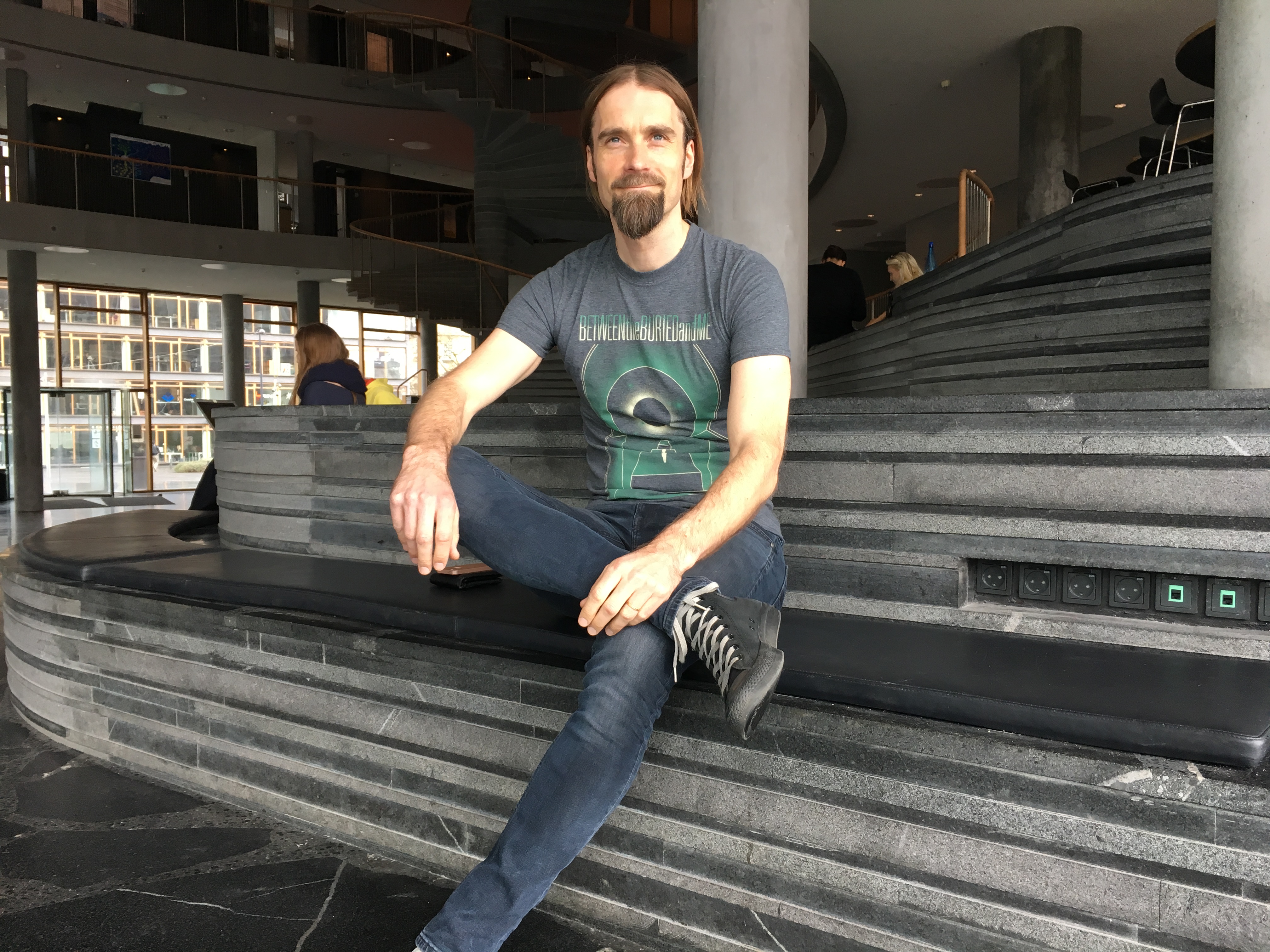 For most people, heavy metal equals noise pollution. To the Finnish researcher Toni-Matti Karjalainen it's the sound of his research project. He has recently been at CBS as part of his project to investigate how metal bands promote themselves internationally.
It all started with a cassette tape with the band KISS. It belonged to Toni-Matti Karjalainen's older sister's boyfriend, who brought it home to the Karjalainen's in Jyväskylä, Finland.
Eventually, Toni-Matti Karjalainen borrowed the cassette tape from his sister, and the taste for hard rock and heavy music was set at a young age.
Now 33 years later, heavy metal still lays the foundation to Toni-Matti Karjalainen's personal soundtrack and is an essential part of his research project.
"I have been a metal music fan for such a long time, so it was always in the back of my head that I wanted to work with it. And it so happened that I got to do a five-year research project about metal music in Finland, which was a dream come true," says Toni-Matti Karjalainen, Academy Research Fellow at Aalto University School of Business when CBS WIRE meets him at CBS.
Finland – the mother of metal music

Toni-Matti Karjalainen, who has previously been studying design management, visual communication and branding and holds the title of Docent at Aalto University School of Business, got a grant back in 2014 from the Academy of Finland to spend five years digging into the matter of which role cultural narratives play, when Finnish metal bands try to export and brand their music.
Not that many people have looked at metal music from this point of view.

Toni-Matti Karjalainen, Academy Research Fellow
To be more specific, Toni-Matti Karjalainen has observed that Finnish metal bands are being thought highly of internationally. And that might be due to the fact that Finland is being seen as the mother of metal music. This raises the question; how does this affect the bands, when they want to promote themselves?
"Not many people have looked at metal music from this point of view. Of course, it's a little different than what you would expect researchers to work with at a business school, but most people I talk to say it sounds pretty cool," says Toni Matti-Karjalainen, who from his appearance doesn't look like most researchers. Having semi long hair put in a ponytail, a pointy beard and wearing a t-shirt by the metal band 'Between The Buried And Me'.
When metal got mainstream

The steadily increasing success of Finnish bands like Nightwish, HIM, and Children of Bodom followed as a result of the shocking Eurovision victory of Lordi back in 2006, which made Finnish metal music a little more mainstream and sparked an international interest.
And that is one of the reasons why Toni-Matti Karjalainen finds it important to look into the music from an academic point of view.
"In Finland metal is a prominent genre, so it really deserves to be looked into and documented, as it plays a big role culturally," he says.
The Finnish apprentice
According to the Czech linguist and mathematician Jakub Marian, Denmark is the country in the Nordics with the least metal bands per million people (see map). Nonetheless, Toni-Matti Karjalainen went to Denmark and CBS to work from mid April – end May to collect data and talk to colleagues about the Danish music industry and its metal bands.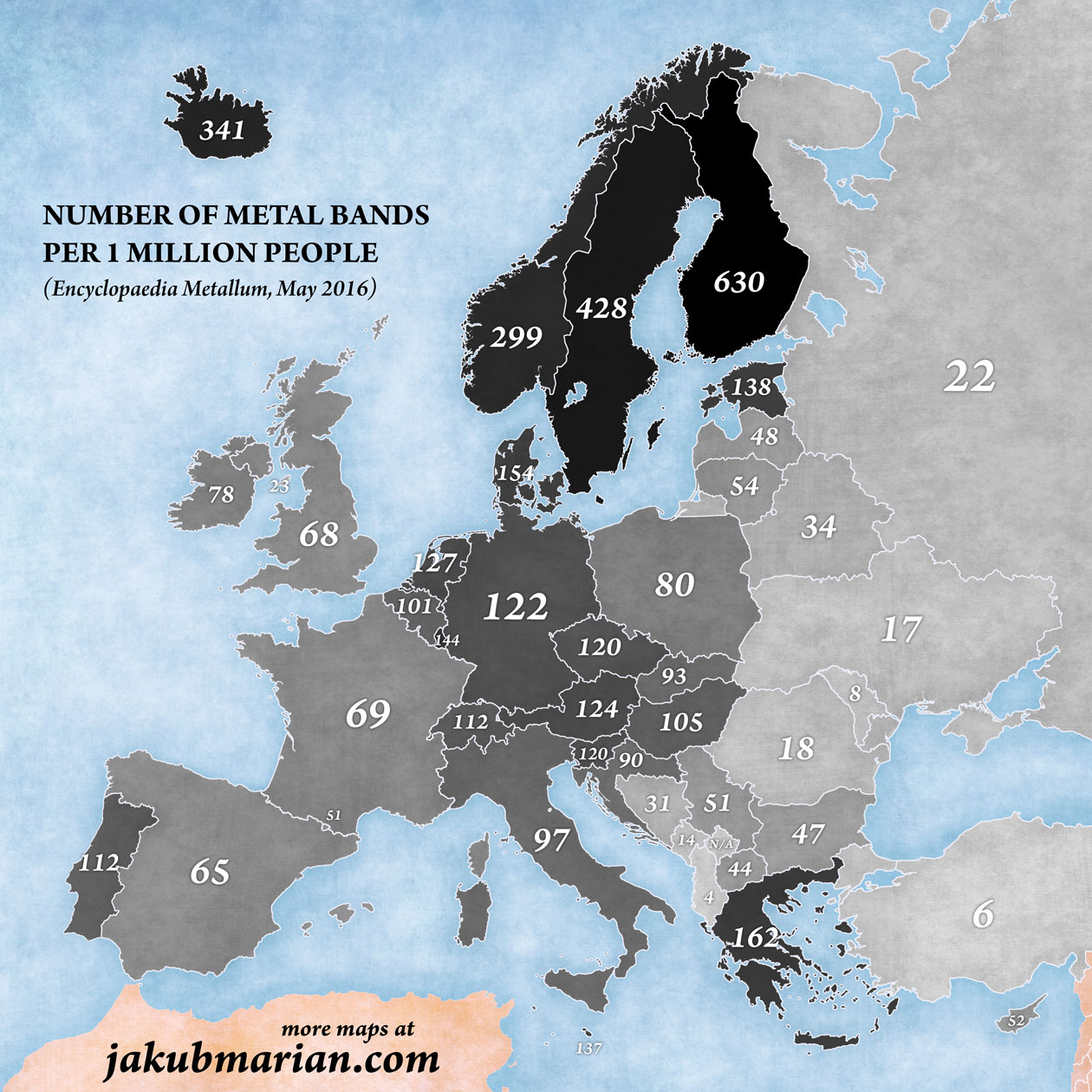 Because what you maybe wouldn't expect – we have a lot of metal music researchers.
"I came to Denmark, because you have many people working on metal music studies. And even though Denmark is far from being a heavy metal-nation like Finland, I found it interesting to come here and explore what's going on in the Danish music industry, for the sake of comparison too," he says.
During his stay Toni-Matti Karjalainen did a few lectures about his project and studies and got a good impression of the Danish heavy metal-scene, which doesn't seem to do as well as others.
"The scene is more active than I thought, lots of bands and enthusiasm around. But even though there are good and talented bands, it's difficult to get recognition abroad. Which might also be the case when the critical mass is not there quite yet, and the overall reputation of Danish metal is not as strong as with some other countries," he explains.
The field is growing

It might seem beyond niche to combine heavy metal and marketing, but the fact is that the field of metal music studies is growing.
I don't get angry when listening to metal, quite the opposite.

Toni-Matti Karjalainen, Academy Research Fellow
Besides doing his own research, Toni-Matti Karjalainen organizes the academic conference 'Modern Heavy Metal' in Helsinki and is the Secretary of the International Society for Metal Music Studies, which a couple years ago got its own academic journal; Metal Music Studies.
"It seems that people within this field are crawling out of their holes. We have grown rapidly the past years and become an international society now. Of course, it's not many, just like me, who has it as their main focus, but all of them are metal fans themselves. You will meet really devoted people in this field," he says.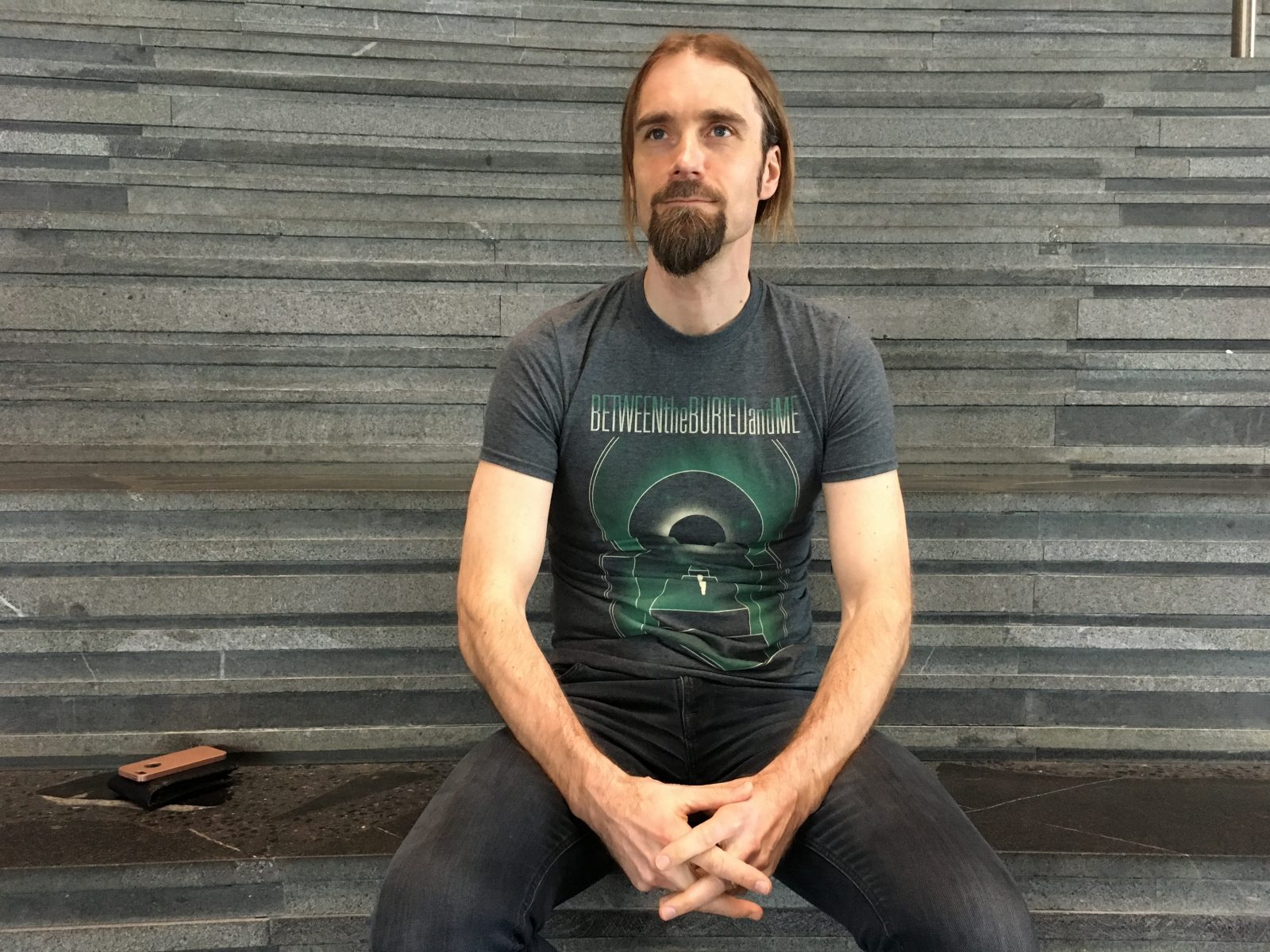 The sweet sound of heavy metal

Getting to combine one's hobby with work must be a dream scenario, which it is for Toni-Matti Karjalainen. But it also gave way for some concerns.
"I was actually concerned that by working this intensively with metal music would make me too accustomed to it and eventually turn some things boring. Luckily, this hasn't happened. I still have the same enthusiasm for the music, as I did when I heard it the first time," he says.
But what is it about this music that often hails Satan, Odin and an intense guitar riff that Toni-Matti Karjalainen likes so much?
"I've always liked the music, the sound and texture, in the first place, and been a little less interested in the lyrics or ideologies of the bands. It's the dynamic and dramatic nature of the music. It's strong and powerful, and I like the aggressiveness to it, but the sometimes very fragile and melodic too. And I don't get angry when listening to metal, quite the opposite. And of course, I can listen to other genres as well, and I do", he says and smiles.