Legislation! A walk in the park to some, a labyrinth for others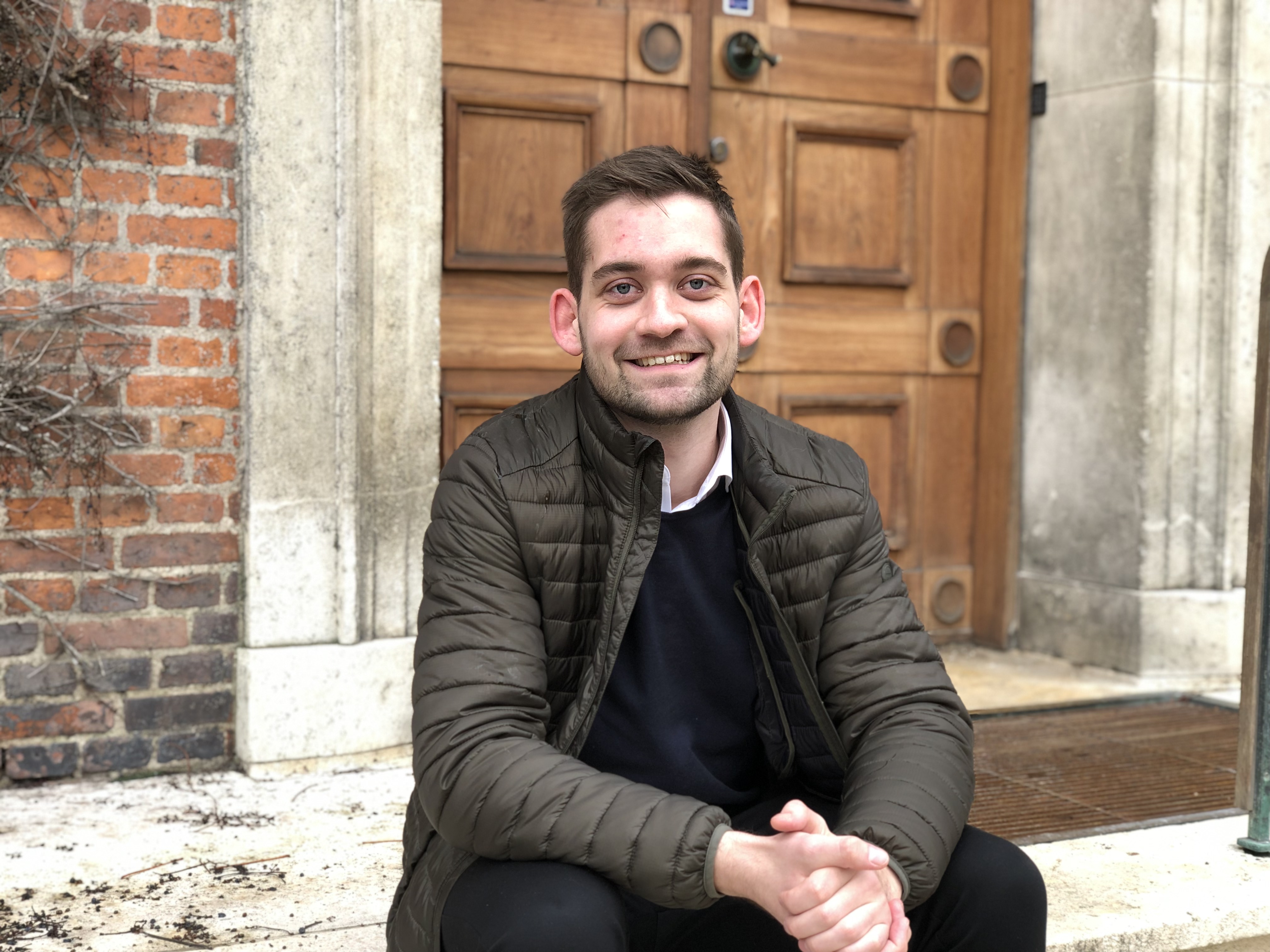 When jumping into the world of entrepreneurship it can be difficult to figure out how to fill out an employment contract or patent the product you're selling. That's why a group of CBS law students and CBS LAW have joined forces to establish Erhvervsjuridisk Retshjælp. An organization that helps start-ups and small businesses navigate the jungle of commercial law.
"Isn't it a beautiful building?" Lukas Eeken asks as we enter the old courthouse in Frederiksberg – and it really is. In the hallway, the white shiny paneling stands in delicate contrast to the dark red walls, which are decorated with ancient-looking reliefs above the doors.
It's behind one of these doors that a group of commercial law students from CBS meet every Tuesday to provide commercial legal aid. They established Erhvervsjuridisk Retshjælp (Commercial Legal Aid) to help entrepreneurs and small businesses in Denmark understand and navigate commercial law.
Free aid in an expensive and boring field
"Legal assistance can be very expensive, and as an entrepreneur of a new company you don't tend to spend your money on it. Furthermore, not everybody is interested in legislation, and to some entrepreneurs it can even be pretty boring. Therefore, we help them to understand what legal issues to be aware of, so they can just get on with setting up their company," Lukas Eeken explains.
Lukas Eeken is 25 years old and he studies Cand.merc.(jur.) at CBS. He's one of the founders and one of the three leaders of Erhvervsjuridisk Retshjælp, and he is also a member of the board.
The legal help that Erhvervsjuridisk Retshjælp provides is free. This may seem like a distorted view of competition in relation to law firms that also provide legal counseling to smaller companies and entrepreneurs. But according to Lukas Eeken, that's not the case.
"We don't go into our clients' concrete cases and tell them what to do or not to do, or what's wrong or what's right. We don't review their cases; we only provide general counseling," he says.
A pattern in a sea of questions
Erhvervsjuridisk Retshjælp was officially launched in September last year. Since then, they've been contacted by entrepreneurs and salespeople from a lot of different industries with many different inquiries; although a pattern is emerging in the range of questions they get from clients.
"Very often we get questions about copyright, General Data Protection Regulation (GDPR) and the law pertaining to the sale of goods. Regarding copyright, it's usually questions like 'How can I protect my product from being copied or stolen by others?' Then we get a lot of questions about the GDPR because it's pretty new and in some ways difficult to understand,"Lukas Eeken explains and continue:
"Finally, a typical question we get is about the law pertaining to the sale of goods – what to do when customers don't pay for products and so on."
Getting help to help others
Sometimes the students at Erhvervsjuridisk Retshjælp get a question that they can't answer on their own, so they contact CBS LAW. Here, they have an arrangement where they can call a researcher or one of the external teachers at CBS LAW, who'll then answer the more difficult questions that the students at Erhvervsjuridisk Retshjælp cannot.
"The students are very good at running Erhvervsjuridisk Retshjælp themselves. But when they get some rather difficult questions, it's good that there's an agreement between CBS LAW and our business law students," says Peter Arnt Nielsen, professor at CBS LAW. Besides being a professor, he's also chairman of the board of the organization.
To Peter Arnt Nielsen, Erhvervsjuridisk Retshjælp is in line with CBS' strategy to nurture entrepreneurial spirit while encouraging students to find new ideas within the business university.
But just as in the world of business, there has to be some kind of payoff when you invest your money and time in something. So what does CBS LAW gain from this cooperation?
 "First of all we help those in need of legal advice. Secondly, our students get a fantastic opportunity to use what they've learned during their studies – while they're still studying. So for them it's great practical experience," Peter Arnt Nielsen says and continues.
"Furthermore, if you've been part of Erhvervsjuridisk Retshjælp for one or two years, that's quite a good thing to have on your CV."
So providing legal counseling to entrepreneurs and helping your students get experience is why the cooperation is important to you?
 "Yes. We help society and we help our students get practical experience. I also think it's good fun for our students and they learn a lot," Peter Arnt Nielsen points out.
A growing legal community
To Lukas Eeken the experience in turning commercial law theory into practice is also a key reason why Erhvervsjuridisk Retshjælp is an important initiative. As he sees it, this part of the organization is just as important as helping entrepreneurs with legal questions.
But he also appreciates the cooperation between CBS LAW and the law students, which has become a community in itself – a community that he hopes will continue to flourish when he graduates in six months.
"I hope that the partnership between law students and CBS LAW will continue and that people will be able to see the qualities and great opportunities of Erhvervsjuridisk Retshjælp. I hope the organization will last for the next 15, 20, 30 years, if not longer, and that it'll grow to include more students in the project," Lukas Eeken says.