Will CBS become a smoke-free university?
Six smoking scenarios are up for discussion, including no smoking during work hours and no smoking in outdoor areas. The General Consulting Committee thinks CBS should introduce compulsory smoking zones. The Senior Management will discuss and decide the future smoking policy during next year.
If you need a cigarette break at CBS, you're free to do so at least five meters away from CBS' front entrance or in one of the smoking areas outside.
This is CBS' current smoking policy; however, now it's up for discussion.
The General Consulting Committee (HSU) reviewed six different scenarios (see table) at the meeting on December 10, and thinks CBS should sharpen its current policy and introduce compulsory smoking zones instead of the smoking areas which can be used voluntarily.
With HSU's recommendations in mind, the Senior Management will take up the discussion again during the New Year in order to figure out how CBS' smoking policy will look in future. Also, it's up to the Senior Management to decide which parts of the policy need to be discussed with CBS Students.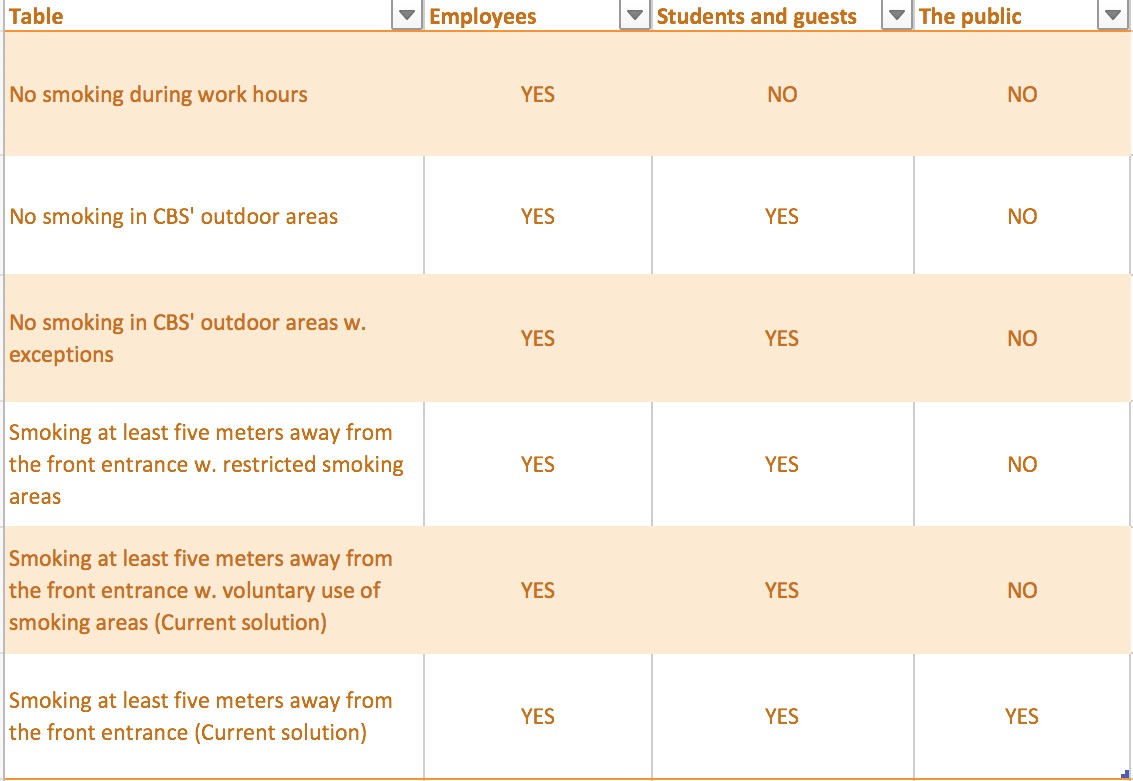 Before the HSU's meeting, the participants got a document listing the six scenarios including a note of reflection from the Director of Campus Services, René Steffensen.
The scenarios discussed at the meeting included, for example, no smoking during work hours and no smoking on CBS' campus. If these two scenarios are implemented, it would make CBS a "first mover," he argues in the document.
"No other Danish university has implemented such initiatives. CBS will be regarded as an organization that takes its role in society seriously. A smoke-free CBS will show that CBS is willing to take its share of the responsibility in regard to promoting public health and, in general, making an impact on society," he writes.
Expect resistance and negative reactions
The document raises several concerns that must be discussed if both or either scenario is implemented.
"Implementing no smoking during work hours and on-campus is complex, and we cannot expect it to be implemented overnight," René Steffensen writes and continues:
"If both or just one of them is implemented, we must expect it to receive resistance and negative reactions."
He points out that smokers among staff will, with a high degree of probability, react negatively to the implementation of no smoking during work hours.
"It will be of great importance to try to persuade the smokers why this step is beneficial," he writes.
Therefore, René Steffensen, in this scenario, suggests that it would make sense to give staff time to adjust to the initiative of no smoking during work hours by making 2019 a year of conversion before the initiative is fully implemented in 2020. This will allow CBS to run campaigns that will draw attention to the new rules.
"Another possibility is to offer smoking cessation courses during that period," he writes.
If CBS ends up implementing smoke-free outdoor areas, it's important to consider how it will be implemented and whether the rules apply to members of the public who pass through CBS' areas.