From the Pearl of Africa to the Land of 'Hygge'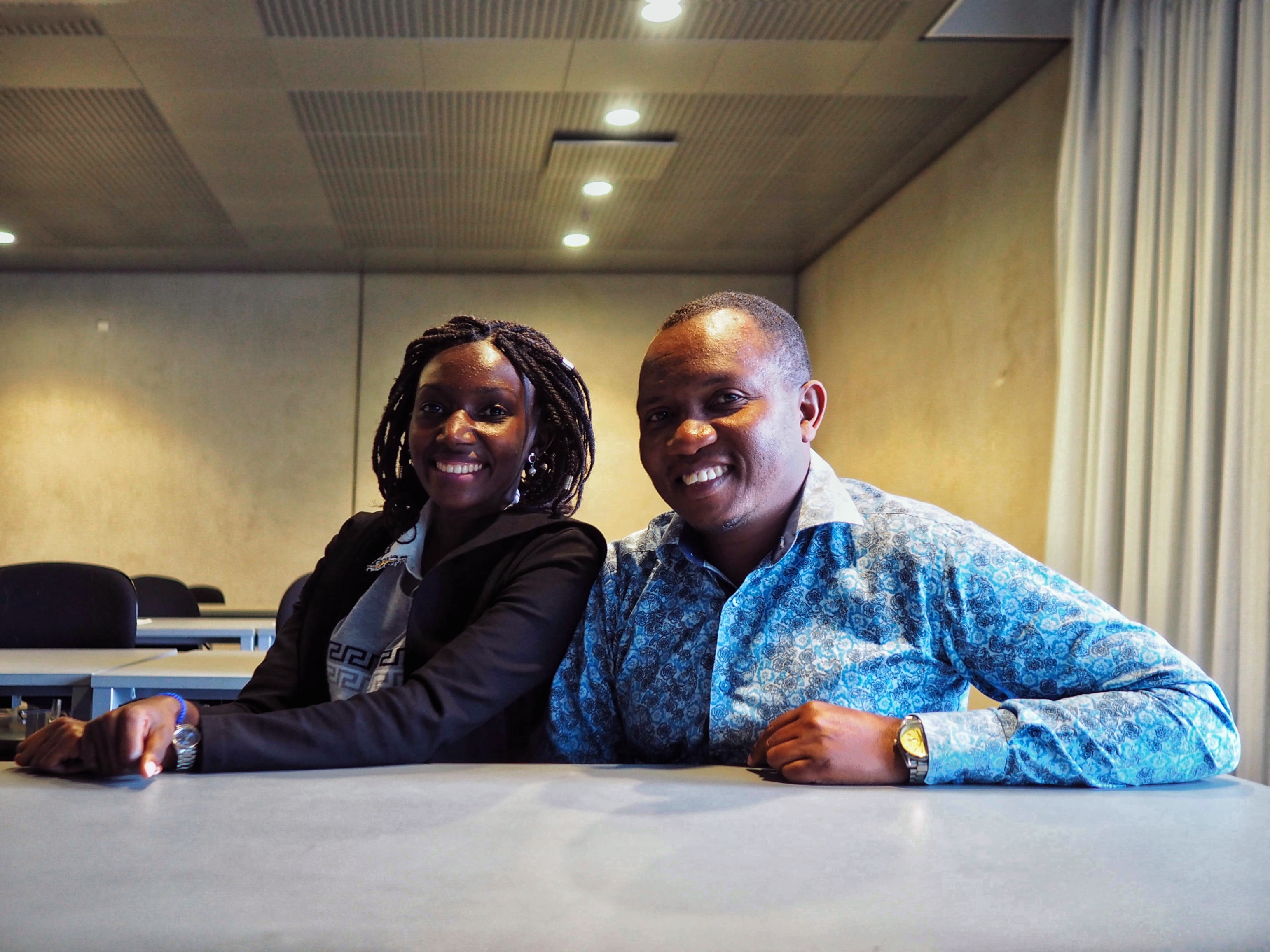 A unique collaboration between CBS and Makerere University Business School in Uganda has made it possible for two Ugandan students, Geoffrey Ayebare and Catherine Nabaloga, to visit CBS. Curious to hear about their impressions of Copenhagen and CBS, student writer Daiana Contini set up a meeting with them.
For the past couple of years, students at the MSc in Business, Language and Culture at CBS have had the chance visit to the Makerere University Business School (MUBS) as part of a unique collaboration between the two business schools. Here, students carry out fieldwork in the context of Kampala, the capital of Uganda, in projects revolving around private sector development and entrepreneurship.
The field study marks its 8th program this year. But while CBS students have always traveled to Uganda for the project, no Ugandan student has ever had the chance to visit CBS and Copenhagen as a part of the project. Until now.
CBS is the only business school that carries out such a project with Uganda. But this year it was made truly unique by the arrival of Geoffrey and Catherine at CBS. They are the very first students from MUBS who were granted this opportunity.
Catherine and Geoffrey had to write a report on the field study findings, a motivational letter, an assessment of their participation in the field study and how they related to CBS students during the process as part of their application.
Both students were motivated by their will to increase their research methods and knowledge, but also by a desire to network internationally. Considering the research-based approach of CBS and its international environment, this was the perfect opportunity.
Googling Denmark
When Geoffrey and Catherine were notified that they had been accepted to travel to Copenhagen, they were very surprised and excited.
"It was special to be among the selected, and I had to go over to the internet and search for Denmark and CBS. I saw it was one of the best schools in Europe and a very diverse one, so I expected to find people from different nationalities," says Catherine.
Geoffrey started doing a lot of internet research about Denmark. According to the internet and Denmark's reputation, he thought the weather would be very bad, but surprisingly he says, "the weather has been very friendly to us".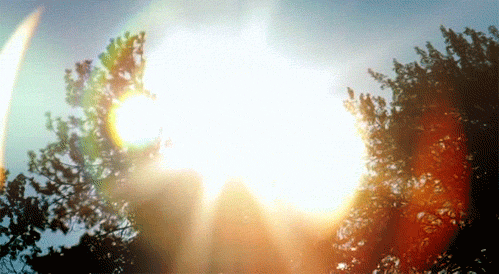 The two students arrived at the very beginning of the academic year and had the opportunity to participate in Responsibility Day, organized every year by CBS to welcome first-year bachelor students. Geoffrey was positively startled by the event:
"Welcoming students in such a way was unique in my opinion. I did not expect that, but it was spot-on."
Another thing that grabbed their attention was the teaching style at CBS. Geoffrey and Catherine attended different classes while they were here, and thought the lecture methods were very innovative due to the high participation of students.
The students are spurred into action as the professors give lectures in advance, and then engage in stimulating discussions with the students. This is very different to what happens in Uganda where the professor is considered the authority.
The happiest people…
While researching online, Catherine and Geoffrey couldn't of course avoid articles about how Danes are the happiest people on Earth. Coming from a country where people are constantly smiling and interacting with each other, it must have been interesting for them to encounter this new definition of happiness.
Catherine disputes this: "In Uganda people in the street are always smiling, here I say hi and they don't answer me!"
"Yes, it's weird. I expected to see smiling faces all the time," continues Geoffrey and bursts out laughing.
Even when asking directions, they have found Danes to be quite cold. Catherine has discussed this with a Danish classmate during one of the lectures.
"I am surprised to know that even though Danes are considered to be among the happiest people in the world, they are also among the most depressed and medicated ones. Maybe because of loneliness and the lack of sunlight too."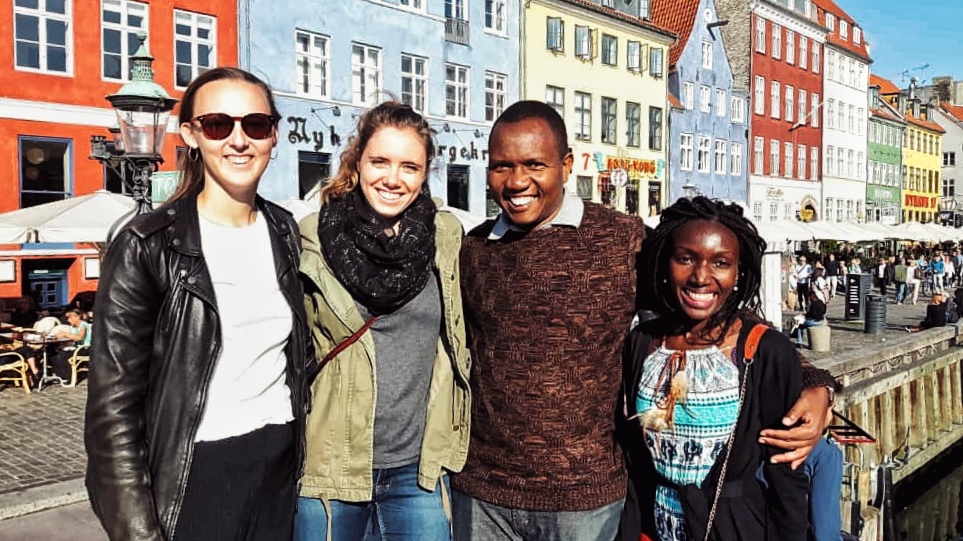 Geoffrey adds: "Often these things come from research, and the parameters might be different from what you actually see. Maybe Danes live a better life. Maybe when they want medication they get it. Maybe when they want to go to school they go. When they want clothing they get it. But the smiling faces are not very evident."
Hansen Is and Aarstiderne
The two students were hosted by locals during their stay here. Geoffrey spent a few days at the Danida Fellowship Center and later moved into a flat, belonging to one of the former CBS students who participated in this year's field study. Catherine stayed at another CBS student's apartment.
Apart from a lot of lectures and time spent at CBS, the two walked around the city, visiting famous landmarks such as Christiansborg Castle, Strøget, Amalienborg, Nyhavn and Kongens Have. They also visited a church in Nørrebro and attended a service there.
On top of this, the students' schedules included a couple of company visits, first Hansens Is and then Aarstiderne. Catherine can't hide her excitement about meeting the third-generation owners of Hansens Is. They met with one of the two brothers currently running the company.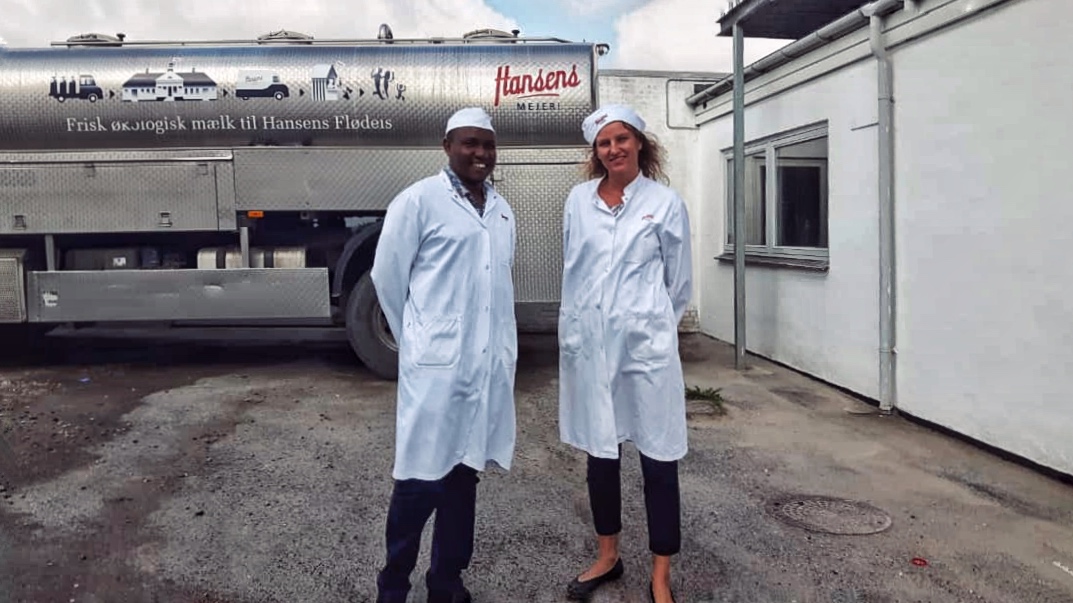 "He was very friendly, very laid back. So different to Uganda where it's hard to get to the managers," says Catherine and adds:
"He took us around his factory and showed us all the processes they use to make the ice cream. It is quite fascinating that his ice cream is organic, and he makes sure everything he uses in the process is organic."
She thinks it's great that Hansens Is get its vanilla from Uganda.
Uganda is considered a safe country by African standards. However Geoffrey and Catherine are used to being careful where they walk, and know if they can walk in a specific street or not. Therefore, this was something they did here in safe Copenhagen too.
"But then we would see one person walking in the street and we could see that it was safe for us too. But from the stories I've heard, there is a serious problem of bicycle theft! Everyone I talk to has lost a bike or had it stolen," says Geoffrey.
Catherine is also fascinated by the number of people jogging, training or walking the dog at all times of the day: "It's nice that you can do that any time you want."