Five secret spots in Copenhagen you don't want to miss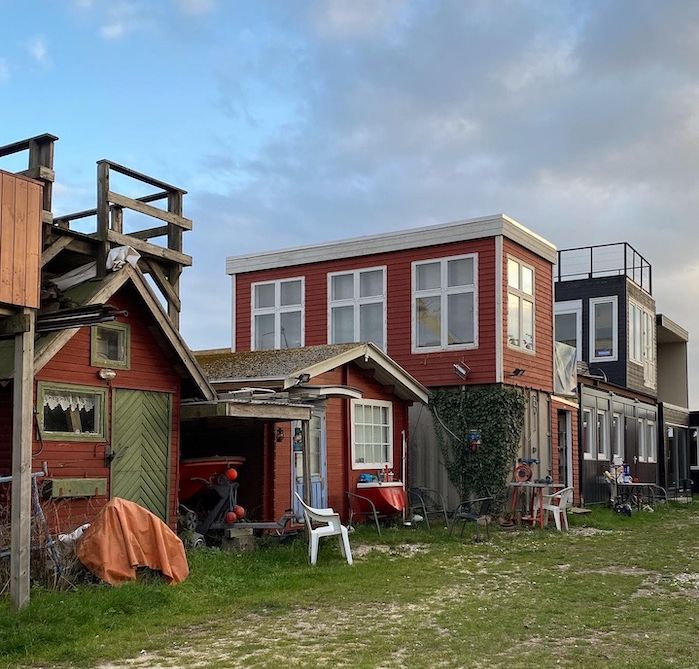 Copenhagen still holds secret places that are not widely known. In this guide, our student reporter, Caroline Sølver, takes you on a tour of five of them. They are the kind of places you want to visit and experience before they become too well known.
After too many months cooped up inside because of lockdown and winter, the future has arrived. Spring has sprung, lockdown is loosening its tight grip on our everyday lives, and we're finally ready to get out and explore again. What better timing to explore five secret places in Copenhagen?
Three years ago I shared a similar post, and while the places mentioned are still great to visit, they're not entirely secret any longer. That's why I figured it's time for another five secret spots.
Bakkehuset – a cute greenhouse cafe in Carlsberg Byen
On top of the hill that links Carlsberg Byen and Søndermarken (if you've biked this hill, you'd probably call it a mountain), you'll find Bakkehuset. It's a beautiful romantic garden, a museum and an orangery cafe all in one. While I have yet to visit the museum, I've strolled the garden and visited the café on multiple occasions.
The museum is located inside a beautiful former home and tells the story of the Danish Golden Age through key people such as Hans Christian Andersen, Oehlenschläger and H.C. Ørsted.
The cafe inside the beautiful octagonal greenhouse features smørrebrød (open sandwiches), fresh drinks and fermented goods. 
Bakkehuset, Rahbeks Allé 23, 1801 Frederiksberg C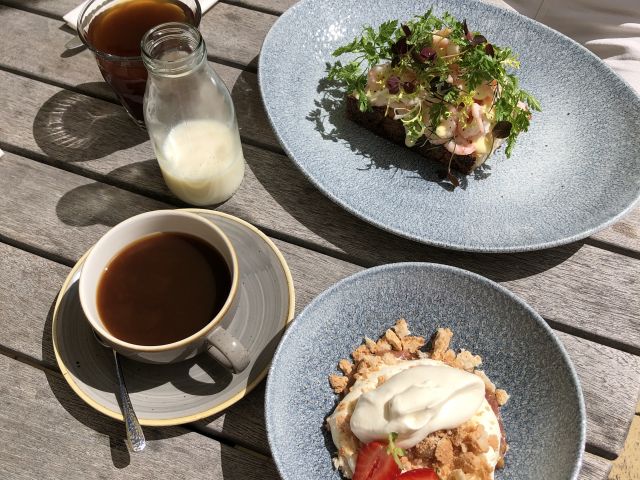 Cafe Slusen – A hangout on the water
If you like La Banchina, you'll love Cafe Slusen. Where to begin when describing how cool this spot is? Maybe it's the fact that people arrive here by kayak. That the cafe is built as a little shed with cute windows. That you can sit in beach chairs and enjoy the water views. Or the fact that the menu is awesome and offers great prices.
Bike here, sail here, swim here, drive here, walk here and enjoy good coffee, ice cream, or the best of the menu – the canned platter – that features all sorts of canned fish served with fresh, delicious sourdough bread and an ice-cold glass of white wine on the side. What more can you ask for?
Cafe Slusen Ved Slusen 34, 2300 København
Kolonihaverne Nokken and Sønderbro – Sønderbro Købmand
Not far from Cafe Slusen, you'll find the kolonihavehuse (allotment gardens) areas, Nokken and Sønderbro. Danish allotments are special because they come with small houses, which historically, were offered to people living in small, dark apartments in the city who needed a place with fresh air and grass under their feet where they could go for the weekend or the summer. Today, these allotment gardens and houses are wildly popular, sold at insanely high prices and prospective buyers are added to year-long waiting lists in the hope of getting their own 'kolonihave'.
Nokken and Sønderbro show exactly why these allotment gardens are so popular. The houses are wonderful, creative and you can tell that the people who live here are passionate about their tiny houses and gardens.
Nestled inside the Sønderbro allotment garden area, you'll find a true hidden gem. A tiny grocery store and eatery, Sønderbro Købmand. It's mostly visited by locals from the allotment gardens who meet up here to discuss the latest news on their living situation. I almost felt like an imposter when I came here, but I was welcomed with delight. The eatery serves candy, ice cream and sodas as well as the Dish of the Day, which tends to be a classic Danish dish such as 'stegt flæsk' (fried pork) or 'tarteletter' (tartlets with chicken filling) and 'frikadeller' (meat balls).
It's best to go here by bike.
Sønderbro Købmand, Bonderosestien 300C, 2300 København
Skudehavnen – Plenty of things to explore in the old Nordhavn
Pack a picnic basket, grab your bike and head towards water for a fun day of exploration. Far, far out in Nordhavn, there are plenty of things to explore. First of all, there is Skudehavnen. It's a marina club where boat owners keep their boats. Historically, until 1995, it housed a fishing port, and you can still see the old fishermen's cottages where people still live to this day. It all looks very different to the Copenhagen we know. It's utterly charming and fun to explore.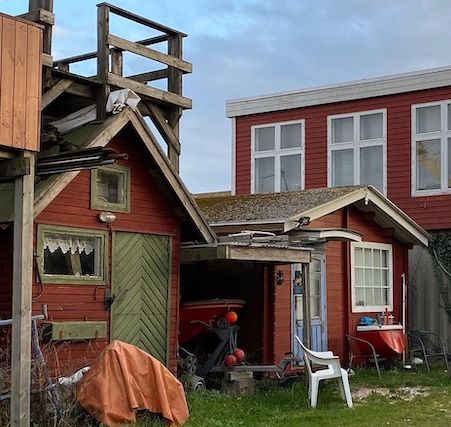 If you go a little further, you'll reach Nordhavnstippen, where the ocean, flora and fauna thrive. You can pet sheep, smell the flowers and if you're up for a little game, you can go hunt for one of the trolls created by the artist Thomas Dambo. Captain Nalle is sitting somewhere in Nordhavnstippen and it's your task to find him.
Yes, like I said, there are tons of things to explore in the old, faraway part of Nordhavn.
Skudehavnen, Østersøvej, 2100 København Ø
The Royal Library Garden – A hidden oasis in the heart of the city
Did you know that right behind Christiansborg Palace, where the Danish Parliament is located, there is a hidden garden connected to the Royal Library? Well, now you do and it's a must to visit.
The garden is beautiful, with flowers and plants tended by skilled gardeners. It offers a chill vibe that lets you take a well-deserved break from whatever you need a break from. In the middle of the park, there's a wonderful fountain, and together with the tower of Christiansborg and the library building, it almost looks like this park could be the set of an episode of Bridgerton or Pride and Prejudice.
The Royal Library Garden, Proviantpassagen 1, 1218 København
I hope that you like these five secret spots. Let's celebrate that Copenhagen is out of full lockdown by exploring some of the many great spots in the city.