Five favorite 'secret' places in Copenhagen!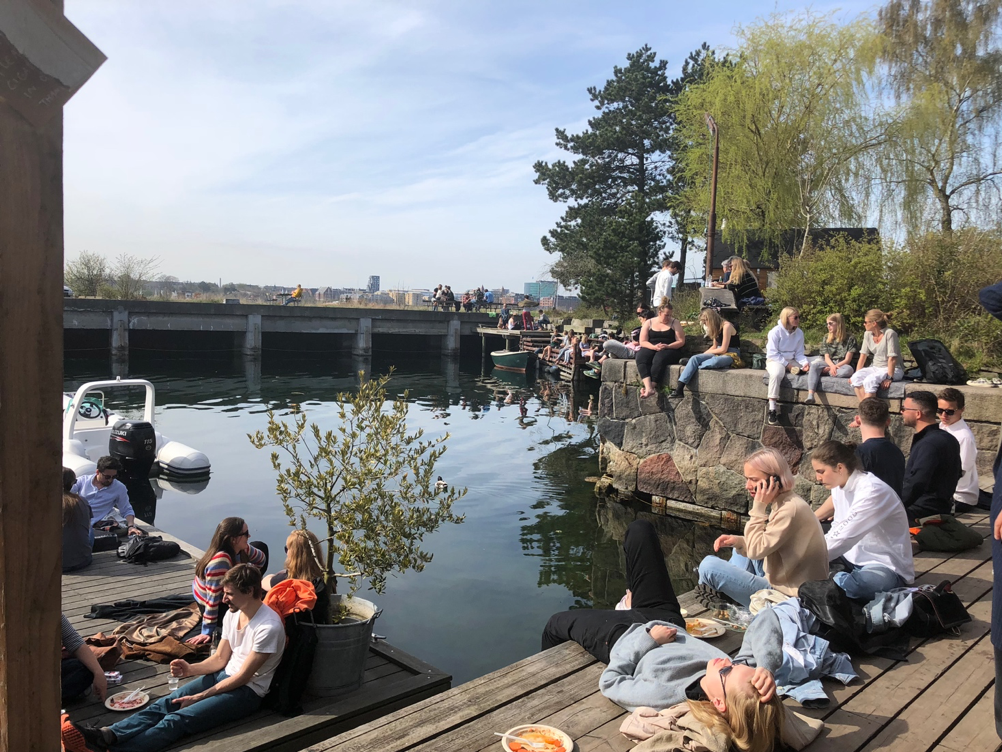 Our student reporter, Caroline Sølver, takes you on a tour to five cool places in Copenhagen. They're almost entirely secret, yet not entirely crowded. They're perfect if you've already done the list of tourist attractions in Copenhagen or have stood in endless lines for popular restaurants and cafés that don't take reservations.
Guide | 01. May 2018
Copenhagen is a small big city. That means it doesn't take long for a good spot to become overly popular and crowded. It only takes a split second for a newly opened café or restaurant to become popular, and the next thing you know, you're waiting outside for 30 minutes to get a table.
But help is at hand. Here are five (more or less) secret places in Copenhagen that you should visit. They are so cool!
Organic wine, coffee and food on a boat bridge at La Banchina
This is probably one of the nicest spots to hang out in Copenhagen when the sun is shining. Located on Refshaleøen behind Christianshavn, La Banchina is just a short bike ride away – although it feels like you're entering another world, as if you're far away from Copenhagen. A little shack right on the water has been turned into a café that offers breakfast, coffee, lunch, dinner and organic wine. Whether you're into coffee or wine, you place your order and find a spot on one of the boat bridges to sit down and chill. And if you're up for it, you can go for a swim! And if not, it's fine to just watch the daredevils jump into the cold water.
 Refshalevej 141A, 1432 København
Coffee on a ferry: Kahyt & Kaffe
This is one of the coolest, most different, and yet hidden spots in Copenhagen. The story behind Kahyt & Kaffe, which translates as 'Cabin & Coffee', is that the owners bought a tiny old ferry, restored it but kept it authentic and turned it into a café. That means that you can enjoy a cup of great coffee sitting on a boat, either on the deck or inside one of the authentic cabins, and enjoy the view of the water. The boat is located in a fun area, just behind the mall 'Fisketorvet' where tall and modern apartment buildings are lined up next to quirky houseboats and the ferry café.
Authentic Vietnamese food by Vesterport at Pho Hanoi
Eating out in Copenhagen might offer a very Scandinavian experience with 'New Nordic' food, Scandinavian decoration and interior and high prices. But sometimes it's fun to try more authentic and exotic places. Pho Hanoi by Vesterport Station is one of them. An authentic Vietnamese restaurant with Vietnamese waiters, serving delicious Vietnamese food at fair prices. My favorite dish is rice noodle soup with vegetables (99 kroner) washed down with a Vietnamese iced coffee (39 kroner), which also counts as a dessert…
Flæskestegssandwich at Isted Grill
You can't say Denmark without saying 'flæskesteg'. Considered to be one of Denmark's national dishes, which is also what we put on our plates at Christmas Eve, it's quite funny that, according to many, the best 'flæskestegssandwich' in Copenhagen can be found in Istedgade, where it is cooked by Mr. Lee from Taiwan. His grill is open till 2am at weekends, which makes Isted Grill a popular spot for people who want to grab a bite to eat when they're out on the town.
The lake in Christiania
Christiania is one of the largest tourist attractions in Copenhagen. But sadly, a lot of people only get to discover a very small part of the Free Town – Pusher Street. But there is much more to Christiania than that. Walk a big further and you get to see the houses and the people who actually live there. Further still, you get to the lake, which gives you a totally different view of Christiania. People swim, row boats, play the guitar and chill during the summer. In the winter, people stay inside their creatively cute self-build homes or go for walks. After your walk, treat yourself to a cup of hot chocolate, tea or coffee at Månefiskeren café and pick out one of their boardgames.