Demonstration against cutbacks on international study placements: Everyone seems to lose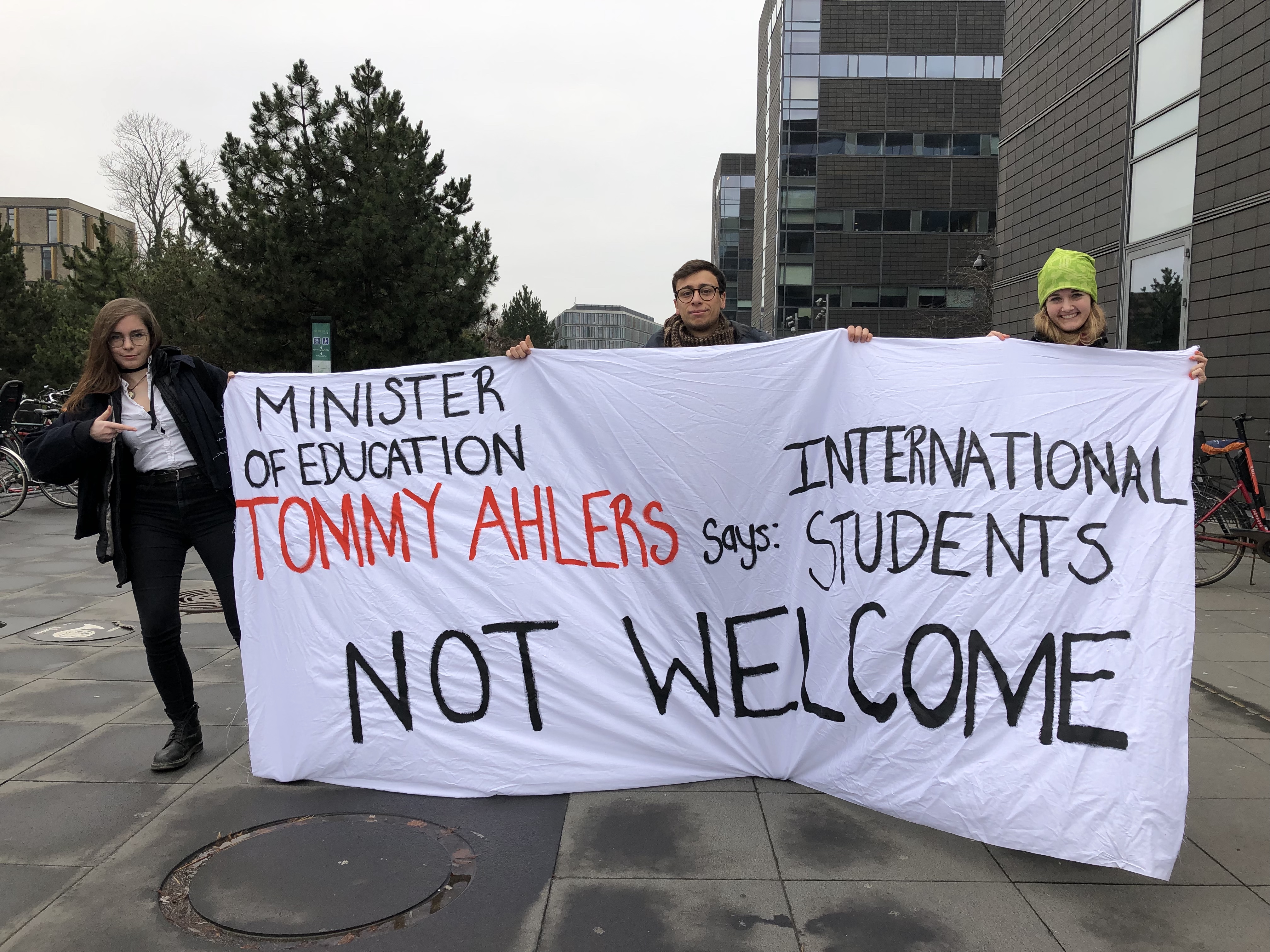 A movement of students from across Denmark's universities is coming together on April 17 to protest against government cutbacks on international study placements. A total of 1,000 – 1,200 study placements must go. "This will affect the quality of education," says one of the organizing members. CBS' student union, CBS Students, supports the cause.
Students Rosie Panfil, Julian Lo Curlo and Monika Skadborg are on a mission. They're at CBS handing out 'Enough Is Enough' flyers to engage CBS students to join them in their protest against the Danish government's decision to cut 1,000 – 1,200 international study placements on April 17.
"The cutbacks will affect the quality of education. We're living in a time when we need to talk and work together across borders more than ever to solve global issues. Reducing that possibility means that everyone seems to lose," says Julian Lo Curlo, who studies Global Development at the University of Copenhagen and is part of the 'Edu For All' movement which co-operates with the National Students Union in Denmark.
The Danish government announced the cutbacks in August 2018 as a way of solving the issue of too many international graduates leaving Denmark two years after graduation. And in the autumn, it was clear that CBS was in the frontline with 250 study placements needing to go
"We are tremendously sad about the decision to cut down on the number of international study placements. International students are a huge part of CBS and create diversity in the pool of students. Therefore, we fully support this demonstration," says Mikkel Nielsen, the President of CBS Students.
And it's not just the international students that the 'Edu For All' movement is involved with. Monika Skadborg is Danish and studies a Danish-taught program at the Technical University of Denmark. However, she picked some electives that are taught in English, which means that she's met people from all over the world.
I feel like a second-class student

Rosie Pinfal
"Meeting international students is beneficial in so many ways. I get new input, new perspectives, and insights into how things work in their home countries," says Monika Skadborg, and continues:
"But now the government wants to take that away and decide for the universities. I mean, the universities made courses in English to attract international students because it makes sense academically."
Second-class student
Rosie Panfil is from Italy and studies at the CPH Business Academy. Although she's fallen in love with Copenhagen, it feels bittersweet.
"I love it here, and it feels like home. But it's tough when the government keeps talking about international students as if they're not welcome. That doesn't really encourage me to stay," she says and adds:
"I feel like a second-class student."
She and Julian Lo Curlo are concerned about whether they can find a job when they graduate. Most companies, even the international ones, seem to ask for some level of Danish. But not everyone can afford to learn it, points out Julian Lo Curlo, who has been living in Denmark for six years and reads and writes Danish.
"Even if you work and get SU, it's difficult to be able to afford to learn Danish. So that's the first hurdle in terms of encouraging the international graduates to stay. Instead of asking, How can we encourage international graduates to stay, it's become a question of, How we can make fewer international students choose Denmark," says Julian Lo Curlo.
Mikkel Nielsen hopes that the reform will be reversed, as he wants more international students to choose CBS and Denmark as their study and career destination.
"If we want our graduates to get on in a global world, it's important that they meet people from other cultures than their own. Yes, you can read about how they do things differently in other countries, but interacting with people helps you to understand their culture much better," he says.
Monika Skadborg is thinking about doing an exchange for six months, but she doesn't see herself as a freeloader.
"I'm not going on exchange because I want to take advantage of the system. I'm doing it because it's good for me and the local university I'm visiting, both academically and socially," she says.
Changing the discourse
The three students hope that the demonstration in front of the Ministry for Higher Education and Science on April 17 will lead to at least two things.
"First of all, we want them to revoke this reform," says Julian Lo Curlo and continues:
"And then we want to change the discourse about international students. There's a lot of talk about us, but no one's asked us what we think about this issue. Hopefully, people will get a different perspective on this."