CBS professor on how small enterprises and researchers should work together: "It's kind of like dating"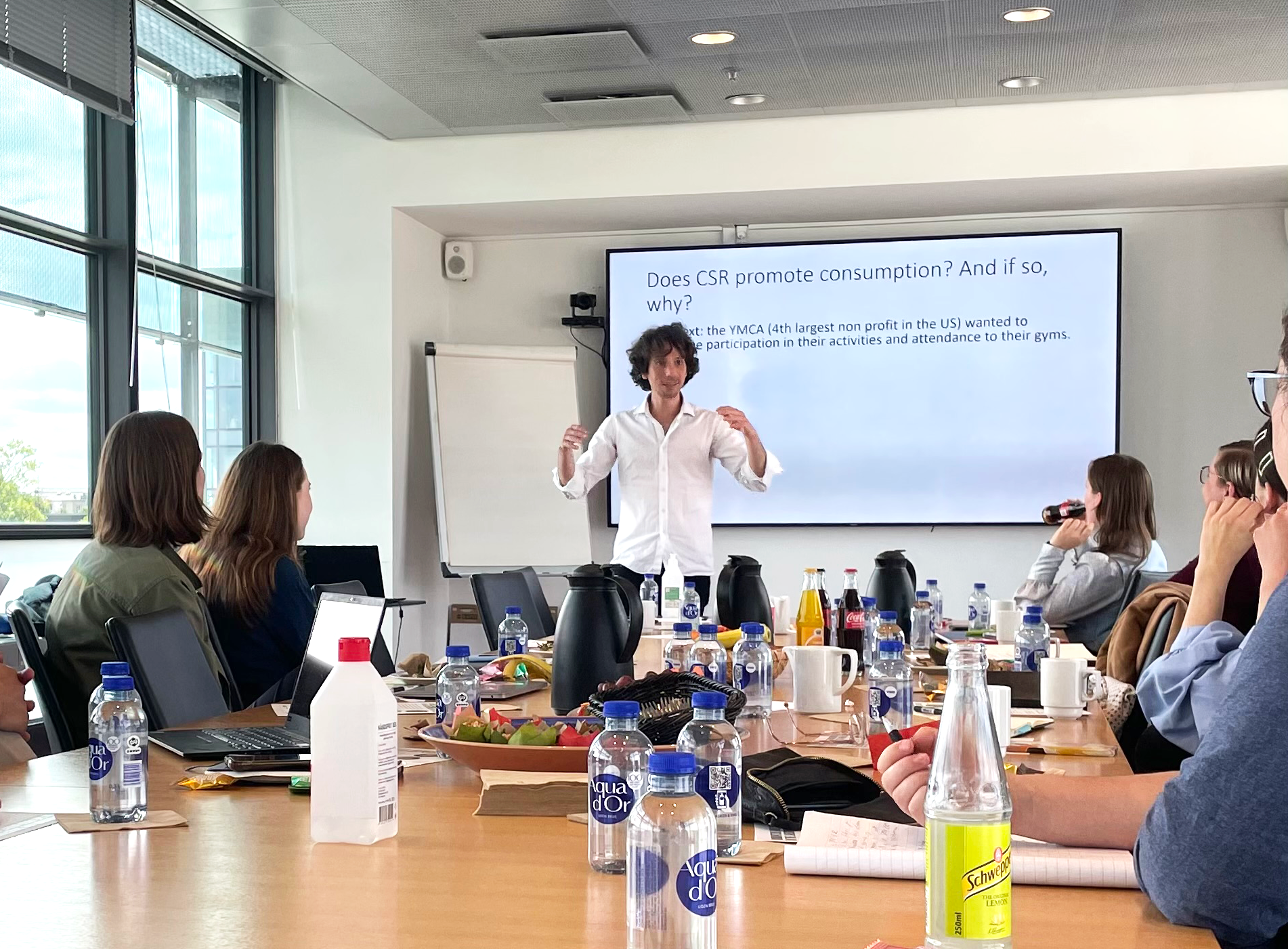 How do we prevent researchers and small and medium sized enterprises (SMEs) from overlooking each other when hoping to collaborate? Start by accepting different work paces and respecting each other's differences, advises CBS Professor Luigi Butera. "It's kind of like dating," he said at a recent workshop designed to bring SMEs and CBS researchers closer together.
When choosing a business partner for your research project, you will have plenty of choice, and that means small and medium sized enterprises (SMEs) may be overlooked. At a CBS workshop on 16  June, researchers from the CBS Department of Economics and four SMEs met up to help solve the problem.
"We want to promote how SMEs and researchers can benefit from each other," said Lena Azimi, project manager of Student Transformation Support and the workshop organizer.
She invited four companies, Pleo, Kunde & Co, 3XN/GXN and Copenhagen Merchants to participate in the workshop together with Luigi Butera, Assistant Professor of Economics, and Alexander Sebald, Head of the Department of Economics.
The workshop, part of CBS Øresund Match, aimed to open students' and researchers' eyes to the potential for researching and working with SMEs.
Recruiting and retaining employees are major concerns
One of the companies attending, the marketing bureau Kunde & Co, explains that they are very aware of labor market trends and aims to pioneer efforts to keep its talented staff:
"Compared to five years ago, the employees have different mindsets and values now. We believe that at Kunde & Co we embody the values that young people want, and we'd like to help them further develop their careers," says Stina Jonasson, HR and Recruitment Consultant at Kunde & Co.
She explains how collaborating with CBS researchers would help Kunde & Co more clearly understand the current labor market climate, and confirm some of its prior insights regarding recruiting and maintaining the right employees.
Sales reps' bad image undermines recruitment
Another company that is interested in learning how to recruit and retain its new employees is the IT company Pleo.
After hiring numerous employees in recent months, the company has grown from 350 to 900 employees in 2022 alone – about a 100 hirings a month since the New Year.
We need to find a way to remove the prejudice surrounding salespeople and underline that a sales position simply kicks off your career

Helene Jørstad, talent partner at PLEO
Yet it is still interested in learning how to attract people more easily and believes that would be a useful topic for a research project.
"We feel that sales reps, especially in Denmark and Germany, are very stigmatized. People imagine a bad work environment. Just the words 'cold canvas' seem to make people cringe and shy away from a job. We would like help to destigmatize that and focus on getting our name out further," says Aylin Bechert, talent partner at Pleo.
Her colleague Helene Jørstad, who also attended the workshop, highlights how a sales position can lead to other jobs with the company.
"We need to find a way to remove the prejudice surrounding salespeople and underline that a sales position simply kicks off your career. It is an excellent way to get to know the company and its products," she explains. She herself started out in sales at Pleo and is now a commercial talent partner.
"When I first joined, my friends were horrified to hear I was working in sales. 'Surely you're not doing cold canvassing', they would exclaim in horrified voices. It's this stigma that we'd like to remove," she says
Can SMEs and researchers find common ground?
Lena Azimi from Student Transformation Support explains that one difficulty SMEs and researchers face when working together is that SMEs have a very high-paced work environment whereas researchers naturally work slower, taking their time to analyze data.
However, the companies felt that although researchers may not work as fast, they would find a way to get along.
"We understand that research is a slower process and believe the slower pace will enable us to take a step back from our fast-paced work environment," says Aylin Bechert from Pleo.
Assistant professor Luigi Butera is not deterred by the different work paces either.
"We are used to researching companies and making it work, despite a difference in pace. And though companies love to say they are working fast, often they are not," he smiles.
Collaborations between SMEs and researchers is a bit like dating. The right match is important

Luigi Butera, CBS professor
He is looking forward to the cooperation between researchers and SMEs.
"We are always hungry for new data about why people make financial decisions," he says.
He predicts that about 25% of the companies at the workshop will end up joining a research project, given the importance of both the company and researchers feeling a good connection.
"It's a bit like dating. The right match is important," he says.