"I've never done research like this before. It's like laying the tracks while the train is in motion"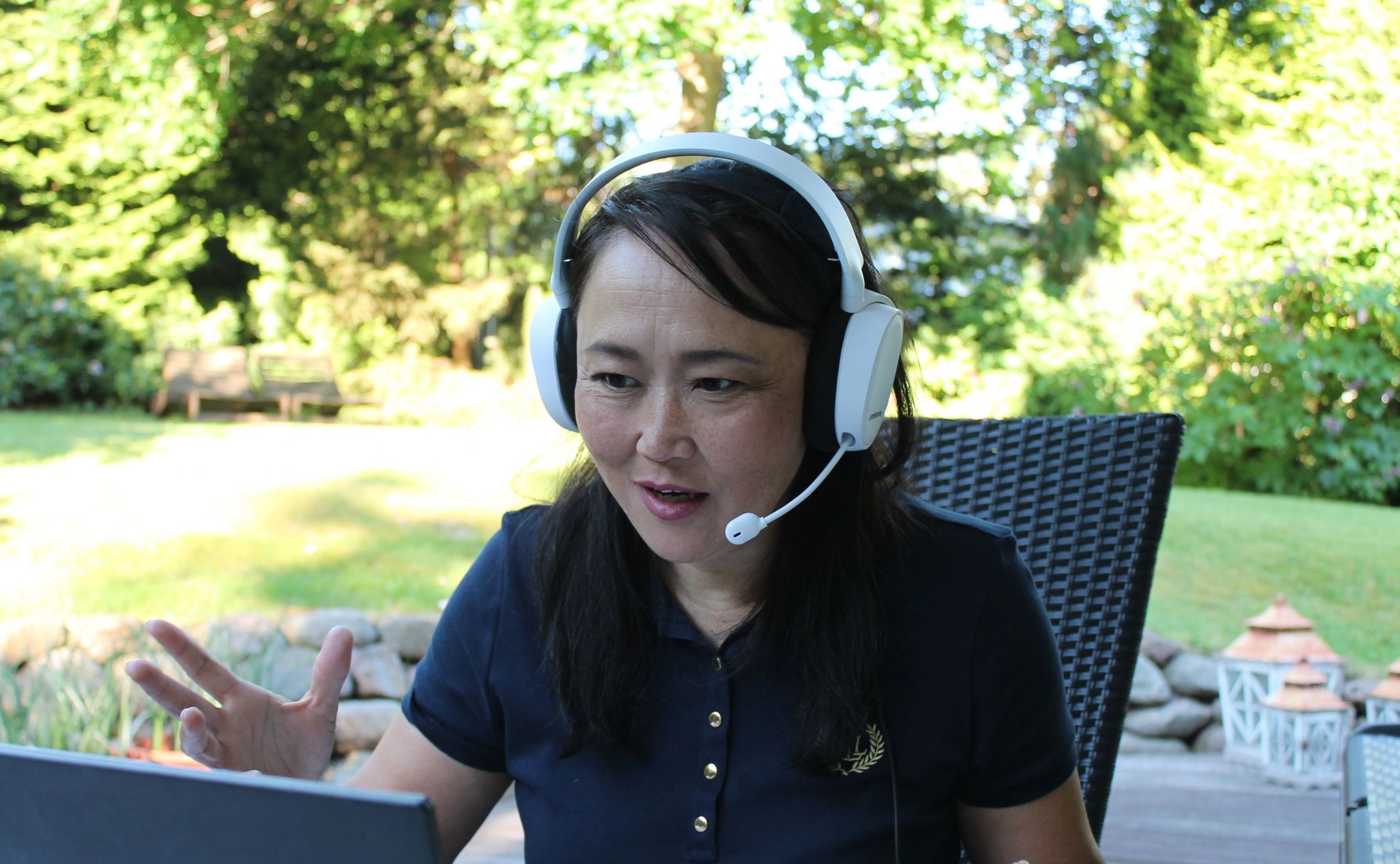 Professor Dana Minbaeva was supposed to travel to Kazakhstan to visit her family on the day the Danish borders closed. Her coping strategy? Starting a research project to investigate virtual leadership during the coronavirus crisis. The project received funding on April 15, but results are already being communicated via LinkedIn, webinars and media. "There's more democracy in the virtual meeting rooms," she says.
Dana Minbaeva, Professor at the Department of Strategy and Innovation, swivels round in her office chair ready for our Teams meeting. Behind her, another home working station is set up.
"This is my husband's office," she says.
Dana Minbaeva's husband, Steen Navrbjerg, is a researcher at the University of Copenhagen's Employment Relations Research Center (FAOS), and together at the beginning of the lockdown they initiated the research project 'Virtual Leadership under the Corona crisis' funded by the Innovation Fund Denmark.
"You might say this project is possible because we are collocated," she says and continues:
"We have had our discussions about remote work, reflecting on the plusses and minuses of virtual meetings. And one day, we heard an interview on DR about the difficulties managers face when leading from a distance. We looked into each other's eyes and agreed – we have to do it. And then came a call for funding applications from Innovation Fund Denmark."
And then the snowball began picking up speed. When the offer of funding came, Dana Minbaeva and Steen Navrbjerg had about a week to design a research project; think about methodology, complete a literature review, establish initial contacts with potential participants and so on. And that is not long if you ask Dana Minbaeva.
"That entire week, we got up at 6 AM to start working before breakfast, while having parallel conversations with the Confederation of Danish Industry, which is working with us on this project. The last coordination meetings ended around 10 PM. At the end of that week, our son came to us and said 'I feel neglected. I demand attention'," explains Dana Minbaeva with a smile.
On April 15, at 10:00 AM, Dana Minbaeva and Steen Navrbjerg got both a phone call and reply. Innovation Fund Denmark wanted to fund the project.
"At 12 PM on the same day, we scheduled our first interviews with employees from businesses and organizations on how they feel about virtual meetings and working in a virtual arena. We were absolutely open-minded, taking in all the experiences and reflections, to capture the big picture. I've never done research like this before. It's like laying the tracks while the train is in motion," says Dana Minbaeva.
For her, being occupied with the research project has helped her to deal with the emotional consequences of the lockdown.
On March 14, the day Mette Frederiksen closed the borders, Dana Minbaeva and her family were supposed to travel to Kazakhstan to visit her family there.
"In the best-case scenario, I won't see my family for another year, and that's really tough. Luckily, I have my family here. But this project is keeping me busy. We talk to so many different people every day, getting their perspectives on the crisis and gaining new insights. And that has helped me over my low point," she says and continues:
"In retrospect, I think my hyperactivity is probably my emotional reaction to the lockdown, a kind of psychological response to the uncertainty, ambiguity and insecurity that the lockdown brought."
Virtual meetings work, but…
The project aims to explore leadership in a virtual arena. A lot of experts and employers agree that leadership in a virtual setting is different, but how exactly, that is the question that Dana Minbaeva and Steen Navrbjerg are trying to answer.
She explains that for decades, researchers have been studying virtual work, remote work and virtual meetings. However, until March 12, all these were seen as innovative work arrangements that complement the traditional workplace organization and were often used voluntarily or on a temporary basis by a limited number of employees.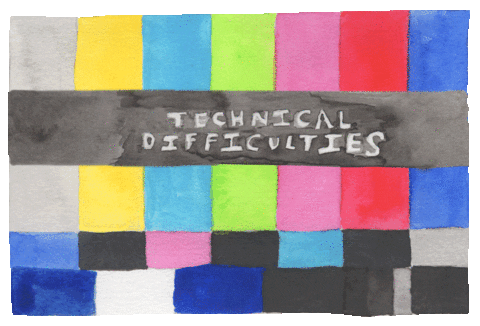 "None of the previous research on virtual work actually dealt with the situation we were experiencing till recently. It was for everyone, it was mandatory, there was no face-to-face supplement and we didn't know how long it would last. And from a research point of view, this is super interesting," says Dana Minbaeva.
She explains that the face-to-face meetings, chats by coffee machines, lunches in common rooms, workshops and creative brainstorming sessions have been taken for granted. And now they are absent. So what happens to the workplace, the employers and employees, customers and suppliers when they move online? What works and what certainly does not? And what will the employees and employers take onboard as the "next normal"?
In total, Dana Minbaeva and Steen Navrbjerg have interviewed about 40 employees and employers from various companies and public organizations. From multinational companies like A.P. Møller Maersk to public institutions, municipalities and schools.
There's more democracy in the virtual meeting rooms

Dana Minbaeva
And the results are exciting, she explains.
For example, everyone agrees that virtual meetings work.
"Some say they are more effective, shorter, and that people are better prepared, for some reason. All the small talk remains in the chatroom and some is skipped entirely. And that works. Sometimes it works much better than physical meetings," she says.
Anyone who has attended a virtual meeting with more than three participants knows that it requires some discipline to make sure everyone is heard. And in this way, employees who are normally a little more in the background during meetings have had their voices heard.
"There's more democracy in the virtual meeting rooms. In many instances, our interviewees told us that employees who were usually quiet, surprised everyone with interesting contributions. Introverts have really shone because now they have time to formulate and deliver their messages without being interrupted by more 'aggressive' teammates," says Dana Minbaeva and gives an example:
"One manager told me that a team member had some problems in terms of stress and mental wellbeing before the crisis, but now in the virtual meetings, she's one of the people who contribute the most. And a software company with international teams experienced many more contributions from overseas colleagues, now that everyone is onscreen, people who would normally be quiet during meetings contribute much more."
But … "There are many drawbacks," says Dana Minbaeva.
Although departments at CBS have arranged virtual breakfasts, Friday bars and just virtual hangouts, it is not quite the same as meeting up. And just as it is easier to stop by a colleague's office for a chat, rather than planning time for an online chat, it is also much easier to talk about more serious subjects and be creative face to face, explains Dana Minbaeva.
"Conflicts and anything that requires a debate, salary negotiations and annual performance reviews have all been postponed until September. Talks like that belong in the physical world," she says and continues:
"Just like all new product development, new projects and creative tasks are postponed. But putting the innovation and creativity on standby may backfire in the future."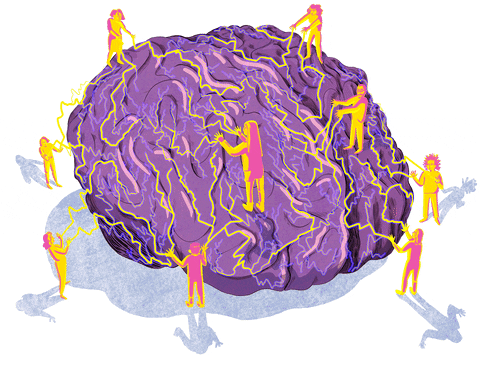 Dana Minbaeva is worried about how companies will manage the transition to a new normal after the coronavirus crisis.
"The current focus on business operations is understandable. But right now, there is a need to intentionally distance ourselves from operational details. There is a danger that the crisis will draw organizations into tactical details. You think you are being strategic, but you remain in a reactive mode brought about by the crisis, and never regain the initiative."
"Every cloud has a silver lining"
One of the demands that accompanies the funding from the Innovation Fund Denmark is that the research is applicable for companies now and can be communicated immediately. So in order to live up to that, the couple have created a LinkedIn group where they continuously post their results and publish blog posts about their research. And that has attracted attention.
The next step is to host a webinar on June 25, during which the researchers will share their qualitative findings. So far, close to 120 people have signed up. But the project will not stop there.
The enterprising couple plan to send questionnaires to about 1,000 employees and employers in August asking what they have learned from their experiences during the spring and summer while working from home and virtually. In the autumn, they will revisit all the companies they interviewed to ask what they actually took onboard.
"Every cloud has a silver lining. The COVID-19 cloud offered us an opportunity to rehearse our digital future. As one of our respondents told us, we have been preparing for a digital transformation lasting at least two years. That transformation happened in two weeks," she says and continues:
"In fact, I believe this crisis will be remembered for changing the way we work. Is it necessary to have every employee present at the office every day? And do all meetings need to be face to face? Do we need to travel? Clearly, the crisis showed companies and organizations alternative ways of working together."