Students help pull companies out of the Covid-19 swamp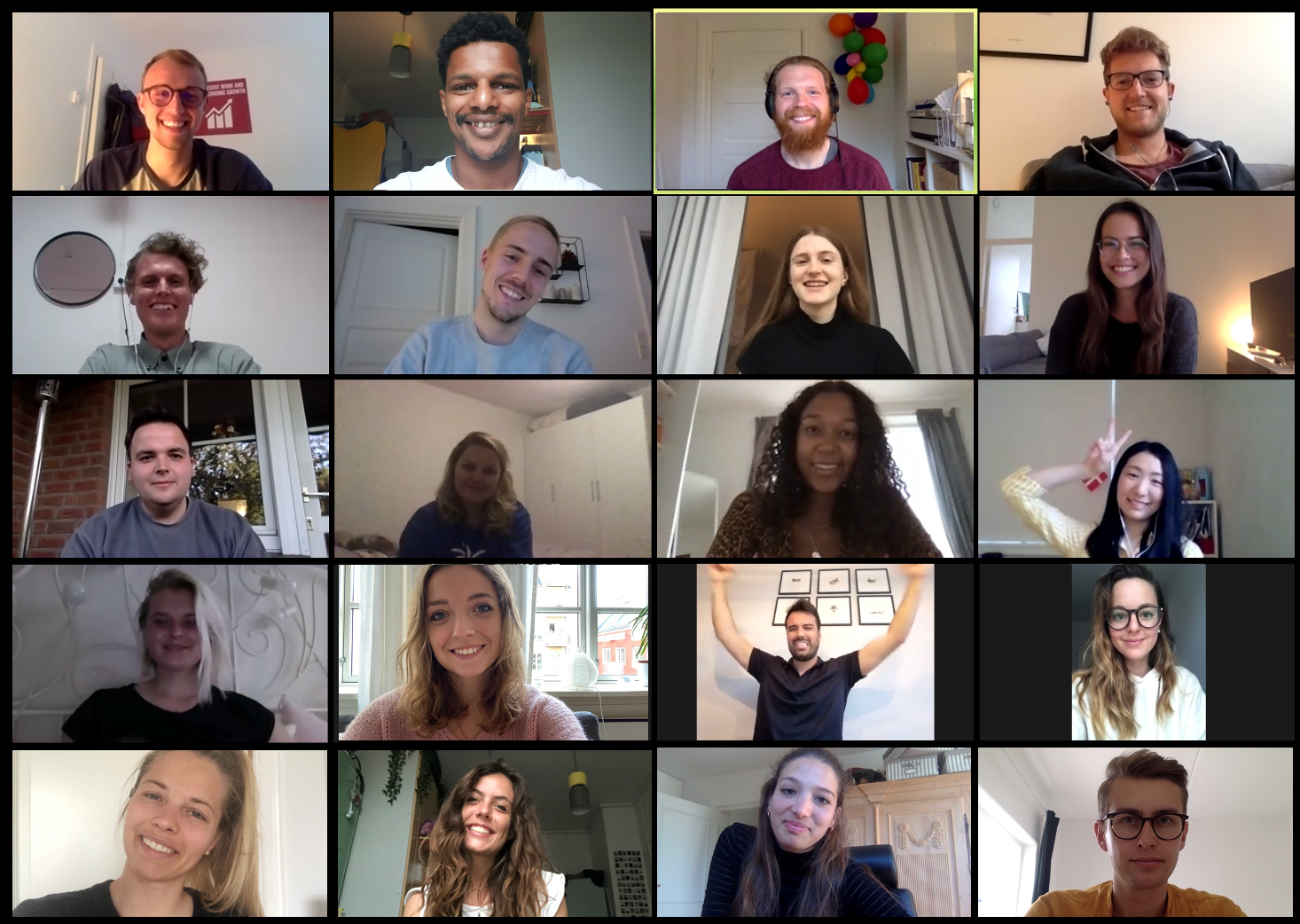 Disruption or a global pandemic can easily spell death for start-ups and organizations. But not necessarily. A group of CBS students with backgrounds in arts, finance and engineering have founded the non-profit consultancy NOVEAR, which helps businesses to stay afloat by rethinking business models and devising new ideas to tailor their companies to suit the present business climate.
Even at the very start of the global COVID-19 pandemic, news about bankruptcies and businesses in financial trouble began hitting the headlines. Governments have issued financial support packages, and CEOs have laid off employees to avoid more bankruptcies.
Levi Yosef, a student on the MSc in Organizational Innovation and Entrepreneurship (OIE) program, realized this and had an idea.
What if he, as a student, could use his competences and academic knowledge to help the companies and organizations in need to rethink their business models and weather the storm? He pitched the idea to Luis Mariscal-Grau, Valeria Bortoletto, Vincent Thun and Maxine Adams, also students from OIE, and they were immediately onboard. Within a week, NOVEAR – NOrdic VEnture ARchitects – was up and running, and word about the non-profit consultancy had spread to businesses as far away as Mexico and Australia.
"When we launched our start-up, we didn't need much marketing, as it snowballed. We reached out to our network and friends, and news spread by word of mouth. It's very much like snowboarding on an avalanche," says Levi Yosef.
Together with a group of NOVEAR volunteers, Luis Mariscal-Grau has helped the Mexican business 'The Wall Project', which produces huge wallpaper stickers for offices. Normally, the business produces unique wallpapers measured to fit clients' offices, but with restricted access to offices, producing wallpapers as normal has become difficult.
"They have lost many customers, as relatively few are at work now, and those who are don't necessarily want people visiting for fear of spreading the virus. So we analyzed their business model, considered their resources and guided them through what they can do," he explains and continues:
"We came up with four solutions. One was to make a selection of prepared wallpapers for shipping direct to customers, and generally adopting a different approach to selling products online."
Innovation never ceases to exist, so just because this crisis blows over, it doesn't mean 'game over' for NOVEAR

Luis Mariscal-Grau
Another business that has called on NOVEAR for help is the travel agency Above Borders, which is founded by CBS students. The team behind Above Borders arranges trips to places such as North Korea and Turkmenistan – tricky destinations to visit otherwise. But with nearly all air traffic suspended, their business idea is at risk.
"My team proposed that the company could expand its services to include parts of Europe, which would be easier to reach. And although they had already thought about this, my team gave them new insights and focused market research through an online survey to test the viability of the," explains Valeria Bortoletto.
As Valeria describes, they try to accelerate the ideation process as much as possible and come up with solutions fast.
"Normally, you would allocate months for this kind of work, but we aim at having solutions ready in 1.5 weeks, because Covid-19 is happening right now," she says.
NOVEAR currently has more than 15 projects running in eight different countries; Germany, Mexico, Denmark, Italy, South Korea, Switzerland, Sweden and Australia.
See the light of innovative shining through the swamp
In a previous CBS WIRE article, CBS researcher Dorthe Thorning Mejlhede explained that businesses can weather a crisis or disruption by innovating themselves.
For example, the movie rental business Blockbuster thought it would do just fine by sticking to its 'business as usual' attitude – renting out physical movies. However, it was eventually overtaken by Netflix, which had eyed a digital future on the horizon. The result? Blockbuster went bankrupt and Netflix kept expanding its online streaming service.
However, when a crisis, such as the current pandemic, is on the doorstep, it can be hard to keep your nose to the grindstone as normal and see the 'innovative light', and that is when input and ideation sessions can be useful for pulling you out of the swamp, explains Levi Yosef.
"One business owner we talked to explained how she gained a lot from a motivational point of view. She felt as if everything was very gloomy  and together we discussed ideas for making her business thrive. That levered her out of this low curve into realizing that it was a great opportunity to rethink her business," he says and continues:
"The businesses we help don't have to use the ideas and solutions we devise, but many of them get back to us and say that what we did helped and had an impact."
Diversity makes the difference
Right now, NOVEAR has 22 members, all from the OIE program, but the members have different academic backgrounds and their CVs are not at all similar.
Some have studied psychology, some are skilled in business management, marketing and finance, while others have studied arts or engineering. And this diverse pallet of skills and competences optimizes the ideation process, argues Levi Yosef.
"Our core business is to facilitate workshops on ideation processes online. And this is where the diverse backgrounds come in handy. Ideation sessions blossom through diversity and different inputs, and we want to create a safe environment where new ideas can flourish," he says.
Apart from the different academic backgrounds, NOVEAR also draws from its members' different work experience.
"I have worked in a consultancy on large digital projects with Germany's biggest union as a client myself, and also worked in advertising, amongst others for Netflix. Luis for example is in the leadership team of Millennial Consultancy, and most of us are entrepreneurs as well. So there are a few years of experience to draw upon already," says Levi Yosef.
And more will probably come, as NOVEAR has begun receiving applications from students outside OIE.
"Four students from Berlin who had heard about us reached out and asked how they join us, and we are happy to take on more volunteers," says Valeria Bortoletto.
"We're not just a bunch of students – we have useful knowledge"
Being a consultancy that is based on students' knowledge and expertise may raise some eyebrows and prompt people to consider whether the help and advice is up to speed with other consultancies. And although there are limits to students' knowledge and experience, it is still valuable according to Valeria Bortoletto.
"I never want us to be perceived as a bunch of students. I feared that at the beginning, but I want to stress that we have insight. We know what we are doing," she says and continues:
"No, they're not huge revolutionary solutions, but simple solutions that are applicable. We just give the companies a different perspective on their businesses."
Levi Yosef explains that one consultancy that approached them felt that NOVEAR was disrupting the market with its free offerings. But Levi Yosef is not buying that.
"I understand the sentiment, but we're not taking their customers. We work with clients who would otherwise go bankrupt and can't afford to hire consultants. We're not helping big corporations like IBM. They can help themselves," he says.
Valeria Bortolette adds:
"We're not free labor, so for that reason we won't help the big companies. When a company approaches us, we weigh up the business before saying yes."
At some point, society and trade will be back to something resembling normal. And what then? Will NOVEAR still be around when the COVID-19 crisis ends?
"Innovation never ceases to exist, so just because this crisis blows over, it doesn't mean 'game over' for NOVEAR – not if there are people who want to take it to the next level," says Luis Mariscal-Grau.