Benjamin started selling secondhand textbooks to HA Almen students – now he's expanding to cover all CBS study programs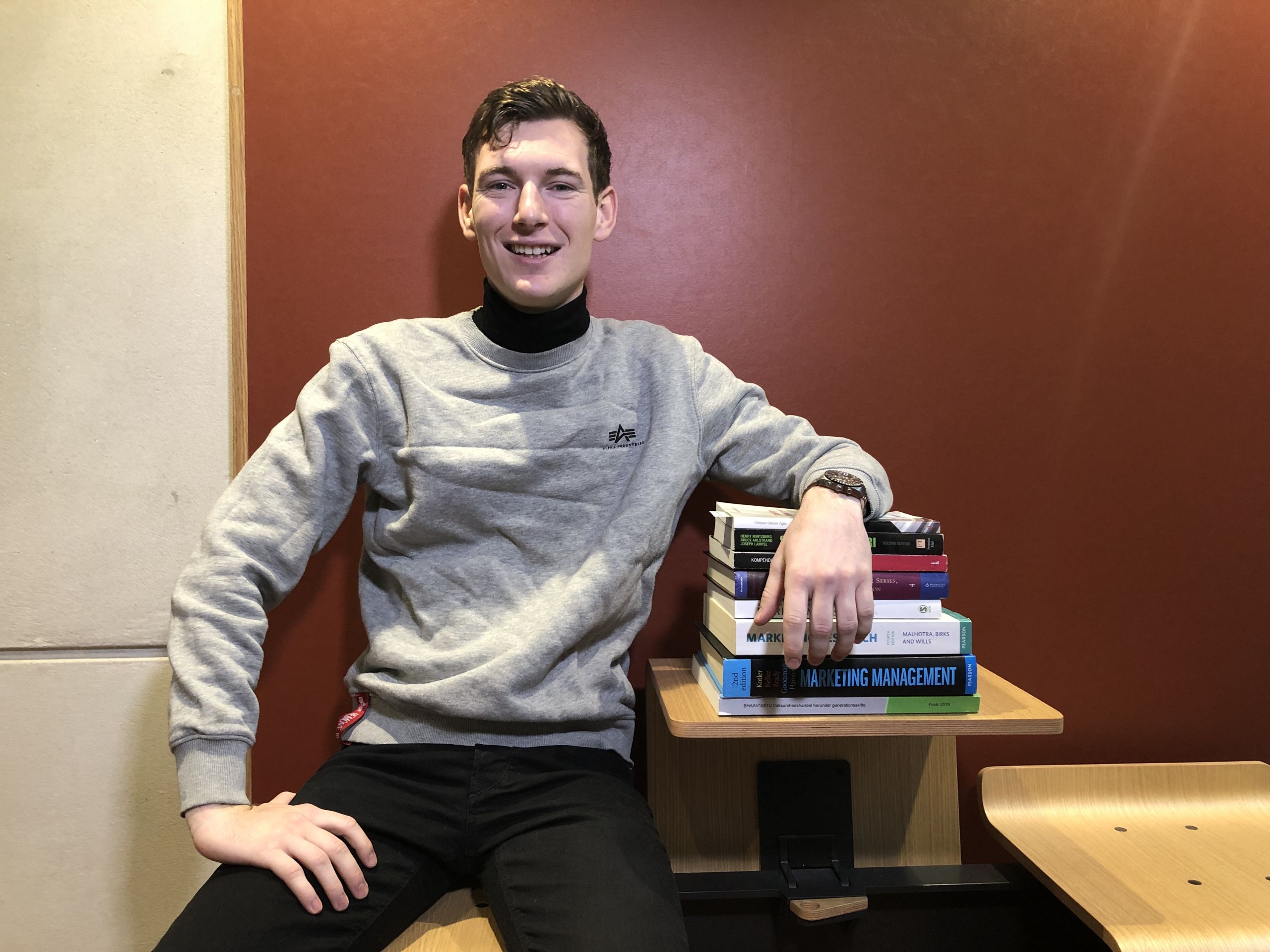 Benjamin Busk began supplying his fellow HA Almen students with secondhand textbooks sold from moving boxes outside CBS. Now, his business, Uni Bazaar, has a fully automated storeroom with more than 4,000 books, and he has just received DKK 75,000 from CBS to expand the service to supply all CBS study programs.
When Benjamin Busk started studying at HA Almen back in 2014, like his classmates, he had to get the books on the curriculum list. And it wasn't a cheap affair, he remembers.
Back then, he paid about DKK 3,000 for the set of new books listed. Less than six months later, he needed another set of books worth DKK 2,000 for the second semester.
"One book we had to get was on entrepreneurship. It cost DKK 800!" he exclaims.
"I tried to find it secondhand, but couldn't, so I had to buy a brand-new copy, and that was when the idea for Uni Bazaar was born," he says.
At first, I just wanted to learn something. If I started a business and failed, I would still have learned something.

Benjamin Busk
As part of a course on entrepreneurship, he developed the idea for Uni Bazaar, which basically helps students to sell their textbooks, explains Benjamin Busk. By the beginning of his third semester, he was ready to test his idea.
He got on his bike or borrowed his parents' car and drove around Copenhagen buying secondhand textbooks from HA Almen students. Altogether, he spent DKK 30,000 on books that he subsequently stored in moving boxes in his room. Next, he published an online list of all the titles available, so that HA Almen students could order those they required.
Then, as the summer 2015 semester start approached, Benjamin Busk set up moving boxes and Netto bags full of books in front of Café Nexus so that his customers could pick up and pay for the books they had ordered.
"On the first day, I sold for close to DKK 26,000. And by the end of that semester, I had sold secondhand books worth DKK 45,000," he says.
And this was when Benjamin Busk, who finished his studies in 2018, realized that he was on to something.
Today, with help from CBS, his business, Uni Bazaar, covers all the CBS study programs, has its own storeroom, and plans to install on-campus drop boxes for books. But we'll return to that.
"In many ways, I think it's outrageous how the textbook market is run. Often, when editions of classic books are launched, they're not much different from the editions already out there, and this can be difficult to recognize. Also, I want to be part of pushing the market in a direction where we produce fewer new books and make better use of the books that we do produce," he says.
Books, books, books everywhere  
Benjamin Busk continued to buy and re-sell his fellow students' textbooks during the semesters that followed, initially storing the many books in his room in a shared apartment on the fifth floor.
"I have stopped counting the times I've asked friends, roomies, my girlfriend and family to help me to move books either upstairs or downstairs," he says.
Eventually, the books took up so much space that he moved some into his girlfriend's basement, and when they outgrew that solution, he moved the ever-expanding collection to his parents' apartment and basement, while keeping the newest purchases in his own room.
"At one stage, my dad pointed out that he was worried whether the apartment floor could withstand the weight of all the books," recalls Benjamin Busk.
His book collection not only took up a lot of space, it also took up much of his time, with peak workloads coinciding with his own exams. Eventually, he had to decide. Uni Bazaar or studies.
"I really wanted this business to work so I took a year off from my studies to focus on Uni Bazaar," he says.
During that time, he developed his business further, and tried different models that were more professional than his flea-market style setup in front of Café Nexus – including a pop-up store in a small container at Solbjerg Plads where students could pick up titles they had ordered, as well as handing in used books.
He also spent time skimming the incoming books and comparing them to earlier or newer editions, so that students would know which editions to pick, and whether older editions would suffice for their studies.
"Sometimes, they just change the table of contents, or switch around some chapters. That's all. I understand that you have to update textbooks about marketing, as new marketing platforms are continuously emerging, but I don't see the need for new books on subjects like microeconomics, which remain the same year after year," he says.
When the year had passed, he went back to HA Almen to finish his studies. And then he had to make a choice. Continue studying right away or work at Uni Bazaar.
"At first I just wanted to learn something"
Today, Benjamin Busk runs Uni Bazaar almost full time and has a part-time job on the side, as the business doesn't earn enough to pay a full salary. But that's probably about to change.
In autumn 2019, Benjamin Busk and his then co-owner Yannick Brot Christensen received a CBS Start-up prize worth DKK 75,000 for best start-up concept. The money has enabled Benjamin Busk to expand the business even more, as he is now accepting secondhand textbooks from all study programs at CBS, whereas the service was previously only available for HA Almen students.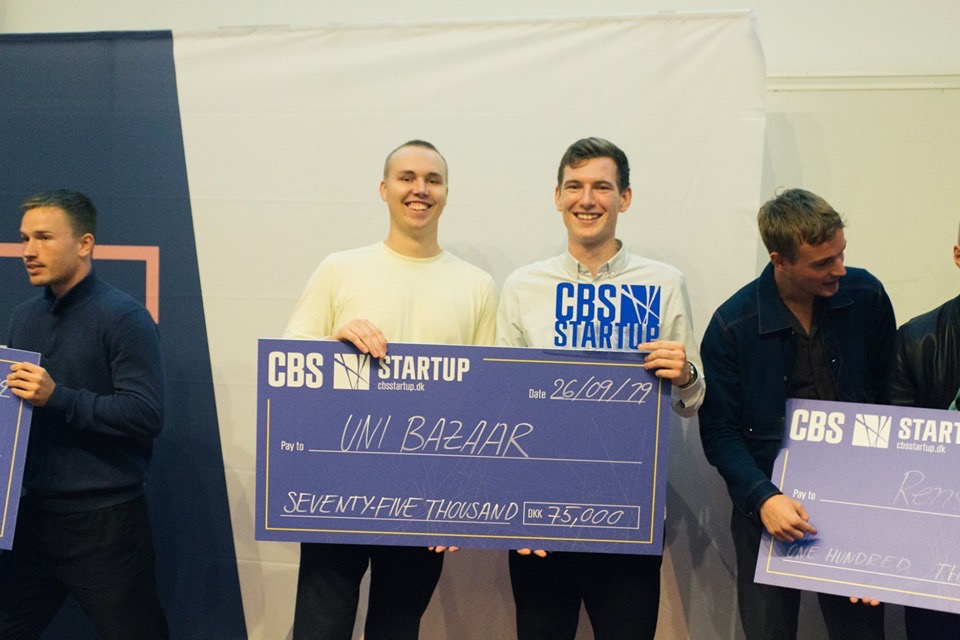 The expanded service has forced Benjamin Busk to invest in a bigger storeroom to house all the books.
"For the first time in four years, I have no textbooks in my room," says Benjamin Busk with pride.
"All the books we sell are now stored in a professional, fully automated storeroom, and I'm sure my parents and girlfriend are thrilled about that."
But that's not the pinnacle of Benjamin Busk's business aspirations. Over the years, his ambitions have only grown, and they keep on growing.
"At first, I just wanted to learn something. If I started a business and failed, I would still have learned something. Then I wanted to exceed DKK 100,000 in revenue, then I wanted to get an investor, and now I want to make a living from it," he says and explains:
"Which is why I felt that if I didn't commit all my time to Uni Bazaar, I wouldn't do it right."
Digital versus printed books
Benjamin Busk's business involves more than students' wallets. It's also a way of increasing the use of books already in print.
Obviously, it costs trees, paper and ink to produce a new book, and if everyone buys new books every semester, that would be a constant drain on resources.
But hasn't he started a business that has a natural expiry date? More and more books are also available online, but according to Benjamin Busk, it doesn't seem to affect the students' preferences when it comes to textbooks.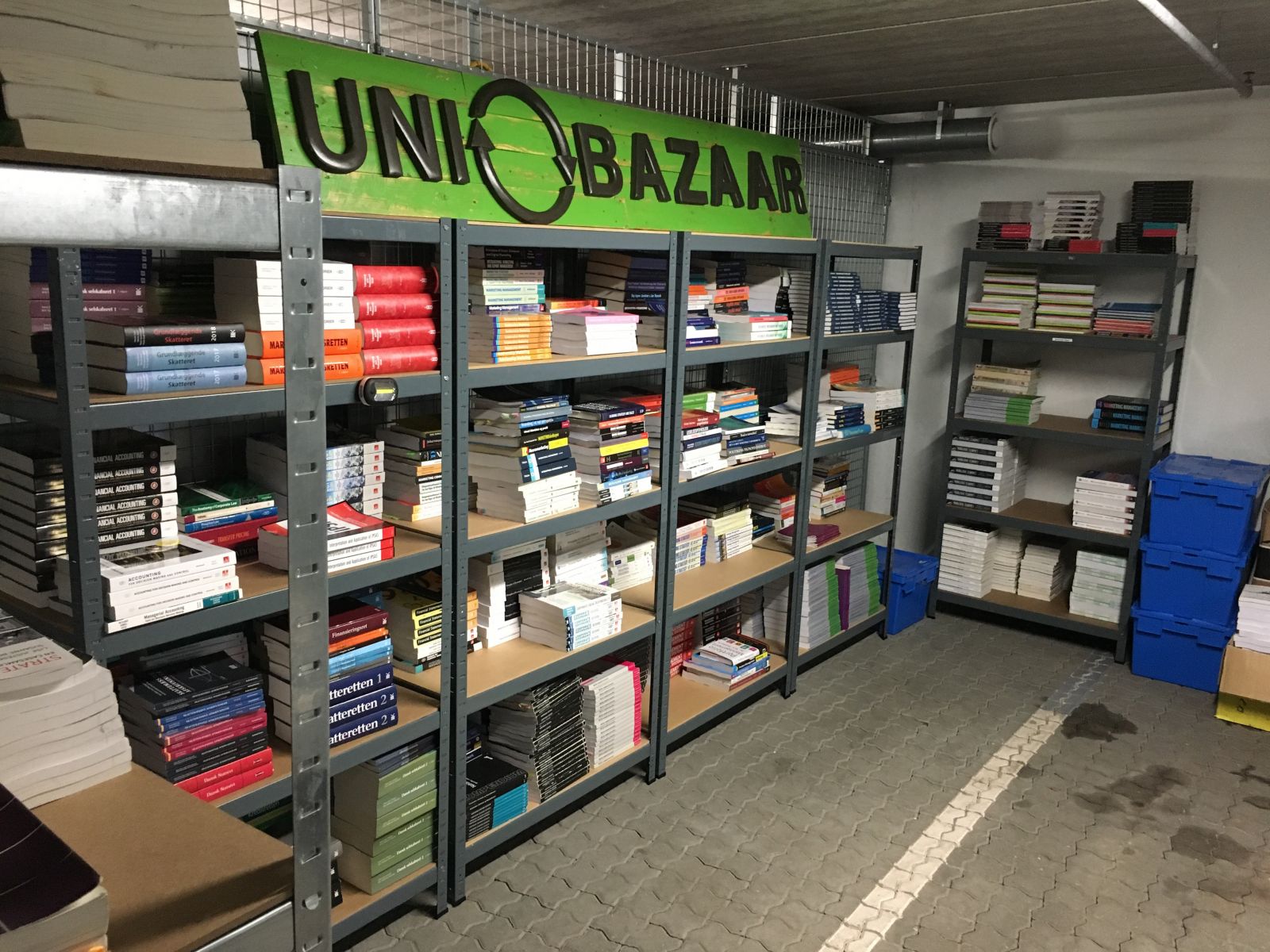 "Over the past four years that Uni Bazaar has been active, e-book sales haven't changed much. Students are still more likely to choose physical books if the cost is the same," he says and continues:
"We are used to studying with physical books, and for many it's easier to have a book beside you while your laptop is open. No one has two computers – one for the book and one for making notes. And then I believe people tend to pick the physical book because it's easier to concentrate."
Ultimately, he hopes his business can push publishers into making the market more eco-friendly and more transparent for students hunting for textbooks.
"I believe we are putting some pressure on publishers, who will hopefully find a way to produce books that's better for the environment. At least, they could start by only making new editions when new knowledge and content are available, and not just to make more money of the students," he says.