Carl Kronika found his fourth employee in a VW UP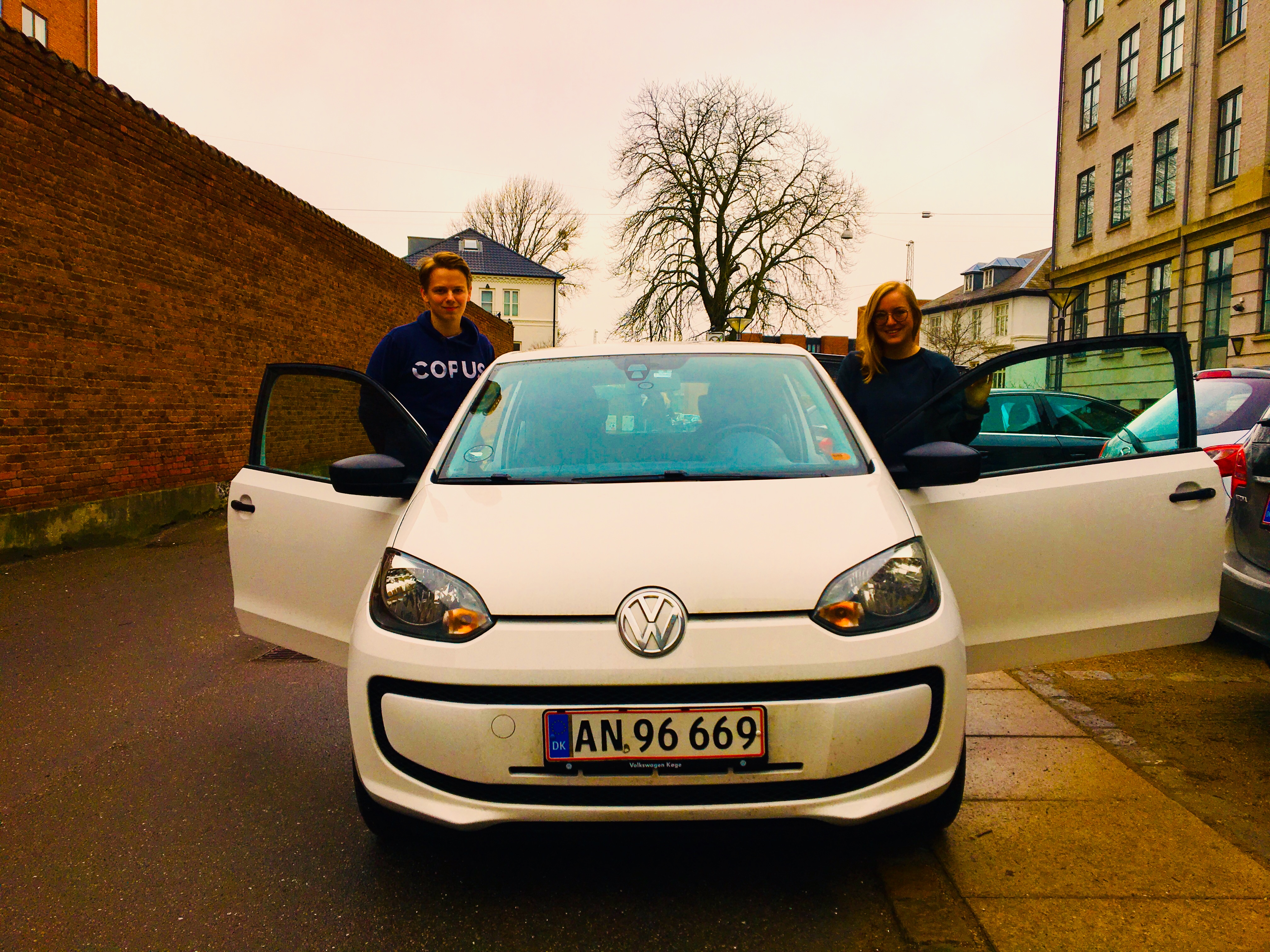 A GoMore trip turned out to be more valuable than just a car ride. Carl Kronika, CEO of the CSE-based start-up Copus, was looking for a new employee for his company. That employee happened to be Louise Salebjerg-Hansen, the driver of the Go-More ride.
Louise Salebjerg-Hansen picked up a young fellow wearing a polo on Mimersgade in Copenhagen on a day in September 2017. The young fellow was Carl Kronika, CEO of the CSE start-up Copus.
"I was on the way home from a vacation in Barcelona, when my boyfriend and I picked up Carl and another guy who had booked a ride to Odense. As soon as Carl joined the ride, the conversation went into full swing," recalls Louise Salebjerg-Hansen, who holds a degree in international business communication.
"Carl explained that he had been attending some meetings in Copenhagen, including a meeting with Carlsberg, and that sparked my curiosity, as he looked quite young. He then explained that he had his own PR agency, and since I have a degree in communication, I had to hear a little more about that," she says, but she didn't tell Carl Kronika about her degree at first.
Little did they know that this meeting would turn out to be of great value for both of them, as Louise Salebjerg-Hansen would become Carl Kronika's employee a little bit in the future.

A person you could drink a beer with
Carl Kronika is, at the moment, in his last year of high school in the town of Haderslev located in Jutland, but this hasn't stopped him from founding his own start-up called Copus.
Copus is a traditional PR agency providing start-ups with the team and technology needed to reach millennials through press coverage in a transparent and measurable fashion. All the employees at Copus are Millennials themselves. But not all of the employees are in Haderslev. In fact, they are spread out in Denmark, and some of them sit at the Copenhagen School of Entrepreneurship at CBS, which is part of the reason why Carl Kronika pays a visit to Copenhagen now and then.
At the time when Carl Kronika was joining the GoMore ride with Louise Salebjerg-Hansen, Copus only had three employees and they were actually in need of another one.
When Carl Kronika discovered that Louise Salebjerg-Hansen had a degree in communication, he was all ears.
"It wasn't until a little while after we left Copenhagen that I found out that Louise recently graduated with a degree in communication. And then I found out she was currently looking for a job" says Carl Kronika on the phone from Haderslev and continues:
"I think she was pretty cool and interesting, and the type of person I could see myself and the other colleagues having a beer with. So, she was actually the kind of employee we were looking for. Previously, we would say that Copus wasn't a real company before we had some women employed. Otherwise it's a little too much like a LAN-party. You need different skills and competences, and she had something different to offer," says Carl Kronika.
When the white VW Up reached the end of its journey, Louise Salebjerg-Hansen and Carl Kronika decided to keep in contact.
"When we talked again, I offered to do an internship for two months, as I was looking for a job at the time. Luckily, Carl could see me as a part of the team, so I started in October as the oldest member of the team. When I ended my internship in December, Carl and I looked at each other and agreed that I should have a permanent position," says Louise Salebjerg-Hansen who has been a full-time employee at Copus since January 2018.
A crazy story
Both Carl Kronika and Louise Salebjerg-Hansen think back on that day in September as something very special, and to some extent quite funny.
"Thinking back, it's actually quite crazy. I mean, I didn't expect to get a job through a GoMore ride. And it's so much nicer than just sending out applications with a description of you and your skills. After the talk with Carl, I felt that I could hire him as a boss. He is in control of what he does, and has some ambitions, and I was impressed by that," she says.
Carl Kronika adds: "I think the story is hilarious and quite unique. GoMore has created a platform where people can meet. I didn't in my wildest fantasy think, when I got a lift to Odense, that I would find a new employee who would end up influencing Copus so much. She is indeed pointing the direction of Copus. It's just crazy how you meet people," he says.