Your new friend is only one meter away!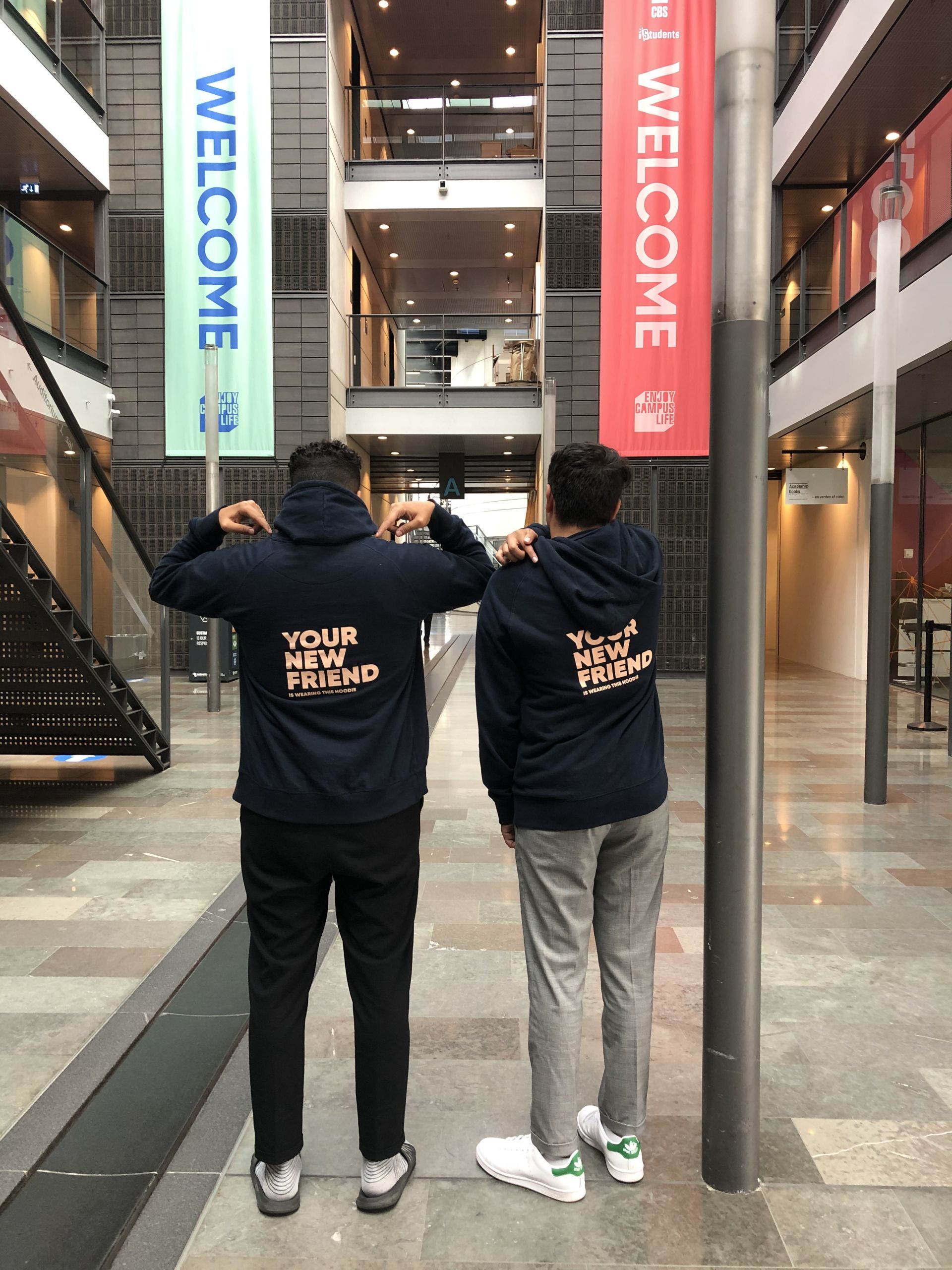 This year's Enjoy Campus Life campaign is settings all its sails to fight loneliness. As part of the campaign, hoodies, hand sanitizers and picnic blankets with slogans are being used to spread messages about being inclusive, making new friends and keeping fellow students from becoming excluded.
This week, the new bachelor students are beginning their studies at CBS. Normally, they would spend a lot of time together and party at the annual semester start party. But this year, study start is somewhat different.
In order to build a solid foundation for a good student life, CBS is yet again kicking off the new semester with the Enjoy Campus Life campaign.
And despite the physical distancing restrictions and online lectures just now due to COVID-19, this year's campaign has a special focus on fighting loneliness by encouraging students to develop social bonds, new friendships and a strong community.
#CBSfriend
Like the rest of society, study start this year at CBS is affected by COVID-19. This means that newly hatched students will spend less time together, have less teaching on campus while having to keep a physical distance from their new fellow students.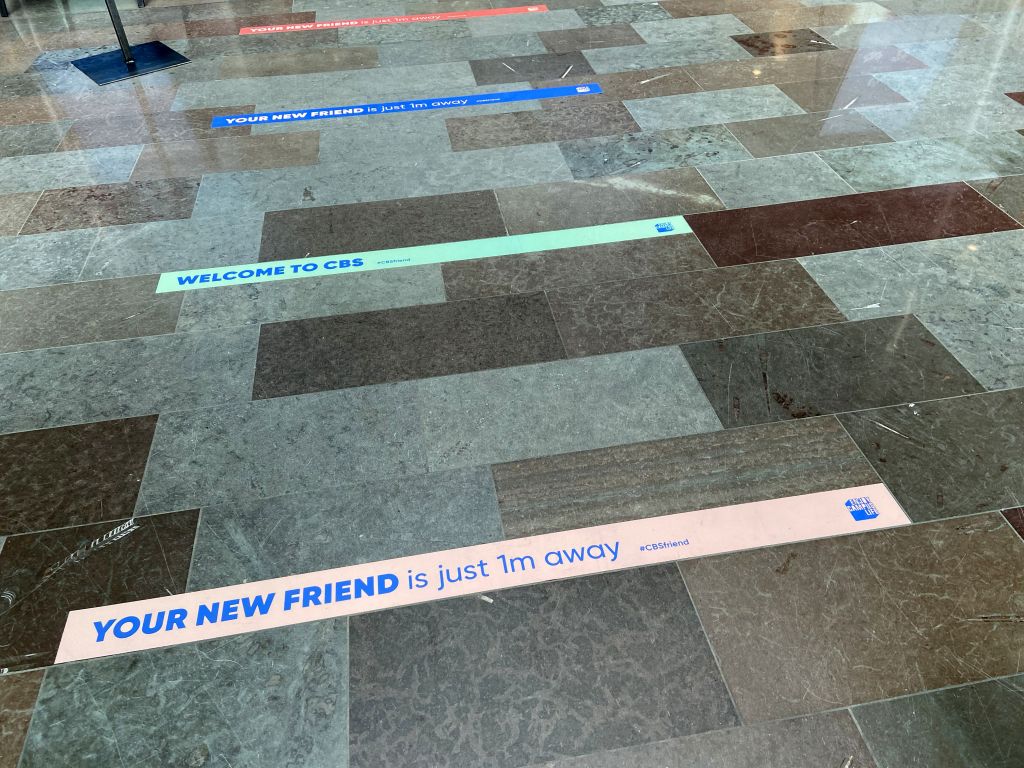 And according to Oliver Tramsen, counseling officer at CBS, these unusual circumstances may make it more difficult to develop new friendships, join the community on campus and prevent students from becoming lonely.
"Every year, we find a topical and compelling problem we think is relevant to create awareness about so that our new students get the best possible start to their studies," he says and continues:
"This year, the campaign focus is on loneliness, which is a growing problem among students in further education. This was already the case before COVID-19 broke out, however, the lockdown, physical distancing demands and the fact that new students can't participate in semester start parties as usual, has only enhanced the risk of becoming lonely."
As Oliver Tramsen explains, it has therefore been important for Student Affairs and Communications at CBS, who are behind the campaign advocating social inclusion and encouraging students to seek help from Student Affairs if they don't get the study start they had hoped for.
And these messages are all organized under the slogan "Your new friend" along with the hashtag #CBSfriend.
Hoodies, hand sanitizers and picnic blankets
As in former years, the students will meet the campaign on campus in the form of banners and posters, on the student intranet my.cbs.dk, and via posts on social media. However, this semester, the campaign has been expanded with even more means of communication to deliver its messages.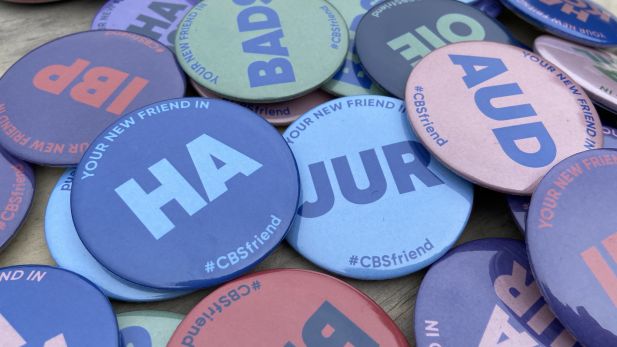 "As a completely new feature, the study start guides will be wearing T-shirts and jerseys displaying the campaign messages, and similarly, the new students will receive badges so they are easily recognizable to their fellow students," Oliver Tramsen says and continues:
"Furthermore, we've been giving out hand sanitizers with the message "Take care of yourself and your new friends" as well as picnic blankets that say "Take me on a trip with your new friends" to encourage students to develop new social bonds outside campus," he says and adds:
"We've also put floor stickers at 1-meter intervals in front of the auditoriums that resemble the distance stickers we already know from our local grocery stores and the like. The text on these stickers – 'Your friend is only 1 meter away' – symbolizes that although we're living in a time of distance restrictions, we can still form close bonds with each other."
Finally, Student Affairs and Communications have also put distance stickers in front of Student Hub and at other locations where students can get help that display the text "Help is only 1 meter away".
Not leaving anyone out
The new three-week Enjoy Student Life campaign began on Monday August 24, when the new bachelor students started.
After that, the campaign will be followed up with new messages encouraging students to help and reach out to their fellow students, just as the message that students can get help will be repeated again during the semester.
But as for the ongoing campaign, Oliver Tramsen has some clear hopes and expectations.
"I hope that the campaign will spur the new students to remember to take care of their fellow students and not leave anyone out," he says and adds:
"It isn't revolutionary to ask people to take care of their fellow human beings, I know. But it definitely does no harm to urge new students to be inclusive and create a community together that can serve as the basis for a good study environment and student life."
"And, not least, we hope our new students will remember that help is at hand and where they can get it."