New CBS campaign asks students: Do you behave respectfully and enjoy campus life?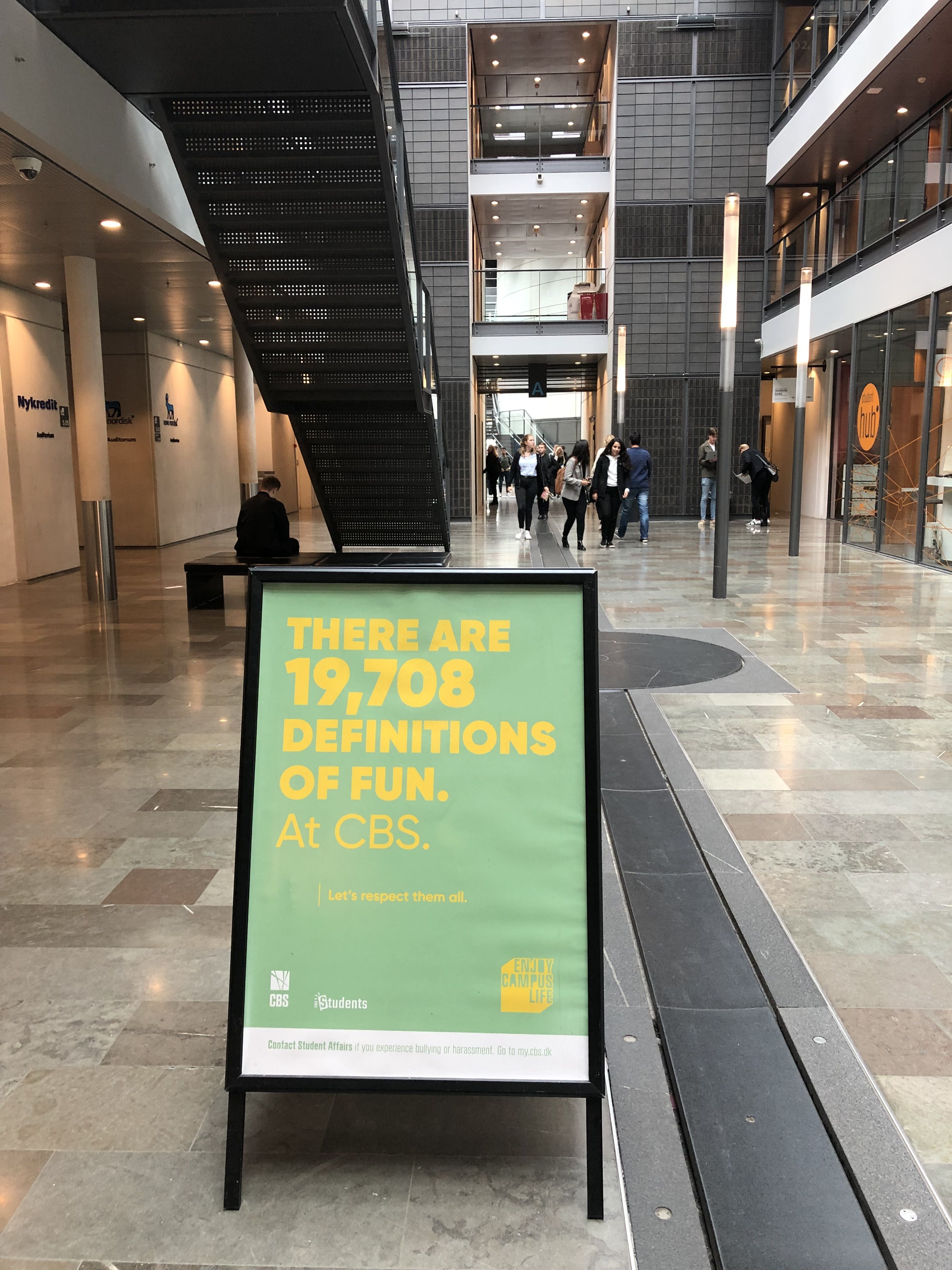 "There are 19,708 definitions of fun at CBS – let's respect them all" - this is one of the slogans you might have seen on the floors and walls at CBS. The slogans are from the Enjoy Campus Life campaign, which focuses on encouraging all 19,708 students to respect one another, and lets them know where to turn when campus life becomes not quite as joyful.
For new students, semester start is an exciting time. It's a new environment with new people and a lot of new impressions. And in a rush of enthusiasm fueled by all these new encounters and experiences, unpleasant situations can occur, where boundaries are crossed and feelings are hurt.
This is exactly where the new campaign Enjoy Campus Life comes in useful. With slogans such as "It's a no if it isn't a yes" and "Unless you're a mind-reading superhero, ask where the line is drawn" the campaign seeks to bring the overall message: behave respectfully.
"Through the campaign, we want to tell our students that it's important to have a healthy and inclusive study environment at CBS where there's respect and room for diversity in our student population," says Mette Gøtterup-Tang, a study coach at CBS.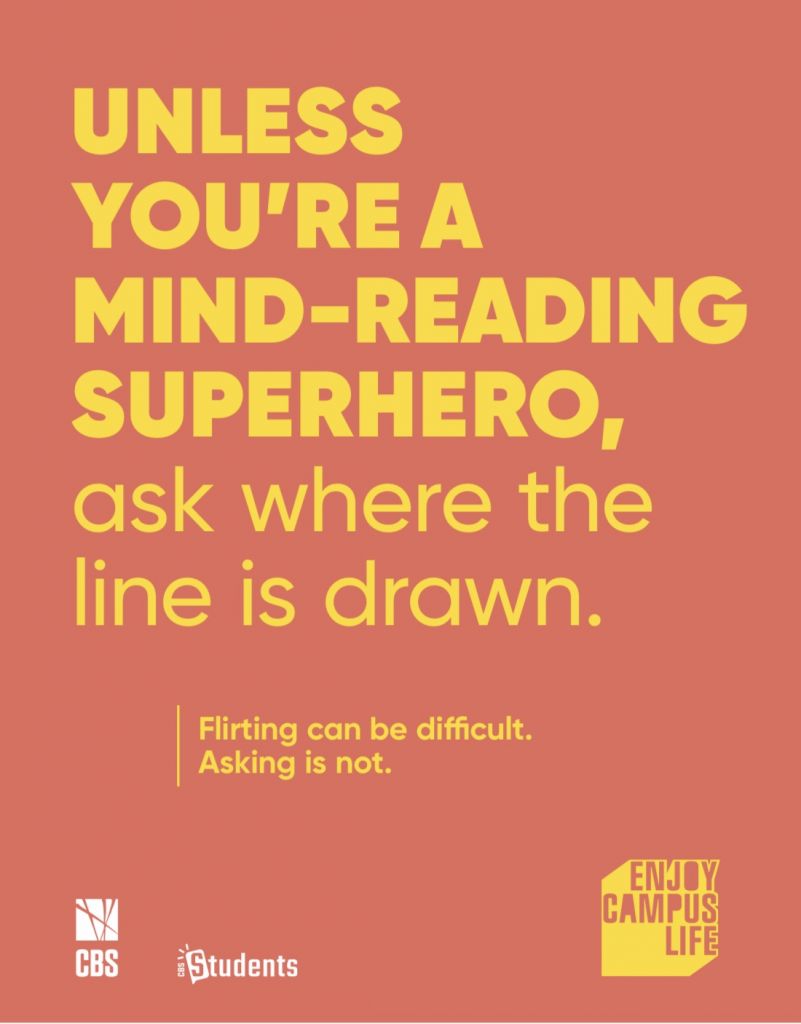 "CBS is a part of Danish society. Therefore, quite naturally, the situations that occur outside the university walls also occur inside," says Oliver Tramsen, counseling officer at CBS, adding:
"For CBS, it's important to remind the students and draw attention to the fact that it's actually okay to say it out loud, to act and find somebody to talk to when situations with offensive and disrespectful behavior occur."
Back on track
Last year's campaign made up words such as "Belone" (when you can't decide if you belong or feel alone) and "Drinxplain" (when you need to explain your embarrassing behavior after one drink too many). These words were used to spark reflections and discussions about loneliness and behavior towards one another.
This year's Enjoy Campus Life is a follow-up on last year's campaign, although this time invented words for concrete problematic situations have been replaced by actual sentences that encompass slightly more.
"This time we've expanded the campaign a bit more, so it's not only about specific issues, but also about respecting your own and your fellow students' boundaries in general in whatever situations might arise," says Oliver Tramsen.
Last year, a survey from Universities Denmark showed that most university students didn't know where to turn when they experienced offensive behavior on campus.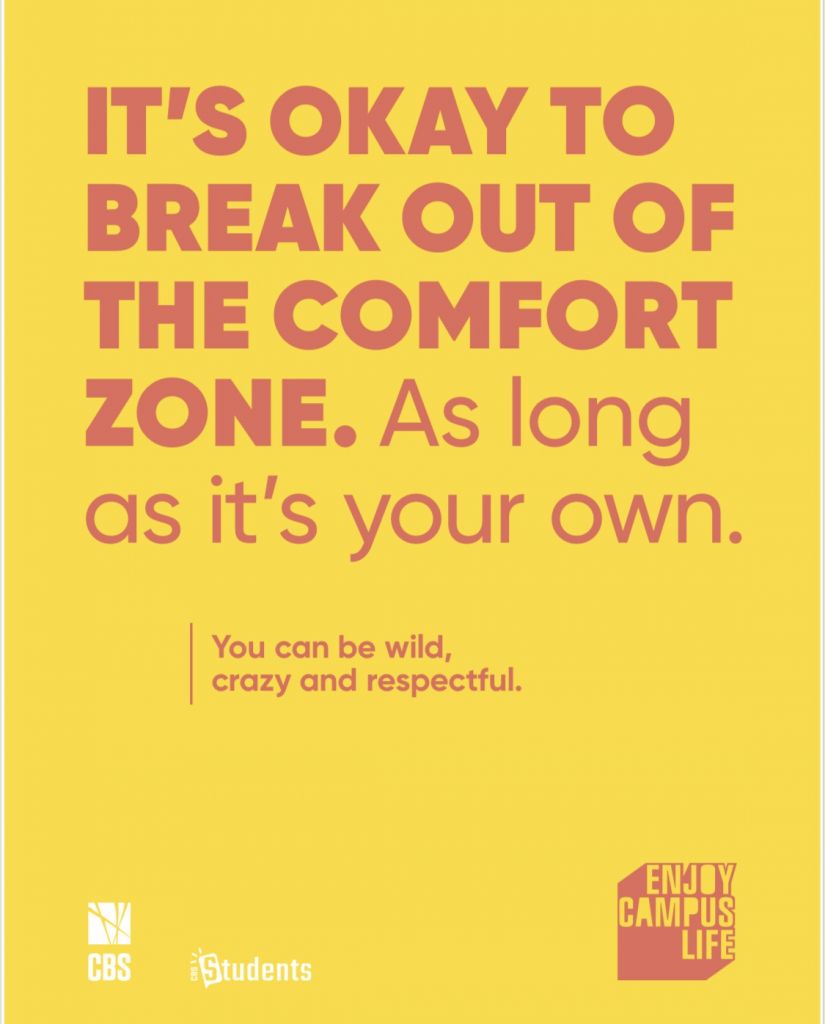 This prompted CBS to appoint three educated specialists as counselling officers, Oliver Tramsen, Mette Gøtterup-Tang and Birgitte Saxtorph, whom students can turn to if they experience harassment of any kind at CBS. And this is something that the new campaign wants to emphasize even more.
"This year, we are focusing more on making it clearer for the students where to get help or counselling if they need it. If students experience being harassed in any way or are hit by stress or anxiety, which will not only affect their study life, but also their life in general, we'll help them to get back on track," explains Mette Gøtterup-Tang.
Enjoy Campus Life now and in the future
Enjoy Campus Life is developed in a collaboration between Student Affairs and Communications at CBS and has been devised by the communication agency Advice with CBS Students as co-initiators.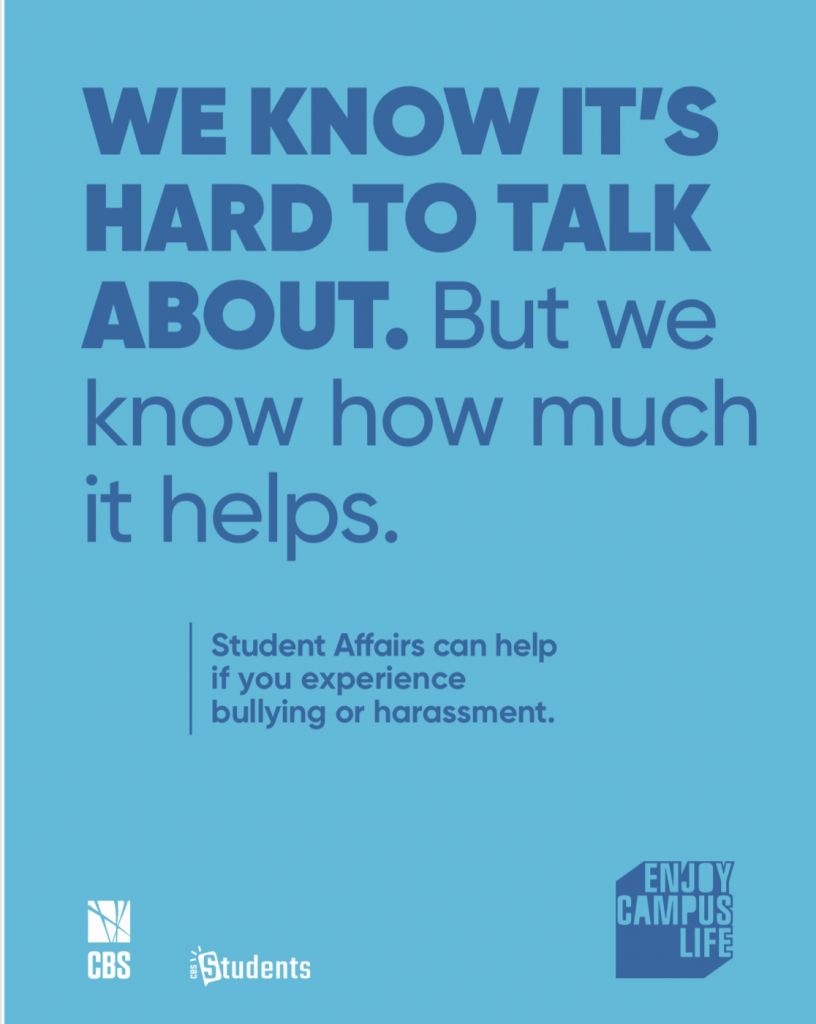 The new campaign was launched online on August 28, then got physical with floor stickers, wall banners and posters this Monday and will run until September 16.
Both Mette Gøtterup-Tang and Oliver Tramsen are very optimistic about the campaign and have great hopes and expectations for the outcome.
"We hope that the campaign will spur the students to talk openly about how to make CBS the best study environment possible in order to enjoy their campus life, which is the whole essence of the campaign," says Mette Gøtterup-Tang, continuing:
"And most important of all, we hope our students will remember that help is at hand and where they can get it."
If the students succeed in reaching these goals and expectations, it may not necessarily mean that the mission has been completed and the campaign is no longer needed in the future.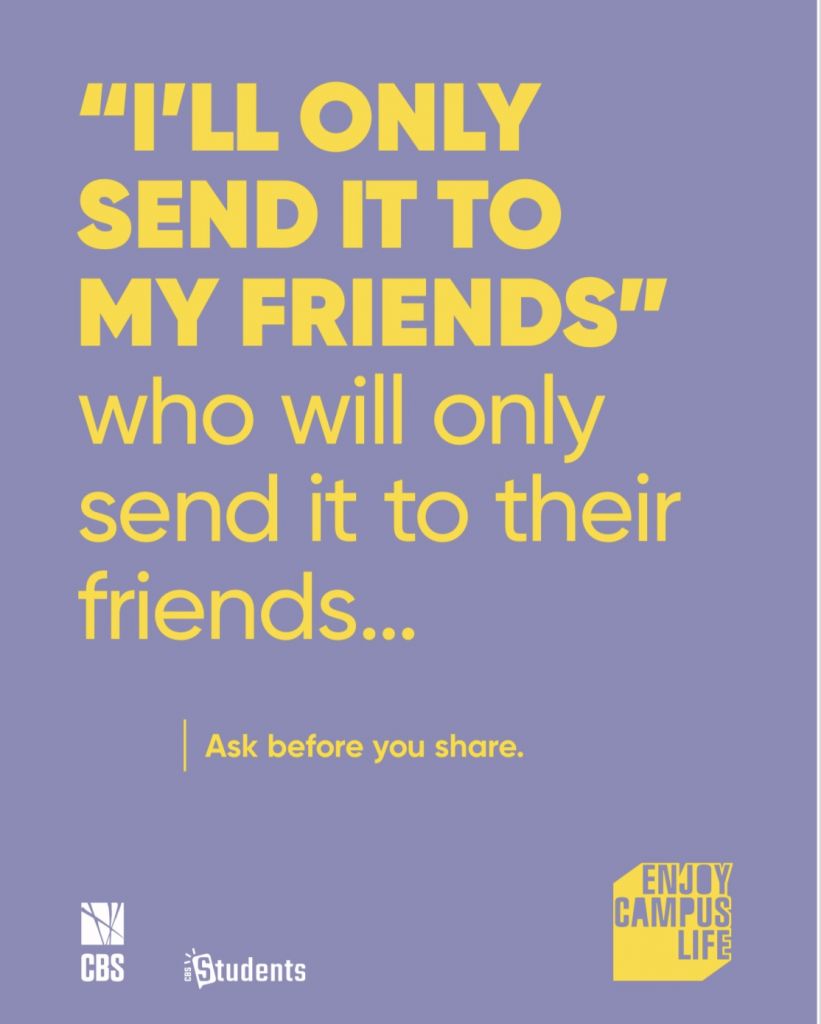 "Society is constantly developing and new issues are emerging, and this will also affect CBS. Therefore, issues will always be arising that will be important to discuss in dialog with the students," says Oliver Tramsen.
"But we hope that within a number of years, we will have come further in behaving more respectfully towards each other, and by then, probably other subjects and problems will be just as important to address, which we'll then work on solving together," he says.