The obvious career choice with a cand.merc.? Start a yoga and meditation community!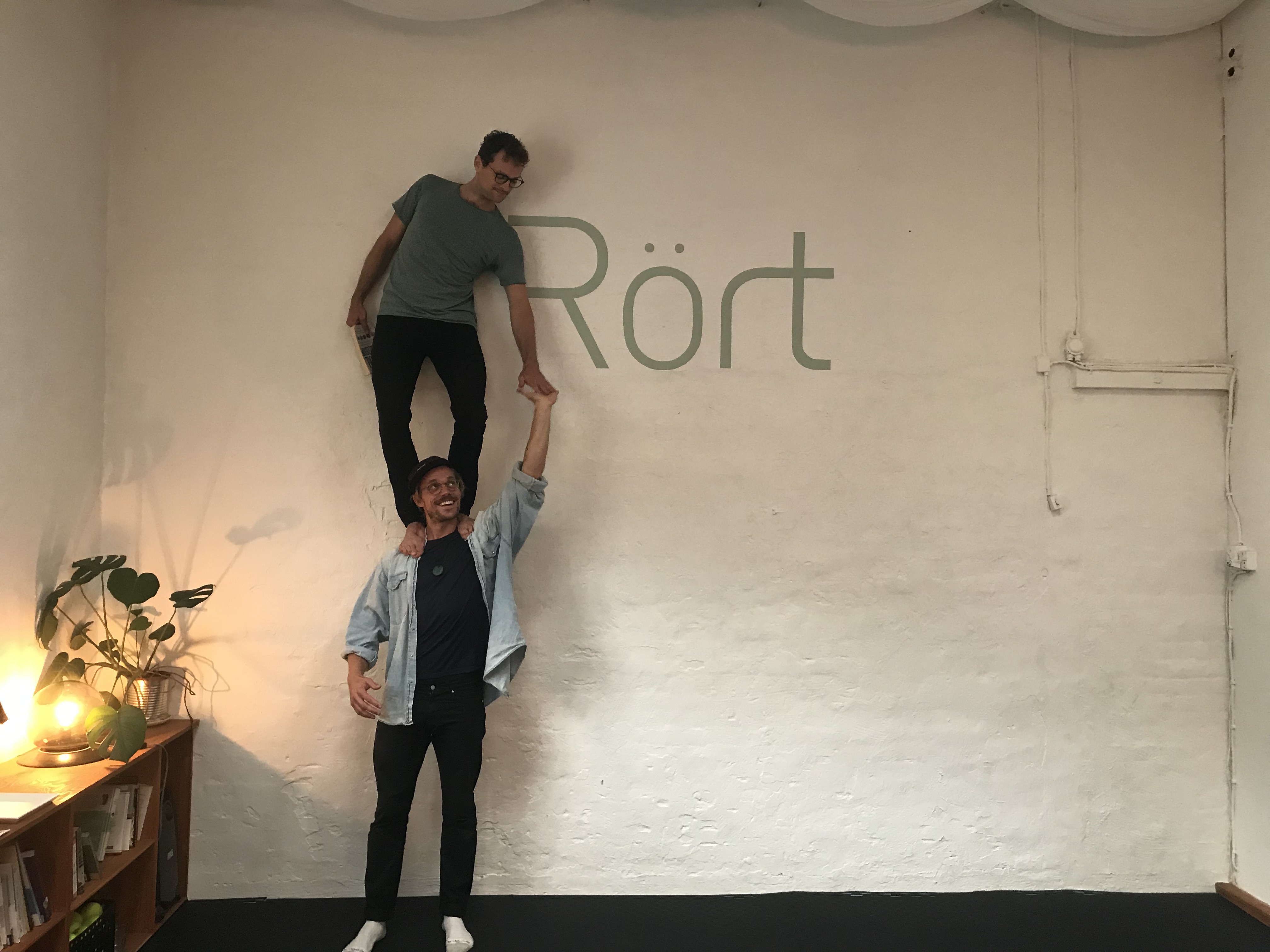 Björn Behn and his former classmate Jeppe Skovgaard co-founded a movement studio called 'Rört'. They now want to encourage other students to follow their dreams and explore the ideas that spark their curiosity and motivation, instead of looking for external validation of their career decisions.
"It's easy to fall into the stereotypes associated with being business students instead of exploring your own experiences and alternatives," says Björn Behn, business partner of Jeppe Skovgaard and co-founder of Rört.
Jeppe Skovgaard and Björn Behn met at CBS and finished their cand.merc.SOL studies a few years ago. This year, they were invited by CBS Students to participate in the Intro Day to share their story and present another career choice narrative.
"Many CBS graduates are going out in the world and applying for corporate jobs where they spend 60 hours a week working for someone else's approval and where increasing numbers – more employees to manage, higher budgets to spend, and higher paychecks – are seen as confirmation that they are doing the right thing," says Jeppe Skovgaard and asks:
"But what if they are just doing things right, and not actually doing the right thing?"
He started teaching yoga and acroyoga while still at CBS and often showed up in yoga pants to lectures.
"It might feel easier to follow those expectations than to try out alternatives, but it can be so much more fun figuring out what really sparks your passion. I wanted to find out what the right thing is for me, and creating Rört feels pretty damn right to me!"
When students finish their educations, they face a lot of societal and financial pressure, and many expectations about what career paths they could and should take, according to the two business partners.
"As CBS students, we received a world-class education for free. We felt that we had to put this privilege to good use and do something that matters," explains Björn Behn and continues:
"Our goal is to create a place where people enjoy a range of practices and feel safe enough to try out what might be good for them, instead of doing what they are already good at."
"And having a community where people support each other is crucial for that," Jeppe Skovgaard adds.
With a schedule ranging from yoga and meditation to dance, parkour, running and sauna sessions, they offer various disciplines to help people connect with themselves, each other and their environments.
They explain how two components bring all their practices together: the values and the message behind them. They want their classes to be tools for getting to know yourself and for working on more than just your muscles. Somewhere you can "move to be moved".
"Freedom is what remains after all our limitations are dispelled. That means we are all confined by some limiting beliefs, and a lot of them are just artefacts from old experiences we have come to identify with along the way, and they do not help us anymore," Jeppe Skovgaard says with his most serious spiritual smile and continues:
"For some people, it might be the perception of not being smart enough to apply for a good job or not pretty enough to deserve love or not fit enough to run a half marathon. Through challenging your notions about what you can and cannot do, you can overcome some of those self-imposed limitations and learn not just about what you can actually do, but about who you can actually be."
Björn agrees. "If you want to explore your potential, it will take a journey of discovering your boundaries, of understanding them and navigating them. 'Navigating' means with full confidence respecting boundaries that help you to be you, and with full force challenging the ones that limit you from being yourself," he says.
"Movement is a powerful tool for challenging these limitations and learning about your boundaries," Jeppe elaborates and continues:
"Being able to let loose and find joy while you are sober and dancing, or experiencing a moment of deep peace during meditation, can sometimes be enough to realize a limiting belief. Humans have bodies, we just tend to forget that fact in our convenient, automated, digital age."
From megalomanic wet dreams to a small studio
Jeppe had long dreamt of creating a place where different disciplines can meet and where the schedule is determined by values instead of specific movement practices.
Björn had acquired some knowledge on how to build a business and so the two decided to team up when an investor agreed to support Jeppe in turning his dream into a reality.
"The first plans were megalomaniac wet dreams, and at one point we even considered starting off with a studio covering 3,000 square meters," Jeppe reflects, laughing.
"We wasted almost a year getting lost in trying to portray big societal ideas of success. Luckily, none of those plans worked out and we ended up in a small, old garage totaling 70 square meters instead!"
They describe how, ultimately, this was fortunate, since it forced them to focus and allowed them to spend time on the important elements of their project: creating a diverse schedule with classes and building a community.
"We realized that we had to concentrate on what we wanted to build, not where we wanted to build it," says Björn Behn.
"It hasn't been easy, though. At times, running a start-up has felt like waking up and eating glass for breakfast," says Jeppe Skovgaard.
They highlight that the strong sense of purpose and meaningfulness triggered by their project saved them and became their wall to lean on when the start-up rollercoaster became too hectic.
Creators more than consumers
The Rört philosophy consists of three fundamental components. A purpose, a community and a range of practices.
"We trust that through these practices we can learn to enjoy ourselves more, live more from love, and live more in freedom," says Jeppe Skovgaard.
He explains how fundamental the value of trust is for a business to succeed.
"If you are unable to trust, then how can you allow yourself to release undiscovered aspects of yourself? Building this trust requires considerable care and time. Making it clear to people that they are creators more than consumers has been one of the hardest challenges but definitely the most important."
Björn Behn adds: "If you focus on creating rather than consuming, and creating for others instead of for yourself, then your chances of contributing positively to your own happiness, to the people around you, to this planet, increase immensely. I think it's worth a try."