Students could be less innovative in five years
Tight scheduled curricula can lead to more stressed and less innovative students, argue CBS researcher Maribel Blasco and professor in educational psychology Emmanuel Manalo from Japan. They call for more space for deep learning and incorporation of blended learning.
Most students have – hopefully – had the time to relax during the summer break, recharge their batteries and prepare themselves for another academic year to be completed at full throttle.
Preparing themselves to feel stressed about exams, papers that need to be handed in, and about what awaits on the other side.
Maribel Blasco, Associate Professor at the Department of Management, Society & Communication at CBS argues that being a student has changed a lot in recent years, making it more normal to be stressed.
"The students think that they have to be stressed, in order to learn. And I find that very worrying. When they come to my office for supervision on their assignments, they talk a lot about how stressed out they are. And this has only become worse as recent political initiatives have come into force that seek to frogmarch the students through their studies," says Maribel Blasco, who – among other things – has specialized in higher education learning, notably in business schools.
She recently published an article about how incorporating productive learning spaces during studies by, for example, restructuring courses; can be a way to reduce stress and promote better learning for students.
In the paper, she concludes based on pilot interviews with undergraduate students from CBS that they are suffering from a massive time and space deficit during their studies. Continuing to hustle the students through their studies and yet continually demanding more from them will eventually result in a massive backlash, asserts Maribel Blasco.
More stress, less innovation and creativity
Maribel Blasco has observed how students have less and less time to actually understand and reflect upon what is being taught, making them ultimately more dependent on their teachers.
"Today, the students need a lot more academic support. They need you to solve problems for them, as they don't have either the time or space to actually think things through themselves," says Maribel Blasco.
Dumping more work on the students won't make them perform any better or learn faster

Emmanuel Manalo, Professor in Educational Psychology
She argues that if we want students who can come up with original thoughts and ideas that promote development in our society, we need to give them time to think.
"Creative work needs some time for unstructured thinking, and there is very little room left for that today. That has partly to do with the Study Progress Reform (Fremdriftsreformen). In a matter of ten years we risk seeing a generation of graduates who are less innovative because they never had a chance to take time out and just sit and reflect," says Maribel Blasco. She goes on to say that students might become worse at learning and studying, simply because they have lost their interest.
"The consequence of having too little time is basically that one loses the interest in and joy of learning. If learning is all about stress, where is the fun in that?"
Nothing extraordinary
Maribel Blasco sees several reasons as to why tomorrow's students will be less innovative when they leave university with a paper in hand documenting their degree.
"First of all, the grading system has changed, so it became impossible to reward students with an extra high grade if they did something extraordinary or came up with original thoughts. This means students have little incentive to push their limits and do more than they are asked to," she says.
Along with the Study Progress Reform, the time to write their master's thesis was cut down from six, to five months, making it more difficult for students who do not work at such a fast pace.
"You aren't necessarily a worse student because you need a bit more time to write your thesis. We all have different routines and rhythms; but there isn't much room for that in the mantra about more production in less time," she says.
When the hard disc is full
Maribel Blasco's arguments are based on data collected at CBS – where she has interviewed students – and on academic articles on the topic. These findings are backed by new psychological theories that explain how humans use their cognitive resources.
One theory in particular – known as the 'bandwidth theory' – states that people have a limited amount of cognitive resources to work with. The theory goes on to state that if you place huge demands on people who don't have the resources to cope, they will end up performing badly.
Critical thinking is expected nowadays, but it isn't really being learned

Emmanuel Manalo, Professor in Educational Psychology
That is exactly what's happening to the students at CBS and in other context as well, according to Emmanuel Manalo, Professor of Educational Psychology at Kyoto University, Japan and co-researcher on Maribel Blasco's project.
"If you apply this theory to student learning, you will see that by dumping more work on the students won't make them perform any better or make them learn faster. In fact, they will find ways to do less and worse, without you even noticing," says Emmanuel Manalo and gives an example:
"You might think what the students hand in is brilliant, but actually it's already used material that already exists – they have just modified it a little. They won't actually be able to come up with new ideas. Which is why we need to rethink curricula and give more space to the students. It's not only about removing lectures and make it lighter, it's also about giving them time to come up with new ideas, if that's what we want them to do," he argues and adds:
"And we need to think about what we are actually doing in the curriculum to cultivate the thinking skills we want them to develop."
Restructuring curriculum
Maribel Blasco and Emmanuel Manalo agree that structuring the curriculum a little differently could make a huge difference to the students, as they would get more time to reflect.
Maribel Blasco says that sometimes this could be as simple as moving a particularly heavy or complex course from one semester to another, as things can easily get over-packed. But wouldn't it be a better solution to just prolong the length of the degrees a little?
"I wouldn't necessarily say that we need to prolong study time, it just has to be restructured. If the students get more time, it's possible that they would use it to work more or do other things besides their studies. But for instance, today sixth-semester students don't even have unbroken time to write their Bachelor thesis – they have courses halfway into the thesis writing process," she says and adds:
"A couple of years back, that time was protected to make sure the students had time to devote themselves completely to one project. Now, we ask the students to multitask all the time, and for that reason, we have to look at the relationship between complexity, intensity, single- or multi- tasking and work load," says Maribel Blasco.
Blended learning – another way of giving space
CBS is from this year onward trying to restructure some of its courses and educational programs by incorporating blended learning. Blended learning could be a way of giving students more space and flexibility throughout their education, says Emmanuel Manalo.
"Today most lectures are carried out by a teacher who stands in front of the class, imparting their knowledge to the students. But in fact, the students don't always need to be present. They could have read the stuff at home, and instead the classroom could be used better for discussions and presentations," he says and praises CBS for taking a step away from the traditional way of teaching.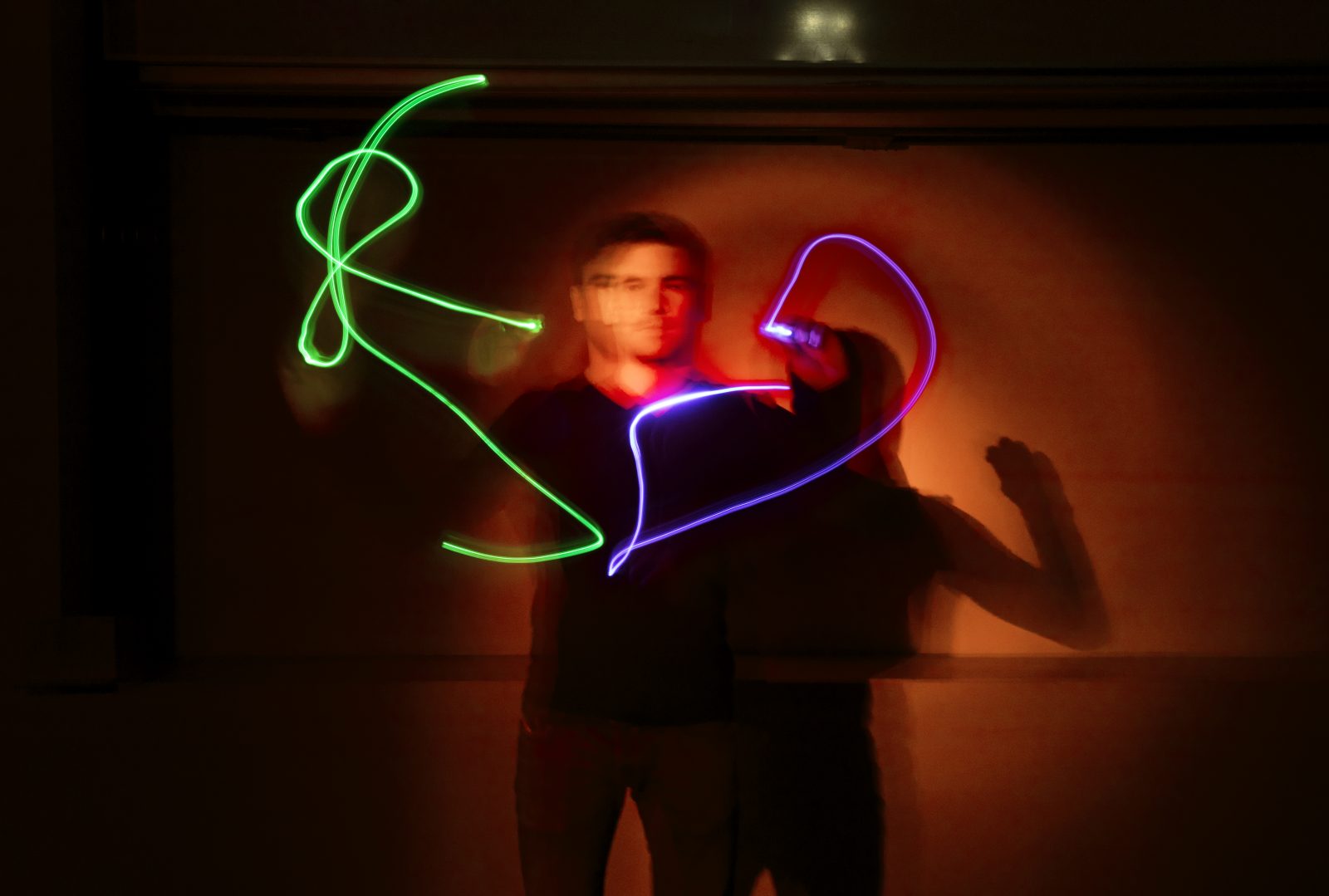 Emmanuel Manalo explains that he and Maribel Blasco will continue to explore this field and focus on how to promote better-thinking skills in students and pupils in primary and secondary schools.
"At the moment, the educational system largely focuses on getting students to learn stuff and acquire knowledge, but not so much on what we can do to promote critical and creative thinking. And critical thinking is expected nowadays, but it isn't really being learned. Students can summarize, what they have learned, but nothing more. The system doesn't cultivate in students the ability to come up with good ideas based on what you teach them," he says.
Maribel Blasco is not sure what the future will look like for the students at CBS, but hopefully, various initiatives, including the incorporation of blended learning, will make it a little less stressful for the students and strengthen their learning and innovative capacity.
"What we basically need is to have a bit of consideration for one another. Of course, students also have to learn how to multitask and manage stress, but this has become the end goal. And it has very little to do with learning," says Maribel Blasco as a final remark.