Once a Sevillian – always a Sevillian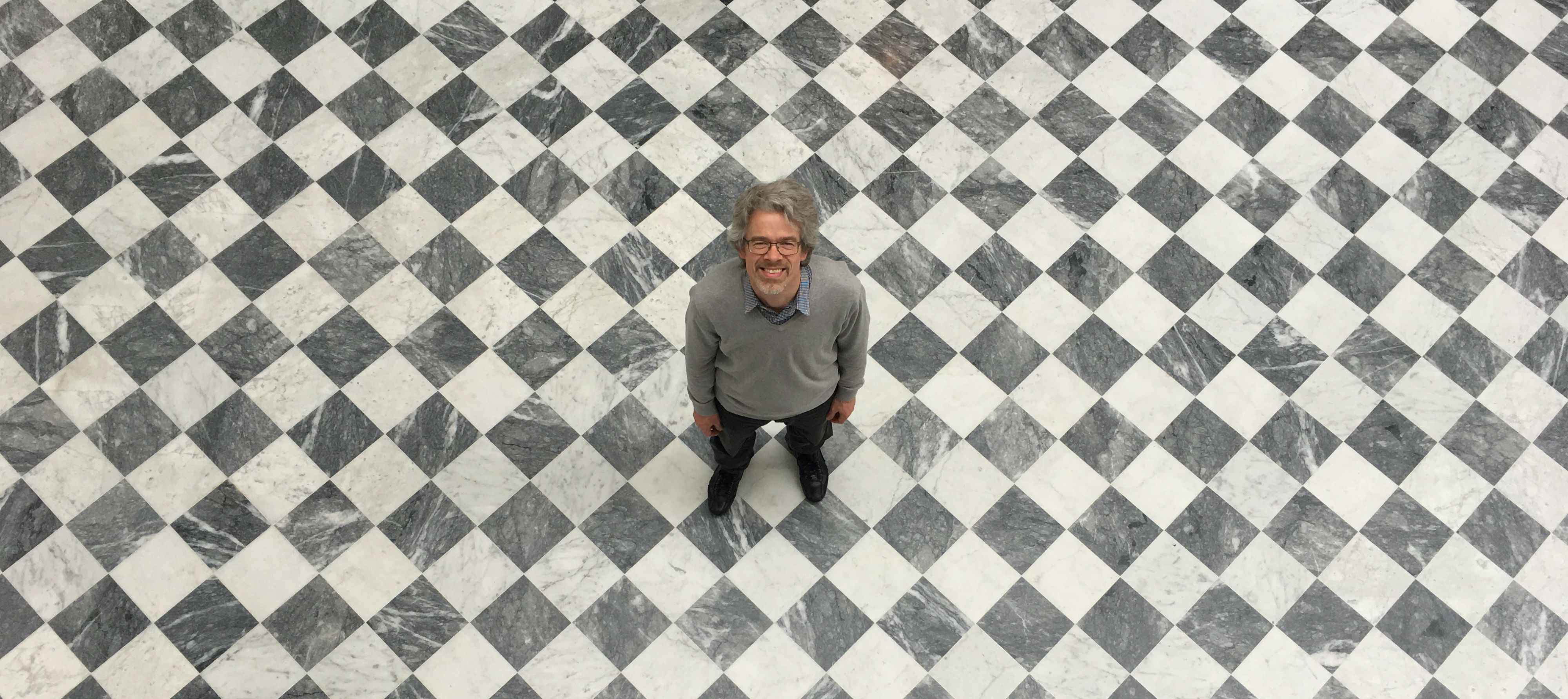 It was quite a hassle when Associate Professor, Carsten Humlebæk moved his family of five from Møn to Seville. What began as a three-year plan, has turned into four years in the southern Spanish sun.
Like many others with an office at CBS, Associate Professor Carsten Humlebæk has a huge blackboard with colorful, children's drawings and pictures of his family. But the story behind the drawings and pictures is a little different than most.
Carsten Humlebæk shows me some of the first drawings his four-and-a-half-year-old son did back in 2014 during his first days at the Sevillian school in 2014. Carsten Humlebæk deciphers the letters on one of the pages, and the Spanish word, 'taza' appears from the childish writing. The word sits next to a drawing of a cup.
Carsten Humlebæk and his family moved to Seville in southern Spain in August 2014. But eight months ago, Carsten Humlebæk had to return to Denmark and to CBS, to conduct lectures, exams and help students with their projects. This means he commutes back and forth between Seville and Frederiksberg.
"It was a mutual dream to live in Spain. I've lived in Italy with my wife, and we wanted to share the experience of living in another country and learn a foreign language with our children. From deciding we wanted to do it to actually moving there took three years," Carsten Humlebæk explains.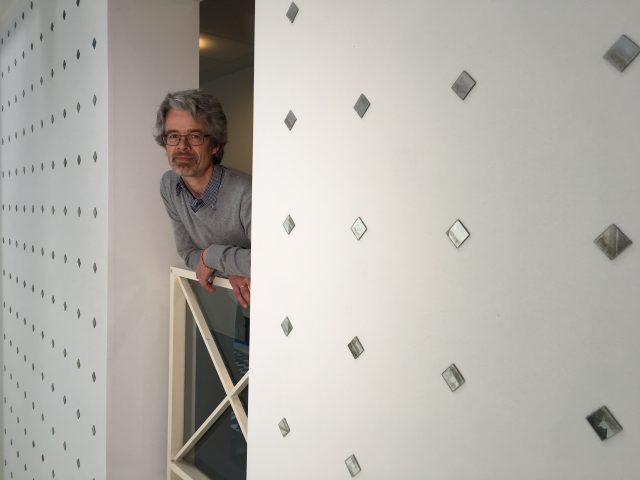 By a stroke of luck
Back in 2011, Carsten Humlebæk worked at the Department of International Business Communication and applied for the two-year Marie Curie program. This program allows researchers to go to another country in or outside Europe to conduct research and covers wages and other expenses.
At that point, the family was ready to move from their house on the island Møn to Seville, which was where Carsten Humlebæk really wanted to live. But the application wasn't accepted the first time round. Nor did it go through the second time he applied. In 2013, Carsten Humlebæk's project (check fact box) was finally chosen among 600 other projects ranging from philosophy to nuclear physics. The possibility to get chosen for the program is roughly 15 percent, according to Carsten Humlebæk.
"Before moving there, we went to Seville on a trip, and by a stroke of luck we found a suitable house and school for the kids," says Carsten Humlebæk and smiles.
But it wasn't all that easy. The family had some issues buying the house and therefore had to live in a rented apartment, only furnished with the most important things they bought from IKEA.
"I think you could say that we made things a lot more difficult for ourselves. We could easily have found a furnished apartment, but we wanted to have a house and got half of our stuff transported from Denmark to Seville. This was not just a getaway thing, but a dream we wanted to follow and live out," Carsten Humlebæk says.
Don't worry about the kids
But even with three years ahead of them in a new country, the Humlebæk family didn't prepare in terms of learning the language. Only Carsten spoke Spanish fluently.
"Our only language preparation was a CD with some Spanish lessons. So when we arrived the kids only knew the colors in Spanish. That was about it. We didn't really think that much ahead, but took everything step by step," says Kristine Birkedal, Carsten Humlebæk's wife via Skype from their house in the heart of Seville.
Carsten Humlebæk and Kristine Birkedal have three kids. When they moved to Spain, they were nine, six and four-and-a-half years old. Carmen, the eldest, was already in the second grade in a Danish school, and the two youngest would soon have to start school because children start school at the age of four in Spain.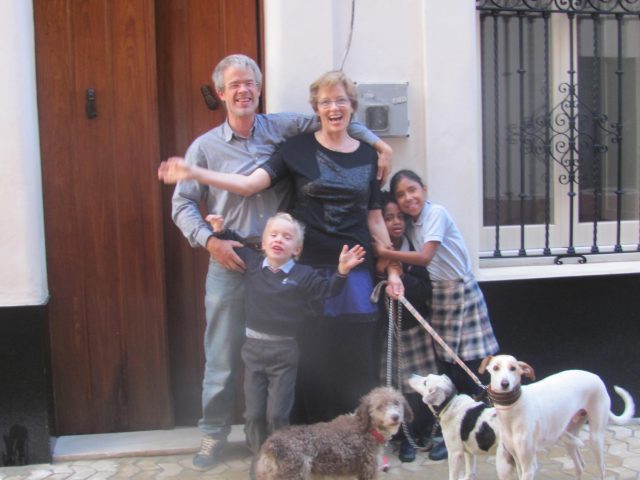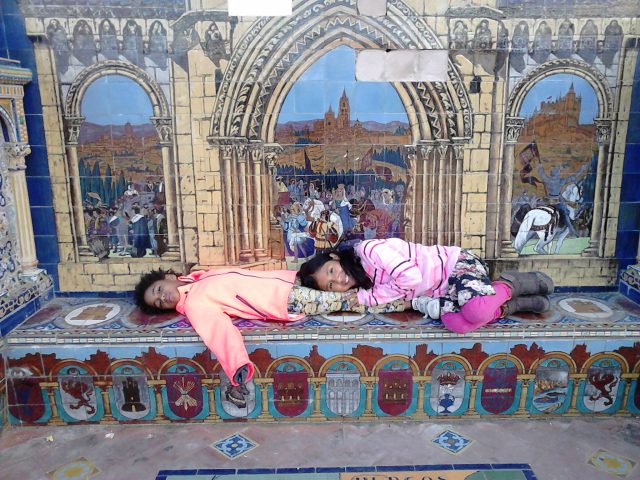 "We worried whether the children would settle down at their new school and in Seville. But within two days our worries were put to rest. They were just so happy about going to school and quickly made new friends. Of course, Hugo, who was only four-and-a-half years old at the time, had a few issues," says Carsten Humlebæk and continues:
"He almost didn't speak at school for six months, and it took a little while for him to get accustomed to the warm meals at lunch with vegetables, meat and other 'weird' stuff. But those problems soon passed," Carsten Humlebæk assures and says that Hugo looks forward to going to school every morning, so he can hang out with his 'amigos'.
Now, almost three years later, the children speak Spanish fluently. At home, the everyday lingo around the dinner table is a random mix of Spanish and Danish.
Living in Spain has given us unique opportunities as a family and individually. It's also given us more time.

Carsten Humlebæk
"Hugo mostly speaks Spanish, and I catch myself speaking Danish and then saying words in Spanish and the other way around. To others, this might seem very confusing, but we don't notice at all," says Carsten Humlebæk.
He points out that the kids have been the least of their worries. Looking back, they should have been more concerned about Kristine Birkedal's situation.
Stranded in Seville
Before moving to Seville, Kristine Birkedal was completing her degree in occupational therapy; she only had one year left when they moved. This meant that she had to travel a lot back and forth between Seville and Denmark to take classes, do group work and participate in internships.
Finally, in the summer of 2015, when Kristine Birkedal had finished her degree, she was able to quit the long commute between Denmark and Spain. But that was when some of the real worries began.
"It was a relief to finally move to Seville and be with my family. But then I realized I couldn't make use of my Danish degree in Spain, so what was I going to do?" Kristine Birkedal asks and continues:
"Luckily, after some time, I found a master's degree in art therapy, which complemented my Danish education. So I have found my own reason to be in Seville, which has not only made me happier about living here; it has made me feel that I contribute to the family, and I fulfill my own ambitions. It's not enough that the kids are all right," she reflects.
Both Carsten Humlebæk and Kristine Birkedal agree that combining a research career with your partner's life can be challenging, but it's worth it when it works out.
"I might have had better chances finding a job if I'd stayed in Denmark after finishing my degree. But then I wouldn't have experienced living in Seville with my family, learning Spanish, and getting my degree in art therapy," Kristine Birkedal says.
An easy-going city life
In the summer of 2016, Carsten Humlebæk's research project at Universidad Pablo de Olavide in Seville ended, and he had to go back to CBS to work. Since the family has rented out their own house for three years, Carsten Humlebæk rents a room in a friend's house when he's in Denmark. He travels back to Seville for long weekends and when he doesn't have teaching or exam obligations at CBS for longer periods of time. And he is going to do this for one more year.
Kristine Birkedal wants to finish her two-year art therapy degree. And that's all right with Carsten Humlebæk because he knows his family is enjoying their Sevillian life.
"Living in Spain has given us unique opportunities as a family and individually. It's also given us more time. When we lived on Møn, we spent a lot time commuting to and from work and driving kids to school, kindergarten and their sports activities. Living in the heart of Seville, everything is nearby, which is much more child and family friendly," says Carsten Humlebæk and explains how everything in Spain is moves at a slower pace.
The kids start school 09:30 in the morning and only have a 500-meter walk home. When Friday arrives, the family spends the warm afternoons at the large Alameda Square, where the kids meet with friends, while Carsten Humlebæk and Kristine Birkedal enjoy a cold drink.
Never leaving Spain
Even though the Spanish adventure ends in about a year, the family will not leave for good. Seville has made a huge impact on the Danish family, and it's not going to be easy to leave it behind.
"We will always have one foot in Spain. Our relationship with Seville has grown so strong. We plan to sell the house here, and buy something smaller in the city, so we have a base here. That means we can return to visit and the kids will be able to stay in contact with their friends," he explains and continues:
"Going to Seville in the first place wasn't just because of my research project. We wanted to change our way of living, which we managed to do. When moving back to Denmark, we want to pursue the same lifestyle with a minimum of transportation and more time together," Carsten Humlebæk says and smiles.