Responsibility Day every day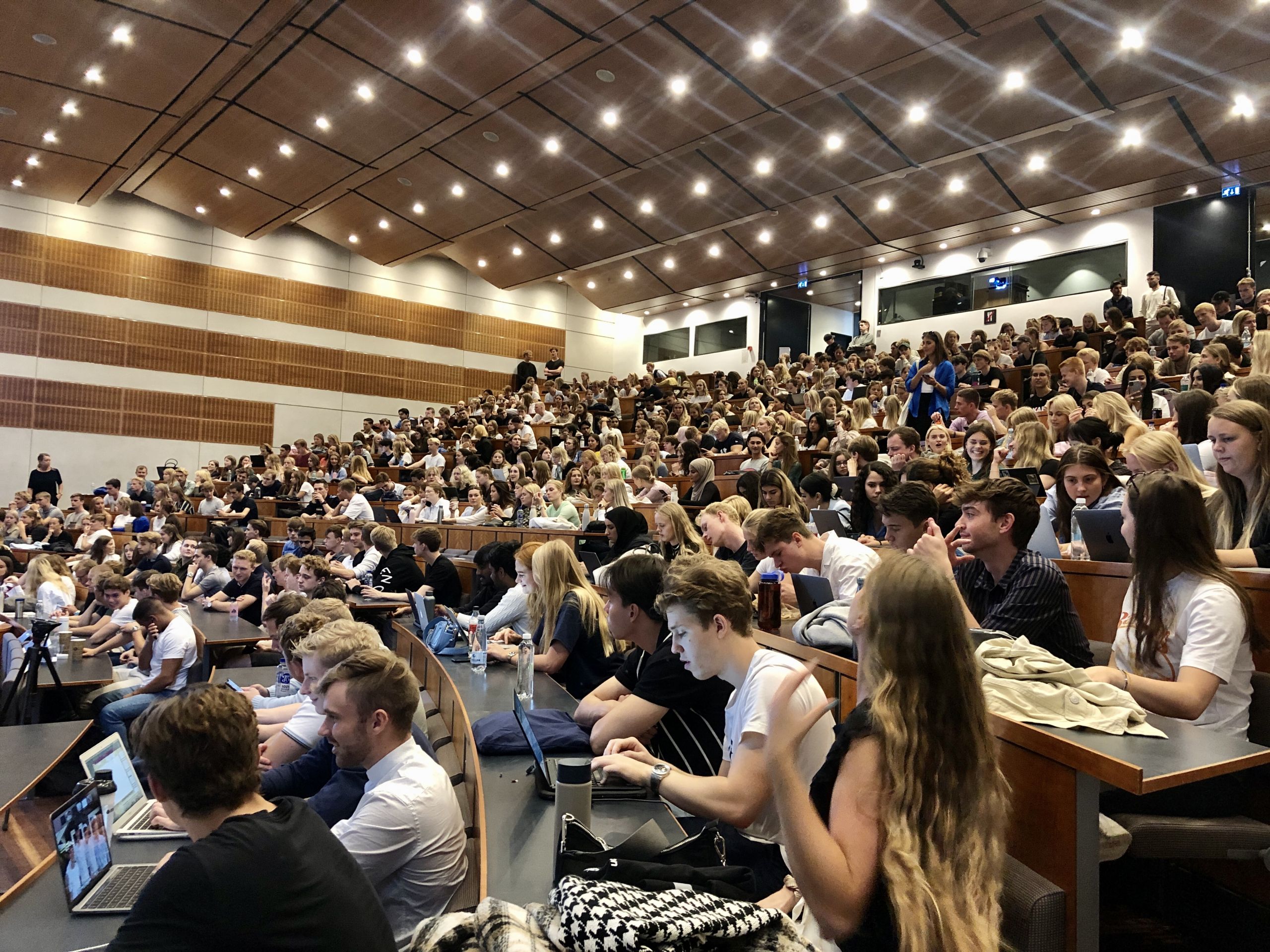 This year's Responsibility Day was delivered in a hybrid format with royal flair and a message for students about how their potential can change the world. Moreover, the day will last longer, as the Ørsted company case has been turned into a teaching case available for all the teachers. This year's case asks how you can decarbonize your business down to the very last nut, but still grow.  
Usually, all the new students gather at venues like KB Hallen or the Tivoli Congress Centre for Responsibility Day. But this year, Solbjerg Plads' biggest auditorium, SPS.01, was the setting for the eleventh Responsibility Day.
Obviously, you cannot squeeze 3,230 bachelor's students into SPS.01, even though the distance restrictions have been lifted. Instead, 400 new students were placed in the SPS.01 auditorium, while the rest of the students followed the speeches, Ørsted case presentation and Q&A sessions streamed live in auditoriums and classrooms spread around the CBS campus.
In SPS.01 Crown Princess Mary took the stage to welcome the new students.
"This day marks a new beginning for all of you as business students in a world that can no longer do 'business as usual'," she said and continued:
"You can, quite literally change the way business is viewed and conducted. You can change the world. Luckily, you are not expected to go about changing the world today, or tomorrow – maybe after a semester though," she said and smiled.
"No, first you need to acquire the knowledge, the tools, the confidence, the experience. Then you can start changing the world."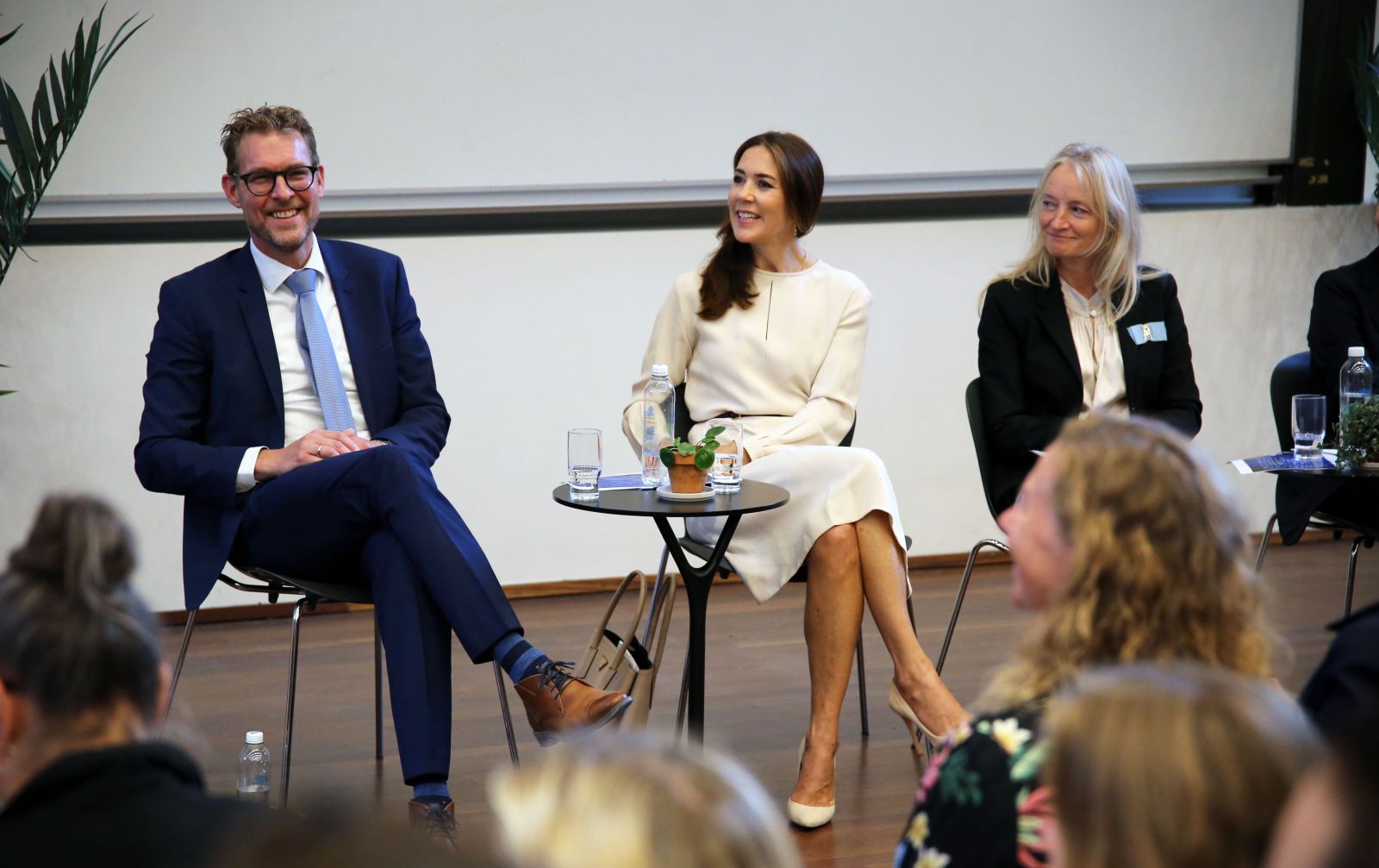 This year's case company, Ørsted, also relates to the aim of changing the world. At least, they want to change how they run their business. The green energy company wants to grow in order to supply more households and businesses with green energy, while also decarbonizing its business to reach carbon neutrality in its energy generation and operations by 2025. This leaves Ørsted with several dilemmas that they would like the students' solutions to, explained Ida Krabek, Head of Global Sustainability at Ørsted.
For example, Ørsted asks:
How far up and/or down the supply chain should Ørsted be accountable in its decarbonization efforts?
What should Ørsted do if a supplier lacks the monetary and/or physical resources to decarbonize?
We don't miss solutions - we miss action

Ida Krabek, Head of Global Sustainability, Ørsted
Usually, the students are given one week to solve the company case presented at Responsibility Day, but this year the format has been tweaked in several ways. The students will be given a month to solve the case, as well as being offered workshops on case cracking, report writing and carbon literacy, explains Caroline Krzton, Special Consultant at Nordic Case House and part of coordinating and planning this year's Responsibility Day.
"Many of the students have never solved a case before, so it's a way of holding their hand a little, so that it's not a barrier for them. And then it's a way of extending Responsibility Day to make it last more than one day," she says, adding that this year's company case will be available for all teachers as a teaching case.
"Although many teachers use cases, the main idea is to make the case live longer. Teachers can use it as they like. Maybe there's one aspect of the dilemma that fits their teaching well, or perhaps it can serve as inspiration to study another dilemma."
A shift and a push
The idea of extending Responsibility Day further into the semester is both old and new, explains Martiina Miira Matharu Srkoc, Special Consultant at CBS PRME and Responsibility Day Project Manager.
"Having signed the Principles for Responsible Management Education, we have a responsibility to showcase what that is, and we we have been doing it on the very first day," she says.
Caroline Krzton adds:
"I have noticed that other universities talk about responsibility when their students graduate. That the students should be responsible for the way they work and responsible for changing society and solving global challenges. Instead, we talk about responsibility from the very start and work with it throughout their studies."
In 2018, a CBS student wrote an opinion piece to CBS WIRE criticizing why, during his three years at CBS, he had neither heard nor seen anything about sustainability or responsibility after Responsibility Day. Other students have also reported that it is possible to complete a whole education at CBS without taking a single course or elective within the two fields.
In business, dilemmas have become more important than ever. And the solution to a complicated dilemma is not, not making a choice. But to make your choice based on an informed decision

Nikolaj Malchow-Møller, the President of CBS
Why did the team behind Responsibility Day not come up with the idea of extending the case solving, and making the case available for teachers to use, long ago?
"It's a valid question. In part it has to do with the Scandinavian way of teaching. You cannot tell the teachers what to teach, and some have asked: What does responsibility have to do with my subjects? But now times have changed. The world is in a different place now. We need to equip the students with skills to deal with the global challenges we are facing. You cannot have profit maximization as your only end goal," says Martiina Miira Matharu Skroc.
Caroline Krzton continues:
"There's a push from two fronts. The students are demanding it and are aware if the focus on responsibility or sustainability is missing. There have, of course, been examples of it, but the new strategy and the Nordic Nine are giving it a push from higher up."
Martiina Miira Matharu Skroc also points out that businesses are increasingly need competences within the fields of sustainability and responsibility.
"Businesses are facing dilemmas and challenges both globally and locally, so naturally they need graduates with competencies that can help them adjust to this new normal, and Responsibility Day has been a first step towards recognizing businesses need for those competencies," she says.