One department now has its own recycling station and it could spread to all of CBS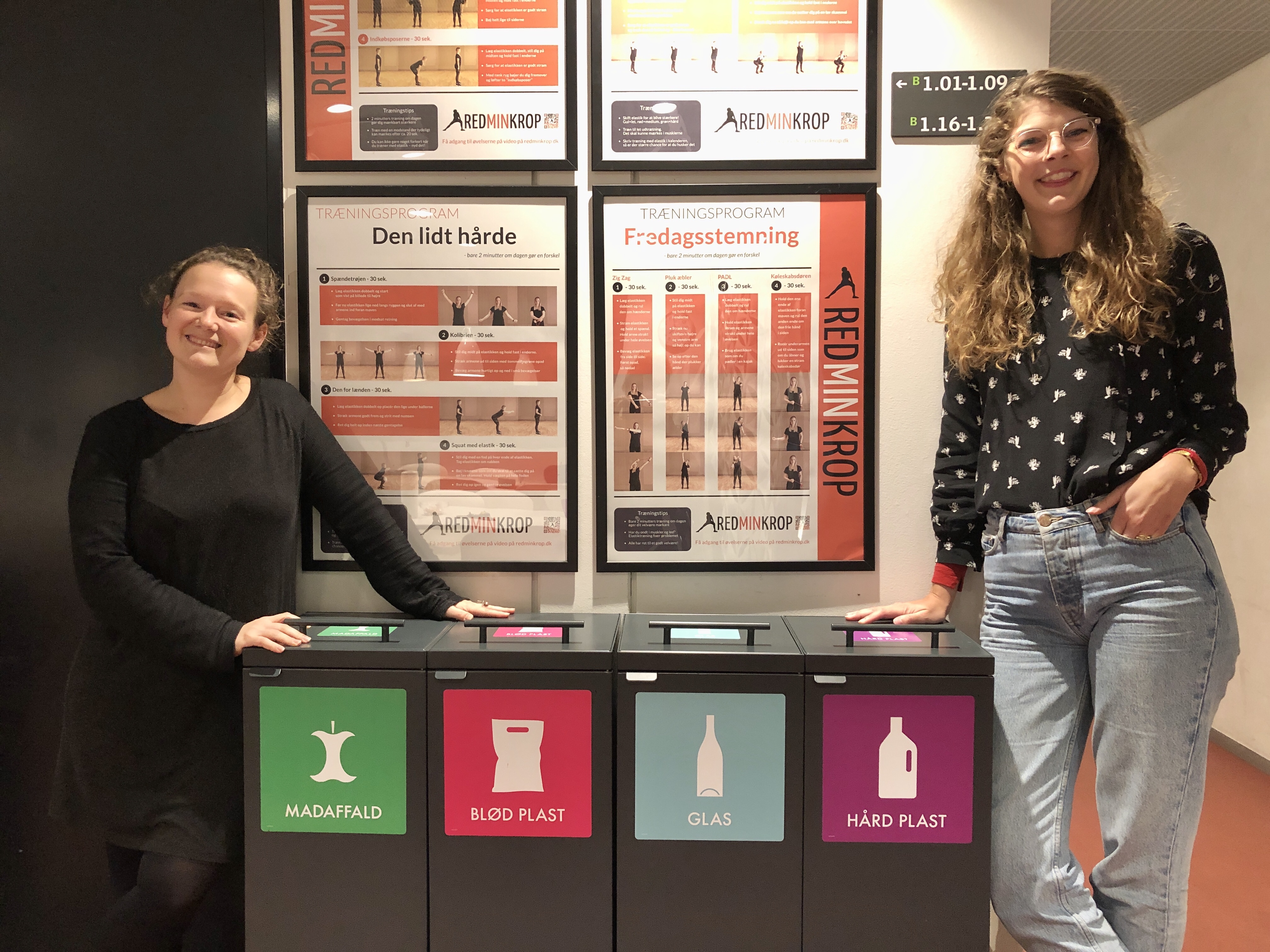 Astrid Tøttenborg and Marie Hansen from Student Hub were frustrated that they couldn't sort their waste at work. Now, they have four recycling bins working as a pilot project for scaling up the initiative to cover all CBS offices and departments. This aim is supported by the results from the recent recycling project at Spisestuerne, which are so promising that it's likely to spread to all CBS canteens.
Astrid Tøttenborg and Marie Hansen had tried different solutions to make sure the trash they produced at work was sorted. They took it home with them to sort it there, introduced different arrangements in the office, and even brought it down to the basement at CBS to sort it.
"It was quite frustrating that we couldn't sort waste properly at work. Also, sometimes just when I had collected a good amount ready to take it to the basement or home with me, the cleaning personnel whisked it away," explains Marie Hansen, who works at Student Hub.
Marie Hansen often discussed recycling and sorting waste with her colleague Astrid Tøttenborg, and after reading about how the student organization, Oikos, succeeded in introducing recycling stations at the Solbjerg Plads canteen, they contacted Tore Klitgaard, Architect and Sustainable Design Developer at CBS, for guidance.
"At the beginning of September, we were pleased to introduce our colleagues to their new recycling station with four different sorting bins. Since then, it has become quite a topic of conversation at our department, and people are incredibly proud when explaining to visitors and new employees that we have our very own recycling station," says Astrid Tøttenborg, who also works at Student Hub.
Whenever the bins, which are divided into soft and hard plastic, glass and bio waste, are full, Marie Hansen and Astrid Tøttenborg take them to the basement. Here, a special sorting area has been allocated for the pilot project to facilitate collecting data on how much waste is produced in the different categories.
"Actually, taking the trash down to the basement once in a while gives us a nice break. And then I'm also curious to see what kind of waste my department produces. Of course, if something has been put in the wrong bin, I make sure to sort it correctly, though that is rarely a problem anymore," says Astrid Tøttenborg and explains that staff members from other departments have asked if they can also use the bins.
Tore Klitgaard runs a similar project at his department and hopes that the experiences and data from both projects will lead to a better understanding of what works and what doesn't, as it all boils down to changing behavior.
"Marie and Astrid's bins have lids on them, which can be both good and bad. It may make people more aware of which bin they are using, or it may prevent people from sorting their waste. Those kinds of things are good to figure out before scaling up the initiative," he says and continues:
"And then there's another benefit. On good days, the recycling stations work as meeting points, just like coffee machines. So, there's a social benefit as well as an environmental advantage."
Recycling stations – coming to a CBS canteen near you soon
According to Tore Klitgaard, recycling stations will be introduced at CBS in three steps. First, the canteens, then the departments and offices, and lastly the teaching environments. But before this, pilot projects must be run to collect data on how to fully optimize the process.
And so far, data from the three-month pilot project at Spisestuerne's canteen at Solbjerg Plads is looking promising.
"During the three months, 55 percent of the waste was sorted and 45 percent went to general waste. Before, everything was just dumped in the same bin. So that's pretty good and shows that it can be done," he says and continues:
"I'm currently working on making recycling stations a permanent feature of all six CBS canteens."
As the sustainability action plan states, CBS wants to limit its general waste to comprise only one-fifth of its waste by 2025. Right now, one-third of CBS waste is disposed of as general waste.
And sorting waste is a low-hanging fruit when it comes to improving the environment, explains Tore Klitgaard.
"Recycling and waste sorting have been the first aspects we have looked at, as it's a low-hanging fruit with many benefits. Although introducing recycling stations all over CBS may seem like a large investment, it's actually cheaper in the end, as CBS will pay less to get trash collected if it's properly sorted," he says.
So far, Marie Hansen and Astrid Tøttenborg's recycling bins have no expiry date. The data, delivered by the waste management company Marius Pedersen, and experiences with the recycling stations will be used in the forthcoming process of scaling up waste sorting at CBS.
"Our colleagues have also been engaged in this project, so I'm just glad that the recycling station is here to stay," says Marie Hansen.