Constance quit cars and planes and biked to Denmark from France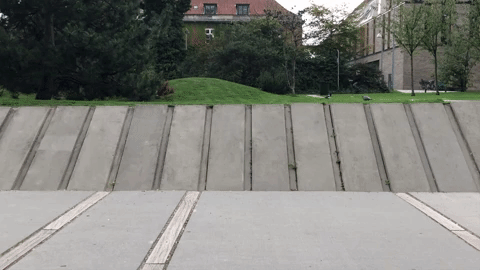 She traveled 3,500 kilometers by bike to get to Denmark. It was not her end-destination – far from it. But "things never go according to plan," as the new CBS student Constance Regnier puts it. Her aim is to live her life with the smallest carbon footprint possible. This included not driving cars or taking planes for a while. And that is one of the least radical choices she has made.
The bike is like a natural extension of CBS student Constance Regnier's body. She bikes around 20 kilometers a day, but can easily go for an 80 – 90-kilometer ride without getting a sore butt. It is a way to slow down when the pace of life gets too hectic, she says.
Then she mounts the black bike, which is covered in stickers, and looks, listens, feels and sweats as she reconnects with her senses again. Something that is easily forgotten in her day-to-day city life in Copenhagen.
Constance Regnier is in her first semester of her masters in Organizational Innovation and Entrepreneurship at CBS. But just a little more than a year ago, CBS and a permanent life in Denmark's capital were not part of her plan.
Back then, on July 4, 2017, she loaded her bike with the bare necessities for survival in four bike bags and started her epic journey from her hometown of Poitiers in France to Eastern Asia. Estimated time? One to two years. Enough time to make it to her cousin's wedding in Thailand.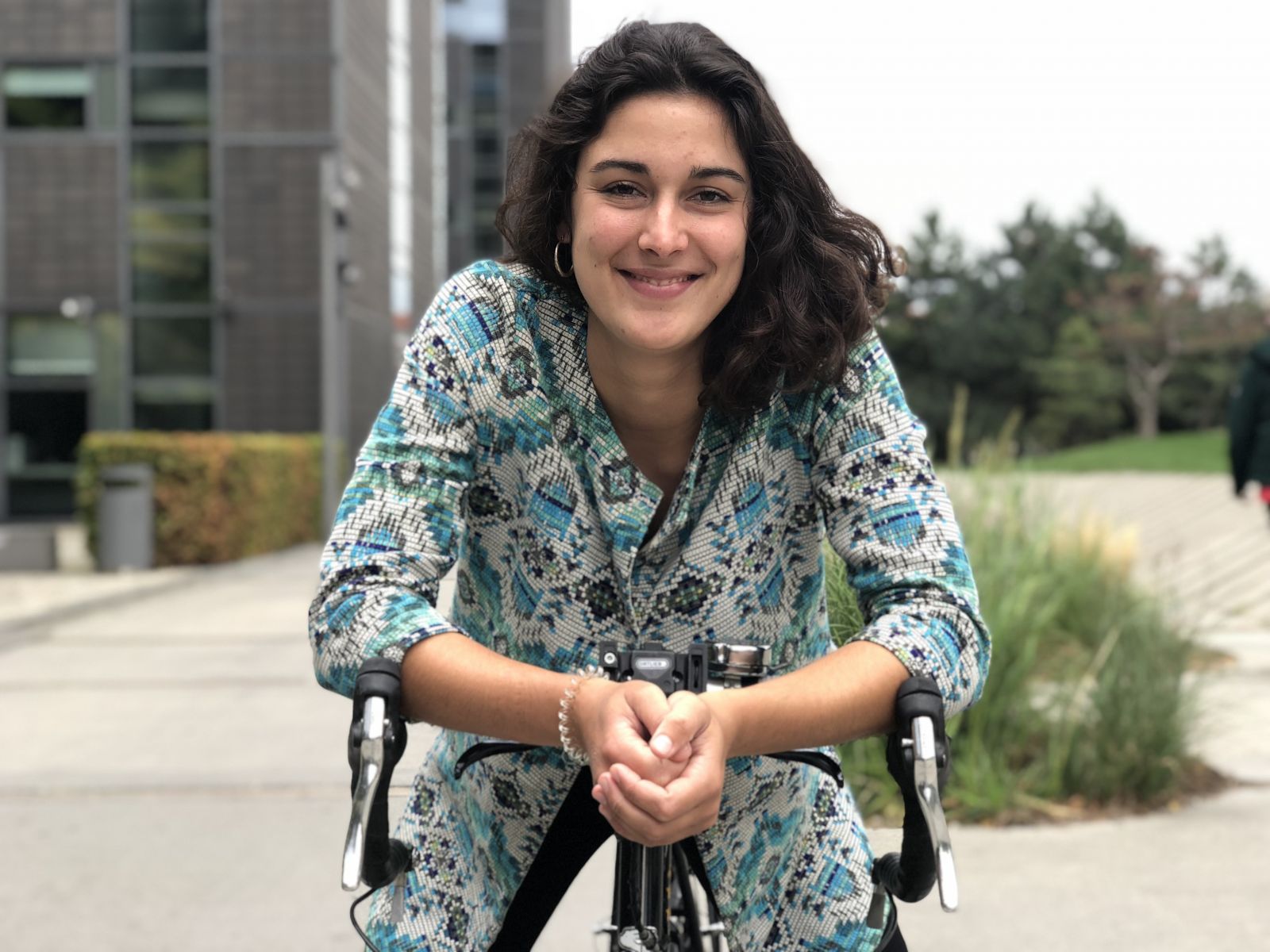 "I guess I wanted to see how far my legs could take me," says Constance Regnier and continues her explanation about why she wanted to pedal her way to the other side of the world:
"And then I wanted to rethink the speed of things. We live in a world where everything is driven by speed. We want to transport ourselves faster, our computers need to be faster, and we even want nature to produce faster. I wanted to slow down and feel how the pace of life should be."
However, Constance Regnier only made it to Denmark. Two months and 3,500 kilometers into her trip.
"It never goes according to the plan," she says and laughs.
Cut the crap
To get the full understanding of why Constance Regnier went on her bike journey, we need to turn back the time to 2013.
At this time, Constance Regnier is 22 years old and has moved to Missouri in the U.S. to study management at the Truman State University. Here she does various courses on the relationship between nature and human nature, environmental grassroot activism. Courses that really interested her, and that came in strong contradiction with her way of living – as she, like most young adults – filled her life with an array of electronic devices and lots of traveling.
But that was until she met Ethan Hughes.
Ethan Hughes ran, at the time, an intentional community in Missouri that aimed to inspire people to integrate radical simplicity and activism into their life . This included avoiding the use of fossil fuels and electricity, so the only transportation being walking or biking.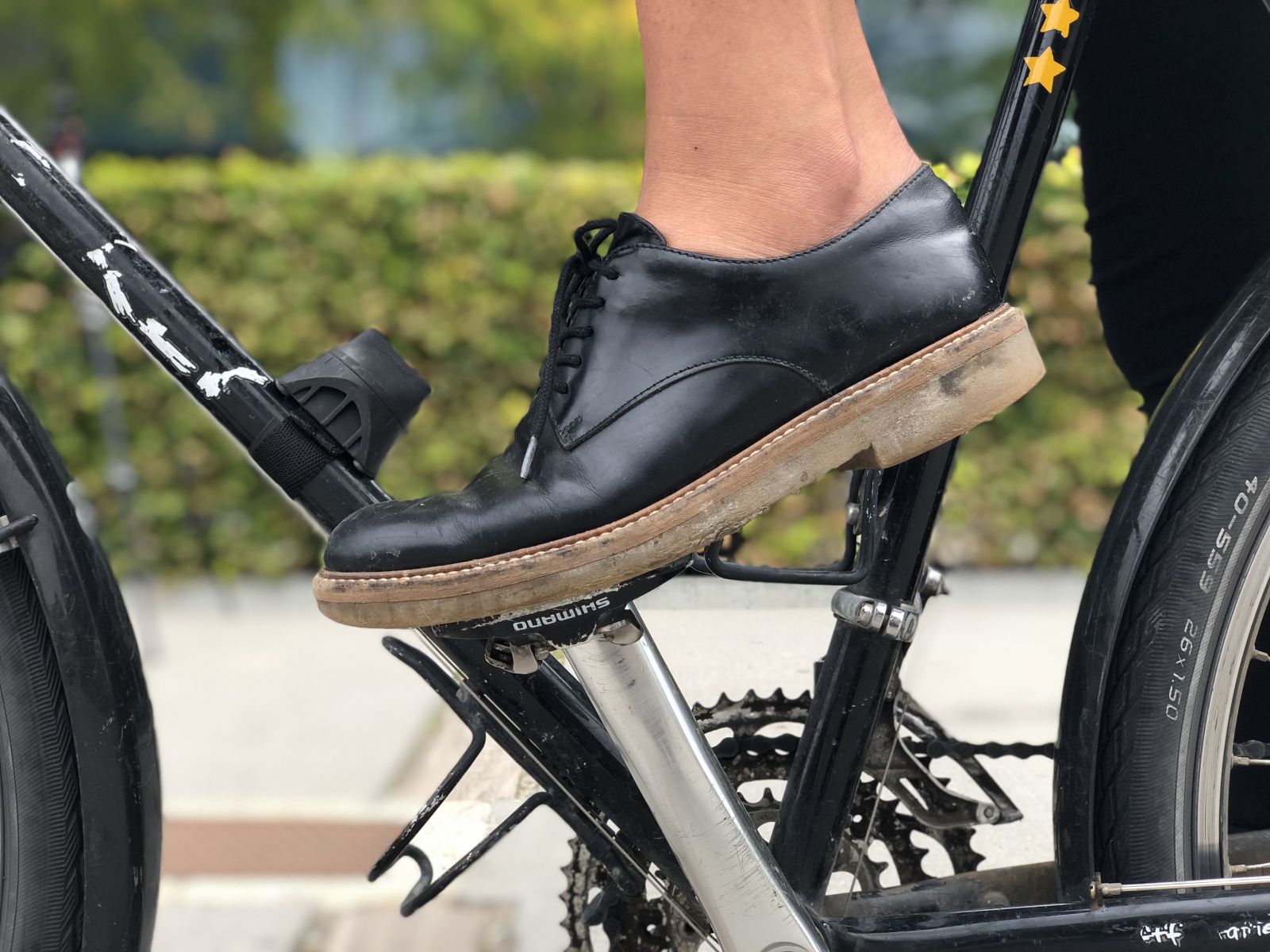 "This way of living totally reshaped everything in my mind about how I lived my life, and how much of an environmental impact I had. So, I thought to myself: How can I integrate these practices into my own life?" she says and remembers the first thing she did after graduation in 2015:
"I threw my business knowledge out of the window, as I found it so unadapted to the realities of our world, and found a farm in California where I learned how to grow organic food," she says.
But growing organic food and living a self-sufficient life was not quite enough for Constance Regnier. So she moved in with Ethan Hughes' community from November to December 2015 and stopped using electricity. This meant – of course – saying goodbye to smartphones, computers and other electronic devices.
"I realized that electronics were crowding my mind and disconnecting myself from my body. Now, I had the time to actually feel," she says about living without electricity.
At some point, during her time with the community, Constance Regnier got a job offer. She could go to Ecuador and be part of a reforestation project. A job that would require several trips to Ecuador by plane.
Sometimes you have to be in the system if you want to change it

Constance Regnier
"It was about reforestation. A good cause. But I ended up rejecting it, as the very reason of deforestation in Ecuador was fossil fuel excavation and decided that I wouldn't fly anymore. So my last trip by plane was home to France," says Constance Regnier and explains that her tech-free life continued in France.
The annoying activist's search for positivity
Back in France, Constance Regnier was very keen on consuming as few resources as possible. For instance, she stopped buying packaged food. She would only go to shops with bulk and local food when she could not grow them herself. And she volunteered in a bike shop teaching others how to fix their bikes.
But the pursuit of a low-carbon-footprint life turned her into an "activist – the annoying kind," as Constance Regnier puts it.
"I was so strict with myself about not buying packaged things, that it made me angre and very negative. And I would be arguing with people if they saw things differently from me. I was caught up in this negative spiral. I needed to get away," she says.
Constance Regnier had already completed a 500-kilometer trip from the Mediterranean to Bordeaux  in the summer of 2016. A trip that did her good. So, she decided to do a bigger trip the following summer.
"I needed to see some positive examples of people living lives with as little environmental impact as possible, so I planned my trip around people I wanted to visit," she says.
Constance Regnier carried around 50 kilos counting her bike weight, including a tent in case she could not find a host, which, however, was quite easy through the Warmshower app. Here, you can find people who host cyclists all over the world, and the app sort of mapped out Constance Regnier's route through Europe.
"I bought a smartphone for the trip, as I needed the technology. But I would still use good old-fashioned maps," she says. And eventually her maps and the Warmshower app led her to Denmark.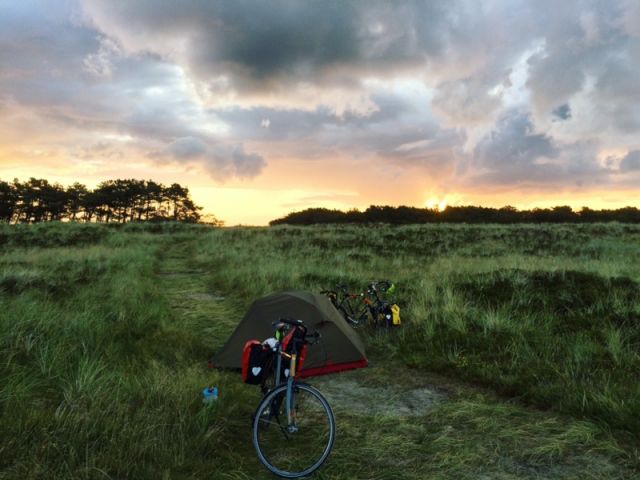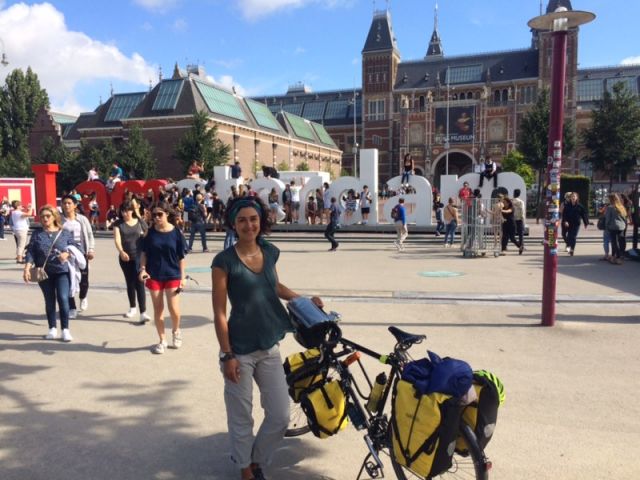 A spectacular entrance  
"My entrance into Denmark in late August was quite a show," Constance Regnier says and continues:
"It was 10:00 in the evening, pouring down with a roaring thunderstorm. I came from Flensburg and was about to cross a bridge, which had previously marked the border between Germany and Denmark, but my bike slipped on the wet wood and I literally slide into Denmark."
Constance Regnier stayed on Funen for a couple of days before continuing to Copenhagen where she had a Warmshower host waiting for her.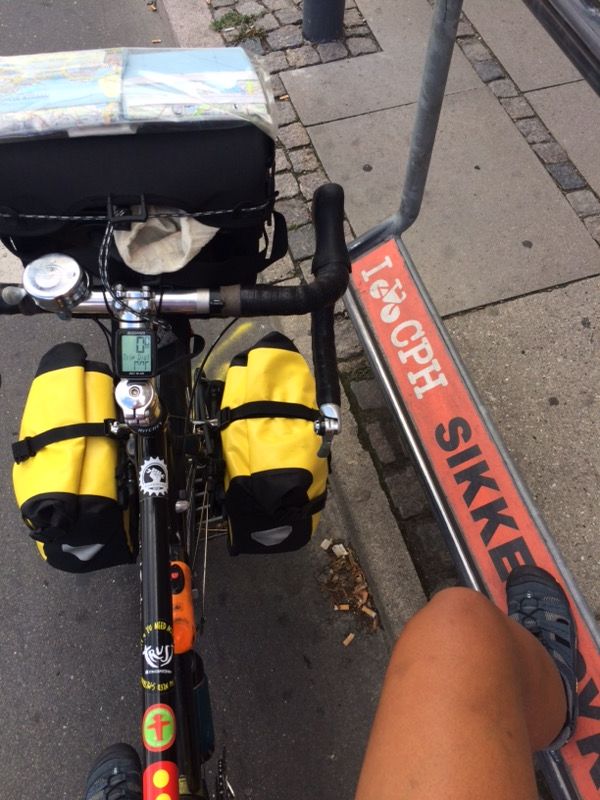 "I actually ended up falling for that host in Copenhagen, so I decided to turn back after 100 kilometers. And after a little while, I made up my mind and moved to Copenhagen permanently. There was so much to dig into and I connected with a lot of people and projects," says Constance Regnier.
Since Constance Regnier only had her bachelors degree from Truman State University, she had difficulty finding a job. So she applied for the masters program at CBS. But how did that connect with her idea of throwing her business knowledge out of the window?
"Sometimes you have to be in the system if you want to change it," she says and continues:
"Here I can learn the nuts and bolts of things, why they need to be changed, and that's what I want. I want to make a difference and it seems that the other students on the program and the teachers want the same. On the first day, we talked a lot about the fact that businesses are not acknowledging that climate change is one of the biggest issues for companies and something they need to incorporate into their business models."
A balancing act
Studying at CBS has meant that Constance Regnier has got herself a computer again, and she is in general being less harsh on herself when it comes to her way of living.
"I don't keep track of things, but I'm still very much aware and conscious of the choices I make as a consumer. But there must be compromises," she says and explains that she flew again for the first time in three years to be at her father's wedding in France this summer.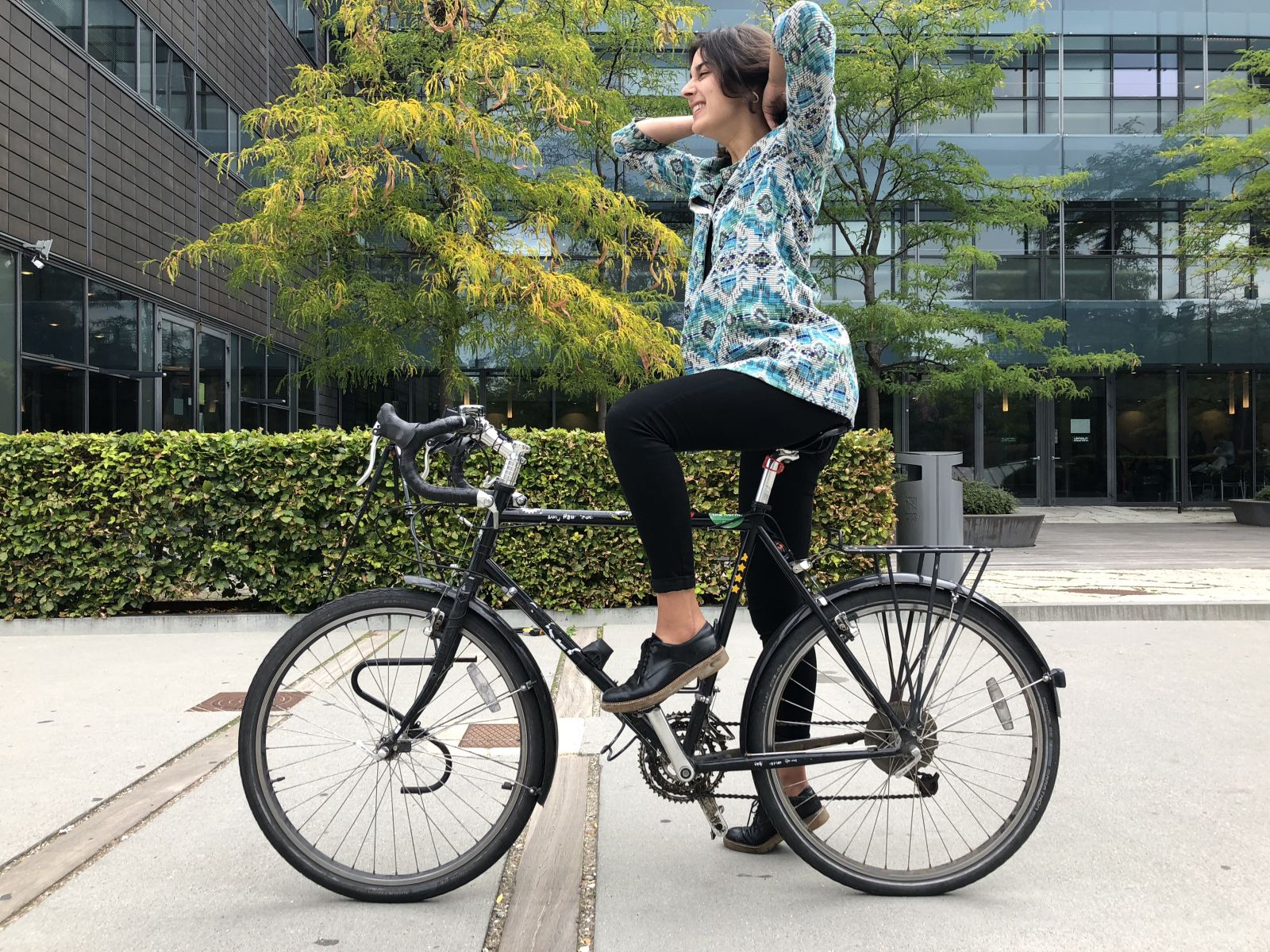 Then there is the question about the trip to Thailand. Constance Regnier's end destination was Thailand when she pedaled her way through Europe. Now, her cousin's wedding is approaching and she can't get there by bike. So, what is it going to be?
"I'm thinking about doing a Trans-Siberian Railroad trip from Russia, but I will probably end up in a big fat plane," she says and continues:
"I will just have to make other less impactful choices, and I need to find my own balance in living in a fast-paced society that won't lower its speed for you."
Constance Regnier has changed from being a radical activist to being a CBS student surrounded by what she calls 'extra fluff' – that in some ways makes her life more comfortable and easy in the eyes of others, but in fact she misses the low-key life now and then.
"I miss being more active in the way I sustain myself, and I miss the simplicity of my life when I had no phone or computer. I can see that I have become more passive, as my life revolves around leisure and working so I can pay my bills. Before, my main goal was to produce food and feed myself, and that was enough. But all in all, I have found a good balance here in Copenhagen," she says.