Festival for the Global Goals "Exponential change calls for radical thinking"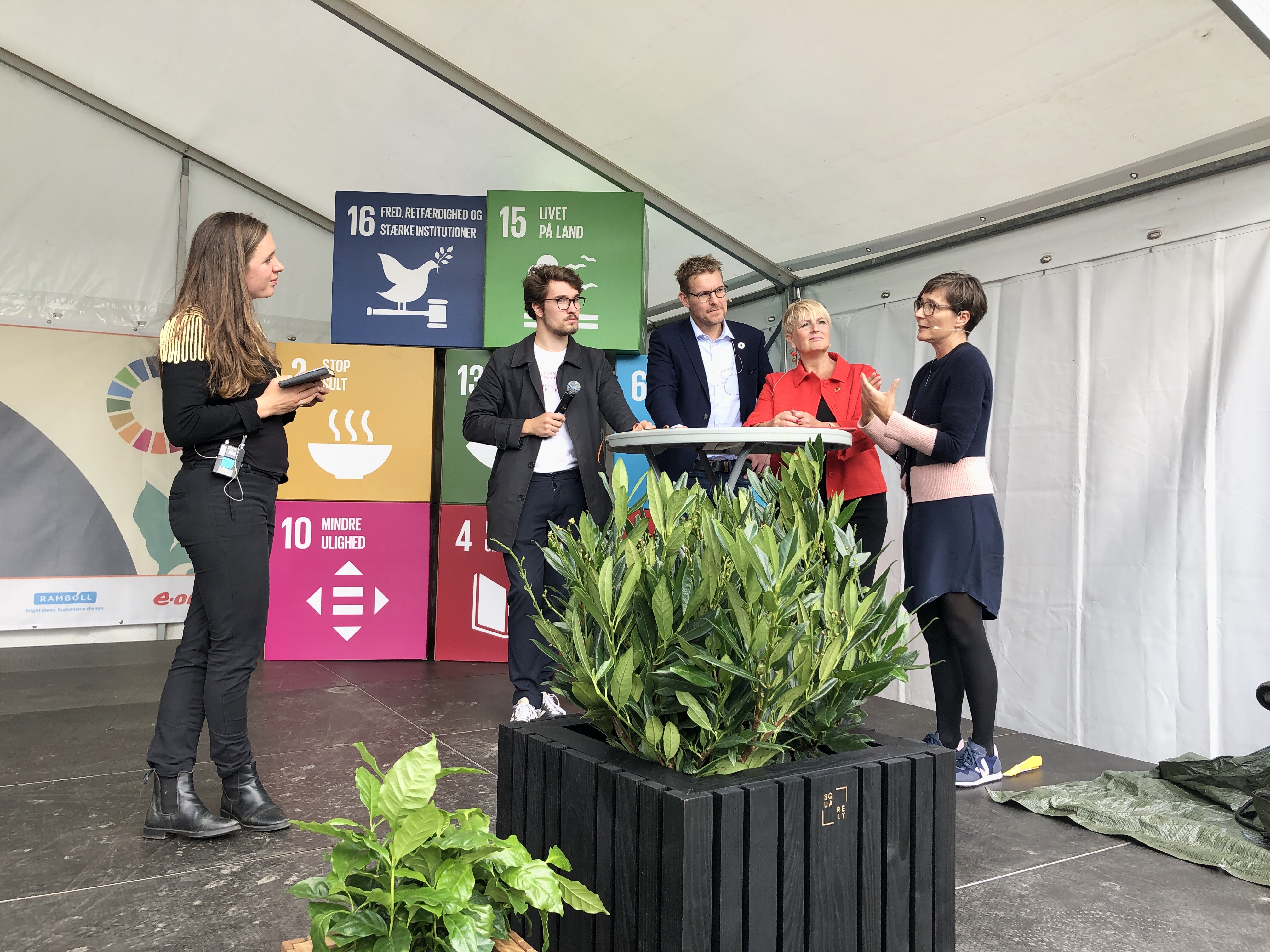 How can and should universities contribute to a more sustainable planet and society in the future? This question was up for discussion at the Festival for the Global Goals co-hosted by CBS. The panelists agreed that the universities should adopt a more radical approach to teaching students and disseminating research in order to fuel the green transition.
'Radical'. That word came up many times during a panel debate about the role universities are playing in transitioning towards a more sustainable planet and society at the Festival for the Global Goals held on September 13 to 14 at Solbjerg Plads, in Frederiksberg.
The members of the panel, consisting of the President of CBS, Nikolaj Malchow-Møller, Principal of The Royal Danish Academy of Fine Arts (KADK), Lene Dammand Lund, President of the National Union of Students in Denmark, Johan Hedegaard Jørgensen, and Chief Sustainability Officer at Novo Nordisk, Susanne Stormer, were asked to present their perspectives on this subject.
The moderator, Maria Flora Andersen, Director of Student and Innovation House, began by asking the panelists what they thought needed to "radically change" at the universities in order to ensure a sustainable future.
"We radically need to change how we educate students," said Johan Hedegaard Jørgensen and continued:
"The climate crisis is something a lot of students care about, and with good reason – it could literally be the end of the world. And that's why we need to give young people the ability to act. We need both technical skills, but we also need cross-disciplinarity and critical thinking, so we can make sure everyone lives up to their responsibilities."
Nikolaj Malchow-Møller explained that CBS is running a capability project to identify the basic skill set required by all CBS graduates.
"We must combine different skill sets to solve these problems, which are often dilemmas. We need to be competitive, but should also be able to collaborate. Both talents are required if you want to run a profitable and sustainable business," he said.
Susanne Stormer from Novo Nordisk explained that the role of the universities is to educate people who match the needs of business sector. But the students play another role.
"Your role as a student is first and foremost to challenge assumptions. When people say something can't be done in another way, you must stand your ground and argue that there is another way of doing things," she said.
Cross-disciplinarity is the way forward  
Last year, CBS and KADK launched a new master's program together. And, according to Lene Dammand Lund and Johan Hedegaard Jørgensen, this interdisciplinarity should be the core of all university activities.
"The whole system doesn't support interdisciplinarity, and we need this in order to find new courses of action. We must work together, but cross-disciplinary research is difficult to get published, because so few cross-disciplinary journals exist," she said.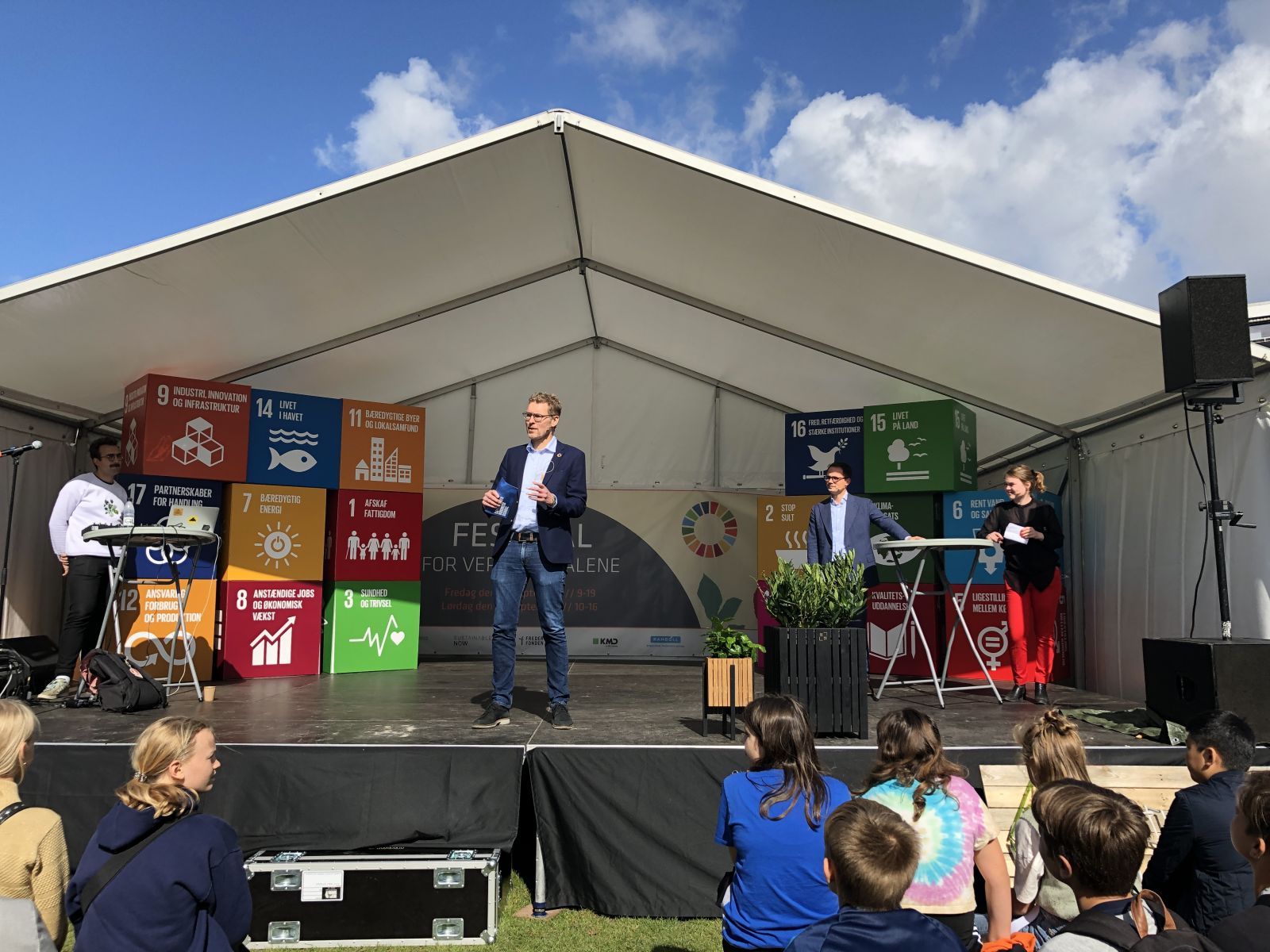 Johan Hedegaard Jørgensen tapped into the conversation:
"As it is now, it's impossible for students to conduct a thesis project across universities, even across study lines at their own university. We must discuss that, as we need whole new approaches to the challenges of today," he pointed out.
According to Susanne Stormer, we, the universities and their students need more than just new approaches. "Exponential changes call for radical thinking," as she put it.
Universities need to become better at getting their knowledge out. Universities have a responsibility to avoid becoming ivory towers

Johan Hedegaard Jørgensen
"It's great to see that CBS includes sustainability in its curriculum, and the capability project is a good start. However, they won't be reaping the benefits of this tomorrow, but rather in five or ten years. Somehow, we need to accelerate this process," she pointed out.
Climate targets for universities?
Universities generate research and educate students. And in order to do that, you need campuses with classrooms and offices. These, of course, produce carbon footprints.
"Should universities set climate targets for themselves?" asked Maria Flora Andersen.
"Yes, I think they should!" exclaimed Johan Hedegaard Jørgensen, continuing:
"A lot of industries finance research but also the universities, and we need to discuss what sectors should be funding us. Do we want money from arms dealers, tobacco companies, or oil producers? And we also need to look into how we invest the money we have. What do we invest in? Shouldn't we invest in green areas? In my experience, universities aren't particularly fast at this."
For example, the University of Copenhagen is associated with the Centre for Oil and Gas at the Technical University of Denmark, and part of its research is about finding ways to extract more oil from deep underground. In August this year, students at the University of Copenhagen demanded that the center should be closed down as one of their climate demands on the university.
"It's an important debate. But I don't believe in devising strict principles simply because these are complicated situations. For example, arms dealers are members of NATO. NATO protects our nation. Should universities then work with arms dealers? I don't know. I don't have the answer, because there is no clear answer. All these questions involve dilemmas, and that's where we need good judgement," says Nikolaj Malchow-Møller.
Don't be ivory towers
At the Global Goals Festival, the festivalgoers could hear how researchers from CBS and the University of Copenhagen are working to equip society for a sustainable future. In Susanne Stormer's opinion, mastering skills in these areas is of high importance.
"A festival like this shows that universities can orientate themselves towards society and be an example to others. It shows that they understand the interconnectivity that we so badly need," she said.
However, Johan Hedegaard Jørgensen believed the universities could do better.
"Universities need to become better at getting their knowledge out. Universities have a responsibility to avoid becoming ivory towers. They must adopt a far more outspoken role," he said.
"I could not agree more," responded Nikolaj Malchow-Møller.