"I quit my job in Copenhagen and left my boss a letter saying: Goodbye, I'm going to save Italy"
Michele Sodano, a Sicilian CBS alum, had a nice and easy life in Copenhagen – until it started haunting him. He had to do something about Italy. About the corruption, the mafia, Berlusconi's media. And about the future of young Italians. He would give it a year and return to Denmark if it didn't work out.
First, we need to go back in time to June 12, 2013. That was the day that Michele Sodano got the acceptance letter from CBS telling him that he could begin his master's in Management of Creative Business Processes that September.
"It was one of the best days of my life," says Michele Sodano, reflecting on his life in Copenhagen and at CBS.
But only a couple of years after his graduation, in 2017, Michele Sodano would lie awake night after night. Worrying about the future of his home country – Italy.
"I was feeling good in Copenhagen, and I had a nice job too. But the thought of young Italians going abroad, never to return to their home country worried me. So I quit my job and left my boss a letter saying: Goodbye, I'm going to save Italy," says Michele Sodano of leaving the advertising company Wunderman to go back to his hometown Agrigento, in Sicily to pursue his mission.
After just one year, 29-year-old Michele Sodano is already a full-time politician for the Five Star Movement and a member of the Italian government. Leaning on Danish values, he wants to change his home country dramatically.
The day he pays CBS WIRE a visit, he is wearing a white/blue striped t-shirt and gray pants accompanied by black leather shoes and funky-colored socks. At the parliament in Italy, however, he would go for a suit and tie.
"I'm actually trying to take a few days off while I'm here. Italian politics have been quite hectic during the summer, so I haven't had time for a vacation," says Michele Sodano, who is accompanied by two friends from Italy on his trip to Copenhagen.
I heard about Michele Sodano through another Italian, Giulio Zichella, Assistant Professor at the Department of Operations Management at CBS. He told me that Michele Sodano was a CBS alum who was working to change Italy by taking inspiration from the Danish welfare state, which he became very fond of during his stay.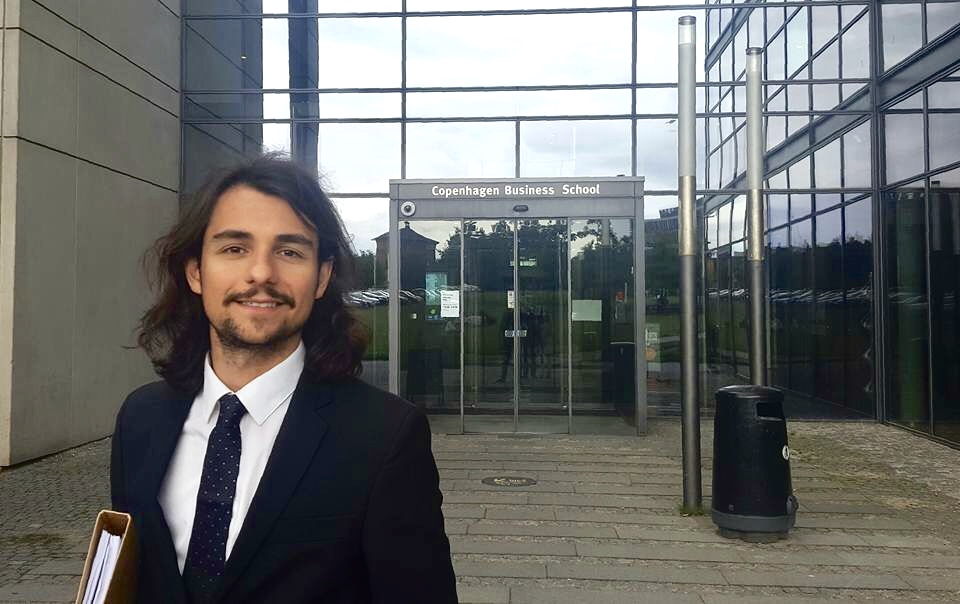 Naturally, I had to set up an interview with Michele Sodano. What aspects of the welfare state in Denmark did he take back home to Italy, and what is a politician's life like?
Flexicurity and equal rights – Denmark has it all
Michele Sodano starts the interview with a bang.
"Coming to Denmark in 2013 saved my life," he says with a gentle and purposeful voice.
Just like the young Italians that go abroad, never to return, Michele Sodano was feeling anxious about his future in Italy.
"I did a bachelor at one of the best universities in Italy, Bocconi University, but when I finished I couldn't see my future before me. I dreamt of a country with a strong welfare state and a country with a government that takes care of its people. That led me to Denmark," he says.
In Italy, we don't follow our dreams or visions anymore. We just survive, and that's sad

Michele Sodano
At the beginning of the semester, Michele Sodano was stressed out. But slowly he started to loosen up and enjoy his stay. Observing the everyday of his classmates gave him inspiration, as it was quite a contrast to his life in Italy.
"It was inspiring to be in a country where everyone has equal rights. You can study whatever and become whoever. In Italy, those things depend on the size of your parents' bank account," he says.
Another thing that Michele Sodano noticed about the Danish welfare system was the level of flexicurity. This makes it easy for employers to hire and fire employees. However, Denmark has a 'safety net' in the form of unemployment funds and citizens have access to further education throughout their whole life.
The experiences from Denmark made Michele Sodano think. If Denmark could have a well-functioning welfare system, why couldn't Italy? And who better to share those thoughts with than the leader of the Five Star Movement, Luigi Di Maio.
"We just survive in Italy"
In March 2017, Michele Sodano found out that Luigi Di Maio was coming to Copenhagen to meet with some of the Danish ministers. He asked whether Luigi would have time to meet. He did.
"Denmark was at the center of our discussion, and I told him that I thought it would be possible to bring Denmark's good practices to Italy," says Michele Sodano.
Four months later, in July 2017, Michele Sodano decided to quit his job at Wunderman and go back to Sicily, where he is from, to achieve his aim.
One year. That was the time he would devote to this project.
"I liked my job, but I wanted to give some positive input back to my people. In Italy, we don't follow our dreams or visions anymore. We just survive, and that's sad," he says.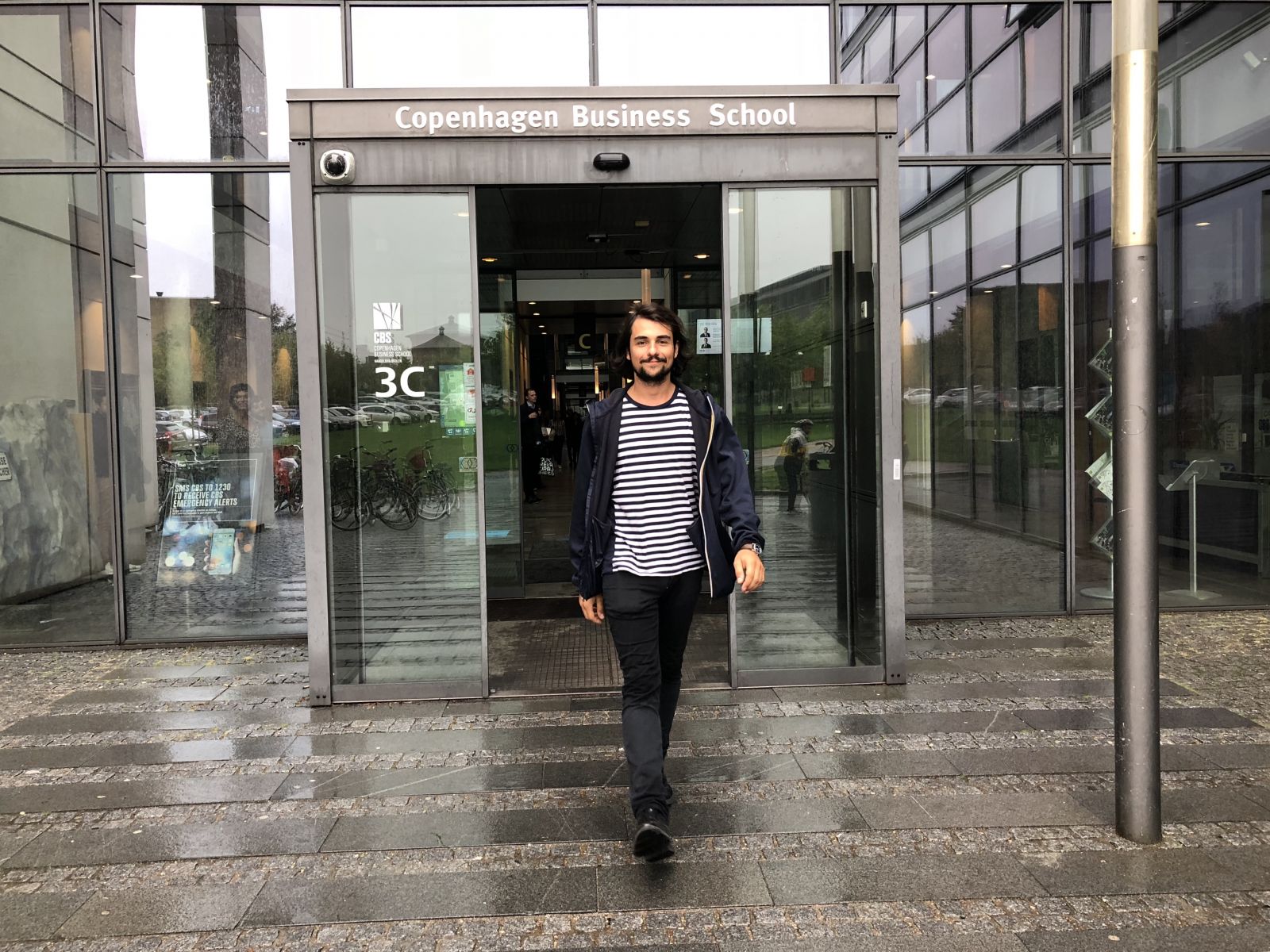 Six months was, however, all he needed. After Michele Sodano returned to Sicily and got involved with the Five Star Movement, he was elected as the candidate for his city, Agrigento.
"The Movement could have chosen other candidates, but they chose me. It was crazy," says Michele Sodano.
The world's largest political lab
The Five Star Movement gained 32 percent of the votes at the general election on March 4, 2018. Enough to secure Michele Sodano a seat in parliament. But not enough to run the government alone.
Unexpectedly, the Five Star Movement agreed to form a government with the right-wing party, Lega, although it took three months to get acceptance from Italy's president, Sergio Mattarella.
Giulio Zichella told me before the summer holidays, when the Italian government still wasn't finalized and there was talk of a second election, that as he saw it, Italy was the world's largest political laboratory.
Michele Sodano agrees with Giulio Zichella.
"Yes, it's like a big experiment, and I think Italy is ready for some big changes," says Michele Sodano.
Michele Sodano talks enthusiastically about how Denmark invests in its people, and he wants Italy to do the same, so that Italians can adopt an optimistic view of the future.
"We need to invest in education so that everyone can study whatever they want, and then we have to ensure that people feel safe, otherwise you can't do anything except survive," he says.
Get rid of the privileges
When Michele Sodano was elected for the parliament, he had to move from his hometown, Agrigento in Sicily to Rome. He lives within walking distance from the parliament and works from 9:00 a.m. to 8:00 p.m.
"I'm so passionate about what I do now, that I can literally stay at work for days," he says.
I ask Michele Sodano what surprised him the most when he entered politics. I guess I expected some kind of low-key answer about the size of the offices, a nice fruit scheme or something like that.
"The crazy amount of privileges," he exclaims and continues:
"The salary and the huge retirement funds, for instance. But we have started to cut that. Every member of the Five Star Movement pays € 2,000 a month to a fund for the people. We, as politicians, have to be close to the people, and show them that we are ready for change as well," he says and reflects a little.
"And then I was genuinely surprised that we can do things. It sounds weird, but everyone told me that we could not cut retirement funds for the politicians. But we just did."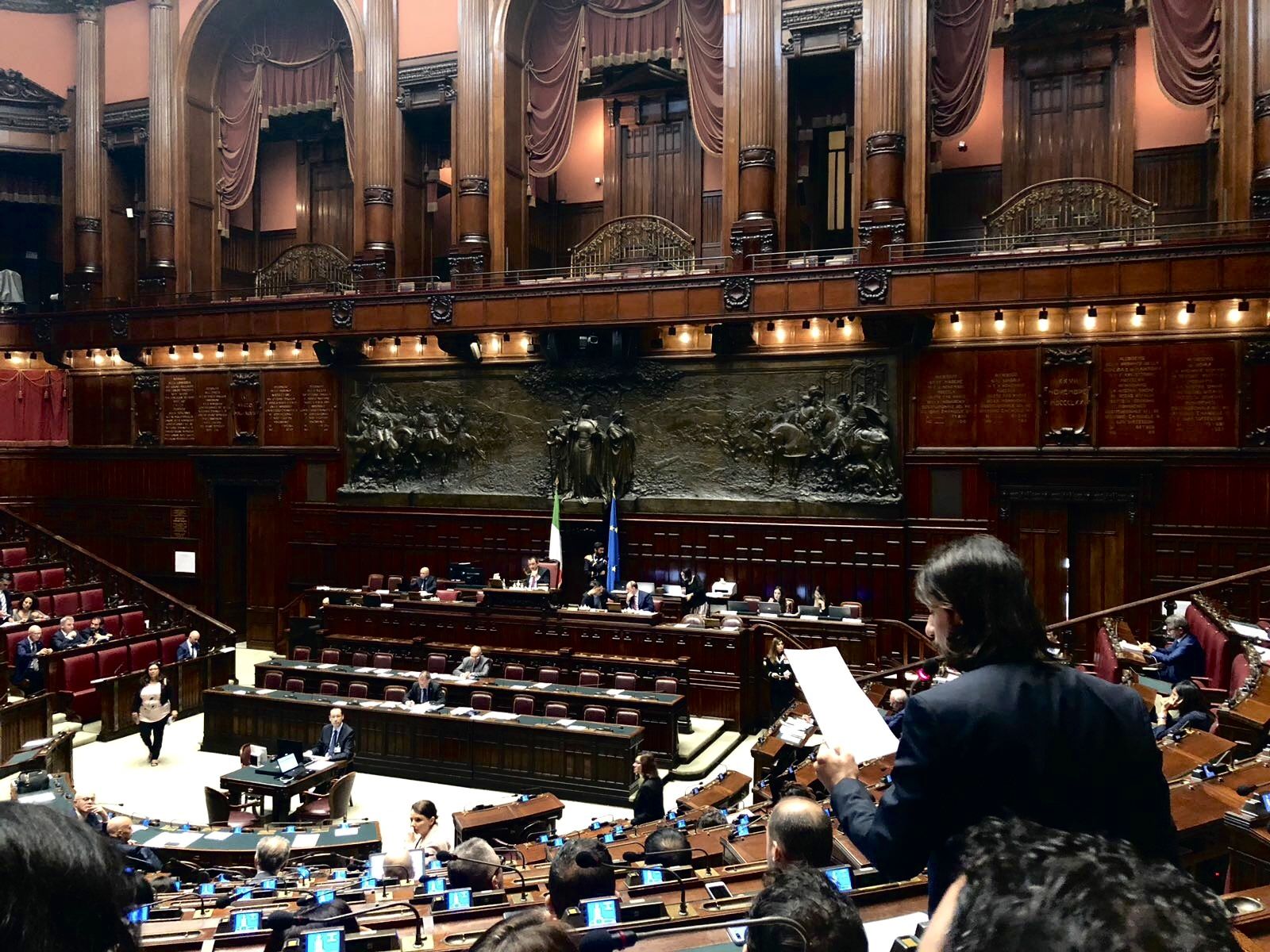 But it's not that easy being a politician in Italy. Far from it actually. Previous governments have been corrupted and associated with the mafia, and since Silvio Berlusconi and the Left Party owns almost all the media in Italy, it's difficult to get the message out.
"The hardest part about my job is that we have so many people with us, but on the other hand, we have to struggle with big companies, the high corruption inside the system and the media. We have to show that it's possible to change all these old establishments," he says.
Michele Sodano will take care of a few things while he is in Denmark – like closing his bank account – but he's also going to see the Italian Ambassador, Luigi Ferrari and visit Italian companies in Denmark.
Michele Sodano picks his jacket up from the couch. It's pouring down outside. But he doesn't seem to mind that much.
Before leaving he gives me a hug, and wishes me a good day with a:
"Ciao!"