CBS students trapped in Hong Kong "war zone": "They produced Molotov cocktails in our lobby"
Johan Schack Petersen and Gustav Fog from CBS experienced first-hand the violent demonstrations in Hong Kong when their university came under siege and was turned into a battlefield. While students from the U.S., Italy and Japan were transported away from the university, the five CBS students "were left to ourselves" and are now criticizing the lack of support from CBS and the Danish consulate.
Last week, five CBS students had to flee from the Chinese University of Hong Kong to the Danish Seamen's Church when the violent demonstrations in Hong Kong suddenly turned their campus into a battlefield.
Among the students were Gustav Fog, a BSc student of Business Administration and Psychology, and Johan Schack Petersen, who is studying for his BSc in Business Administration and Project Management at CBS. They experienced how the demonstrators gradually took over their university, closed off the main entrances, built barricades and fought with the police. Fights that involved the throwing of cobblestones and Molotov cocktails from behind makeshift barricades.
"The campus grounds resembled a war zone. The concrete was black from soot because there had been fires, and tear-gas cartridge cases were everywhere. Also, demonstrators had been digging up cobblestones and using them as missiles," explains Gustav Fog about the scene that met them on the morning after one of the demonstrations last week and continues:
"In my college building, the demonstrators were producing Molotov cocktails in the lobby side by side with students of medicine from the university who built a field hospital to treat wounds and help demonstrators who had been exposed to tear gas."
Gustav Fog returned to Denmark on Sunday 17 November, as the Chinese University of Hong Kong had cancelled teaching for the rest of the semester. His fellow student Johan Schack Petersen decided to stay in Hong Kong – however in a place less affected by the demonstrations.
Johan Schack Petersen explains that the demonstrations became very serious during Wednesday and lasted throughout the day and night.
"Gustav and I walked around the campus and saw how the demonstrators were practicing throwing Molotov cocktails with water bottles and spears. At the same time, a guy fired off a flamethrower very close to us," he explains on the phone from an island just outside Hong Kong.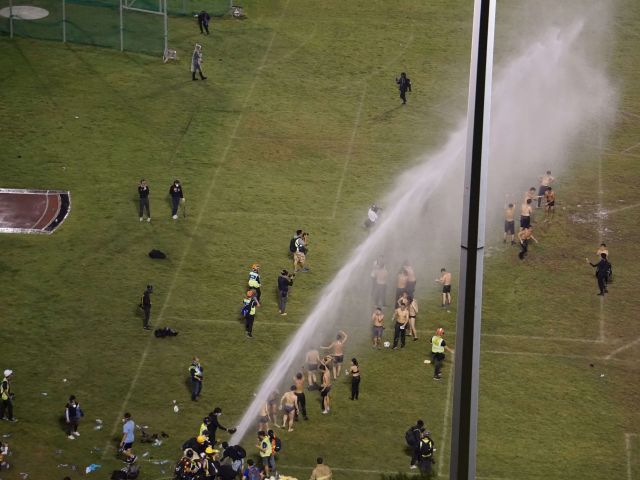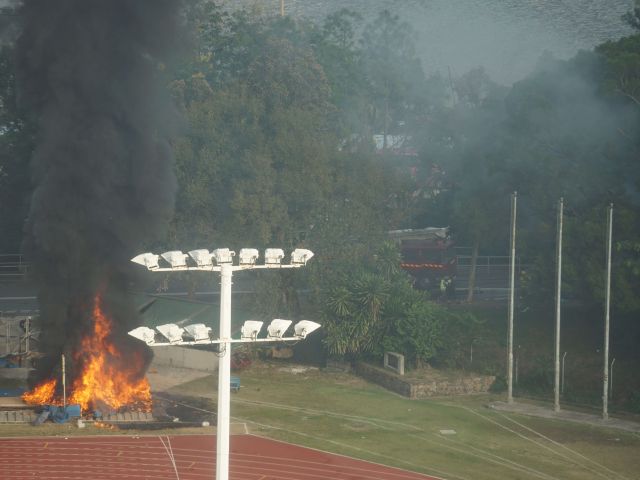 During the night, two other CBS students at the Chinese University of Hong Kong were woken up at 02:00 AM by the demonstrators and asked to move to another building, as a rumor had spread that the police would storm the university early in the morning and arrest everyone. The two CBS students ran to find Johan Schack Petersen and Gustav Fog early on Thursday morning and explained what they had heard from the demonstrators. They all packed their bags and waited.
"Until this point, I hadn't been afraid, as I felt the demonstrators would not harm us. They were actually really nice to those of us here on exchange. But I was scared that night when we were woken up. It was a very unpleasant feeling not knowing what would happen," says Gustav Fog and explains that luckily the rumor was just a rumor.
Should we stay or should we go?  
Johan Schack Petersen explains that as the demonstrators took over the university, public transportation to the university stopped running, and "it was almost impossible" to get away from the university. But this didn't stop the demonstrations.
"Cars and scooters from the city kept coming to campus to deliver water, food supplies and sanitary towels. It was actually quite impressive to watch. However, as a result, the traffic to and from the university was completely jammed," says Johan Schack Petersen.
Gustav Fog experienced the traffic problems firsthand. A week before the demonstrations at the university he had a minor operation for a punctured lung, and on Tuesday during the demonstrations, he was scheduled for a check-up at the hospital.
"I had to climb a barricade and walk two kilometers before I could catch an Uber cab to the hospital. But when I tried to return, no one wanted to go in the direction of the university, so I had to walk 10 kilometers to get back," he says and explains that the roads were blocked with cars for four or more kilometers.
The five CBS students were left in a waiting position. They hoped the demonstrations would pass, and as the demonstrators showed no anger towards the exchange students, they decided to stay.
But as events began to escalate, more and more exchange students packed their bags and left. According to Johan Schack Petersen, students from Italy and Japan were picked up by people from the embassies, and students from the U.S. were told to leave and offered free plane tickets home.
And as it became evident that more students were leaving the university, the five CBS students began looking for shelter off campus. Johan Schack Petersen explains that they wrote a post in a Facebook group for Danes in Hong Kong and asked for a place to stay. And luckily, the Danish Seamen's Church had room to spare for the five students.
"It wasn't until we got away that we realized how crazy everything had been, and we all felt very stressed out about the whole situation. We hadn't slept properly for days, and the sleep we got was poor. We were constantly explaining to people at home that we were alright," says Johan Schack Petersen.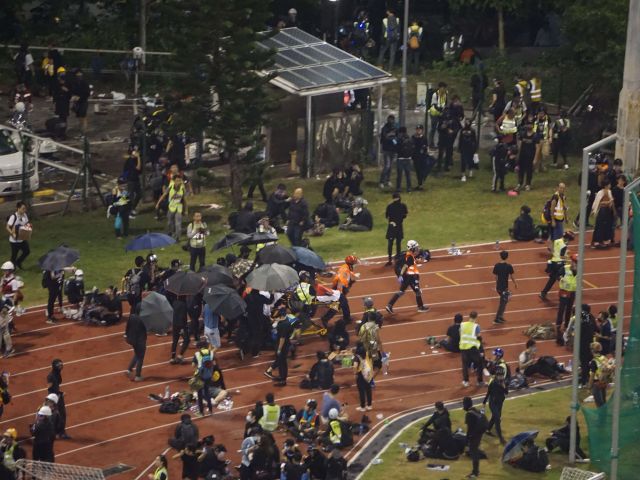 Gustav Fog agrees:
"When we finally had time to breathe and relax, we looked at each other and were like 'Damn, what just happened?' Why didn't we leave sooner? I was almost more shocked afterwards than I was while it was happening," he remembers.
Abandoned in a war zone
On Wednesday evening, while still at the Chinese University of Hong Kong, the five CBS students received a "standardized" email from CBS about how to deal with the situation. In the email, CBS asked its students to keep an eye on the Ministry of Foreign Affairs' website and travel advice for Hong Kong.
"That didn't really help us. The mail was for everyone in Hong Kong, and there were huge differences in how affected the different areas were. If I were at a university with no demonstrations, it was fine, but here at our university, they were producing and practicing throwing bombs right outside our college. So, it was no help to us. It would have been better if they had reached out to us personally and asked about our situation," says Gustav Fog.
Johan Schack Petersen explains that they would have appreciated more support from CBS.
"We felt we had to take care of everything ourselves in the middle of something resembling a war zone without any help. The Technical University of Denmark reached out to its students and asked them to return home, and it would have been helpful if CBS had said the same," he says.
After the five students had gone to the Danish Seamen's Church, the Swedish Consulate invited Danes in Hong Kong to an info meeting about the situation, which was also attended by an official from Denmark.
"She basically told us to stay away from the conflict zones, but I asked her why they didn't do more to help those of us stuck in the eye of the storm. She said that as long as 90 percent of Hong Kong was safe, they wouldn't change the travel advice. I think that was quite weak," says Gustav Fog.
He explains that both he and Johan Schack Petersen were lucky as their insurance companies have agreed to pay for the extra expenses caused by the demonstrations. But as the travel advice hasn't been changed, other students from CBS have not been as fortunate with their insurance cover.
According to Johan Schack Petersen, when the students return home, they can apply to CBS for DKK 5,000 to cover their flight tickets.
Gustav Fog has already returned and is happy to be home.
"It's really nice, I must admit. It's liberating to finally be able to relax, as the past couple of days have been quite hectic. And then it's just nice to sleep in your own bed without being worried," he says.
Johan Schack Petersen has decided to spend some more time in Hong Kong, as he booked tickets to Seoul with a fellow student a long time ago. When CBS WIRE catches up with him on the phone, he is on a small island, hiking with some other students.
"We feel a little better today, as things are slowly being dealt with. For example, we are just about to figure out how to finish our classes and exams. So that's reassuring," he says.