Can mindfulness make you a better consumer and live more sustainably?
A newly started PhD project aims to help clarify once and for all; can mindfulness change our consumer behavior and how, and is being mindful making us live more sustainably? Or is sorting our trash just a personal characteristic? Also, a new elective on mindfulness will be launched this fall.
If you practice mindfulness, you are less stressed; you sleep better; you have control of your feelings; and you are more attentive to your body's signals.
Mindfulness promises a lot. And whereas initially it was viewed with skepticism, researchers have begun studying mindfulness in all sorts of ways and constellations to explore how it works and whether it can keep its promises.
For example, studies suggest that mindfulness can help provide greater empathy and compassion, that it has a positive impact on the brain and immune system, and that it can overcome insomnia.
Now, Letícia Vedolin Sebastião, PhD Fellow at the Department of Marketing at CBS wants to explore how mindfulness, consumer behavior and sustainability are linked.
"Mindfulness promises to solve all manner of issues for consumers and society. For example, studies have shown that mindfulness seems to have a positive effect on people with gambling issues, and through a literature review and experiments, we want to study how mindfulness can affect us as consumers," she says.
But not only will Letícia Vedolin Sebastião explore how consumerism and mindfulness go hand in hand, she also wants to investigate if being mindful makes us live more sustainably. According to her, some studies based on self-reporting measures, indicate that people who are mindful live more sustainably, "but there's still no causal evidence for that," she points out.
"It might be that sorting out one's trash is more of a personal trait than an expression of being mindful. But it's also possible that being mindful can cause you to live more sustainably. But we don't know that," she says.
Letícia Vedolin Sebastião practices mindfulness herself and finds that it helps keep her calm and more attentive to how she feels. Is it stress or just excitement? And exactly some of those effects are interesting to look at from a marketing and consumer perspective, she explains.
"There are many implications of mindfulness to consumers and business people. As consumers, we may want to reduce how much we spend or eat for instance. And in our worklife, we may be looking for regulating the influence of our emotions on our decisions. There are indications that mindfulness can help in those cases. So the goal is to bring this into a marketing perspective and see if we can run experiments on one of those fields," she says.
Mindfulness as an elective on master level
Besides doing her PhD, Letícia Vedolin Sebastião will also be teaching. And why not teach what you study?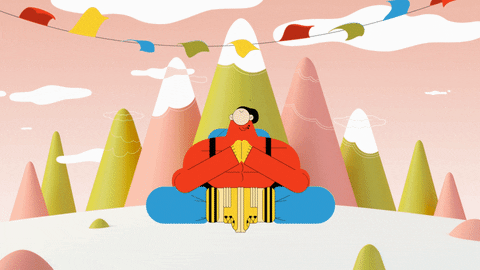 This fall semester graduate students will be able to take the elective 'Mindfulness in decision making', which will teach students the theories of mindfulness; how it works, how it can change behavior; mechanisms of mindfulness and how it is being applied in a business and marketing perspective.
"We will also practice a bit of mindfulness during the course," says Letícia Vedolin Sebastião.
Then, when the course ends, the students will be asked to apply mindfulness to a business case and develop an idea for a mindfulness-based business.
"We are planning to help students critically assess the knowledge around Mindfulness, and also to apply it in a creative way. That way, they can engage with the literature and also create new solutions for businesses and society that are based on Mindfulness" says Letícia Vedolin Sebastião.
Jesper Clement, Associate Professor at the Department of Marketing, is Letícia Vedolin Sebastião's PhD supervisor, and he is excited to see what knowledge the elective will produce.
"I'm sure that the exam papers from the elective will be useful input for the PhD project, as they will generate crazy new ideas on how mindfulness can be used," he says.
Jesper Clement knows that bringing mindfulness into a business context is new, and that is exactly why it is worth studying.
"If there was an obvious link, we would be teaching mindfulness already. But as it is quite new, it needs exploration, because we don't know its full effects yet," he says.
The new elective is already available in the course catalog and will be run during the coming two fall semesters.