Anne Sophie meets her idol at Nobel Prize event: "He turned out to be human after all"
How does it feel being in a room full of Nobel prize winners – including your own personal idol? "Nerve racking," says Anne Sophie Lassen, who is a highly esteemed PhD fellow at CBS. She recently attended the Lindau Nobel Laureate Meeting in Southern Germany, where the sharpest economical minds gather every third year. "An absolutely mind-blowing experience," according to the young star researcher.
"This must be spam!" That was the first thought that popped into CBS PhD fellow Anne Sophie Lassen's head when she received an email from the people behind the Lindau Nobel Laureate Meeting in Southern Germany.
She was invited to meet 20 Nobel prize winners in the field of economics together with 427 other young researchers from 69 different countries.
"I was on a Zoom call with my brother when I saw the email. I just couldn't believe it was happening to me and neither could my brother. We were both ecstatic," says Anne Sophie Lassen.
She was elected – as the only Dane – to attend the gathering because of her ground-breaking research into how parenthood and maternity leave negatively affect women's finances throughout their life spans.
And (to her) even more importantly, she was to meet her idol Joshua David Angrist – a previous Nobel Prize winner – and debate with him in front of everyone else.
"Meeting him was crazy! I was so nervous," Anne Sophie Lassen reveals.
Only human after all
Joshua Angrist is an Israeli-American economist working at Massachusetts Institute of Technology. He was awarded a Nobel Prize in 2021 for his contribution on how to analyse causality in economics.
"If Angrist had not done his research, I wouldn't have been able to do my PhD. His research means so much to my work. And he means a lot to me personally," Anne Sophie Lassen explains.
Therefore, meeting him for the first time was very intense, she elaborates.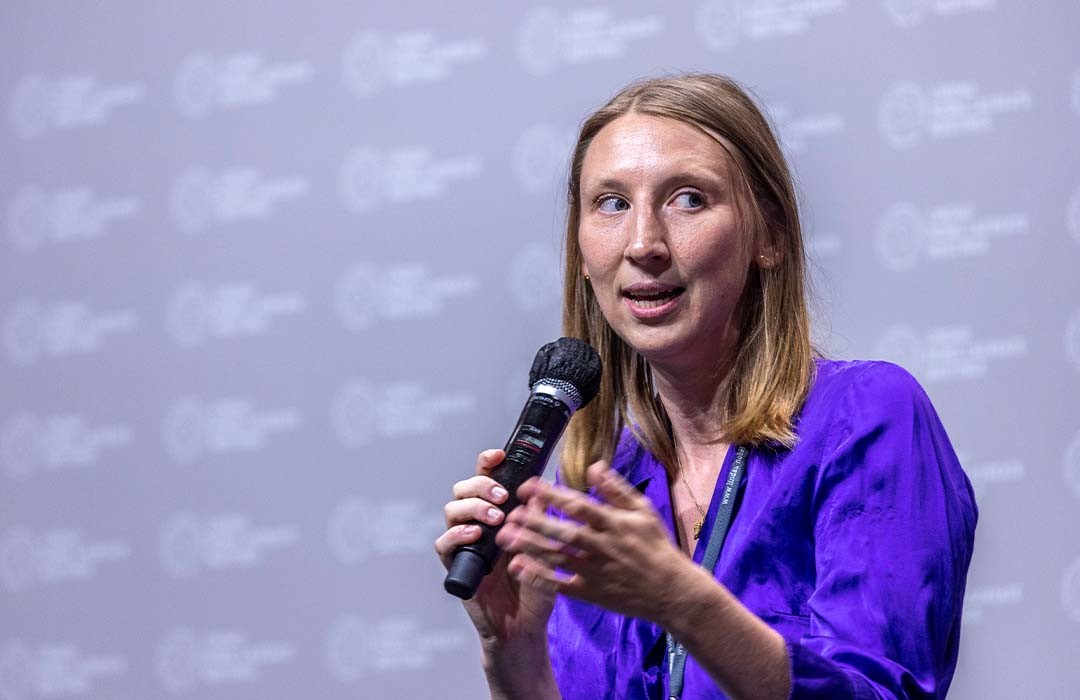 "You have all these ideas about who these Nobel Prize winners are. But when I first saw Joshua, he seemed a bit tired, and as if he might have a headache. It turns out they are just like regular people," says Anne Sophie Lassen.
In general, there was a nice, relaxed atmosphere during the meeting and the Nobel Prize winners were genuinely interested in gaining insight into the knowledge presented by the young research talents, according to Anne Sophie Lassen.
"I think I assumed that they would have massive egos and be un-approachable. But they are really just nerds who are excited about economics. Exactly like the rest of us. Oh, well, probably a bit wiser," she adds while laughing.
Researching equality and parenthood
Although humble, Anne Sophie Lassen is quite a star researcher herself. In 2021, she was awarded the prestigious EliteForsk scholarship as one of Denmark's most talented researchers in her field. This was also why Danmarks Frie Forskningsfond nominated her to attend the Nobel meeting in Lindau.
Her research revolves around how parenthood affects women's finances throughout their lives.
"80 percent of the financial gap between men and women arises with parenthood and maternity leave. Women in general have smaller fortunes, fewer opportunities and are not equally represented in positions of power, compared to their male counterparts," she explains.
Only two women have ever been awarded the Nobel Prize in the field of economics. We need female role models

Anne Sophie Lassen, PhD fellow at CBS
Specifically, Anne Sophie Lassen has investigated the effects of a Danish parental leave reform from 2002, which aimed at giving families more freedom to decide how to distribute the leave between the parents.
"But my results show that 50 percent of Danish men chose to take leave of 14 days or less after the reform in 2002. So, the reform did not change the fact that women take most parental leave. This involves inherited norms about gender. If your mother was a stay-at-home mum or your sister takes a long leave, you are more likely to copy this behavior and take a long leave," Anne Sophie Lassen, points out.
Being a young woman in a room full of 70-year-old men
The gender gap was also evident at the Nobel prize meeting in Lindau. All the present recipients of the esteemed award were male, and most were over 70 years old, according to Anne Sophie Lassen.
"Only two women have ever been awarded the Nobel Prize in the field of economics. But you have to remember that the male Nobel Prize winners got their awards in a completely different time in history. That said, sexism exists in many places in our society, including academia, and this definitely needs to change. We need female role models," she says.
When asked if she aspires to one day be given a Nobel Prize herself, Anne Sophie immediately passes on the honour to two female colleagues.
"Such a prize is a great honour, and that kind of acknowledgement seems impossible to achieve. Instead of receiving the prize myself, I dream of those who have inspired my work receiving a Nobel Prize," she says and adds:
"I am thinking of Claudia Goldin, who has spent most of her career describing and explaining gender gaps in the labour market. She is often mentioned as a future winner. I am also thinking of Raquel Fernández, who was one of the first to study how gender norms affect financial decisions. They should receive Nobel Prizes. But if the Nobel jury call and ask me, I wouldn't say no."