A startup story about life, death and hugs for the head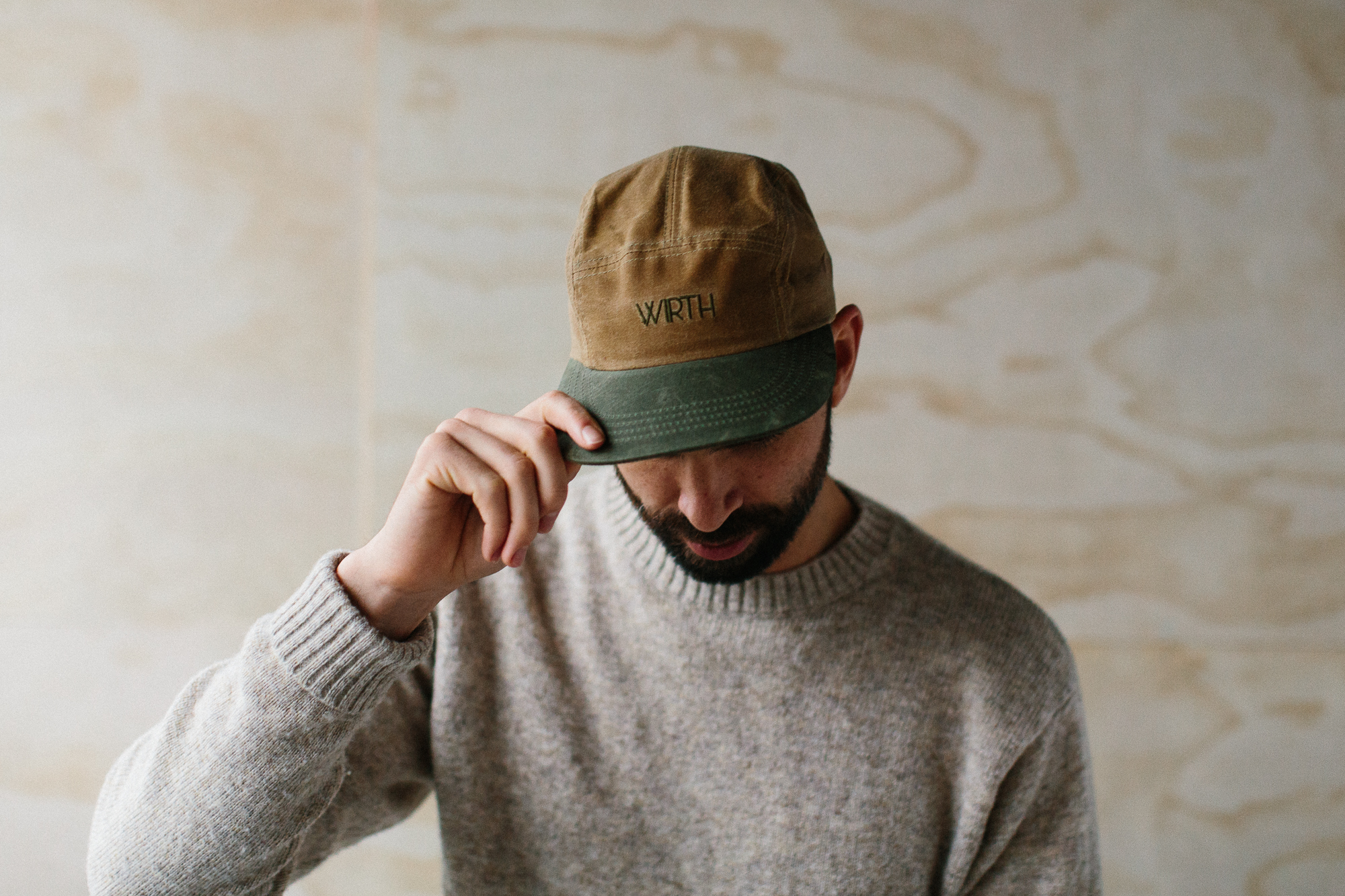 WIRTH Hats took its very first steps in the corridors at CBS. It all started with a simple idea and a great passion for hats. But it turned into something completely different. Something bigger and much more than hats.
It's rainy, cold and dark outside the small CBS WIRE office when we get through to Ben Miller who's sitting at a desk in Vancouver, Canada, on Skype. At his end, it's early in the morning, whereas it's early evening in Copenhagen.
"Wish I was there with you guys. I really miss Copenhagen. It's like my second home," says Ben Miller. "But in November, though?" his former classmate, current friend and business partner Alexander Hauerslev Jensen asks. "Well… Yeah, you're right. Not so much in November, though," Ben Miller responds, and we all laugh.
And laughing and joking around a bit is a great way to start the conversation we're about to have. Because the story of Wirth Hats is an emotional rollercoaster that evokes many feelings. On the one hand, it's a story of sadness and grief – on the other it's about hope and the joy of living.
And the whole story began right outside the doors of CBS.
The message no one wants to receive
Back in 2013, Alexander Hauerslev Jensen and Ben Miller began studying for their master's degrees in Organizational Innovation and Entrepreneurship (OIE) at CBS.
Here, they met and befriended their classmates Jakob Wirth and Philipp Altenburg, who were destined to become the main characters in the story of Wirth Hats.
One day in early 2014, Ben Miller and Jakob Wirth were chatting outside CBS during a break from class when Jakob suddenly told Ben about a business idea he had been keeping to himself.
"We were talking about different business ideas, and then Jakob said 'Man, I have this idea that I've wanted to do for a long time'. And at first, he wouldn't really tell me what the idea was," Ben Miller says and continues:
"But then he just blurted it out: 'I want to start a hat company. I love hats and they have always been a passion of mine'."
Over the next few months, Jakob Wirth and Ben Miller talked a lot about Jakob's hat company idea.
"I told Jakob that I thought his last name, Wirth, would make a great company name with plenty of opportunities for word play. But he hummed and hawed about it. While he liked the idea, he thought it seemed a little too arrogant for his liking," Ben Miller recounts.
Then summer came along, and Ben, Jakob, Philipp and Alexander disbanded for summer break. And while back home in Vancouver, Ben Miller received the message that Jakob had taken his own life.
"It's the message that no one wants to get. The suddenness of it all just grabs you by the throat," Ben Miller says and goes on:
"I had never experienced anything like that in my life, and it was a huge punch in the face. And while in this state of shock, mourning and sadness, I began thinking about Jakob's hat company over and over again – how passionate he was about it and how much he wanted to present it to the world."
Crossing the dream off the list
So, when Ben Miller returned to Denmark in early 2015 after an internship, he brought 25 hats with the name 'WIRTH' written on them made for the 25 people closest to Jakob Wirth.
"I wanted these hats to go to Jakob's closest 25, and each hat came with a tag describing Jakob's dream and mental health in general as a reminder that we're never as alone as we sometimes think," says Ben Miller.
And while delivering these 25 hats, Ben Miller met Jakob's closest friends and family. And that was that.
"It was only meant to be just a one-time thing. A way to cross Jakob's hat company dream off his list," he says.
Later that year, Ben Miller returned to Canada thinking that was the end of the hat story. But then another incident happened that turned everything upside down.
"I'm struggling a bit. But I'll be fine"
In October 2016, Ben Miller's close friend and master thesis partner at CBS, Philipp Altenburg moved to Vancouver to pursue his main interest, improv theatre.
"I've never spent more time with a single person in my life than with Philipp during our studies. And when he moved here to Vancouver, he wanted to pursue improv theatre, which he truly believed could break down communication barriers and provide others with joy," Ben Miller reminisces.
But after a few months in Vancouver, Philipp Altenburg was struggling with visa issues and had to move back to his home city of Berlin. And then, life began to lose its charm for Philipp.
"Finishing school can be a challenging time. You have to figure out your next step, and life can hit you, and bring you to a point where you start comparing your own achievements to what other people are doing and everything," Ben Miller says and continues:
"And in Philipp's case, those things began to hit home when he moved back to Germany. This was when he reached a really low point."
At this time, Ben and Philipp began having weekly conversations on Skype. One week, Philipp seemed a little off, and Ben asked how he was doing, expecting to hear the usual "good". But this time he said something different:
"I'm struggling a bit. But I'll be fine," he said.
After that call, the two friends talked almost every day, and at one point, Philipp Altenburg seemed to be turning over a new leaf by getting a new job. Things appeared optimistic on the outside. But on the inside, Philipp was still struggling.
After returning home from a trip, Ben Miller received a phone call from another of Philipp's friends from CBS who asked: "Can you talk?" And right away, Ben knew something wasn't right.
Then he got another message you never want to receive. The message that Philipp Altenburg had succumbed to suicide.
A symbol of the realness of mental health
The news of Philipp's death shook Ben Miller to his core. Never in his wildest dreams had he imagined his dear friend would take his own life. As he explains:
"And then, endless questions began running through my mind: Why did this happen? What could I have done? Thoughts on a larger scale also began to emerge, such as: 'If someone like Philipp can feel this, so many others can feel like this as well," Ben Miller says.
Three weeks later, another friend from CBS called Ben and asked if he still had some WIRTH hats left. The friend said that he would really love to have one, because he thought it served as a good reminder and symbol of the realness of mental health.
"What he said stayed in my mind for months. I talked to several people about it, and because the thought wouldn't go away, I decided it was time to relaunch WIRTH Hats into the world," says Ben Miller and continues:
"This time, it wasn't just going to be a one-off. I would reach out to a much broader audience to create awareness about mental health and help those struggling with the same issues faced by Jakob and Philipp."
And then, Ben Miller brought the hats back to life.
A hug for the head
According to Ben Miller, the WIRTH Hat is both a symbol that creates awareness of mental health and a clothing accessory that serves as a "hug for the head".
"It's more than a hat – it's a hug for the head. When I put the hat on in the morning, it reminds me that I'm not alone and I'm worth it. At the same time, it's a good way to start a conversation about mental health," he says.
And when Ben Miller says that the hats are more than just hats, it's not only in a symbolic but also a concrete sense. When you buy one of the hats, the profits go to mental health counselling for those unable to afford it themselves who have applied for help on the website.
Therefore, you could say that the startup has a dual-purpose mission.
"Our goal is partly to make the best hats we can. The hats that people love to put on in the morning, wear and feel that it is all "wirth" it. And partly, it's to follow the mission of normalizing mental health issues and helping to support those in need of help," Ben Miller says.
And according to Ben, people's reactions and responses to the hat startup have been positively overwhelming during the last 12 months.
"On a weekly basis, we've been receiving pretty amazing messages, and we've held various events where people have come and talked to us and told some of their own personal stories about their mental health situations. So, it has been a pretty incredible year so far," Ben Miller says.
More relevant than ever
Head of partnership at the start up, Alexander Hauerslev Jensen, agrees with Ben Miller that it has been an incredible year. But at the same time, he's also looking ahead.
"Right now, everything is up and running. We are selling hats and have been putting the first people through counselling paid for by hat sales. Moreover, we've been making the necessary partnerships in order to make counselling available to people anywhere in the world," he says and continues:
"And then we will try to keep improving and making better hats every day while spreading the word to as many people as possible."
And spreading the word seems to be a very important ambition for Ben Miller, Alexander Hauerslev Jensen and the rest of the team.
"The story of WIRTH Hats is, of course, a very personal story. But it also touches on a global issue. I think any statistics you can find on the subject of mental health will show that depression and anxiety rates are just continuing to grow," Alexander Hauerslev Jensen says and adds.
"Meanwhile, access to mental health counselling can be a major challenge. Also, mental health is still a big taboo. So, I think WIRTH Hats also deals with issues that are more relevant now than ever."